Striking images, stunning narratives, rich colors, and complex panel designs are prime examples of why these 22 works of sequential art belong in the classrooms and on library shelves.
Graphic Novels

Axelrod, Jadzia. Galaxy: The Prettiest Star. illus. by Jess Taylor. DC Comics. ISBN 9781401298531.
Gr 9 Up–Having fled the aliens who attacked her home planet, Taelyr is forced to live disguised as a boy on Earth, until a new relationship changes everything. Vibrant, singular artwork elevates every emotion as superhero conventions help trace one character's journey to embrace her authentic self, centering exploration of gender identity and sexuality.

Barnett, Mac. The First Cat in Space Ate Pizza. illus. by Shawn Harris. HarperCollins/Katherine Tegen. ISBN 9780063084087.
Gr 3-5–Project 47 (a cat enhanced with microchips in its brain) is on a critical mission: save the moon from being devoured by intergalactic rats! A laugh-out-loud, page-turner of a tale that uses simple yet expressive art to effectively take its absurdity to unimaginable—and unforgettable—heights.

Booth, Molly Horton & Stephanie Kate Strohm. Twelfth Grade Night. illus. by Jamie Green. Disney-Hyperion. ISBN 9781368062398.
Gr 7 Up–No longer willing to conform at her former boarding school, Vi starts anew at Arden High—where love is afoot but not always in sync—while her twin brother stays behind, in this mischievous and ebullient romantic comedy based on Shakespeare's play of a similar title.

Case, Jonathan. Little Monarchs. Holiday House/Margaret Ferguson. ISBN 9780823442607.
Gr 6 Up–In 2101, when most of humanity has been forced underground to avoid lethal sun exposure, Elvie accompanies scientist Flora on a daring journey to find Elvie's parents while working to develop a life-saving vaccine. Riveting action sequences, rich character development, and wholly believable worldbuilding combine for an unforgettable adventure.

Castellanos, Alexis. Isla to Island. S. & S./Atheneum. ISBN 9781534469242.
Gr 5 Up–When Marisol's parents are forced to send her from colorful Cuba to dreary New York City, fearing for her safety under Castro's leadership, she and her hosts struggle to find her place in an unfamiliar world. This nearly wordless tale finds striking expression through use of color, symbols, and joyous momentum.

Coker, Shobo. New Masters. illus. by Shof Coker. Image. ISBN 9781534323384.
Gr 9 Up–Competing factions from Earth and Jupiter fight for power and resources in this action-packed Afrofuturistic tale. The worldbuilding is stellar; the language, settings, and art for this story are firmly rooted in the cultures of African nations, making it an innovative entry in the realm of science fiction.

Gonzalez, Christina Diaz. Invisible. illus. by Gabriela Epstein. Scholastic/Graphix. ISBN 9781338194555.
Gr 4-7–A diverse group of Latinx students with different interests and varying levels of Spanish proficiency are forced to do a community service project and are also victims of stereotyping. With illustrations that pop and a complex but genius storytelling style, Gonzalez's Breakfast Club –inspired graphic novel shines with its portrayal of a found family.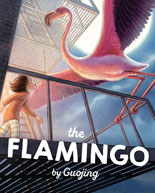 Guojing. The Flamingo. Random House Studio. ISBN 9780593127315.
Gr 2 Up–With few words, this stunningly illustrated chapter book graphic novel brings to life a story shared by a young girl and her Lao Lao—first during their visit together, and then when they are separated by a long distance. Sure to capture the imaginations and hearts of readers of all ages.

Hanaor, Ziggy. Alte Zachen/Old Things. illus. by Benjamin Phillips. Cicada. ISBN 9781800660229.
Gr 6 Up–When Benji and Bubbe Rosa set out on a day of errands, Bubbe's old memories resurface, underscoring their generational divide. With spare text leaving ample space for watercolor-and-ink images, this poignant and ultimately hopeful graphic novel invites readers to reflect on the lives of others, in all their complexity.

Koch, Falynn. The National Parks: Preserving America's Wild Places. First Second. ISBN 9781250265876.
Gr 5-7–Sasquatch and a bald eagle narrator take readers on a journey through the history of the U.S. National Parks system, including the time line of their creation, obstacles faced along the way, and the Indigenous peoples harmed in the process. A compelling true story packed with surprising facts and uncomfortable truths.

Liu, Marjorie. Wingbearer. illus. by Teny Issakhanian. HarperCollins/Quill Tree. ISBN 9780062741165.
Gr 5-8–Zuli, a caretaker of birds' souls, encounters unusual worlds and sometimes frightening creatures as she tries to discover why the birds are going missing. Gorgeous, dreamy illustrations bring this beautifully rendered fantastical tale of mystery, discovery, and danger to life.

Najem, Muhammad & Nora Neus. Muhammad Najem, War Reporter. illus. by Julie Robine. Little, Brown. ISBN 9780 759556898.
Gr 6-9–Using only a cell phone to record and post firsthand accounts, one boy attempts to document the devastating effects of war in his home country of Syria. The power of graphic nonfiction is on full display here, with expressive art conveying a true story by turns harrowing and hopeful.

Ortega, Claribel A. Frizzy. illus. by Rose Bousamra. First Second. ISBN 9781250259622.
Gr 4-8–An Afro-Dominican tween pushes against her family's anti-Blackness and glorification of "good" hair. Internalized racism is discussed in a way that will resonate with those grappling with it for the first time. Bousamra's candy-colored palette makes this coming-of-age tale welcoming and joyful.

Pimienta, Jose. Twin Cities. Random House Graphic. ISBN 9780593180631.
Gr 6 Up–Growing up in Mexicali, Mexico, twins Luis Fernando and Luisa Teresa attend seventh grade on opposite sides of the border and learn to navigate the trials of middle school—peer pressure, friendships, and identity-searching. A nuanced look at family dynamics and connecting with culture with realistic tween dialogue and bright, hand-drawn illustrations.

Shammas, Nadia & Sara Alfageeh. Squire. illus. by Sara Alfageeh. HarperCollins/Quill Tree. ISBN 9780062945853.
Gr 7 Up–Young ­Aiza joins the military to escape poverty, win heroic acclaim, and earn citizenship, only to see the ruling Empire's propaganda for what it really is. This Middle Eastern–inspired fantasy story will hook readers through gorgeous artwork and unforgettable characters.

Sharp, Sid. The Wolf Suit. Annick. ISBN 9781773217208.
Gr 2-5–Terrified of wolves, a sheep with a hunger for blackberries and a talent for crafting devises a clever plan to dress up as his greatest fear, with surprising results. Spacious panels and atmospheric illustrations augment both the humor and the menace for chapter book readers.

Shiga, Jason. Leviathan. Abrams/Amulet. ISBN 9781419757792.
Gr 3-7–This next-level pick-your-path adventure—part maze, part comic—involves winding through multiple choices and outcomes to conquer the Leviathan. The gender-neutral protagonist, simple illustrations, sea-inspired palette, and ability to play over and over will attract and engage a variety of readers.

Smith, Tommie & Derrick Barnes. Victory. Stand! Raising My Fist for Justice. illus. by Dawud Anyabwile. Norton. ISBN 9781324003908.
Gr 8 Up–Tommie Smith, who famously raised his fist at the 1968 Olympic games, led an interesting life leading up to and following that moment. The clashes between his personal ambitions and historic inequality make this graphic memoir by turns enlightening and inspirational.

Tabor, Corey R. Sir Ladybug. HarperCollins/Balzer + Bray. ISBN 9780063069060.
Gr 1-4–Desperate cries for help send a shy bug with a sword, Sir Ladybug, on a morning quest to save a caterpillar from a "monster" attack. Fresh, felicitous artwork is expertly paired with silly humor and friendship-building opportunities in this title for young readers.

Walsh, Liam Francis. Red Scare. Scholastic/Graphix. ISBN 9781338167092.
Gr 4 Up–A mysterious, glowing red object grants Peggy supernatural powers, but greater forces still threaten to close in on her. With a wealth of period details and genre elements, this sci-fi caper set in the 1950s finds immediacy in the fears of the time, while dealing espionage action that flies off the page.

Willis, Maggie Edkins. Smaller Sister. Roaring Brook. ISBN 9781250767417.
Gr 4-7–This stirring debut graphic novel explores the relationship between sisters Lucy and Olivia, who are only 20 months apart and inseparable—until Lucy begins struggling with body dysmorphia. With pitch-perfect prose and clear digital illustrations, this honest and thoughtful depiction of anorexia and sisterly bonds will resonate with tweens.

Wyatt, Jake. The Well. illus. by Choo. First Second. ISBN 9781250816528.
Gr 8 Up–A young woman steals coins from a sacred well and must grant the wishes attached to the coins to appease the well's spirit guardian. Themes of intergenerational legacies, danger, and a bit of romance are woven together deftly in this standout fantasy quest.