Efforts to shield children from perceived unpleasantness, however well intentioned, ignore the genuine fear and anxiety that kids must grapple with in their daily lives.
Maurice Sendak, no stranger to criticism for presenting "inappropriate" content to children, had a response for his detractors. ­Accepting the Caldecott Medal for Where the Wild Things Are in 1964, he said, "The adults who are troubled by the scariness of [Max's] fantasy forget that my hero is having the time of his life."
Indeed, kids driving the action—as in the middle grade horror tales featured in Brigid Alverson's "Be Afraid"—is a winning hallmark of the genre. Add to that hair-raising suspense and a fantastical being or two, and young readers are hooked.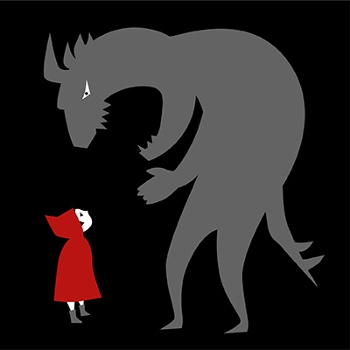 But, as skeptics continue to ask: Are scary stories good for them?
Efforts to shield children from perceived unpleasantness, however well intentioned, ignore the genuine fear and anxiety that kids must grapple with in their daily lives. Children, as understood by Sendak, among other creators, know the world is a scary place. And they find the darkness in themselves, too: fear, rage, hate, despair—the same emotions experienced by adults, as child psychologists tell us.
"It is through fantasy," Sendak asserted, "that children achieve catharsis."
Not everyone has such faith in story. You can see that acutely now in efforts to ban books and persistent attempts to control what kids and teens can ­access, all in the name of protecting children.
Political motivation notwithstanding, a singular factor driving this activity is fear.

Fear: an end as well as a means
And what are book banners afraid of? In the main, sexual content. It's far and away the "winner" here, alongside gender identity and LGBTQIA+ content, in drawing the greatest objection in book challenges recorded by the American Library Association (ALA).
In SLJ's recent survey gauging soft censorship, we asked librarians to define the subject matter, if any, that has led them to pass on purchasing a book. "Sexual content" was the leading topic in that regard reported by a large majority, 66 percent, of respondents.
Lawmakers are following suit. In Pennsylvania last month, Representative Barbara Gleim (R-­Carlisle) introduced a measure to ban "highly sexual" material from school libraries statewide.
Her 195-word memorandum announcing the measure did nothing to further define problematic content, if only in Gleim's interpretation. So, as with similar legislation proposed to govern library collections, it's difficult to see any of this evolving beyond a hot mess of confusion and even more fear. That may be the point. But at what cost?
Restricting access impacts critical resources. Sexual health and well-being are dependent on good, comprehensive, and affirmative information, according to the World Health Organization. The lack of access—which might also result from shaming—can contribute to unintended pregnancy, sexually transmitted disease and other reproductive illnesses, and sexual violence.
Robie Harris, a former elementary school teacher, sought to address sexual health in a book for children. First published in 1994, It's Perfectly Normal: Changing Bodies, Growing Up, Sex and Sexual Health has since become a classic, with SLJ calling the acclaimed, multiple editions of the book "go-to guides for a whole generation of children, teens, and their parents." It's also been among the most banned books for decades, and last year received 18 formally reported challenges to ALA.
With its latest edition featuring more inclusive language, and greater attention to LGBTQIA+ topics and gender identity, It's Perfectly Normal has been targeted in the expanding flashpoint of sex education, with at least one commenter associating the book with "grooming."

Read: Where Do Babies Come From? | Milestones
'No emasculation of truth'
Restricting kids' access to quality information about sexual health is to deny them a mode to process their feelings and developmental curiosity about a primary aspect of the human experience.
"Honest, accurate information about sexuality changes lives," according to Our Whole Lives (OWL), a 'lifespan sexuality education' program cofounded by the Unitarian Universalist Association and the United Church of Christ. "It dismantles stereotypes and assumptions, builds self-acceptance and self-esteem, fosters healthy relationships, improves decision making, and has the potential to save lives."
In recalling scenes ranging from flirtation to joy and death, Sendak conveys in his Caldecott speech the full quality of Randolph Caldecott's work. Of the 19th-century British artist's picture books, "there is no emasculation of truth in his world," observed ­Sendak. "His honest vision is one that children recognize as true to their own lives."
Truth, honesty, and, above all, respect for readers are inherent in quality literature for children. This can empower them, particularly in frightening times, and as Sendak concluded, "is the best means for taming Wild Things."