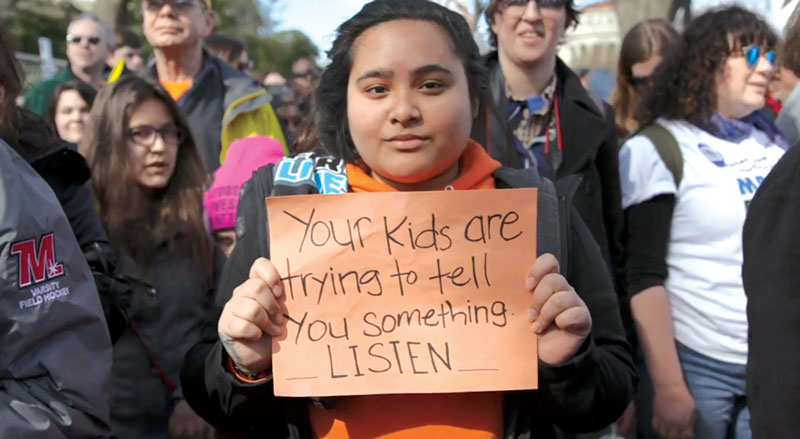 Raise Your Voice (Good Docs) ©2020
Finding the right audiovisual material is sometimes the most challenging part of creating a unit or professional development session. In the best-case scenario, a film garners national attention and is available, affordable, and slots easily in place. Other times, teachers must put their own research skills to the test, scouring professional websites, talking with colleagues, or perhaps browsing film festival clearinghouse sites (e.g., FilmFreeway, Good Docs) or sites of topical interest (e.g., Human Rights Watch Film Festival, Women Make Movies). On sites with an educational focus, ­movies may have extras available including discussion questions, lesson plans, study guides, parent guides, and interviews with directors and those featured in the film.
Educators looking for the sweet spot between immediacy, realism, and appropriate handling of controversial or sensitive subjects can find that film festival acknowledgement and awards help narrow their search. Seeing that a film has support from creative peers as well as those with backgrounds in education bodes well that the production values can hold the interest of audiences, and can help narrow the list of films under consideration.
Broken Trust: Athlete Abuse Exposed. Media Education Foundation. 2020. 31 min. DVD ISBN 9781944024192. $350. Streaming options avail.
Gr 7 Up–After a stark statistic on the prevalence of abuse by coaches and authority figures, this documentary quickly moves to personal interviews and includes legal opinions and news coverage. Athletes and parents tell their stories and encourage sports participants and adults to be aware and speak up if needed. Female and male elite athletes from figure skating, ­swimming, and gymnastics, and in some cases, their parents, recall encounters that in hindsight are called out as grooming, exploitation, and abuse. When do high expectations and appropriately tough coaching cross into emotional or physical abuse? The edited version, at one minute shorter, leaves out a phrase mentioning specific sex acts. VERDICT Widespread news coverage of high-profile coach and team physician abuse means adults cannot turn away from the vulnerability of youngsters and teens in coaching relationships. Viewers will want time to process and discuss the topic, and the film's short length leaves time for follow-up within a class period or parent presentation.
The Man Card: White Male Identity Politics from Nixon to Trump. Media Education ­Foundation & Eat the Moon Films. 2020. 55 min. DVD ISBN 9781893521025. $350. Streaming options avail.
Gr 9 Up–How did the politics of white grievance become so pervasive, beginning in 1968 and resulting in the "whitelash" that led to Donald Trump's presidency? This film fits neatly in a class period, and scene selection makes it easy to skip to specific presidential campaigns, from Richard Nixon's law-and-order emphasis that kept the white-dominant status quo, to Fox News' coverage of the "wussification" of America under Barack Obama, to Trump's rhetoric that played particularly to white male racial and cultural anxiety. The film takes the viewpoint that the Christian, straight, white-male dominated hierarchy no longer serves the needs of U.S. citizens, and is counterproductive and dangerous to embrace. ­ VERDICT A random swear word, an upraised middle finger, and occasional hate speech make this best for high school viewers. Educators can discuss campaign strategies for specific campaigns within a history, speech, debate, or political science curriculum.
The Nature Makers. Video Project. 2020. 69 min. DVD UPC unavail. $89, schools/public libraries.
Gr 6 Up–Sections on sky, water, and land, each approximately 20 minutes, feature dedicated scientists and their teams protecting sandhill crane habitat in Nebraska, reintroducing humpback chub into the Grand Canyon's Bright Angel Creek, and relocating prairie dogs to artificial burrows when development threatens them in Colorado. Beautifully photographed migrating cranes, majestic Grand Canyon footage, and cuddly prairie dogs are juxtaposed with sprawling industrial farms and looming dams. The biologists and others interviewed share their expertise, along with their genuine calling to make a difference for species in need of protection and support. VERDICT Each segment stands alone, adding versatility for science and ecology discussions. Budding scientists will take inspiration from seeing team members who are in their 20s, with responsibility for putting change into place and making a difference in human/animal interaction.
No Time To Waste: The Urgent Mission of Betty Reid Soskin. Digital Story Company in association with Rosie the Riveter Trust, dist. by Bullfrog Films. 2019. 52 min. DVD UPC 1948745569. $295.
Gr 6 Up–Can a 98-year-old narrator speak to the interests of tween and teen viewers? The answer is a resounding "yes" if that speaker is Betty Reid Soskin, the National Park Service's oldest ranger, a Black woman who reminds her audience that what is remembered depends on who is doing the remembering. Soskin's father was a Pullman porter, her mother cleaned houses, and Soskin and her husband hosted Black soldiers from Port Chicago the night before the historic 1944 explosion that killed over 300 people. A National Park Service Ranger at the Rosie the Riveter/WWII Home Front National Historical Park in California, Soskin includes stories of the Black Rosies and their contributions (often for lesser pay) to the home-front war efforts. Soskin's emphasis on inclusion has had a lasting impact on the way the National Park Service presents history at many sites. VERDICT Soskin's personality will inspire and delight viewers from middle school age through adult, as she shares stories with emphasis on ­contributions from people of color, a group she is determined will not be overlooked.
Point of No Return. Far West Films in association with WGBH Boston, dist. by Bullfrog Films. 2020. 95 min. and 57 min. DVD UPC 1948745496. $395.
Gr 6 Up–Problem-solving and innovation matter when it comes to building and piloting an airplane able to (theoretically) fly around the world using only solar power. Two Swiss pilots and their support team worked for years (in the case of one pilot, 16 years) imaging, building, and successfully completing the Solar Impulse's approximately 25,000-mile global circumnavigation. The lightweight plane is so delicate that rain and wind can damage it, and it carries only one pilot at a time, necessitating long stints with no sleep, and bathroom innovation. Some legs of the trip go relatively smoothly, others include a discussion of bailout plans and aborting the trip entirely. Climate change is a background consideration throughout, evidenced by the plane's #FutureIsClean decal and the plane's total reliance on solar power. ­VERDICT An obvious choice for science, technology, engineering, ­sustainability, and design units. Examples of teamwork, innovation, and risk-taking appear frequently. Business and marketing classes will note that multiple logos (Google, Omega, Solvay) appear prominently on flight gear, ground crew, and the Solar Impulse itself.

Raise Your Voice. Good Docs. 2020. 45 min. DVD UPC unavail. $129, schools/public libraries. Streaming options avail.
Gr 9 Up–During and after the 2018 mass shooting at Marjory Stoneman Douglas High School in Florida, student journalists were not only a part of the story, but in a position to help memorialize fellow students and advocate for change. A statement advises viewer discretion, as there are news clips of students being rushed from the building and families caught in the emotional aftermath of the shooting. The film's focus, however, is student activism, and how students' free speech rights have been addressed in landmark court cases over time. Tinker v. Des Moines, the 1969 Supreme Court case that protects student expression, is explored, as MSD students speak out in favor of gun law reform, organize a march, meet with the media, and travel to Washington, D.C. The film concludes with memorials to students and faculty who were killed in the shooting, as well as follow-up to some of the students who survived. ­VERDICT After some harrowing clips in the beginning, the film centers on the First Amendment rights of young people, and encourages teens to speak up when they perceive injustice or a need for change. Consider for government classes and social justice discussions.
Unspoken. Video Project. 2019. 26 min. DVD UPC unavail. $79, schools/public libraries.
Gr 8 Up–Because Emma, who is filmed from about age 11 to 14, didn't communicate well verbally, people underestimated her intelligence. The film shows a young Emma twirling around her family's loft-like home, speaking a series of sounds and repeating seemingly unrelated syllables and phrases. However, when seated with a keyboard, she painstakingly types insight into her difficulty with traditional communication: "My body does not obey my mind." She identifies as autistic and participates in the filming of typical teenage moments of picking out clothes or trying a new hairstyle, along with working with special coaches and presenting at conferences. She shares complex thoughts via the keyboard, thereby circumventing the maze she feels separates her brain and her speech. Music also eases some communication, and gives Emma pleasure. ­VERDICT An honest and frequently joyful look at ­living a challenging life, this inspiring film could initiate discussions of learning differences, perseverance, innovation, and kindness toward others.
What Are You? A Mixed-Race Identity Documentary. Video Project. 2019. 20 min. with approx. 20 min. of bonus content. DVD UPC unavil. $79, schools/public libraries.
Gr 6 Up–The 2020 census is predicted to show an uptick in those who identify as biracial and multiracial, and 2015 Pew Research reports that the population segment of those who identify as multiracial is growing three times as fast as the general population. Using an interview format, with occasional family photos, 11 young adults grapple with forming their identities while acknowledging and honoring the skin tones, religious beliefs, and cultural traditions of their parents and extended families. Viewers may identify with the curiosity that can manifest as the intrusive question, "What are you?" and will come away with greater insight into the personal nuances of racial identity choices. Bonus content (20 minutes) includes personal anecdotes from interviewees. VERDICT Many students will identify with the discomfort of feeling "other," or having to be a type, rather than an individual. This film is also a good reminder (or conversation-starter) on respectful language and conversation.
You Throw Like a Girl: The Blind Spot of Masculinity. Eat the Moon Films in association with Naked City Films, presented by Media Education Foundation. 2020. 36 min. DVD ISBN 9781932869163. $350. Streaming options avail.
Gr 10 Up–Retired professional football player Don McPherson speaks against toxic masculinity, in lectures and directly to the camera, accompanied by clips from football games; television and movies, including The Wizard of Oz, M*A*S*H, and Fight Club; and a few brief flashes of porn. McPherson rejects a definition of manhood bounded by "don't cry" and "sex is about conquest," and speaks powerfully as a role model showing that physical strength and a nurturing, caring attitude can coexist without sacrificing manhood. Occasional four-letter words, graphic images, and discussion of attitudes about sex may require classroom discussion time afterward. An included abridged version is edited for language and sexual content and intended for younger audiences. ­VERDICT McPherson is an engaging narrator, with the sports cred to appeal to viewers who might initially tend to give masculinity discussions an eye roll and "later, bro" attitude.
Professional
17 and Life Doesn't Wait. Good Docs. 2019. 80 min. and 58 min. DVD UPC unavail. $129, schools/public libraries. ­Streaming options avail.
Gr 10-Professional–Audrey, Kiki, and Mich don't seem to mind cameras following them around, sharing their senior year in different parts of the United States and Canada. Kiki hopes for a basketball scholarship; driven Audrey plans on Harvard; and Mich goes to an alternative school, loves art, and wonders if smoking weed would be a problem if she were president. The girls are likeable, occasionally mugging for the camera, and viewers will likely identify with aspects of messy rooms, pets, video games, and Instagram angst, as well as weightier issues such as a suicidal sibling, sexual identity, and feeling safe at school. This film is perhaps most useful for professional development, as it gives a window into the concerns and responsibilities of those coming of age in 2020. VERDICT Reassuring to high school seniors, who may wonder if everyone else has it more figured out, and a useful prompt for pre-service teachers to remind them that under an "I've got this" attitude, teens still benefit from sensitive adult support.
Autism Goes to College. Video Project. 2020. 63 min. DVD UPC unavail. $89, schools/public libraries.
Gr 10-Professional–This documentary shows how neurodiverse students can be successful at college and junior college, using a combination of interviews, charming graphics, and professional input to explain how California colleges are developing programs to meet the needs of students on the autism spectrum. Five students share their concerns about the college workload, talking with professors about accommodations, and facing discomfort, such as participating in a required five-week capstone field trip. Interviews with trained and attentive support staff are balanced with comments from faculty who have less (or no) specific training for ASD accommodation, and in a few cases, seem somewhat resentful of the requirements. The colleges have differing levels of support, from large disability support centers to peer mentors for occasional meetings. While the film has a hopeful tone and most students meet their goals, it doesn't sugarcoat stumbling blocks. VERDICT Helpful to encourage self-advocacy for students and their families, with insights for faculty members, who will continue to encounter neurodiverse students as the number of people diagnosed with ASD continues to grow.
Pushout: The Criminalization of Black Girls in Schools. Video Project. 2019. 79 min. DVD UPC unavail. $89.
Professional–Statistics show that Black girls are several times more likely than white girls to encounter school discipline issues of suspension and restraint, as well as arrest. Based on the book of the same name by Monique W. Morris, the film uses statistics, personal interviews, and lived experience to show how Black girls are "adultified," held to different standards, and penalized for not looking or acting the way white culture says they should. The documentary offers examples of events where things are handled poorly, and provides suggestions and examples where Black girls are allowed to acknowledge trauma, and are given support and celebration for being themselves. ­VERDICT For educators of any experience level, this film is likely to spark discussion and a closer look at the status quo, to ensure that school and district norms and expectations are not tied to values of a specific culture or income level.
Starting at Zero: Reimagining Education in America. Video Project. 2020. 64 min. DVD UPC unavail. $89, schools/public libraries.
Professional–School readiness programs that begin at kindergarten are missing opportunities, in the view of the interviewed educators and state leaders who support early learning modeled on Alabama's First Class Pre-K program. Adorable toddlers and preschool tykes of all skin tones mix with loving teachers, while experts outline the value of social-emotional learning, teacher training, adequate salaries, and continuing education on topics such as unconscious bias. Wraparound support (nutrition; health care), well-stocked classrooms, and parental involvement also play key roles, as does financial support at the state and local level. VERDICT At times the film feels commercially driven, as the bipartisan political agenda is to leverage e­ducation as the path to bolster the economy with a skilled workforce. However, the information is accurate, the energy level is high, and the constant examples of ­dedicated and inspired teachers making a difference make this a solid professional option.
---
Maggie Knapp, Middle School/Upper Sch. Lib., Trinity Valley Sch., Fort Worth, TX