Perfect for both science and literacy classrooms, these recently published titles take a look at the natural world through verse, supported by detailed artwork and informative notes.
Perfect for both science and literacy classrooms, these recently published titles take a look at the natural world through verse, supported by detailed artwork and informative notes.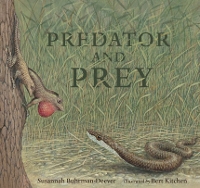 BUHRMAN-DEEVER, Susannah. Predator and Prey. Illus. by Bert Kitchen. 32p. Apr. 2019. Candlewick. Tr $18.99. ISBN 9780763695330.
Gr 2–5-Predators and their prey speak about their relationships in a variety of performance-worthy poems. Biologist Buhrman-Deever presents information about 10 combinations, from an Australian assassin bug and spiders to a Puerto Rican racer (a snake) and a crested anole lizard. Each spread contains a short explanation plus a brief poem or two, sometimes told in dual perspectives. These free verse poems have occasional rhyme and satisfying repeated sounds. The language is carefully chosen and the placement of text is nicely varied. Kitchen's watercolor and gouache naturalistic paintings show these creatures in their usual habitat, often in extensive landscapes. Unusual for a picture book, the extensive bibliography cites sources mostly from professional journals, often representing particular research studies. These specific examples work well together to demonstrate a breadth of predator-prey behavior. The featured predators and prey come from all over the world but include familiar animals such as blue jays and squirrels. VERDICT An obvious choice for classrooms studying animal behavior.-Kathleen Isaacs, Children's Literature Specialist, Pasadena, MD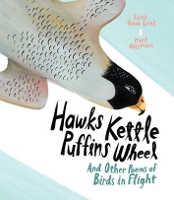 GRIEK, Susan Vande. Hawks Kettle, Puffins Wheel: And Other Poems of Birds in Flight. illus. by Mark Hoffmann. 36p. glossary. Kids Can. Sept. 2019. Tr $16.99. ISBN 9781771389952.
Gr 1-4–Griek uses the introductory poem to set a tone of informal fun, while the text on the facing page succinctly informs. Each double-page spread follows this pattern. The lyrical description of the puffins' flight pattern as they wheel around their nesting colony is followed by the explanation of how this behavior may confuse their predators. There's even the hint of a narrative in the pastel-colored illustrations. A falcon head appears on the cover, and a striped tail disappears off the edge of the first pages. This tail is depicted as being attacked by crows and finally appears as a peregrine diving through the air after prey. Every poem soars in its description, and each text presents solid information. The book lacks an index, but the one-page glossary succinctly defines many of the terms. The "More About the Birds" section contains a short paragraph and an illustration of the bird. VERDICT This nice combination of poetry, prose, and illustrations make this a good read-aloud and book to share.–Frances E. Millhouser, formerly at Fairfax County Public Library, VA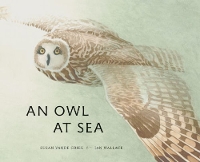 GRIEK , Susan Vande. An Owl at Sea. illus by Ian Wallace. 32p. Groundwood. May 2019. $19.95. ISBN 9781773061115.
PreS-Gr 2-Back in October of 2015, a Short-eared Owl landed on an oil rig 100 miles off-shore in the North Sea. Riggers who discovered the exhausted creature cared for the owl until it could be transported back to land and turned over to the Scottish SPCA, where it was rehabilitated and eventually released back into its natural habitat. Vande Griek recounts this lost and found story in straightforward narrative verse, leaving plenty of room for Wallace to add understanding and drama to this unusual tale. Crisp white verso pages feature the minimal verse and are juxtaposed with full-page watercolor paintings that depict each scene with clarifying details and essential perspective. A single end page harmonizes with the elegant simplicity of the text, offering readers background on the news report that inspired the story, information about Short-eared Owls, source notes, and suggestions for further reading. VERDICT A beautiful book that will be most appreciated in libraries where wildlife stories are popular.-Lynn Van Auken, Oak Bluffs School, MA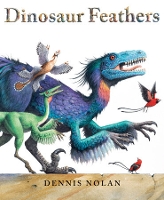 NOLAN, Dennis. Dinosaur Feathers: An Epic Rhyme. illus. by Dennis Nolan. 48p. Holiday House/Neal Porter Bks. Sept. 2019. Tr $18.99. ISBN 9780823443307.
Gr 1-4–This nonfiction poetry offering will satisfy young dino enthusiasts and draw in others who will appreciate the rhythm and rhyme, as well as Nolan's lovely watercolor illustrations. Even with the phonetic pronunciations included, the many dinosaur names will be tongue twisters for the adults who will be asked to repeatedly read this aloud. The plot is simple: the massive dinosaurs who once roamed Earth have vanished with the few remaining feathered creatures evolving into birds. Rich back matter includes dimensions of the various terrestrial and aerial creatures, translations of their Latin names, geographic locations, and clear cross-references to pages in the book where they are depicted. There's also a double-page spread of the tree of life, visually representing four billion years of evolution. VERDICT Make room on the shelf for this original addition to your dinosaur collection.–Gloria Koster, formerly at West School, New Canaan, CT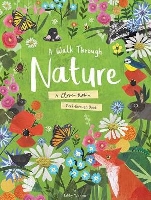 WALDEN, Libby. A Walk Through Nature. illus. by Clover Robin. 32p. Tiger Tales/360 Degrees. Sept. 2019. Tr $19.99. ISBN 9781944530266.
Gr 1-2–Discussing everything from seeds and bees to aquatic life to the creatures who make their homes underground, short verses invite readers to consider various elements of the natural world. With bright, charming paper cutout illustrations by Robin, this book invites discovery. When lifted, the illustrated peek-throughs reveal intriguing facts about the plants, animals, and environments in each verse. The text and illustrations work together to create a layered love letter to nature. The end of the book features a short stanza that encourages readers to pay attention to nature and provides a two-page spread on labeled plants and animals to serve as a jumping-off point for outdoor explorations. VERDICT This beautiful title can be read multiple ways. The verses make a sweet narrative on their own, and the facts tucked beneath the folded pages offer tidbits of information to start conversations and inquiry. Purchase for poetry and nonfiction picture book collections.–Jen McConnel, Queen's University, Ont.