Left: students at the Lehman Alternative Community School in Ithaca, NY, analyze propaganda posters. Right: NBC Nightly News anchor Lester Holt visits with students at Woodrow Wilson High School in Washington, DC, as a MediaWise ambassador.
Photo courtesy of Project Look Sharp; Photo courtesy of MediaWise
As the coronavirus began to spread across the world, Tedros Adhanom Ghebreyesus, director of the World Health Organization (WHO), issued a warning: Along with the pandemic, we are experiencing an "infodemic" of misinformation. "Fake news spreads faster and more easily than this virus, and is just as dangerous," Ghebreyesus said in February.
Misinformation and conspiracy theories have been rampant during the two major news events in recent months—the COVID-19 pandemic and racial justice protests around the country. Experts predict that misinformation will continue to proliferate as the 2020 presidential election draws closer.
"The amount of misinformation on the internet has exploded since the coronavirus pandemic hit," says Katy Byron, editor and program manager of MediaWise, a digital media literacy group that is part of the Poynter Institute. "We have also seen an increase in misinformation and disinformation—deliberately incorrect information—connected with the protests. All of this spells a very dangerous situation for the fall as we head into the election."
Fortunately, a number of media literacy initiatives can help educators and students tackle the current news crisis. These include updated media literacy programs for K–12 students, lessons incorporating the pandemic, a focus on social media, and a strong push to get media literacy education legislation passed in more states.
Misinformation surrounding the pandemic has included everything from fake COVID-19 cures to conspiracy theories and false news reports. A recent poll from the Pew Research Center showed that half of Americans find it difficult to determine what is true and not true about the outbreak.
Joan Donovan is the research director at Harvard University's Shorenstein Center on Media, Politics and Public Policy and studies misinformation. "The internet really hasn't been built for a pandemic," Donovan said on a recent episode of her webinar series, Big, If True. "It hasn't been built for giving timely, relevant, local, and redundant information, which is what everybody needs in this moment."
During the protests for racial justice in June, many social media posts stated falsely that George Floyd wasn't dead. Anti-fascist (Antifa) protesters were blamed for violence during the protests, when in fact, federal court records showed no signs of Antifa links in cases brought by the Justice Department, according to a review by National Public Radio.
Another key issue, experts say, is that information comes from myriad sources, some ranging from not reliable to deliberately inaccurate. "There are now a wide range of people who are active in the information creation and dissemination process," Renée DiResta, research manager at Stanford University Internet Observatory, said in a recent SLJ webcast.
Beyond CRAAP
The abundance of information and proliferation of misinformation are very challenging for students. A November 2019 study from the Stanford History Education Group (SHEG) showed that students, including those of voting age in 2020, are unprepared to judge the credibility of online content. In the study, high school students completed six tasks to gauge their ability to evaluate digital sources on the web. At least two-thirds of students couldn't tell the difference between news stories and advertisements. The report was a follow-up to a key 2016 Stanford study among high school students.
Statistics like these support the growing push for media literacy legislation. The infodemic "highlights the need for comprehensive literacy education in all schools," says Erin McNeill, president and founder of Media Literacy Now, an advocacy group working to get media literacy legislation passed in all 50 states. "It's very important to understand the role of media in shaping our world, and how it influences us as individuals and as a society."
Programs that provide media literacy resources have seen a surge in demand. Until recently, many educators teaching media literacy skills had relied on checklists, including the widely used CRAAP test, which instructs students to consider a source's currency, relevance, authority, accuracy, and purpose. But some experts have worried that the checklist methods are not sufficient for the complexities of our current information environment, and newer approaches focus on digital literacy skills.
Mike Caulfield, a digital literacy researcher who is director of blended and networked learning at Washington State University Vancouver, believes we must change the way students learn these skills to combat rampant misinformation.
"When we talk about the whole information environment problem, we haven't treated it as seriously as we should," he says. "If we don't get our act together, things are going to get much worse. There hasn't been a broad, systematic effort to deal with it."
In 2019, SHEG released a free curriculum called Civic Online Reasoning (COR), developed with MediaWise and modeled after methods used by professional fact-checkers. This approach advises students to evaluate information by asking three key questions: Who is behind the information? What's the evidence? What do other sources say? The strategy encourages students to leave the website they are on and go to other sites to determine if information is trustworthy, a skill known as lateral reading. COR also teaches kids reverse image search, a skill that trains them to evaluate and discover the origins of photos they see online.
Caulfield also developed a digital literacy method, SIFT, that focuses on a few key skills and takes a similar approach to SHEG. Designed for college students, it has been adopted by high school librarians and educators.
Mary Kate Lonergan, an eighth grade social studies teacher at Eagle Hill Middle School in Manlius, NY, is passionate about teaching media literacy. "We need to update our definition of literacy," she says. "Media literacy is literacy. Think of everything you read in a day­—there are tweets, video games, Snapchat, and memes."
Lonergan points to a recent change in New York State's social studies standards away from content and toward skills-based learning, which ties in with the goals of media literacy. "It is an inquiry-based approach where kids are being asked open-ended questions," she says. Lonergan concentrates on skills such as corroboration and determining the reliability of sources, and asks student to look at the purpose of a message and weigh the evidence.
These vital skills can help foster larger societal change, Lonergan believes. "Being media literate is empowering for young people," she says. "Media literacy can also provide students the opportunity to engage with media in an anti-racist way. It encourages them to think about whose point of view information is coming from, whose voice is being omitted, and what might be the negative effects of that. It helps kids to think not only about media bias but their own personal bias."
Project Look Sharp, a media literacy organization based at Ithaca College (NY), has been developing media literacy lessons for more than 20 years. "[Media literacy] has to be seen as a pedagogy and not a content area," says Project Look Sharp executive director Cyndy Scheibe. "How do we know what to trust? We can't just teach that with a little rubric. Being truly literate doesn't mean that you just sound out words and print."
Project Look Sharp includes resources for younger children, even those in pre-K. "We need to start early and teach it at every grade level," Scheibe says. "We have to get kids in the habit of critical thinking."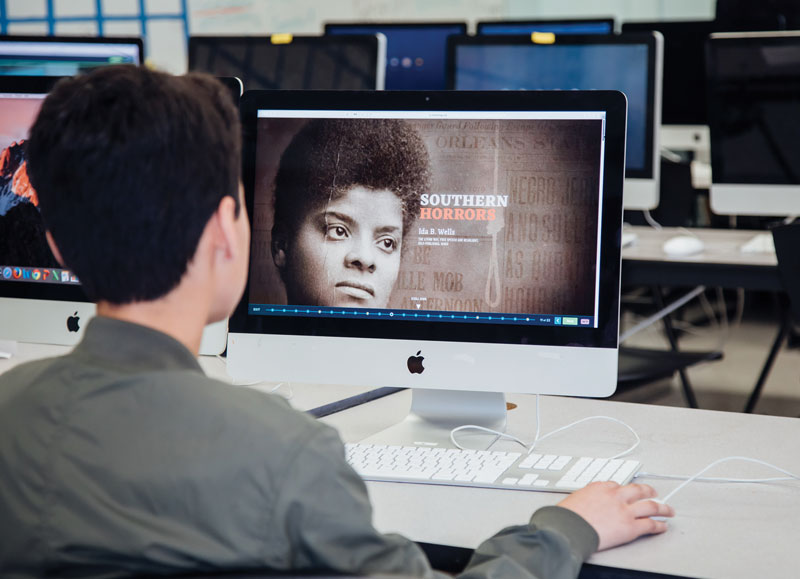 Using a Checkology lesson, Diego Hernandez of Daniel Pearl Magnet High School in Van Nuys, CA, studies the role of the free press by exploring investigative reports.
Photo by Elyse Frelinger for NLP
Approaches and resources
Young people lead that charge in MediaWise's Teen Fact-Checking Network (TFCN) program, in which teenagers learn media literacy skills and use social media to help other kids sort fact from fiction. Participants are taught to critically analyze and fact-check claims on social media and news sites. They record videos of themselves walking their audience through the steps they took to fact-check. Finally, they share these videos on Instagram and other social media platforms. MediaWise staff oversee the training and editorial content.
The program serves to debunk claims and teach viewers media literacy skills to fact-check on their own, says Byron, the program manager. Teens cover a range of topics, including election news, and have been focused lately on coronavirus claims and news about the Black Lives Matter movement and racial justice protests.
"The teenagers we have in this program are so passionate about this," Byron says. "Essentially what we are trying to do is teach the masses how to use fact-checking skills that journalists use to do their job."
MediaWise, backed by Google, also partnered with YA author John Green, who released free YouTube digital literacy lessons through his "Crash Course" series. Lessons focus on skills such as reading laterally, evaluating different types of evidence, and understanding how search engines and social media feeds work.
The News Literacy Project (NLP), a nonprofit that provides media literacy resources for educators, created activities based on coronavirus and is also looking into activities about the recent protests, says Peter Adams, NLP senior vice president of education. Checkology, NLP's core online news literacy program, has options for students in fifth grade and up. NLP also offers free online quizzes and a newsletter for educators, The Sift (no relation to Caulfield's method).
Project Look Sharp has added free coronavirus-related lessons for students of all ages. One lesson for elementary students has kids analyze different messages about handwashing. In a lesson for high school and college students, charts and graphs are used to help students examine media consumption during the pandemic.
The organization developed lessons based on news connected to the protests, including an activity where students analyze and compare a short video produced by the White House and a longer video report by MSNBC on President Trump's June photo op in front of St. John's Episcopal Church in Washington, DC. Both NLP and Project Look Sharp run webinars and professional development to help educators teach media literacy.
New legislation
Though teachers and librarians often feel they can't fit media literacy into jam-packed schedules, that may change as more states pass legislation to ensure it is taught in school. A recent report from Media Literacy Now found that 14 states have addressed media literacy education in law. Six passed legislation in the past three years, and nine—California, Colorado, Connecticut, Illinois, Massachusetts, Minnesota, New Jersey, Rhode Island, and Utah—are identified as "emerging leaders." These states have taken steps toward media literacy laws, such as collecting information about how it is taught and creating committees to study the issue. Ohio and Florida have the strongest media literacy policies for K–12.
"We are encouraged to see the progress made by the 14 leading states, but we still have a lot of work to do," McNeill said in a statement when the report came out earlier this year. "Despite some very good laws, there is evidence that the curriculum is still not making its way into most classrooms."
Other states are also stepping up their focus. Tennessee's House of Representatives recently passed a bill requiring local districts to include instruction in media literacy, and it is expected to pass in the Senate. In New York State, the nonpartisan advocacy group Democracy Ready NY issued a report in June recommending that all state schools be staffed with school library media specialists and all districts provide access to professional development for teachers around media literacy.
While McNeill notes that many legislators still aren't familiar with media literacy, she is starting to see a change. Media Literacy Now primarily works at the state level but also encourages people to take action locally.
"We are seeing a wide range of people who are finding ways to work on this issue," she says, including parents, educators, media makers, and entrepreneurs.
"As states continue to look at updating their standards in history and civics," she adds, "we want to make sure media literacy is a part of that discussion."
---
Melanie Kletter, a freelance writer and editor in New York City, was previously a senior editor of TIME for Kids.