More than 66 percent of public librarians report that summer reading programs will go completely online, according to SLJ's Youth Services in Public Libraries COVID-19 Response Survey.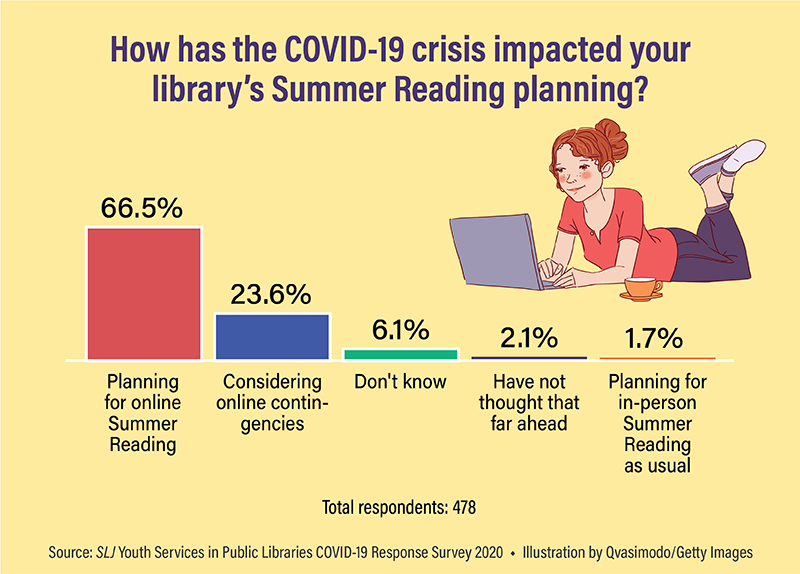 How has the COVID-19 crisis impacted summer reading?
Summer reading programs are among the most popular events run by public libraries. There are reading logs, prizes, performances, and regular visits by excited young patrons and families. It takes months to plan, a process that typically starts long before the school year ends.
This year, of course, nothing is typical, and very little will run as planned. Less than two percent of libraries are preparing for an in-person program, while more than 64 percent has shifted to online only summer reading, according to SLJ's Youth Services in Public Libraries COVID-19 Response Survey, which was conducted from April 23 to May 5 and received responses from 570 public librarians.
"All virtual programming only," wrote one respondent. "My heart is broken over it."
Wrote another, "Planning an all virtual platform, but will also offer a paper program because many of our families prefer the paper record. We are also shifting the way we do the club. Instead of getting a prize each week, they will get the prize at the end, and we are stretching the prize period over three weeks to spread out the family visits. ... It will be virtual, with the prize listed and pictured within a Google form."

Read: Public Librarians Are Working, Making Plans While Facing an Unknown Future | SLJ COVID-19 Survey
Many mentioned plans to use Beanstack, a reading challenge software program and app. Scheduled performances or programs by outside people or organizations have been canceled or are going virtual.
For some, the crisis has created new and previously unconsidered partnerships.
"We've started discussing a collaborative program with other area libraries in a way that was never seen as a possibility in the past," one respondent replied. "I also hope we'll be able to create something for families without access to the internet over the summer to maintain their relationship with the library."
In fact, there are many places where going virtual is not an option, forcing library staff to get more creative.
"We are rural and do not think online is the way to go for our patrons," wrote one respondent. "We are planning more grab and go programming, and programs to happen in the park where people can be more spaced out."
Others are simply making the choice to not take the program online, even if patrons could access it.
"We are staying off line...no screens," said one librarian. "Writing grants to support a mail out of books and kits. We are also considering a storywalk in town."
Previously planned in-person crafts will be curbside pick-up and make at home for some.
So much is unknown, of course. Will the libraries still be closed? Will they open, only to be forced closed again by a local outbreak? What will the public health recommendations be as far as social distancing and wearing masks or disinfecting materials? Some libraries have staff working on each conceivable possibility.
"We are discussing contingencies for if we are closed, if we are open but only with curbside service, or if we are able to open, in which case we expect to be overwhelmed and will need a simplified version of Summer Reading," said one respondent.
"We are essentially making plans for every contingency," wrote another. "It's exhausting."

Read: Answering the Crisis, Public Libraries Collaborate with Schools, Other Organizations to Serve Communities | SLJ COVID-19 Survey