The three kid lit authors traveled to Florida and used their time during the public comments portion of the meeting to tell the board why they should return the Essential Voices Collection titles to the shelves.
Kid lit authors have been speaking out against book banning and censorship long before the wave of censorship efforts became national news. As more books get pulled from the shelves, many have stepped up their efforts.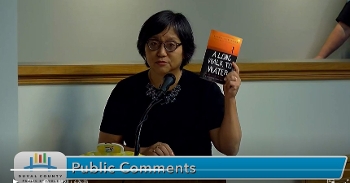 For a few, that included traveling to a school board meeting in Duval County, FL, this week, to speak out against the censorship of books in the district, specifically the removal of the Essential Voices Collection, which promotes diversity and inclusion with 176 titles for students K-12. Among its titles, the collection includes Chik Chak Shabbat by Mara Rockliff, Dim Sum for Everyone! by Grace Lin, Fry Bread: A Native American Family Story by Kevin Noble Maillard, I am Jazz by Jessica Herthel and Jazz Jennings, Life of Rosa Parks by Kathleen Connors, Sonia Sotomayor by Kathleen Krull, Sulwe by Lupita Nyong'o, Thank You, Jackie Robinson by Barbara Cohen, and When Aidan Became a Brother by Kyle Lukoff.
The collection's removal has kept the books out of classroom libraries in more than 100 Florida schools since January 2022, according to PEN America. There is no timeline for their return from storage.
PEN America wrote a letter, signed by 70 authors, including Ellen Oh, Linda Sue Park (whose Nya's Long Walk is part of the Essential Voices Collection), and Ami Polonsky (whose Gracefully Grayson is in the collection). The three authors traveled to Duval County to attend the December 6 school board meeting, deliver the letter in person, and speak during the public comments portion of the meeting.
Here is what they told the board and attendees.
Linda Sue Park: I'm an author of more than 30 books for young readers, including A Single Shard, which was awarded the 2002 Newbery Medal. Another of my books called the Nya's Long Walk is in the Essential Voices Collection that has been pulled from Duval County K5 library shelves. This book was requested by educators as an age-appropriate companion to my most well-known book, A Long Walk to Water, which is used in hundreds of schools all over the country including many schools in Florida. It has won awards from the American Library Association [and] the National Council on Social Studies. The Essential Voices Collection of books has been vetted by education, curriculum, and literacy experts who care deeply about children, including your children here in Duval County. Please reinstate the collection.
Ami Polonsky: I'm Ami Polonsky, the author of Gracefully Grayson, a gentle story about a trans girl that's currently in storage, and a middle school educator. I understand the power that schools and books have to change lives. I wrote Gracefully Grayson because I was worried about the mental health repercussions of trans kids not being reflected in books. Trans kids are at incredible risk mental health-wise, but supportive teachers improve their self-esteem. LGBTQ books can save kids' lives, and to know this but still refuse to take them out of storage is nonsensical; it's immoral.
Some constituents may not want their child to read a certain book. These parents can simply request their child cannot take that book out of the classroom library. I'm sure the teachers will oblige. A parenting perspective cannot outweigh a national mental health crisis among trans children.
To the LGBTQ students in Duval County, we're fighting for you. If you need books that reflect you, email me. I'll send you my books. I'll send you books by trans authors.
Let's get these books back on library shelves. Books save lives.
Ellen Oh: Good evening, my name is Ellen Oh. I'm an author, and I'm also a founding member of We Need Diverse Books, a nonprofit organization that believes that yes, books actually save lives. We Need Diverse Books and PEN America and most of the authors affected by the pulling of the Essential Voices Collection have all signed a letter. I have brought a copy here to submit.
I want to remind the board that all of you here care about the children, all of the children. And I want to emphasize the word all. Not just some kids whose parents you might be afraid of upsetting. Remember, you have to protect all the children, especially those who are in the most danger of harm, suicide, and bullying right now in this country.