An understanding of STEM ideas and principles can empower students to solve problems, take action in their own communities, and prepare them for the future. This is why STEM-related books continue to resonate with publishers and young readers alike.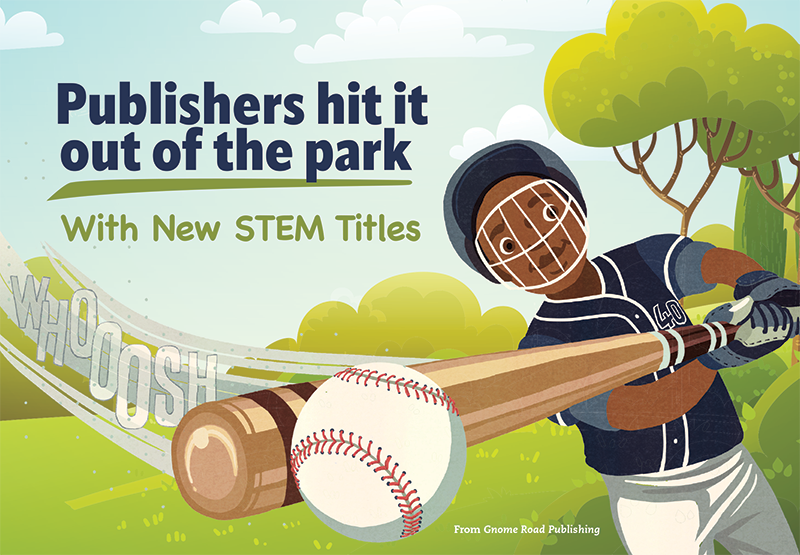 According to the National Inventors Hall of Fame, "STEM-based education teaches children more than science and mathematics concepts. The focus on hands-on learning with real-world applications helps develop a variety of skill sets, including creativity and 21st-century skills [such as] problem solving [and] critical thinking…The ability to think critically and challenge standards is the basis of innovation."
An understanding of STEM ideas and principles can empower students to solve problems, take action in their own communities, and prepare them for the future. This is why STEM-related books continue to resonate with publishers and young readers alike.
"STEM is in everything we do, and that will become more and more apparent," says Sarah Eason, co-owner and editorial director of Cheriton Children's Books. "It needs to be made relevant and meaningful to children, so they understand how STEM has a place in their world and how it can help them become better citizens."
The new STEM titles featured in this section are not only educational and inspirational but also downright fun! From the physics of a pulley that can lift an elephant off a book; to titles exploring the wonders of the flora and fauna of our world; to the slow-motion instant replay in a baseball game when atoms in different types of matter (a slushie, the scoreboard) are all in motion—the range of subjects, winning narratives, and engaging activities presented in these books are sure to score a home run with young readers.

Nomad Press
Nomad Press publishes educational books for children ages 5–15. All the company's books feature engaging narratives and hands-on activities that make learning fun and accessible for everyone. "STEM is a huge area of focus for us," says author and Content Marketing Manager Andi Diehn.
Nomad has a new series of titles coming out this fall, called "Picture Book Science: Simple Machines for Kids." Written by Diehn and illustrated by Micah Rauch, these six books introduce elementary-school age children to the science behind devices like levers and inclined planes with narratives in which the characters have to use simple machines to solve a problem.
For example, in Pulleys Pull Their Weight (September 2023, ISBN 9781647410872), a young girl has to figure out how to remove an elephant sitting on her book. Readers learn about forces and how forces can increase the amount they can lift simply by using a pulley.
Other books in the series are Screws Keep Things Secure (September 2023, ISBN 9781647410919), Wheels Make the World Go Round (October 2023, ISBN 9781647411077), Inclined Planes Ramp It Up (October 2023, ISBN 9781647410995), Wedges Make a Point (November 2023, ISBN 9781647411039), and Levers Lessen the Load (November 2023, ISBN 9781647410957). The books are available for purchase individually, or librarians can buy the six-book hardcover set for a discounted price (ISBN 9781647411114).
Nomad publishes books on life science as well as physical science. In August 2022, the company published a five-book series on different habitats, "Picture Book Science: Biome Explorers" written by Laura Perdew, illustrated by Lex Cornell, ISBN 9781647410858. The series introduces kids to deserts, tundras, grasslands, forests, and water environments as it follows two young explorers across these various biomes—and it discusses how students can help preserve these spaces.

Cheriton Children's Books
U.K. publisher Cheriton Children's Books has a simple mission: To create books that inspire a lifelong love of learning. The company publishes about 50 titles per year aimed primarily at middle grade readers. They are distributed in the U.S. by Lerner Publishing Group.
Cheriton intends not only to inform young readers with its books, but to empower them to act, says Co-owner and Editorial Director Sarah Eason. For instance, a new four-book series released in February 2023, called "Eco Action," provides real-life examples of how organizations are using STEM principles to make their businesses more sustainable.
In Ending the Energy Crisis, ISBN 9781914383786, author Robyn Hardyman relays how companies and organizations are making advances in solar, wind, and geothermal power as alternatives to fossil fuel. In Making Food Earth-Friendly, ISBN 9781914383809, Eason herself highlights how the Netherlands is using smart technology to become one of the largest food exporters in the world, despite being 270 times smaller than the United States.
"It's quite inspirational for children to see, amid all the doom and gloom, there are people and organizations using science and technology to transform how they operate and solve really serious issues for our planet," Eason says.
Other titles in the series focus on cleaning up transportation and helping nature in need. As with the company's other series, all of these titles are available for purchase individually or as a library-bound collection (ISBN 9781728487168).
Also published in February 2023, a six-book series called "Mission Survival: Saving Earth's Endangered Animals" (ISBN 9781728487397) profiles some of the most threatened animals on the planet and includes case studies exploring the work that's being done to save them. In these call-to action books, students learn how our planet's ecosystems are all interconnected and what they can do to protect our fragile world.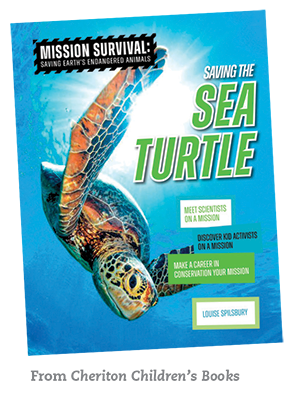 For instance, Saving the Sea Turtle by Louise Spilsbury, ISBN 9781914383748, describes how sea turtles help keep ocean life in balance. Students learn what conservationists are doing to protect these vital creatures, and they learn simple actions they can take themselves, such as reducing the amount of plastic they use.
"STEM Career Choices" by Cathleen Small, February 2023, ISBN 9781728487519, is a series of six books that help students explore the many jobs available in the STEM fields—including the skills these require and the day-to-day tasks they entail.
Flow charts with personality quizzes help match students with their ideal STEM careers, and step-by-step guides advise them on what to do if they want to get into a particular field, like computer science, engineering, or healthcare.

Gnome Road Publishing
Owner and Publisher Sandra Sutter, a former attorney and family therapist, started Gnome Road Publishing in 2021. After authoring two children's books herself, she realized she wanted to amplify other compelling content for children and help people tell their own stories.
Gnome Road's first titles come out this spring, and the company is looking to publish eight to 10 new picture books per year. "I'm looking for that 'r' factor: re-readability," Sutter says. "My goal is for every child to find something they can't put down in every season."
STEM features prominently in many of the company's titles. For instance, Science, Matter and the Baseball Park by Catherine Ciocchi, illustrated by Chantelle Thorne and Burgen Thorne, March 2023, ISBN 9781957655024, introduces young readers to the differences between solids, liquids, and gases in a setting that will appeal to sports fans in particular.
As the camera zooms in on instant replay, the action slows down long enough to see all the atoms in motion—and the book's illustrations help children see how densely packed the atoms are in different types of matter. "This book offers a fun, kid-friendly way to learn big concepts," Sutter says.
In Nudi Gill: Poison Powerhouse of the Sea, written and illustrated by Bonnie Kelso, April 2023, ISBN 9781957655000, a curious young snorkeler meets Gill, a flashy nudibranch (a soft-bodied mollusk). Because Gill lacks a shell, he protects himself by devouring poisonous creatures and absorbing their toxins into his skin. This makes him very colorful and serves to warn potential predators.
"This book has everything I love," Sutter says. "It's vibrant and colorful, just like Gill. It's also highly engaging and educational." During the course of the narrative, children learn there are more than 3,000 types of nudibranchs and other facts about these fascinating sea creatures.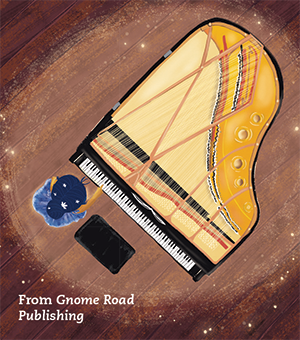 My Piano by Jen Fier Jasinski, illustrated by Anita Bagdi, September 2023, ISBN 9781957655161, combines STEM and the performing arts in a story about a young girl sitting at the piano, about to perform in her first recital.
With lyrical text, the narrative describes the structure of a grand piano—the hammers, pedals, strings, and keys—and how it creates sound. It also describes how the main character overcomes her nerves and is able to get through her performance. "It's a really lovely book," Sutter says.

SPONSORED CONTENT