K.C. Boyd, Amanda Jones, Cicely Lewis, and other School Librarians of the Year share new plans and perspectives for 2022-23.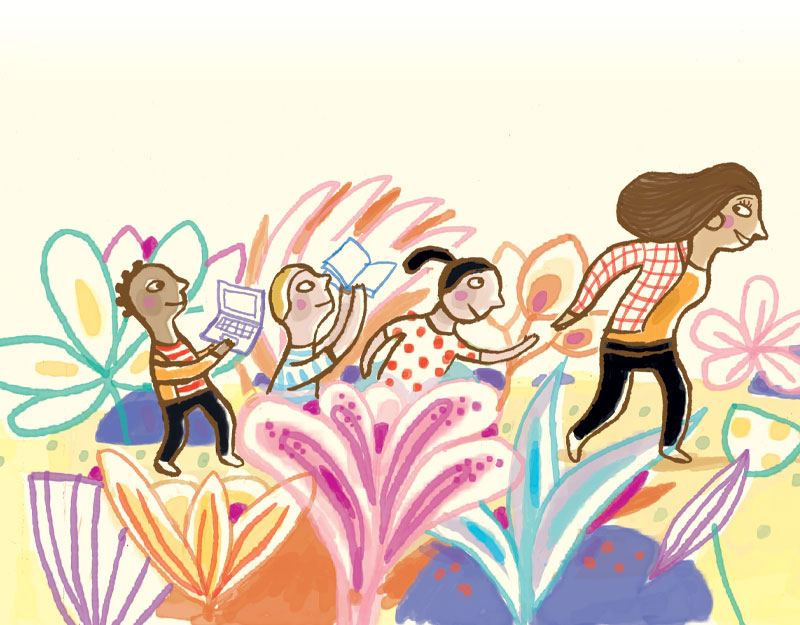 Illustration by Nathalie Dieterle

Amanda Jones
READ: JOURNEYING WITH JONES: AMANDA JONES, 2021 SCHOOL LIBRARIAN OF THE YEAR
What are three new things you plan to do in 2022–23?
• Incorporating more primary source documents into lessons. I will showcase what the Library of Congress offers online and pair those primary source documents with picture books.
• I will enter 2022–23 as president of the Louisiana Association of School Librarians (LASL) and plan to work on uniting Louisiana school librarians and advocating for them at the state level. I hope to convince the Louisiana Department of Education (LDOE) to include school librarians in the state's new literacy initiative by hosting a professional development day for LDOE and LASL with the help of a grant from the American Association of School Librarians.
• Host special events for students after school. I'd like to offer a mini-con around manga, a natural hair workshop, and a digital citizenship workshop for students and parents.
What keeps you up at night?
Current legislation in our state and across the country. I fear that legislation and movements to challenge and ban books, particularly works by marginalized authors and for marginalized communities, will continue. Our students deserve better.
What keeps you going?
I've worked in the small town that I grew up in for 21 years. I see a brighter future for our students that can be attained through knowledge and a solid school library program. I want our students to know there is a whole world filled with opportunity and people from different backgrounds and cultures.

[Read: School Libraries 2021: Advocacy is a Necessary Part of the Job for School Librarians]

Ali Schilpp
READ: APPALACHIAN TRAILBLAZER: ALI SCHILPP, 2018 SCHOOL LIBRARIAN OF THE YEAR
What are three new things you plan to do in 2022– 23?
• I am conducting research on rural school libraries and look forward to connecting with school librarians from similar locales and sharing how our work impacts student success.
• We are hosting local elementary students while their school is being renovated. The pre-K class is directly beside my library. Our middle schoolers will read to them and teach mini-lessons. I think it will be rewarding for all.
• Plants! We will continue our student-led library garden. The students plant, water, and name them. This spring they grew marigolds and zinnias. Many students and teachers stop in just to talk to the plants! We also received saplings from the Arbor Day Foundation that students planted on campus.
What keeps you up at night?
I used to fret over school consolidations. Now that this is inevitable, I view it as an opportunity to reach a new age group and provide more resources to our learners. I hope to see support for our public educators and community schools return. We need to promote people, not products. Privatization has led to a decrease in enrollment. It's crucial to prepare students for the workforce and provide them with pathways in fields like computer science so they can work remotely and continue living in our rural community.
What keeps you going?
My kids—all of them, always!

[Read: Priorities, Hopes, and Wishes for School Library Month 2022]
READ: MEET TAMIKO BROWN, 2017 SCHOOL LIBRARIAN OF THE YEAR
What three new things you plan to do in 2022–23?
To lead, support, and advocate to help school librarians and school library administrators build libraries all students deserve.
What keeps you up at night?
Reading page-turners on a plethora of subjects and plots can keep me up past my bedtime.
What keeps you going?
The school library is a haven. The services and programs offered by libraries are life changing and positively impact the lives of others. Helping design, plan, and implement teams for school libraries keeps me going.

[Read: Ditching Dewey? These Ideas Can Get You Started on Genrefication.]

Anita Cellucci
READ: CREATING A SAFE SPACE: ANITA CELLUCCI, 2016 SCHOOL LIBRARIAN OF THE YEAR FINALIST
What are three new things you plan to do in 2022–23?
• Digging deeper into pedagogy with Guided Inquiry Design along with the social studies department. A new cohort of five teachers will create an alignment of inquiry-based process research within the curriculum.
• Bibliotherapy with the English department, creating a more linear approach to ensure equity and justice with a literature-based practice.
• Continue a new collaboration with the local public library and the Teen Advisory Board to create a multigenerational reading community. Students work together to create a positive literacy culture that will amplify the voices and stories of students, educators, and authors of color. We are also collaborating with the National Museum of Mental Health Project by creating a chapter through our school library to encourage continued education, empathy, and acceptance.
What keeps you up at night?
The continuous challenge to provide what my students need in an ever-changing educational landscape, whether it's an authentic safe space, a caring and empathetic adult, or an adult willing to advocate for the things that often remain on the back burner.
What keeps you going?
My students. The little notes of thanks, the quick check-ins, the heart-to-hearts. But we also must have colleagues who can act as our touchpoints; those people in the building who just get us and know when we need that pep talk, coffee, chocolate, or a quick "just checking in on you." We do this for one another, and it's essential to being effective educators.

[Read: Librarians Uniquely Equipped to Address the Tenor of the Times]

Kristina Holzweiss
READ: MEET KRISTINA HOLZWEISS, 2015 SCHOOL LIBRARIAN OF THE YEAR
Edtech librarian, Syosset (NY) High School

What are three new things you plan to do in 2022–23?
• Last year I supported our school's speech pathologist, occupational therapist, and students in our Work-Based Learning program. Our students designed buttons expressing appreciation for our staff and fostering mental wellness with positive messaging. They'll continue using the Cricut machine to design and assemble vinyl shapes to create customized sensory walks for our elementary schools.
• I'll continue a podcasting program I started last year with our special education students using Flip (formerly Flipgrid).
• I plan to continue networking with my colleagues for the Edcamp Cardigan Camp event on November 12. It's an international event by librarians, for librarians. This year we'll host virtual and face-to-face events.
[Read: New York High School Creates Model Library Learning Commons]
What keeps you up at night?
Concerns about equity, inclusivity, and accessibility. Too many U.S. schools don't have certified school librarians. Districts, counties, and states take advantage of loopholes to save money at the expense of our students' access to trained educators.
What keeps you going?
I am part of a larger learning community of smart, dedicated school librarians who value students' rights to information and who truly care about children and the future of our society.


[Read: New York High School Creates Model Library Learning Commons]
[Read more about all School Librarians of the Year, 2014

–

present]