Here are SLJ's reviews of the books that made the longlist for the 2023 National Book Award for Young People's Literature.
The National Book Foundation announced its longlist for the 2023 National Book Award for Young People's Literature. Eleven newcomers to the National Book Awards comprise the 2023 class of longlist honorees. SLJ's reviews are below.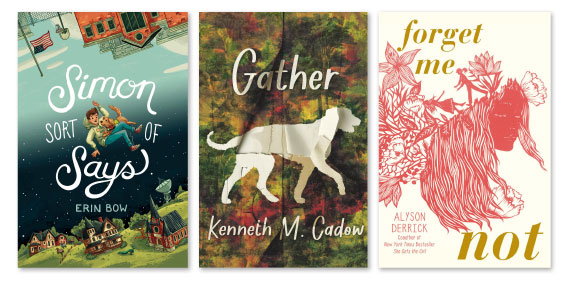 Simon Sort of Says by Erin Bow. Disney-Hyperion. ISBN 9781368082853.
Gr 5 Up–Facing trauma from the past is difficult, but this book handles it masterfully. Main character Simon is the only survivor from a shooting in his school classroom. He and his family have just moved to Grin and Bear It, NE—a National Quiet Zone town without internet, cell phones, or television. He hopes it will be the perfect place to find the "now" version of himself. While on his journey, Simon makes friends with Agate and Kevin. All three kids face different types of pressure and support one another as they seek out coping mechanisms and strategies. Simon's mother works as the town undertaker and his father works for the Catholic Church. It is a very rural environment, and a large part of the story is Simon and his friends experiencing birthing goats, being chased by emus or an attack peacock, training the sweetest service dog ever, and even faking an alien signal to the scientists managing a Large Radio Telescope. In the mix are an incompetent morgue assistant who is constantly losing bodies (or taking the wrong ones!) and a wild squirrel who ate the sacrament. Simon is a funny, lovable character who has lived through an unthinkable event. Simon is white, Kevin is Filipino American, and Agate is white and autistic. Funny and heartfelt in equal measure, this book tackles some tough topics, but the humor keeps readers engaged, and it is easy to care about these characters. VERDICT A solid purchase for all libraries that serve middle grade readers. It deftly handles the sensitive topic of being a young trauma survivor; warning for school shooting content.–Claire Covington
Gather by Kenneth M. Cadow. Candlewick. ISBN 9781536231113.
A resourceful teenager in rural Vermont struggles to hold on to the family home while his mom recovers from addiction in this striking debut novel. Review to come.
Forget Me Not by Alyson Derrick. S. & S. ISBN 9781665902373.
Gr 9 Up–Stevie and Nora are two teenage girls madly in love in a conservative town that would never accept them. They love in secret, meeting in the woods of Nora's farm or in a neighboring city where they can indulge in public dating without fear. After finishing high school, they have money saved and their escape to an accepting, affirming life in California all planned out. That is until a devastating accident causes Stevie to forget that Nora exists. She wakes up to a life, to friends, and to parents who are completely different from those she remembers, having no idea what has made them estranged during the gap in her memory. As well, she finds herself magnetically drawn to the strange girl who saved her life, Nora, who unbeknownst to her is concealing her broken heart and her deep hope that Stevie will remember their love. It's a well-paced, well-built, heartbreaking, and heartwarming story about trusting instincts, finding the right people, and figuring it all out. Readers will root for this couple against all odds. Perfect for fans of a good amnesia story. VERDICT A solid purchase for all libraries serving teens, especially where LGBTQIA+ contemporary romance is popular.–Kayla Fontaine

Huda F Cares? by Huda Fahmy. Dial. illus. by author. Dial. ISBN 9780593532805.
Gr 6-10–Huda and her sisters are excited about their upcoming trip to Florida. They'll endure the 24-hour car ride from their home in Dearborn, MI, knowing Disney World is on the other end. Leaving home, where they are part of a large and visibly observant Muslim community, means they'll now be in a far different place. Seeing people drink beer or show affection in public is a new and awkward experience. Huda and her sisters are subjected to stares and rude questions. Regardless, they deal with the discomfort and understand their right to practice their religion, including praying in public. The sisters enjoy exploring everything Disney World has to offer. Huda makes some questionable decisions while navigating this unfamiliar environment; one leads to a scary situation. Although it's a fun trip overall, Huda questions why their parents would bring them to a place where so much of what goes against their beliefs is on display. Huda gets her answers and learns more about her family in the process. This follow-up to Huda F Are You?? is a delightful story, even when addressing difficult issues. Picturing a tiny "Thoughtful Huda" and "Selfish Huda" on Huda's shoulders as she wrestles with decisions is one way the creator employs humor in both narrative and art without lessening the impact of what the girls face. VERDICT This strong addition to any collection wraps messages about stepping into new experiences while staying true to yourself within a funny, enjoyable story.–Carla Riemer
Big by Vashti Harrison. Little, Brown. ISBN 9780316353229.
PreS-Gr 2–A nameless Black girl, mostly depicted in a pink tutu with her hair in Afro puffs, is bright, clever, talented, and helpful. When she was little, being told she was "a big girl" was a compliment. Actually, being a big girl "was good…until it wasn't." Humiliations on the playground and at dance class lead to offhand insults from teachers and mockery from peers. Their words hit hard and won't let go. As her body image worsens, she grows larger on the page, clearly uncomfortable with the space she takes up. Her previously pink ballerina costume is painted "husky gray" by her dance teacher. She grows so big she takes up the entire page spread, and that is when she breaks. As her tears flood around her, all the words that have been said about her float to the top. She gathers close the pink words—creative, graceful, BIG—and leaves the gray words—MOOSE, COW, too big. She gives those gray words back, telling their speakers how they hurt her. As she shrinks back to her true size, a girl offers to help her change, and she responds, "I like the way I am." Adorned in optimistic pink again, she dances off, her positive words trailing behind her. This book resonates with a potential emotional impact that is immense. The girl is the only character in full color; her peers and teachers are shaded characters against a pale pink background, a stylization that reinforces her isolation. Never offered comfort by anyone else, she takes charge of her emotional well-being. VERDICT This inspiring and highly relatable title could be used with readers of any age to discuss topics of body image and self-love. Recommended.–Elizabeth Lovsin
The Lost Year: A Survival Story of the Ukrainian Famine by Katherine Marsh. Roaring Brook. ISBN 9781250313607.
From the author of Nowhere Boy - called "a resistance novel for our times" by The New York Times - comes a brilliant middle-grade survival story that traces a harrowing family secret back to the Holodomor, a terrible famine that devastated Soviet Ukraine in the 1930s. Review to come.
Hidden Systems: Water, Electricity, the Internet, and the Secrets Behind the Systems We Use Every Day by Dan Nott. Random House Graphic. ISBN 9780593125366.
Gr 6 Up–Separated into sections, broken into chapters, with each focusing on a smaller part that makes up a larger whole, this bold undertaking sets out to explain systems in our daily lives. From internet to electricity to water, our most complex systems and how they affect our environment come under scrutiny. Simple, monotone sketch illustrations provide extra white space for information, but some cells lack direction. The book is packed with information and technical detail that may overwhelm the casual nonfiction reader or graphic novel enthusiast. VERDICT An ambitious effort that misses the mark for the intended age. Purchase for a public or school library where students show a great interest in science and engineering.–Maryjean Riou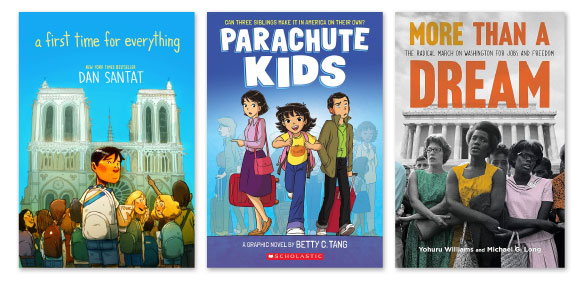 A First Time for Everything by Dan Santat. First Second. ISBN 9781626724150.
Gr 5-9–In 1989, 13-year-old Santat headed off to Europe for three weeks at the insistence of his parents. They couldn't travel much anymore on account of his mother's lupus and wanted him to have that experience. Santat was less than thrilled, having just wrapped up junior high with more negative experiences than positive ones. Like the title indicates, this memoir explores young Santat's first coming-of-age experiences. We see his first time away from home without parents, first discotheque, and first taste of beer in a German beer hall, among many others. One particular highlight is his first chance at young love with a golden-haired girl named Amy. This was also a trip for Santat to take his art seriously and share it with others without fear of being bullied. Santat's artwork in the story is as great as you'd expect, with the European cityscapes often bathed in golden hour light. All the loveliness is juxtaposed with the strong and often hilarious reactions of teenagers. Flashbacks done in a moody blue show the reality of Santat's former life. An author's note indicates how the story diverges from real life details and acknowledges that travel as a teenager in 1989 was much different than it would be today. Santat's emotional journey is easy to track and culminates in a surprising experience at Wimbledon. While Santat's story is his own, readers will have a worthwhile time relating to him. VERDICT A thoughtful memoir with lots of humor and heart. Hand this to fans of Real Friends and the "Berrybrook Middle School" series. Recommended for all.–Gretchen Hardin
Parachute Kids by Betty C. Tang. Scholastic/Graphix. ISBN 9781338832686.
Gr 4 Up–In 1981, Feng-Li, 10, travels to California from Taiwan with her family for what she thinks is a vacation, but her parents planned for the siblings to stay in "the land of opportunity." They adopt American names for school, and Feng-Li (now Ann) holds fast to her "tomorrow will be better" fortune cookie paper, despite her struggles with English. When both parents have to return to Taiwan, the undocumented siblings are on their own, with older sister Jia-Xi (Jessie) in charge, and middle son Ke-Gng (Jason) resentful. Feng-Li plays peacemaker between her two siblings, but the three face frightening obstacles before their family is reunited. Feng-Li wonders, "How has everything gone so wrong? Aren't we here for the American dream? So far it has been nothing but a nightmare." But when her sister falls into depression, the plucky girl swings into action, inspiring her siblings to pull together, and the ending is hopeful. There are sometimes six or seven panels on a page, but the action and the characters' emotions are easy to follow; red text in yellow speech balloons denote when they are speaking Chinese, black text in white balloons signifies English. A subplot indicates that Ke-Gng is gay, something his mother wants him to suppress, and his new friends reject him for. An author's note explains that she herself was a "parachute kid," and that the story is a mix of fiction, memory, and anecdotes. VERDICT At once common and unique, this is a compelling story of immigration and family bonds; highly recommended.–Jenny Arch
More Than a Dream: The Radical March on Washington for Jobs and Freedom by Yohuru Williams and Michael G. Long. Farrar. ISBN 9780374391744.
Gr 5 Up–A detailed account of the 1963 March on Washington, one of America's most iconic civil rights events. The book begins with the initial inspiration and planning, then continues to Martin Luther King Jr.'s final speech of the day and the closing remarks. With a remarkable blend of primary resources, firsthand accounts, and thought-provoking questions, readers will learn about the many important people of the Civil Rights Movement and the intricacies of executing such an event. Black-and-white photographs, newspaper clippings, pamphlets, advertisements, and quotes from everyday people bring the story to life and provide a vivid glimpse into history. A table of contents, extra steps, things to consider, acknowledgments, notes, image credits, and an index are all included. VERDICT A highly recommended addition to civil rights collections that are looking for a well-written and deeply informative title.–Kate Rao