Participants in the study showed more confidence, stronger reading skills when using large print books.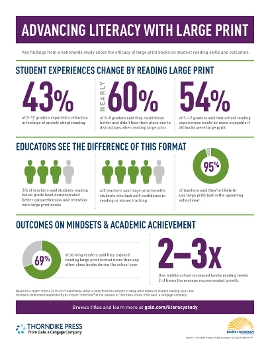 Large print books may not only be good for people who are visually impaired and older readers. According to a new study, reading titles with larger text benefitted students, helping them develop stronger reading skills and feel more comfortable as readers.
The industry research conducted by Project Tomorrow, on behalf of Thorndike Press, looked at the impact of reading large print books on approximately 1,700 students in grades 3–12. Fifty-six teachers and librarians also participated in the study. A majority of teachers said students who were reading below grade level showed better comprehension and retention when using books with bigger text.
Read about the findings in the full press release below: