Makey Makey, Hummingbird Duo, and Scratch can turn an ordinary poster or diorama into a talking, moving educational presentation.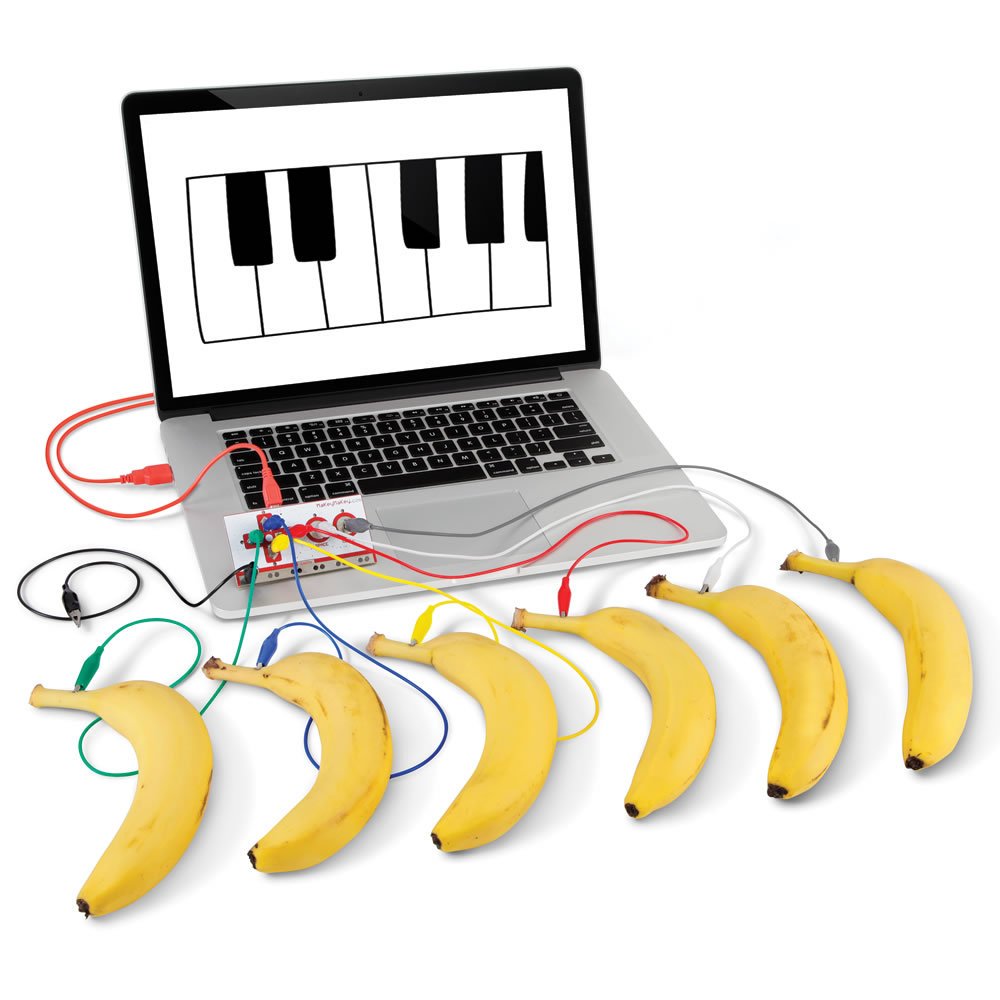 Never underestimate the appeal of a " banana piano." It grabs students' attention, sparks curiosity, and can transform projects in ways they would never suspect.
At Sunset High School in In Beaverton, OR, 11th grade English/Language Arts students were working on a Harlem Renaissance project. Students were asked to connect the writers and artists of the time period with poetry they read and wrote in class. Teacher Rebecca Larson gave students various choices of how to represent their understanding. From there, I showed provided books and materials for posters, games, dioramas, 3D printed objects, video projects, and more.
Adding electronics and coding brings a new dimension to creative projects. The designer needs to pay special attention to how the user will interact with the project and requires students to think through the design process. Coding with Scratch and adding electronics such as the Makey Makey, MicroBit, and Hummingbird Duo are making their way into library Makerspaces. Librarians can combine student's interests in making and electronics and use them for book talks, book character robots, reader's advisory, and classroom projects to support curriculum goals. Not sure how a Makey Makey works? SparkFun has an excellent quick start guide .
I used Makey Makey to create examples of an interactive poster and banana piano. The Makey Makey—I explained as I demonstrated how it works—can turn everyday objects into an interactive keyboard for your project. Touch the banana and a musical note plays on a computer. Add metal brads and conductive tape to a poster board and now someone can touch areas of the project and hear a recording or watch a simple animation.
An interactive poster designed with Makey Makey compares Kendrick Lamar's music to Langston Hughes's poetry.
Junior Nathan McGuire used Makey Makey to design and create an interactive poster comparing the poetry of Langston Hughes with music by Kendrick Lamar and his own poetry. The touch points on his poster played music and poetry recorded by McGuire. To program it, he used Scratch ( https://scratch.mit.edu/) on a Chromebook. He added conductive tape to the back of his poster and connected alligator clips to the Makey Makey. McGuire's project stood out not only because of his efforts to learn how to program the electronics, but also hearing his voice and explanations added a personal touch.
These projects, and even more complex ones, are accessible for younger students as well. At Cedar Park (OR) Middle School, library and instructional technology teacher Linda Peterson partnered with Instructional Tech TOSAs from Beaverton School District for an afterschool Makeathon where students created a Robotic Petting Zoo . Using everyday materials such as cardboard, construction paper, pipe cleaners, pom poms and hot glue, students designed and built cardboard animals with moving parts and LED lights. Connecting servo motors to the cardboard animals attached to the Hummingbird Duo controller and programming in Scratch added animatronics so the animals could open their mouths or flap their wings. Waving a hand in front of a cat triggered the motion sensor to open the cat's mouth for feeding, which also triggered a meowing sound. The Robotic Petting Zoo was a big hit at the districtwide Innovation Fair and showcased the middle schoolers' creativity, inventiveness, and abilities.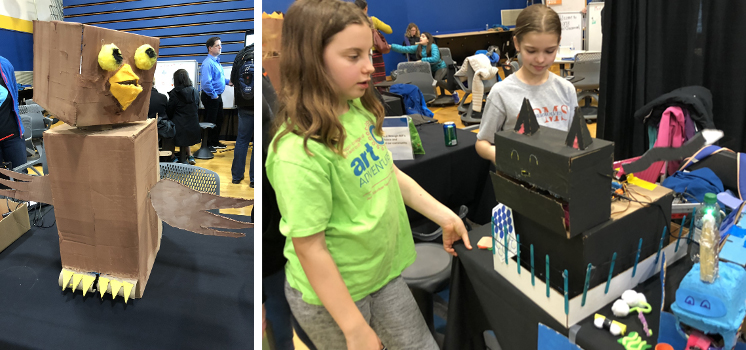 These middle school students created a robotic petting zoo during a makeathon.
Pairing books and character robots is a great extension of this activity. Wouldn't it be fun for library patrons to have robotic characters promoting books and igniting curiosity in the design process. Students could create cardboard robots of their favorite book characters or design interactive dioramas from a setting from a story.
Students in our #MakerMonday program at Sunset High School helped complete an interactive storybook diorama based on the children's book Where The Wild Things Are. We added characters from the book, Max and a Wild Thing, and used servo motors attached to the Hummingbird Duo to make the characters move up and down. Students had to figure out the mechanics of simple machines and how to entice young children to interact with the story while the narration played. Following along with a storybook, children could add their own "growling and gnashing of teeth" or howling by pressing touch points to make the project interactive.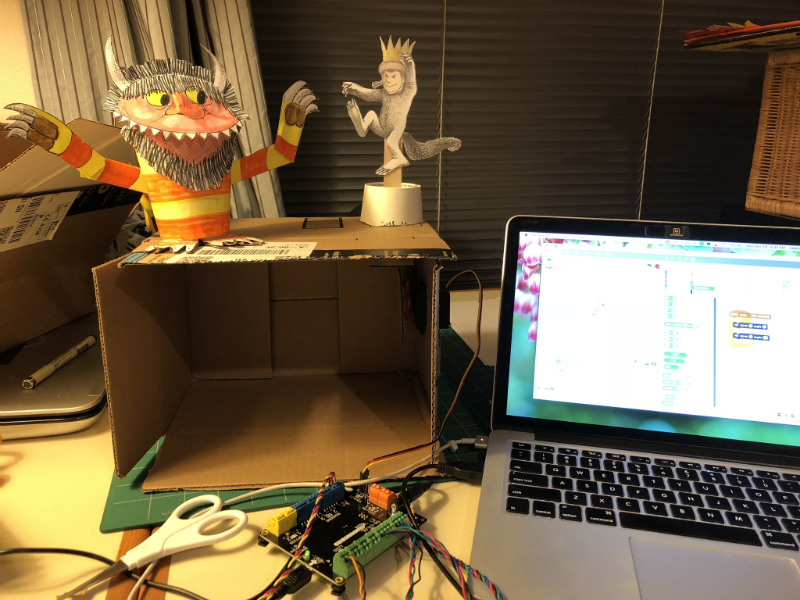 Crafting an interactive storybook diorama based on Where The Wild Things Are.
Cardboard robots and moving dioramas are not limited to reading and book projects. Students in Spanish classes have created interactive games for language practice and science students have demonstrated principles of sound by connecting found objects to the electronics.
To appeal to all types of students, librarians should find ways to bring simple electronics and coding to promote books and reading. Gather up some discarded boxes, add a few craft items-- and maybe even a banana piano--and allow your student's creativity to flourish.
The possibilities of books + electronics + coding is endless. And as most robotic characters involve engineering design, these projects easily align with a number of the K-12 Computer Science Standards (computational thinking, collaboration, programming, communications), the ISTE Standards for Students, and the Next Generation Science Standards. Projects can be created in small groups--requiring collaboration and thinking together--and can include literary analysis, creative design thinking, engineering skills and programming.
Colette Cassinelli is a library and instructional technology teacher at Sunset High School in the Beaverton (OR) School District. She is a Google Certified Innovator, Region 1 rep for Oregon Association of School Libraries and author of Inspiring Curiosity: The Librarian's Guide to Inquiry-Based Learning published by ISTE.