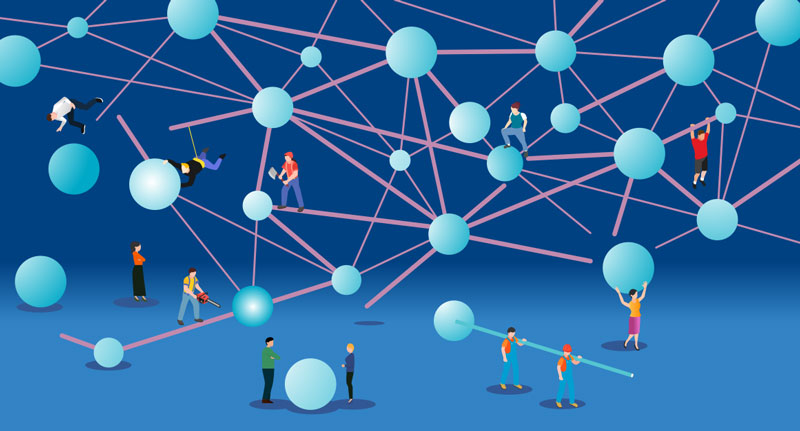 Getty Images/Creativaimages, modified by SLJ
For nearly a decade, Mary Liming has taught social studies to seventh graders at Webb Bridge Middle School in Alpharetta, GA. In all those years, she's often turned to BrainPOP to introduce new units.
BrainPOP offers thousands of short, animated videos for K–12 students that feature an orange robot named Moby and his human best friend, Tim. They answer questions on nearly every subject imaginable in a condensed, age-appropriate way. Liming particularly likes the one about the Vietnam War, which she uses for a unit on South and East Asian history.
"It's really, really hard to find videos about the Vietnam War that you can show to seventh graders that don't get blocked by firewalls or have political statements one way or the other," she says.
At the end of the 2020–21 school year, Liming received an email from the Fulton County Schools superintendent announcing that BrainPOP would no longer be allowed in classrooms.
Liming had a suspicion about what was happening. A parent group in nearby Forsyth County had recently requested certain books be pulled from libraries in that district. At a recent school board meeting, Liming heard, somebody mentioned BrainPOP as "indoctrinating videos."
Liming followed up with the superintendent about the new policy. She asked him to reconsider the ban and detailed how she used BrainPOP and the many positives of the platform, especially "how it really breaks down complicated subjects."
The superintendent told her that some BrainPOP content was objectionable to a segment of the school community. Liming asked for evidence. The superintendent provided three examples. Two were posts on BrainPOP's blog, one about making classrooms more comfortable for LGBTQ students, and the other about helping kids understand the Black Lives Matter movement. The third was a video on the reproductive system.
"It was literally the biology of the menstrual cycle. There was nothing controversial in this, except that it exists," Liming says.
In addition to rampant book bans and librarians being accused of being pedophiles and groomers, there's another censorship battle in schools across the country. It's in the digital realm, where online library databases and resources like BrainPop come under attack.
Targeting databases
Attempts to restrict access to online resources have been led largely by conservative parent groups and political activists who claim they are protecting students from "obscene" materials. But like the books being banned, the content targeted through databases is largely focused on topics related to
LGBTQIA+ themes, race and racism, and sexual health.
One of the earliest attempts in recent years was in Colorado in 2018, when parents—with legal representation from the conservative Thomas More Society—filed suit against the database company EBSCO Information Services and the Colorado Library Consortium, alleging that EBSCO made pornographic material available to schools and libraries. The case was dismissed less than a year after it began.
Also in 2018, a Utah mother, Nicholeen Peck, claimed she discovered pornography after spending an hour searching EBSCO's database. The state cut off access to EBSCO for its more than 650,000 students. But when leaders of the Utah Education and Telehealth Network Board were unable to replicate Peck's findings, it restored access.
More states are considering legislation to require databases to remove and block access to materials deemed obscene and harmful. Measures have already become law in Utah and Tennessee. Oklahoma passed HB 3702 in 2022, requiring vendors to certify they do not allow access to "obscene materials" or "pornography." Some saw this as an extension of the state's overall efforts to restrict material on gender- and race-based topics. Similar legislation is pending throughout the country.
In 2022, Nebraska state senator Joni Albrecht introduced LB 1213, to prohibit K–12 students from accessing what she deemed obscene digital content. The bill also stipulated that a parent or guardian could bring a civil action against a vendor or entity that provided online resources deemed obscene or harmful and receive damages of up to $10,000 per violation.
Courtney Pentland, a school librarian in Lincoln, NE, helped address that legislation on behalf of the Nebraska Librarians Association Advocacy Committee. Among the group's concerns: The bill presented unrealistic time lines for reviewing material and placed undue hardships on districts.
"For every instance a parent reports to the school board or other entity, the principal or superintendent has to determine in seven days whether the material is obscene," says Pentland, the committee's vice chair. "Let's say someone turns in 40 articles in one day. You have seven days to review and get back to them, and then the board has to vote on it. What if your board only meets once a month?"
Meanwhile, Albrecht, as reported by the Omaha World-Herald, could not cite an incident of a student finding obscene materials through a school database.
"I could see if you had evidence that this happened to a kid, then that's concerning and should be addressed, but there's no evidence," says Pentland. "I'm pretty sure most students trying to find content not relevant to curricular needs or their age are probably not going to EBSCO."
Ultimately LB 1213 did not advance during the last legislative session. But in January 2023, a similar bill, LB 635, was introduced by the same senator.
While legislation like Nebraska's has been framed as protecting kids from obscene content, undercutting that argument is the fact that school libraries already have safeguards. Since 2000, every school receiving federal technology funding must have filters to block pornography and other harmful content as stipulated in the Children's Internet Protection Act (CIPA).
CIPA makes it mandatory for library databases to bar inappropriate content, and major databases, including EBSCO, are CIPA compliant. Kathleen McEvoy, EBSCO vice president of communications, says the company employs a thorough process to ensure content is age appropriate.
"The curation processes that exist in creating databases for specific audiences are rigorous, involve experts, and include many mechanisms and tools for researching and selecting content to ensure its suitability," she wrote in a statement.
Many librarians and advocates say legislation like LB 1213 aims to remove content that parents object to, and in particular, sexual health resources and books with LGBTQIA+ themes.
That's what happened in Benton, LA, where one parent complained about the picture book Prince and Knight, which features a same-sex marriage, after his daughter accessed the book through the school's Epic digital library. The district removed links to Epic on its websites, claiming it was a free option introduced during the pandemic, not part of the approved curriculum.
McEvoy added in her statement that legislation truly meant to provide safer online environments for students is one thing. "However, if legislation is intended to provide a level of control for certain viewpoints that may lean toward censorship (opinions of what is right or wrong to teach—going beyond the ideas of age-relevant material), then we are treading in an area that could certainly be harmful in many ways."
In some states, harmful legislation is not a hypothetical. In 2022, the Georgia General Assembly passed SB 226, requiring local school boards to adopt policies for reviewing complaints and removing books. In 2021, Utah passed a law that would block what it judged to be obscene or pornographic material from all public school digital resources.
EveryLibrary, an Illinois-based advocacy nonprofit, keeps track of legislation passed or under consideration around the country. CEO John Chrastka says many bills share characteristics, including being anti-LGBTQ and anti-Critical Race Theory. They all share an intent to "limit what children and families can access."
"I want to avoid the perception that these specific anti-database pieces of legislation are being foisted upon legislators. This is an authentic attack on public education that's coming from true believers in the state legislatures," Chrastka says. "We have to fight back against bad bills, and we have to introduce smart legislation."
Meanwhile, tens of thousands of students are losing access to resources. That "has an enormous impact on students' ability to research, develop critical thinking skills, and access a variety of resources reflecting a range of views" that support lifelong learning, says Deborah Caldwell-Stone, director of the American Library Association's Office for Intellectual Freedom.

Role of vendors
Librarians outside states with attempted restrictions are concerned, too. Sara Kelley-Mudie, director of the Southworth Library at Thayer Academy in Braintree, MA, worries that database companies, fearful of lawsuits like in Colorado, may be implementing policies that impact everyone.
"With Gale in particular and their middle school database, a word like 'sex' is a stop word, but when you search for 'sexual orientation' or 'sex discrimination,' those searches don't work," she says. "Regardless that I want my students to be able to search for age-appropriate materials, that decision has been made for us."
Vendors are caught in the middle, facing pressure from school boards, parents on both sides of the issue, and legislators. Most are holding the line as best they can. Some, like Gale and EBSCO, offer tools for schools and districts to remove publications or articles from their version of a database.
ProQuest offers content control by individual libraries across some of it platforms and is "investigating expanding this capability," a company representative wrote via email. "ProQuest seeks to empower librarians to make decisions about content availability in response to their understanding of the community expectations and standards."
"People see the vendor community as more problematic than they are," says Chrastka. The real problem is "the political agenda from politicians and these anti-access special interest groups."
Gale general manager Paul Gazzolo said in a written statement that his company respects librarians and "their unique expertise as information professionals to identify and select the content and tools they feel best meet the needs of their communities. So, we offer flexible curation options, for eBooks down to the title level, as well as administrative tools to help libraries tailor their collections and database content to specific audiences, as they see fit."
In addition to advanced filters that scour millions of content items for appropriateness, vendors like Gale have a process for customers to request a content review. That content is evaluated for maturity level and academic value by an editorial team that recommends any adjustments, including permanent removal.
"Putting learners first is our highest priority," Gazzolo wrote. "Gale embraces the core value of the American Library Association to provide equitable access to information for all and strives to help librarians balance their general commitment to freedom of information with the particular collection development policies of their communities and schools."
Back in Mary Liming's classroom and district, BrainPOP remains fully blocked, even though BrainPOP, like other providers, offers the ability for a principal or district to block individual videos. "I'm not advocating for censorship, but they threw out the whole baby," Liming says.
BrainPOP CEO Scott Kirkpatrick says the company created its content management tool for exactly this scenario, recognizing that "education decisions are made at the state and local level, and every community is different."
Protests against BrainPOP haven't ended. Last year, a Florida parent lodged a complaint over a video related to the civil rights movement. Although the school board denied the appeal, in August, the Florida Freedom to Read Project reported some educators couldn't access a number of topics, including videos about Jim Crow laws and Brown v. Board of Education.
Kirkpatrick says BrainPOP is committed to helping teachers "tackle the hard stuff" by sticking to its core values of teaching essential skills through stories, being inclusive, and creating content aligned with standards and teacher requests.
"Why did we put out a topic on BLM protests? It's because this is what teachers were asked about [by students] and they didn't know how to answer," Kirkpatrick says. "We don't tell kids what to think. We model that joy of learning so kids can make their own evidence-based [decisions]."
---
Andrew Bauld reports on education.