Save the date and register to join us "In Community" for a full-day, virtual program on Oct. 28.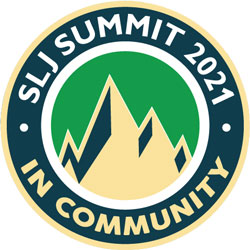 The SLJ Summit will be a free, all-day virtual event on Thursday, October 28. The theme for this year is "In Community." The need for the support and power of community has never been more apparent as educators and administrators continue to find a way to teach through a global pandemic, as well as heated local and national challenges to antiracist books and curriculum.
The day begins with a discussion of antiracist education and teaching the truth in these times, as states across the country enact legislation that aims to limit what can be taught and how. "Antiracism, History, and Fighting for Truth" will be livestreamed. The panel includes Texas high school history teacher Nelva Williamson, North Carolina middle school social studies teacher Rodney D. Pierce, and Zinn Education Project's Deborah Wei. It will be moderated by journalist and SLJ contributor Christina Joseph.
Reverend Jacqui Lewis, author of Fierce Love: A Bold Path to Ferocious Courage and Rule-Breaking Kindness That Can Heal the World, will follow that session with a keynote address.
The rest of the day will provide important conversations and actionable takeaways. Learn about the resources available and how to respond to a challenge during "When "Anti-Critical Race Theory" Comes for Library Collections," and how librarians are eliminating bias and racism and ditching the Dewey Decimal system during "Move Over, Melvil!" Other sessions will discuss culturally responsive teaching, trauma-informed library services, teaching news literacy, mobile services, fostering a professional learning community on TikTok and Clubhouse, and more. In addition, American Association of School Librarians president Kathy Carroll will be in conversation with Tuscaloosa City (AL) Schools superintendent Mike Daria.
Finally, for the second year in a row, the SLJ Reviews team will reveal some of 2021's Best Books. You won't want to miss this early look at these eagerly anticipated annual lists.
The day will include live-streamed and pre-recorded sessions, as well as the ability for registered attendees to view the sessions on-demand for up to three months.
The event is sponsors are: Capstone (Platinum Sponsor); TeachingBooks (Gold Sponsor); Lerner, Library Ideas, Mackin, Rosen Publishing (Silver Sponsors); and Crabtree Publishing and Junior Library Guild (Booth Sponsors).
For the full program and to register, visit slj.com/sljsummit.