With Women's History Month approaching, here are some biographies and biography collections to help with lesson plans, programming, and displays. From gymnast Simone Biles to astronaut Ellen Ochoa and author Beverly Cleary, these titles span generations and subjects and offer insight into the lives of women who have made their mark on the world.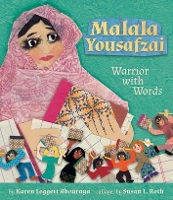 ABOURAYA, Karen Leggett. Malala Yousafzai: Warrior with Words. illus. by Susan L. Roth. 40p. (Warrior with Words). bibliog. notes. photos. Lee & Low. Feb. 2019. pap. $11.95. ISBN 9781620148389; ISBN 9781620147993.
Gr 3-5–The story of Malala Yousafzai is a powerful one: she is a living testament to personal strength and the value of education. The young human rights advocate is a true warrior with words, and this up-to-date biography introduces children to her story. For a generation of digital natives, a young woman who expresses herself and elicits change through a blog is both relatable and inspirational. Interspersed with quotes from Yousafzai, the text highlights the important events in her life. From the beginning of her blog until the day of the Taliban's attempt to assassinate her, and onward through her recovery and up to present day, the thread that weaves the story together is her unwavering support of the right each child has to an education. Roth's illustrations are composed of beautiful fabric-and-paper collages. There are gorgeous, bright colors throughout, but the Taliban and events involving them are depicted in muted tones of black and gray. The informational pages at the end of the book are not to be missed. Children can learn more about Pakistan, the Taliban, and The Malala Fund. There is even a section that encourages young readers to take action and provides information on how to do so. ­VERDICT Available in both English and Spanish, this contemporary biography is excellent for conversations about the power of words, resilience, and the ability of one person to inspire meaningful change.–­Katie Darrin, Boulder ­Valley School District, Boulder, CO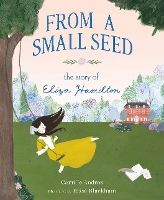 ANDROS, Camille. From a Small Seed: The Story of Eliza Hamilton. illus. by Tessa Blackham. 40p. Holt. Oct. 2019. Tr $18.99. ISBN 9781250297426.
Gr 1-3–As a young girl, Eliza Hamilton played beneath the branches of tall trees with deep roots, proof of their ability to outlast the harshness of life. Hamilton didn't know it then, but she, too, would grow, sink her roots deep, face tragedy and sorrow, and become a strong pillar providing shelter and hope for others. The poetic and graceful text gently weaves metaphors with facts set in lush, detailed illustrations. Readers will find themselves entranced by the story of a woman whose empathy and compassion can serve as an inspiration. Although the story itself may seem vague when it comes to specific details, the author's note on the final pages fills in the gaps and explains many of the clever illustrations. Strong vocabulary is repeated throughout, offering an opportunity to introduce young readers to terms such as "passion, persistence, and perseverance." VERDICT This timely and elegant biography of one of our nation's founding mothers, told in simplest terms, will touch the hearts of its readers. ­Lyrical and ­beautifully illustrated.–Emily Beasley, Omaha ­Public Schools
BAILEY, Diane. Ida B. Wells. 160p. (Discovering History's Heroes). bibliog. glossary. notes. Aladdin/Jeter. Aug. 2019. Tr $17.99. ISBN 9781534424852; pap. $6.99. ISBN 9781534424845.

Gr 4-6–Bailey explores Wells's journey to becoming a prominent part of the fight for African American equality in the United States. Readers learn about Wells from her time as a young teen to her death. She is an often overlooked part of the history of civil rights, but Bailey does a superb job of maintaining readers' interest through a chronological account of Wells's journey. The author highlights particularly tense moments when Wells's work became dangerous, such as being a vocal crusader against lynching. As a young teen, Wells made the decision to care for her siblings after her parents' death. She faced considerable challenges, as supporting a large family with a meager education at the turn of the century was difficult. Additionally, many people thought the odds were against Wells due to her race and gender. She proved her naysayers wrong and used her skills, grit, and determination to become an undeniable force in journalism. Each chapter has bolded words that are clearly explained in context, and a glossary is provided at the end of the book. This vocabulary addition is helpful with terms that require some content knowledge for full understanding. VERDICT Readers who appreciate nonfiction and biographies will enjoy the quick pace and suspenseful moments detailed in this look at the life of Ida B. Wells. Bailey's writing is clear and accessible to young readers who will understand the perilous risks Wells took as she fought against racism.–April Sanders, Spring Hill College, Mobile, AL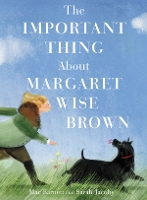 BARNETT, Mac. The Important Thing About Margaret Wise Brown. illus. by Sarah Jacoby. 48p. HarperCollins/Balzer + Bray. May 2019. Tr $17.99. ISBN 9780062393449.
Gr 1-5–Legendary New York Public librarian Anne Carroll Moore would have probably called this provocative biography "truck"—in other words, "the wrong kind of book." And while it is true that the book is unorthodox, one could argue that its subject is equally so. At the onset, readers learn that this picture book is longer than most—a deliberate 42 pages to document a life of 42 years—and that Brown grew up in a house in the woods with many pets including a dog, two squirrels, and 36 rabbits. When one of these rabbits died, she skinned it and wore its pelt around her neck. But the important thing shared on the second page and repeated on the last is that "she wrote books"—more than 100. Jacoby fancifully shows little bunnies reading and listening to some of Brown's most popular titles at the library, a few of which are summarized as well. An inordinate number of pages are devoted to Moore's disapproval and refusal to recognize Brown's groundbreaking contributions to the field of children's literature. The delightful, whimsical illustrations are rendered in watercolor, Nupastel, and Photoshop and portray a young, blond, energetic Brown chasing her dog, swimming naked, buying a cartload of fresh flowers, and admiring the sea from the bow of the ship meant to deliver her to a new, exciting life. Sadly, "Lives don't work the way most books do. They can end suddenly, as fast as you kick your leg in the air." VERDICT An important, groundbreaking biography inspired by Brown's legacy.–Barbara Auerbach, Cairo Public Library, NY
BARRETT, Hayley. What Miss Mitchell Saw. illus. by Diana Sudyka. 40p. S. & S./Beach Lane. Sept. 2019. Tr $17.99. ISBN 9781481487597.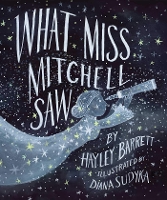 PreS-Gr 3–This beautiful biography of astronomer Maria Mitchell begins with her birth and childhood on the island of Nantucket, where her father taught her to use a telescope and "sweep the sky" to observe and learn about all types of celestial phenomena. Mitchell's perseverance and fascination with the night sky led to the discovery of a comet and a gold medal from the King of Denmark commemorating her accomplishment. The ink, gouache, and watercolor illustrations provide the perfect accompaniment to the story, especially the repeated use of the night starscape, not just in the dark sky, but also in the characters' clothes, reflected in the sea, on the school blackboard, and in the thoughts of the astronomer. The dialogue is effectively splashed across the pages rather than being inserted into the text. Both the text and illustrations introduce specialized vocabulary related to astronomy that might be used to launch further exploration. The book closes with additional information about Mitchell and her distinguished career, as well as some background information on the Quakers and how their beliefs are reflected in the book. VERDICT An engaging, inspiring biography of an important figure in the history of science. This book could also serve to launch discussions and inspire further research about astronomy. Highly recommended.–Theresa Muraski, University of Wisconsin-Stevens Point Library
BASS, Beverley with Cynthia Williams. Me and the Sky: Captain Beverley Bass, Pioneering Pilot. illus. by Joanie Stone. 40p. photos. Knopf. Sept. 2019. Tr $17.99. ISBN 9780525645498.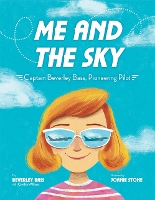 K-Gr 3–Bass, who'd always wanted to fly, overcame sexism and gender discrimination in the 1980s to become a commercial airline pilot. Bass and her coauthor, narrating in the third person, open with young Beverley's repeated attempts to fly off the family washing machine. They remind readers of this determination throughout their chronicle of one woman's persistence. The youngster convinced an aunt to take her to the airport to watch planes. After high school, Bass "drove herself" there to take flying lessons; soon she was flying for real. She took pilot jobs that men didn't want until she was finally hired by American Airlines, eventually attaining a captain's wings. An afterword describes further achievements; the astonishing hospitality in Newfoundland, whose inhabitants welcomed Captain Bass and her passengers as well as those of 37 other airliners who could not enter American airspace after the destruction of the World Trade Center; the musical version of that story, Come from Away; and the founding of the International Society of Women Airline Pilots. Stone's digitally created illustrations, ranging from vignettes to double-page spreads, show the world of a mid-20th-century Good Housekeeping magazine, albeit more integrated. One spread depicts the dashboard of the plane, Bass's hands on the controls, and puffy clouds in the blue sky in front of her. VERDICT A solid account of breaking through gender barriers. Readers can easily imagine the thrill and the challenge of mastering the increasingly complex technology of larger and larger commercial jetliners.–Kathleen Isaacs, Children's Literature Specialist, Pasadena, MD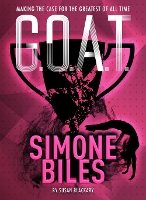 BLACKABY, Susan. Simone Biles: Making the Case for the Greatest of All Time. 128p. (G.O.A.T.: Bk. 3). photos. Sterling. Nov. 2019. pap. $8.95. ISBN 9781454932062.
Gr 4-7–Gymnast Simon Biles has captured hearts with her gravity-defying acrobatics and dazzled viewers for years. This biography argues that she is the greatest gymnast of all time. Biles's grandparents adopted her and her younger sister from their single mother, moving the girls to Texas and enrolling Biles in gymnastics as an outlet for her energy. The coaches saw something special in the young and untrained Biles: her fearlessness, natural mimicry skills, and "air sense" (her ability to know where she is in relation to the ground). Blackaby explores Biles's rigorous mental preparation, the hours she spent practicing, and her steady rise to stardom. Readers will see the perseverance and grit it took for the gymnast to outpace her competitors and reach her goals. The clear, concise writing, supported by full-color photographs, stats that highlight her excellence, and facts called out in pink text blocks, will inspire readers to find their own passion and commit to it wholeheartedly. VERDICT With the 2020 Olympics on the horizon, this will be a good biography to have handy.–Abby Bussen, Muskego Public Library, WI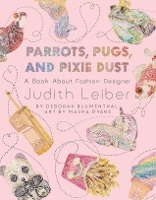 BLUMENTHAL, Deborah. Parrots, Pugs, and Pixie Dust: A Book About Fashion Designer Judith Leiber. illus. by Masha D'yans. 40p. bibliog. notes. Little Bee. Sept. 2019. Tr $17.99. ISBN 9781499808988.
K-Gr 4–Growing up Jewish in Budapest, Judith Leiber and her family spent much of World War II in hiding. She dreamed of building a career in handbag design. Later, Leiber married Gerson Leiber, an artist, and an American soldier. They sailed to the United States where she forged a new kind of fashion statement: crystal-covered handbags that were also works of art. Her creations gained immense popularity, especially with numerous first ladies. Many of her bags are now displayed in museums. Blumenthal's alliterative text lightly summarizes Judith's life and fashion career. The back matter includes an author's note and bibliography that includes a link to the Leiber collection museum where readers can view the range of her handbag production. Deftly dotted watercolors capture the whimsical nature of the designer's work. Two spreads are filled with bags in surprising shapes—french fries, a walkie-talkie, the parrots and pugs of the title, and more. VERDICT From the pair that celebrated the work of photographer Bill Cunningham (Polka Dot Parade, 2018), this picture book biography will please a similar audience. This unabashedly pink and sparkly title is an artful introduction to an innovative stylist.–Kathleen Isaacs, Children's Literature Specialist, Pasadena, MD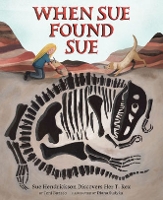 BUZZEO, Toni. When Sue Found Sue: Sue Hendrickson Discovers Her T. Rex. illus. by Diana Sudyka. 32p. bibliog. photos. Abrams. May 2019. Tr $17.99. ISBN 9781419731631.
Gr 1-4–Sue Hendrickson was a shy but smart and curious little girl who was constantly on the hunt for things. Whether searching for lost trinkets, butterfly wings, shells, or information from books she read, Hendrickson possessed a voracious appetite for knowledge. As she got older, her natural curiosity grew. She joined teams of explorers to find different creatures and artifacts from around the world. Soon, she found herself looking for the things she'd most want to find, namely fossilized dinosaurs. After four years of digging in South Dakota, Hendrickson discovered a nearly complete skeleton of a Tyrannosaurus rex. The skeleton, named in her honor, was one of the best-preserved fossils ever discovered and remains on display at the Field Museum in Chicago. This delightfully illustrated tale of discovery and wonderment works great as a research starter or supplement to paleontology, basic science, or museum studies, and includes further references. The images combine a sense of simplicity and detail with large, full-page illustrations, and smaller eye-catching pops of color to keep readers exploring. VERDICT Appropriate for readers and listeners of all ages, this book rewards passions for learning and passes those values on to its readers. A must-have title for explorers and dino lovers alike.—Thomas Jonte, Pensacola State College, FL
BROWN, Elizabeth. Dancing Through Fields of Color: The Story of Helen Frankenthaler. illus. by Aimée Sicuro. 40p. bibliog. chron. notes. photos. reprods. Abrams. Mar. 2019. Tr $18.99. ISBN 9781419734106.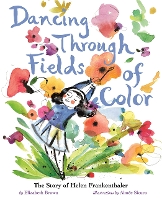 Gr 2-5–A prominent abstract expressionist whose career spanned six decades but who is not as well known as her male contemporaries today, Helen Frankenthaler loved color and celebrated it through an artistic style that came to be known as "soak-stain painting." In this picture book biography, Frankenthaler's early life and career are recounted in language that is every bit as vibrant as the illustrations that recall her paintings. Students with a creative bent will relish reading about Frankenthaler's difficulty conforming to the expectations of her art teachers and, later, those of the art world at large. Then, the story recalls her childhood vacations to the mountains and seaside to demonstrate the techniques Frankenthaler developed for creating paintings as boundless as those natural phenomena. Sicuro's bold illustrations are a wonderful match for a biography on an abstract artist; the saturated colors, thick lines, and rounded shapes work well with Brown's descriptive text to immerse readers in Frankenthaler's world. Two pages of back matter include a more formalized biography of Frankenthaler and examples of her paintings. VERDICT A pitch-perfect expression of a little-known artist in text and illustration alike, this is a top-notch example of the picture book biography.–Katherine Barr, Cameron Village Regional Library, Raleigh, NC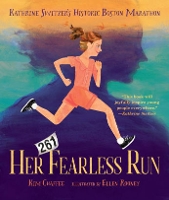 CHAFFEE, Kim. Her Fearless Run: Kathrine Switzer's Historic Boston Marathon. illus. by Ellen Rooney. 40p. bibliog. Page Street. Apr. 2019. Tr $17.99. ISBN 9781624146541.
Gr 3-5–Chaffee tells the story of Kathrine Switzer, the first registered female runner for the Boston Marathon. This picture book biography begins with her love of running as a child and progresses through her training for the 1967 Boston Marathon to the day of the actual race. Detailed mixed-media illustrations of onlookers showing their disapproval emphasize that Switzer's passion for running was seen as strange. Readers can practically see the wind rushing through her hair, and the resolve on her face is evident. Students will enjoy reading about this remarkable woman who was determined to prove that girls are just as capable as boys. VERDICT An empowering story that belongs in all picture book biography sections.–V. Lynn ­Christiansen, Wiley International Studies Magnet ­Elementary School, Raleigh, NC
CLINE-RANSOME, Lesa. Counting the Stars: The Story of Katherine Johnson, NASA Mathematician. illus. by Raúl Colón. 32p. S. & S./Paula Wiseman Bks. Oct. 2019. Tr $17.99. ISBN 9781534404755.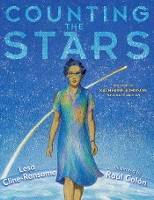 Gr 1-4–Emphasizing Katherine Johnson's unquenchable curiosity, as well as her persistence in the face of discrimination against women and African Americans, veteran biographer Cline-Ransome describes Johnson's childhood, accelerated education, and path to NASA, culminating in her successful calculations for America's first orbital spaceflight. The book's final spread hints at Johnson's future involvement with Apollo 11, and an author's note provides further facts about her life. Illustrator Colón's signature lithographs enhance the book's tone: layers of watercolors and colored pencils draw readers into the lush, textured scenes that range from expansive (capturing the immensity of starry skies) to nostalgic (capturing atmospheric period details). Most effective is a motif of swirling colors in Johnson's clothing, a visual reminder of how her mind swirled with numbers and questions. VERDICT Although the scientific content of the text is best suited to older elementary school students, the tone is straightforward and inviting. A solid choice for most libraries, especially those seeking to strengthen their STEM collections.–Rebecca Honeycutt, NoveList, Durham, NC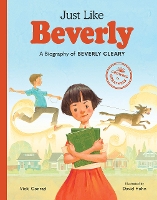 CONRAD, Vicki. Just Like Beverly: A Biography of Beverly Cleary. illus. by David Hohn. (Growing to Greatness). 48p. chron. photos. Little Bigfoot. Aug. 2019. Tr $18.99. ISBN 9781632172228.
K-Gr 4–Beverly Cleary always loved stories, but she struggled to learn to read and write. This compassionate narrative nonfiction account of Cleary overcoming challenges and following her dreams is full of inspirational messages and connections to her enduring classics. Following this narrative is a more factually detailed recounting of her life written in traditional nonfiction format, including photos and a time line. Though Cleary and readers are separated by nearly a century, many parts of the iconic author's childhood will resonate with today's young people: school struggles, the joy of playing with friends, and the importance of kind and supportive adults. Using a style and dynamism reminiscent of Louis Darling's original drawings in many of Cleary's books, Hohn's depiction of the young author looks remarkably like Ramona. The setting of her childhood is fleshed out with details like horse-drawn plows and carts and historically accurate clothing and hairstyles. Observant readers will notice many subtle nods to the books starting on the title page, where Cleary's legs are seen hanging from a tree branch above evidence of Ramona's mantra that "the first bite of an apple tastes best." Many are sure to be won over by the sheer nostalgia factor, but this book also contains a powerful message for young readers and dreamers: "Try! Anyone can talk about writing, but only those who sit down and do it will succeed." VERDICT A celebration of Cleary, literacy, and the pursuit of ambitious dreams, this charming picture book will enhance any biography collection.–Elizabeth Lovsin, Deerfield Public Library, IL
D'AQUINO, Andrea. A Life Made by Hand: The Story of Ruth Asawa. illus. by Andrea D'Aquino. 40p. further reading. Princeton Architectural. Sept. 2019. Tr $17.95. ISBN 9781616898366.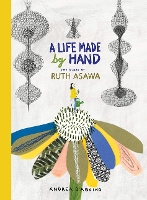 K-Gr 3–In this picture book, author and illustrator D'Aquino tells the story of how Ruth Asawa became an artist. Raised in California, Asawa, along with her family, worked on a farm. Asawa was interested in nature and very good with her hands. She explored the shapes she observed in nature and began to re-create them out of wire and paper. On the weekends, Asawa attended Japanese school, where she learned calligraphy. She went to Black Mountain College and later traveled to Mexico, where she learned to weave wire into baskets from a local craftsman. Asawa began weaving and never stopped, creating amazing structures that can be found in museums today. D'Aquino's illustrations utilize charcoal, colored pencil, and collage with beautiful muted colors and whimsical designs. D'Aquino focuses on Asawa as an artist, but an author's note discusses Asawa's time in Japanese internment camps in the 1940s. The narrative focuses on Asawa's voyage as an artist at the family's bequest. Resources with more information are appended. D'Aquino also includes illustrated instructions on how to create a paper dragonfly, a great activity for storytime. VERDICT Recommended for primary school libraries and children's collections in public libraries. Also recommended for libraries with art collections.–Lia Carruthers, Gill St. Bernard's School, Gladstone, NJ
DENISE, Anika Aldamuy. Planting Stories: The Life of Librarian and Storyteller Pura Belpré. illus. by Paola Escobar. 40p. bibliog. filmog. further reading.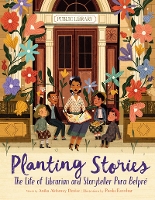 HarperCollins/Harper. Jan. 2019. Tr $17.99. ISBN 9780062748683.
K-Gr 3–A picture book biography of one of the most significant and inspiring figures in library history. Pura Belpré, the first Puerto Rican librarian in New York City, initially arrived in Manhattan to attend her sister's wedding. Intrigued perhaps by the "hustle and bustle" of this "new island," she decided to stay, finding temporary work as a seamstress. Belpré truly found her calling when she took a position as a bilingual assistant (the text notes that was she was, in fact, trilingual) at a neighborhood library, and went on to transform library services through culturally diverse storytelling, published books, and targeted outreach. Denise sprinkles her lyrical verse with Spanish, and emphasizes Belpré's love of stories, plucking the title of the book from her desire "to be like Johnny Appleseed...plant my story seeds across the land." Escobar's warm illustrations enliven the subject and carry the motif by depicting Belpré in impeccably stylish outfits and accessories detailed with floral patterns. Because of the composition style, readers are given only brief depictions of significant moments in Belpré's personal and professional life, but Denise provides a detailed author's note, summarizing Belpré's lasting impact, and includes a great amount of back matter. VERDICT An appealing tribute and successful remedy to the lack of titles about the groundbreaking librarian. This book pairs nicely with Lucia Gonzalez's The ­Storyteller's Candle, and is a must-have for all libraries.–Jessica Agudelo, New York Public Library
DONALD, Alison. The Spacesuit: How a Seamstress Helped Put Man on the Moon. illus. by Ariel Landy. 36p. glossary. Maverick Arts. Jun. 2019. Tr $17.99. ISBN 9781848864153.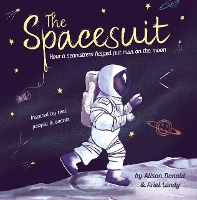 K-Gr 3–Eleanor "Ellie" Foraker loved to design and sew, so she followed her passion and became a notably creative and adept seamstress. One day, an engineer mentioned that the company she worked for wanted to enter a competition to design a spacesuit. He invited Ellie and some other seamstresses to team up with engineers to submit a design. Together, they developed a soft spacesuit with 21 layers of cloth intended to protect astronauts and give them freedom of movement. After correcting a small glitch in the form of a broken zipper, Ellie's company won the competition. This book features a simple, annotated narrative and bright, realistic pictures. The narrative tension is very mild and the team's success is never in doubt, so the story is less than thrilling. On the other hand, the book does fill one gap in the history of women's contributions to the professional workforce and the space program in particular. Though it overstates Ellie's impact (she did not personally "change the world"), the book lends dignity to the idea that everyone's work matters. Some could argue that the book's chosen subtitle, "How One Seamstress Helped Put Man on the Moon," is frustratingly sexist, encouraging readers to believe that a woman's proper place in the space program is, well, in the sewing room. VERDICT A sweet but somewhat flawed effort to bring a few more women into the light of history.–Sheri Reda, Wilmette Public Library, IL
ENGLE, Margarita. Dancing Hands: How Teresa Carreño Played the Piano for President Lincoln. illus. by Rafael López. 40p. S. & S./Atheneum. Aug. 2019. Tr $17.99. ISBN 9781481487405.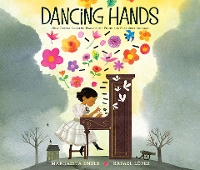 PreS-Gr 2 –Teresa Carreño achieved global fame as a performer, composer, pianist, and opera singer. By the age of six, she was composing. At the age of seven, she began performing. Revolution in Venezuela forced the Carreño family to migrate to New York, an unfamiliar place where few people spoke Spanish and her family felt out of place. But war would follow them—in 1863 the United States was in the midst of the Civil War. At the age of 10, Carreño was invited to play for President Abraham Lincoln and his family at the White House. But will a poorly tuned piano diminish her performance? This is a story of overcoming fear and using one's talents to spark joy despite unforeseen obstacles. Author and illustrator are well paired in this interesting narrative. Darks and lights, whether representing world events or the colors of the piano keys, are recurring themes that Engle cleverly entwines in her at times poetic writing. López's illustrations practically leap from the page as they mirror the tone of events—bright and beautiful when the story is light; dark, drab, and gray when echoing conflict. A historical note in the back matter provides slightly more insight, but Engle's writing occasionally seems to take liberties with individual characters' thoughts and emotions with little supporting evidence. VERDICT Despite the efficacy of the author and illustrator collaboration, the historical facts remain somewhat sketchy throughout the narrative. A gentle title to add cultural insight to any collection, though possibly best for larger budgets.–Rebecca Gueorguiev, New York Public Library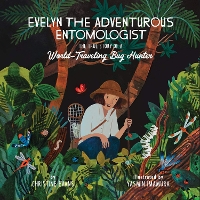 EVANS, Christine. Evelyn the Adventurous Entomologist: The True Story of a World-Traveling Bug Hunter. illus. by Yasmin Imamura. 40p. bibliog. photos. Innovation Pr. Sept. 2019. Tr $17.99. ISBN 9781943147663.
Gr 1-2–Lucy Evelyn Cheesman, who went by her middle name, studied to be a canine nurse and later became the first woman curator of the London Zoo's insect house. Evelyn traveled across the globe to study and gather specimens of insects; this was her passion. During her lifetime she collected more than 70,000 specimens for London's Natural History Museum. She wrote stories about her adventures and published 16 books. Evelyn died in 1969 at the age of 88. Illustrations dominate the pages, and text is limited to a few sentences per page. An interview with Dr. Alexandra Harmon-Threatt, a contemporary entomologist, completes the book along with a bibliography and a one-page biography of Evelyn. This volume highlights key points of Evelyn's life, and she is always portrayed as a wide-eyed, jaunty, inquisitive person who never let societal norms keep her down. The book's tag line emphasizes the fact that "she went anyway." This is a great mantra for readers of this work. VERDICT A valued addition for all STEM collections and one that may especially inspire young women facing similar adversity. –Patricia Ann Owens, formerly at Illinois Eastern Community College, Mt. Carmel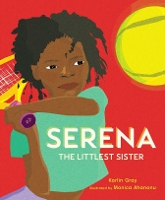 GRAY, Karlin. Serena: The Littlest Sister. illus. by Monica Ahanonu. 40p. bibliog. Page Street. May 2019. Tr $17.99. ISBN 9781624146947.
Gr 1-4–Superstar Serena Williams has dominated the world of tennis for so long, her name is synonymous with excellence. The audience for this book will likely already know about her power and style, but might not know her family's remarkable story. Raised in Compton, California, Serena was the youngest of five close-knit sisters. Starting out with secondhand equipment on a court they cleaned for practice, the girls were coached by their father to move fast and hit hard. They learned to always put in their best effort, and that their dedication would allow them to achieve their dreams. Venus and Serena put that passion into becoming elite tennis players, first in California, then at a tennis academy in Florida, and finally on the professional circuit. This book splits time between Serena's career and family, focusing on how her devotion to Venus allowed both to become better athletes who supported each other while being one another's fiercest competitors. Ahanonu's digital illustrations morph from a bold palette—all 90s-inspired patterns and sharp angularity reminiscent of Keith Haring—to a more sophisticated and contemporary design filled with soft pastels as the time line progresses. Each page is alive with movement, joy, and vibrance. In a market saturated with picture book biographies about Serena, the unique artwork is what makes this one notable. VERDICT A fine addition to the growing Williams biography collection.–Abby Bussen, Muskego Public Library, WI
HARTLAND, Jessie. Our Flag Was Still There: The True Story of Mary Pickersgill and the Star-Spangled Banner. illus. by Jessie Hartland. 48p. S. & S./Paula Wiseman Bks. May 2019. Tr $17.99. ISBN 9781534402331.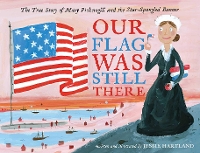 Gr 3-5–The fledgling United States needed a way to establish its national sovereignty, and what better way to do it than with a flag? Enter an unassuming flag-maker, Mary Pickersgill, who ran a shop employed exclusively by women. For weeks they labored day and night to create what is now a lasting symbol of American history: a flag that is 30 feet tall and 42 feet long, and is now on display at the Smithsonian. As fate would have it, while the flag flew during a battle at Fort McHenry in 1814, Francis Scott Key witnessed the red, white, and blue flag staying its course and continuing to fly. He was inspired to write a poem, which we now know as our national anthem. Hartland's illustrations were done in gouache and feature interesting details and vivid colors. Speech bubbles bring the story to life. The author's note contains fascinating information, including the fact that Mary Pickersgill's flag was actually the second official version of the American flag. Don't miss the endpapers, which feature an interesting mishmash of artifacts of the time. VERDICT A great addition to any library, this picture book shares information about a lesser known yet important woman who left her mark on the history of the United States.–Katie Darrin, Boulder Valley School District, Boulder, CO
HEGEDUS, Bethany. Rise!: From Caged Bird to Poet of the People, Maya Angelou. illus. by Tonya Engel. 48p. bibliog. chron. Lee & Low. Aug. 2019. Tr $19.95. ISBN 9781620145876.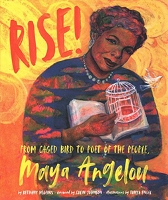 Gr 4-6–Maya Angelou overcame an utterly terrifying childhood experience that left her temporarily mute. Despite these challenging circumstances, she went on to accomplish so much. Yet her success may have had a completely different outcome had she not had the love and support of a few key people who helped her turn fear into courage. The author includes a surprising amount of information in this picture book biography, especially given its sparse, narrative verse. The rich language conveys the emotions Angelou felt at different times in her life, ranging from terror to jubilance. The publisher has suggested the target audience as ages 7-10 and grades 4-6. This distinction is important to note because the story touches on specific events that may require additional explanation from an adult if the child is in that younger age category. For example, on the page that addresses the traumatic rape Angelou endured as a child, Hegedus writes: "One day, Maya, left alone with Mr. Freeman, is anything but free. After a visit to the hospital, Maya calls out Mr. Freeman's name as the one who hurt her. Mr. Freeman spends only one night in jail. Later, he is found crumpled behind the slaughterhouse. Maya falls silent, scared her voice struck him dead." The illustrations, done in acrylic and oil on textured paper, are luscious and colorful and expand on the beautifully written text. Back matter includes a time line of Angelou's life, additional resources, and references. VERDICT An important and powerful addition to any biography collection.–Maggie Chase, Boise State University, ID
HOOKS, Gwendolyn. Ona Judge Outwits the Washingtons: An Enslaved Woman Fights for Freedom. illus. by Simone Agoussoye. 40p. (Encounter). bibliog. further reading. Capstone/Capstone Editions. Oct. 2019. Tr $18.95. ISBN 9781543512809.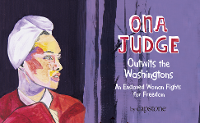 Gr 4-6–Born to a white indentured servant father and an enslaved African woman, Ona Judge grew up on the Virginia plantation of George and Martha Washington. Judge learned to sew and worked with her mother inside the plantation home; she became a talented seamstress. When the Washingtons moved from Mount Vernon to the capital upon George's election as president, she traveled with the couple and was ordered to specifically attend to Martha. Living in large Northern cities, Judge learned about freedom; she began to plot her escape from slavery. In May 1796, Judge fled the president's home. Eventually she found safety in New Hampshire. She was able to maintain her freedom and avoid capture by agents from President Washington. She married a free black man named Jack Staines in 1797, and they raised a family. Despite several attempts to lure Judge back to Mount Vernon with the promise of her freedom, Washington was never able to persuade Judge to return: she remained free. The author includes a brief bibliography. Drawings are simple and one-dimensional. VERDICT The attention-grabbing text and unique illustrations will make this a welcome addition for all history collections.–Patricia Ann Owens, formerly at Illinois Eastern Community College, Mt. Carmel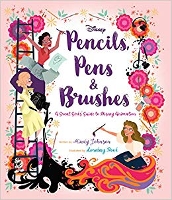 JOHNSON, Mindy. Pencils, Pens & Brushes: A Great Girls' Guide to Disney Animation. illus. by Lorelay Bové. 80p. chron. photos. Disney. Aug. 2019. Tr $18.99. ISBN 9781368028684.
Gr 3-6–Johnson and Bové showcase 20 influential women of the world of Disney. Starting with the two Mrs. Disneys—Walt's and Roy's wives, the book takes readers from the studio's inception through the early 1980s. Johnson highlights each artist's particular strengths. For example, Mary Blair is referred to as a "Color Designer Extraordinaire" while Mary Costa is said to be the "Voice of a Princess." Notably, these wonderful Disney artists weren't all white. Gyo Fujikawa, who worked as lead artist within the Disney products sector, was a Japanese-American illustrator from California. Berta "Bea" Tamargo, who worked as an animator on Cinderella, Alice in Wonderland, and Peter Pan, was born in Havana, Cuba. The charming illustrations are expertly rendered cartoons with a mid-century modern feel. Each biography features a photograph and a drawing of the artist. Most of the stories are given a double-page spread. Each spread has text written with a chirpy rhyme, which can wear a little thin. An appended time line goes from 1901, when Walt Disney was born, to his death in 1966. VERDICT This is a young readers' version of Johnson's Ink & Paint, an oversize, wonderful tribute to the women of Disney animation. Like the Disney universe itself, this pared-down version of the original is magical. A finely written and illustrated inspiration.–Anne Chapman Callaghan, Racine Public Library, WI
LEVY, Debbie. The Key from Spain: Flory Jagoda and Her Music. illus. by Sonja Wimmer. 32p. Kar-Ben. Aug. 2019. Tr $17.99. ISBN 9781541522183; pap. $7.99. ISBN 9781541522190.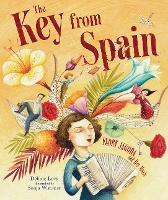 Gr 2-5–Levy's captivating picture book biography tells the story of Flory Jagoda, known today as the "Keeper of the Flame" of Sephardic culture and music. The narrative begins centuries after Flory's descendants, the Altaras family, were expelled from Spain during the Inquisition due to their Sephardic identity. After centuries of living peacefully in Bosnia, Flory's family had to escape the dangers of World War II for the same reason. Forced to flee her home for America, Flory relied on music to stay connected to her family's heritage, even as war ravaged her home and stole away her loved ones. Levy's writing and Wimmer's mixed-media illustrations strike the perfect synergy, working together to celebrate music, heritage, and family histories. The writing is poetic and lyrical, effortlessly weaving centuries of history into the story while maintaining a strikingly intimate tone. Wimmer's illustrations are nuanced, and readers will enjoy discovering new details upon each rereading of the book. VERDICT A beautifully crafted story that touches on a lesser-known historical topic. Together, the words and pictures convey musicality without a single note of harmoniku, Flory's instrument of choice, having to be played. This work is a must-purchase for library collections.–Lauren Hathaway, University of British Columbia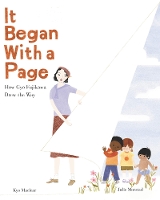 MACLEAR, Kyo. It Began with a Page: How Gyo Fujikawa Drew the Way. illus. by Julie Morstad. 48p. bibliog. photos. HarperCollins/Harper. Oct. 2019. Tr $17.99. ISBN 9780062447623.
K-Gr 4–When Gyo Fujikawa submitted the first book she had written and illustrated, her publishers hesitated. In 1963, a book with black, white, and Asian babies engaged in daily activities was highly unusual. Maclear and Morstad introduce readers to the artist whose quiet insistence led to the publication of the groundbreaking work. Born in California in 1908, Fujikawa was often ignored by white classmates but felt the support of her high school teachers. Her varied career included painting murals, working for Walt Disney Studios, and drawing for magazines. When her West Coast family was sent to an internment camp in 1942, she kept working to help support them. Her commitment to equality and justice helped promote diverse children's books, including more than 50 she created. Many illustrations recall the elegance and simplicity of Fujikawa's own work with plain backgrounds that allow readers to focus on the main subjects: a night scene of her mother burning possessions before the family's forced departure. Tiny figures dwarfed by barracks at the internment camp. A colorful swirling kimono during Fujikawa's 1932 study visit to Japan contrasts with black-and-white drawings of times of sadness. Two pages of photos and chronological highlights follow the main text. VERDICT Maclear and Morstad pack a lot of information into a few pages. This exemplary biography of a pioneer in multicultural children's books deserves a place in most collections.–Kathy Piehl, Minnesota State University Library, Mankato
MCGINTY, Alice B. The Girl Who Named Pluto: The Story of Venetia Burney. illus. by Elizabeth Haidle. 40p. bibliog. Random/Schwartz & Wade. May 2019. Tr $17.99. ISBN 9781524768317.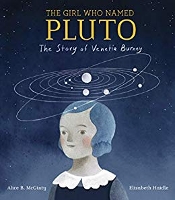 PreS-Gr 3–This nonfiction picture book chronicles the life story of 11-year-old Venetia Burney, an appreciator of Greek and Roman mythology who named the dwarf planet Pluto. Most pages are illustrated with delicately and precisely brushed inks in shades of gray. Yet with her red frocks, pink cheeks, and brown bob, Venetia stands out from her peers and family as the focal point of each moment. The story begins in England with Venetia and her classmates following their schoolteacher on a "planet walk." With their classroom representing the sun, the children count their steps as they walk further away from school, using round objects to mark the distance of each planet from their classroom blackboard. At home, Venetia asks her grandfather questions about the solar system. One morning Grandfather, a former librarian and brother of scientist Henry Madan, reads a newspaper announcement about the discovery of a new planet. Venetia knows that a planet so far away near Neptune must be icy and dark, and she thinks of the god Pluto, ruler of the underworld and brother of Neptune. Grandfather shares Venetia's idea with a friend at the Royal Astronomical Society, who in turn shares it with the astronomers in Arizona who made the discovery and have naming rights. In a unanimous vote, the name Pluto is chosen. End papers with labeled constellations in the night sky, an author's note about Venetia Burney, and a bibliography add interest to this thoughtful picture book biography. VERDICT An engaging title; recommended for nonfiction collections.–Lauren Younger, Nicholson Memorial Library, Garland, TX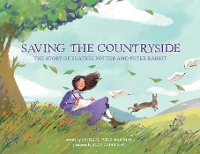 MARSHALL, Linda. Saving the Countryside: The Story of Beatrix Potter and Peter Rabbit. illus. by Ilaria Urbinati. 40p. Little Bee. Jan. 2020. Tr $17.99. ISBN 9781499809602.
PreS-Gr 3–Beatrix Potter's extraordinary life is introduced to a new generation of readers in this picture book biography. Marshall highlights not only Potter's career as a children's book illustrator and author but also her role as a trailblazing businesswoman, amateur scientist, and conservationist. In a time when women were not encouraged to have lives outside of the home, let alone run businesses, Potter paid to have the first copies of The Tale of Peter Rabbit published. She then merchandised her books through tea sets, games, and toys. Her ambitions didn't stop with children's books. Potter researched and illustrated an academic paper on how mushrooms reproduce and submitted it to scientists, only to have her work dismissed because she was a woman. Perhaps most remarkably, Potter was an ardent conservationist and purchased and then donated thousands of acres of farmland in England's Lake District to the National Trust. Urbinati's art provides a pleasant backdrop to the story line. End pages incorporate sketches of some of Potter's beloved characters. Source material and an author's note about Marshall's inspiration for the book are included in the back matter. VERDICT A worthwhile addition to most collections, particularly those needing more biographies of innovative women. ­Empowering and fresh.–Jennifer Knight, North ­Olympic Library System, Port Angeles, WA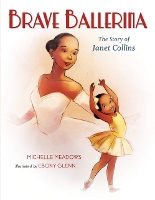 MEADOWS, Michelle. Brave Ballerina: The Story of Janet Collins. illus. by Ebony Glenn. 32p. bibliog. photos. websites. Holt. Jan. 2019. Tr $17.99. ISBN 9781250127730.
PreS-Gr 2–Young dancers will find inspiration in the first picture book biography written about groundbreaking dancer Janet Collins. In tidy four-line stanzas, Meadows tells Collins's life story, describing her path to stardom as the first black prima ballerina to perform at the Metropolitan Opera House. Each page begins in a similar fashion, setting the scene and continuing in rhyming verse. ("This is the audience, lined up in rows, cheering her on as she danced on her toes.") Though the format is constrictive, there is not an awkward word or rhythm to be found. Collins's story is told masterfully, with additional background information in an author's note. Glenn (Mommy's Khimar) fills each page with the strength and beauty of dance, focusing on the graceful movement of Collins and her emotive expressions. VERDICT This book radiates with the joy of dance. A first purchase for most collections.–Clara Hendricks, Cambridge Public Library, MA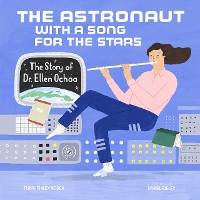 MOSCA, Julia Finley. The Astronaut With a Song for the Stars: The Story of Dr. Ellen Ochoa. illus. by Daniel Rieley. 40p. (Amazing Scientists: Bk. 4). bibliog. chron. photos. The Innovation Prs. Sept. 2019. Tr $17.99. ISBN 9781943147632.
Gr 3-5–Racism, sexisim, and other hardships did not keep Dr. Ellen Ochoa from living her dream of becoming an astronaut. The illustrations of Ochoa and other people featured have a cartoon feel to them, giving them a lighthearted quality. Overall the artwork complements the poetry wonderfully, using light colors and minimalist designs that capture the action and convey the messages in each scene. The end pages of space with "Elena Ochoa" written in the stars make for a beautiful detail for an inspiring story. The poetry follows a ABCB rhyme scheme, and while it gives the book a singsong feel, it makes the content and background information manageable, age appropriate, and fun. There are additional pages of facts and tidbits, full biographical information, and a time line of major events in the subject's life and career for readers wanting more straightforward facts than what is revealed in the main text of the story. VERDICT This delightful book combines poetry and whimsical artwork to tell Ochoa's story, the world's first Latina in space, and the hard work and perseverance that got her all the way to the stars. A must purchase for all elementary science and biography collections.–Molly Dettmann, Norman North High School, OK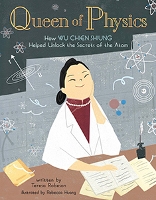 ROBESON, Teresa. Queen of Physics: How Wu Chien Shiung Helped Unlock the Secrets of the Atom. illus. by Rebecca Huang. 48p. bibliog. further reading. glossary. Sterling. Oct. 2019. Tr $16.95. ISBN 9781454932208.
K-Gr 2–This biographic picture book chronicles the life of Wu Chien Shiung, with a focus on her career success in physics, as well as obstacles she overcame as an Asian woman, her political advocacy, and her contributions to science. The book also contains a lot of history specific to the last turn of the 20th century. Huang's pictures are in full color. On each page, the text amounts to less than a quarter of the page. The vocabulary and text concepts are advanced for a picture book, but key terms can be found in the glossary. The book's format seems best suited for second to third grade readers. VERDICT This book would make an excellent supplement to support diverse representation, especially about women scientists and/or Asian women battling and overcoming sexism and racism. However, the difficulty of the language and the grade level of the text make it a bit out of reach for the average picture book reader.–Jenifer Pickens, Rippon Middle School, Woodbridge, VA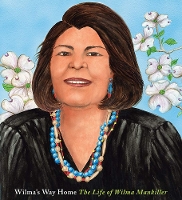 RAPPAPORT, Doreen. Wilma's Way Home: The Life of Wilma Mankiller. illus. by Linda Kukuk. 48p. (Big Words). bibliog. chron. notes. websites. Disney-Hyperion. Feb. 2019. Tr $17.99. ISBN 9781484747186.
Gr 1-5–Rappaport's latest recounts the life of Wilma Mankiller. She grew up "dirt poor" in Oklahoma, and her family survived by following Gadugi, the philosophy of helping one another, trading for the necessities to live. She and her family were uprooted to San Francisco as a result of the Relocation Act. Kukuk's illustrations draw parallels between Mankiller's experiences and those of her Cherokee ancestors, who were forced to walk the Trail of Tears. Feeling alone and disconnected from her Native roots, she found belonging at the Indian Center in San Francisco. Mankiller took part in the occupation of Alcatraz Island, which set her on the path of activism, and eventually returned to Oklahoma, where she learned to help her people by listening first and working together to solve problems. She became the first woman chief of the Cherokee Nation, not without resistance. Her legacy lives on through Native people as a strong leader who believed collaboration was the only way to govern. In an author's note, Rappaport discusses meeting with Mankiller's husband and friends; also included are a time line, a pronunciation guide, a bibliography, and source notes. Kukuk's artwork brings Mankiller to life, from her childhood days to her sunset. VERDICT An important read for all libraries, this work highlights a strong woman who left a vital message for future leaders.–Amy Zembroski, Indian Community School, Franklin, WI
ROBINSON, Fiona. The Bluest of Blues: Anna Atkins and the First Book of Photographs. illus. by Fiona Robinson. 48p. bibliog. Abrams. Feb. 2019. Tr $17.99. ISBN 9781419725517.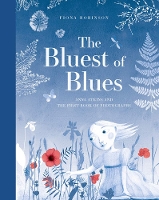 Gr 2-5–Raised by her scientist father, young Anna Atkins was introduced to a number of scientific ideas and methods and was encouraged to pursue her passions and education. Atkins became an avid collector of specimens from the natural world, shells and ferns and flowers among them, and learned to illustrate them with remarkable accuracy. When she was introduced to the new science of photography and cyanotypes (aka sun prints), Atkins's inspiration reached a peak and she began to catalog and photograph her enormous collection. Robinson's picture book biography is a loving tribute to this remarkable woman whose impressive contributions were recognized long after her passing. Openly acknowledging in the author's note that Atkins's childhood was lost to history, the author fills in the gaps with imagined scenes of her youth—somewhat of a misstep in an otherwise winsome work. Robinson's writing has an ethereal quality to it. The beautiful blues of the pencil drawings, watercolor washes, and original cyanotypes from Atkins's collection come together on each page as an immersive experience, creating an array of blue that limns Atkins's world. VERDICT A pleasing addition to most collections. Have readers enjoy independently or perhaps with sun print paper so that they can try their hand at cyanotype making.–Jody Kopple, Shady Hill School, Cambridge, MA
ROCKLIFF, Mara. Billie Jean!: How Tennis Star Billie Jean King Changed Women's Sports. illus. by Elizabeth Baddeley. 40p. Putnam. Aug. 2019. Tr $17.99. ISBN 9780525517795.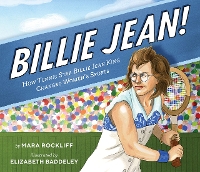 K-Gr 3–As a child, athletically inclined Billie Jean King was angry that her favorite sports were for men only. She was then introduced to tennis and began doing so well that she was competing at Wimbledon while still a teenager. Despite her successes, she was a victim of the sexist double standards that negatively impacted female athletes. While male tennis champions were asked about their game, she was asked about her marriage and childbearing prospects. She also realized women were compensated far less than their male counterparts. When Bobby Riggs challenged her to a match in 1973, King was determined to beat him—which she did. She became a crusader for the equal treatment of women athletes, even testifying before the Senate Subcommittee on Education to advocate for girls' sports. Rockliff's text deftly tells King's story; Baddeley provides beautiful illustrations. An afterword offers further information about King, including a former girlfriend that outed King to the public. Less biography than a tale of King's fight for women's rights in professional sports, this volume is almost identical in scope to Brad Meltzer's I Am Billie Jean King. However, Rockcliff's narrative is better executed, and Baddeley's pictures are more appealing. VERDICT A good addition for collections needing information on the evolution of women's treatment in professional sports through the life of one of its greatest icons.–Margaret Nunes, Gwinnett County Public Library, GA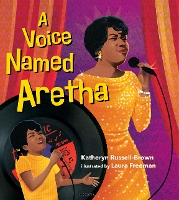 RUSSELL-BROWN, Katheryn. A Voice Named Aretha. illus. by Laura Freeman. 40p. Bloomsbury. Jan. 2020. Tr $17.99. ISBN 9781681198507.
Gr 1-2–Shy young Aretha Franklin found her voice singing in the choir at her father's Detroit church. An early family tragedy taught her to draw strength from her sadness and use her talent to inspire and empower those around her, like the civil rights icons of her generation. Franklin's power shines through lush illustrations in bold, royal colors. In one scene, the singer is dressed in a sunshine yellow dress. President Obama wipes away a tear as he listens to Franklin. A sense of time and place are evoked with striking choices in hair and dress, visually emphasizing her indelible place in ­American culture. The text effectively describes the singer's ties to the civil rights movement and spotlights her ­importance as an enduring symbol of hope. VERDICT This richly detailed look at the Queen of Soul is an essential biography of an American icon.–Savannah Kitchens, Parnell Memorial Library, Montevallo, AL
SILVEY, Anita. Undaunted: The Wild Life of Biruté Mary Galdikas and Her Fearless Quest to Save Orangutans. 96p. further reading. index. maps. notes. photos. National Geographic. May 2019.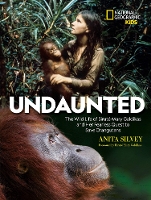 Tr $18.99. ISBN 9781426333569.
Gr 4-6–Many people know about Jane Goodall, but far fewer know about the work of Biruté Mary Galdikas. Galdikas began studying orangutans in Borneo in 1971 and eventually created the Orangutan Foundation International, a nonprofit organization that focuses on protecting these mammals and their environments. The narrative shares the story of Galdikas's early life and her interest in science as a young girl. Readers are provided with generous background material not only on Galdikas and her family but the mentors she adopted along the way, including Louis Leakey and Jane Goodall. The narrative documents her journey to study these creatures in the wild and her pursuit to save these animals from extinction. Certainly filled with its challenges, including months sequestered in the rain forest without human contact or a well-rounded diet, Galdikas was determined to learn as much as she could. She realized that orangutans were quite similar to humans in their need for love, affection, and attention. Students will marvel at the lush landscape and adorable animals. Biographies of the various orangutans that she studied are included, as well as maps, a key to the featured plants, and further resources. VERDICT This detailed book is great for students who are studying animal conservation or want to learn about similar primatologists and anthropologists like Jane Goodall.–V. Lynn ­Christiansen, Wiley International Studies Magnet Elementary School, Raleigh, NC
SLADE, Suzanne. A Computer Called Katherine: How Katherine Johnson Helped Put America on the Moon. illus. by Veronica Miller Jamison. 40p. bibliog. chron. photos. Little, Brown. Mar. 2019. Tr $17.99. ISBN 9780316435178.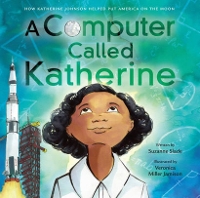 K-Gr 3–Even as a child, Katherine Johnson loved numbers. She skipped through school, took a job as part of a team of number crunchers called "calculators," and helped figure out the trajectory of early space flights of the 1960s, even after machine computing became a part of the process. This retelling of Johnson's achievements focuses on her path as a black female mathematician. The book devotes a spread to the civil rights struggle, illustrating how people were divided about school integration; it also shows that many disagreed about whether women should work at jobs traditionally held by men. Jamison stresses how Johnson's talent for math broke both barriers. Covering much of the same ground as Helaine Becker's Counting on Katherine, the text is relatively straightforward and accessible even to listeners not yet ready for the inclusion of incorrect math problems, such as "25 ÷ 5 = 4," used as examples of how wrong some people's assumptions were. First-time illustrator Jamison relies on ink, watercolor, marker, and colored pencil to create spreads that emphasize math concepts. Often there's a faint background of the geometric images and equations shown on the end papers. Back matter includes author and artist notes about their personal connection to the subject, quotes from Johnson herself, and sources and credits. VERDICT Another appealing picture book biography of a successful woman; a strong choice for most collections.–Kathleen Isaacs, Children's Literature Specialist, Pasadena, MD
THEULE, Larissa. Born to Ride: A Story About Bicycle Face. illus. by Kelsey Garrity-Riley. 32p. Abrams. Mar. 2019. Tr $17.99. ISBN 9781419734120.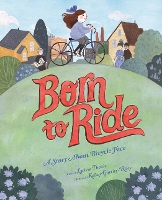 PreS-Gr 2–This is the story of one girl's determination to learn to ride her brother's bike despite the apparent risk of "bicycle face," a demeaning term meant to deter women from the freedom and joy of cycling in the late 1800s. Armed with just a pair of her brother's pants and her determination, Louisa Belinda Bellflower does learn to ride and realizes that bicycle face is a myth. Though she initially tries to hide the lessons her brother gives her from her mother, Louisa's mother turns out to be an advocate of her daughter's antics. In the end, mother and daughter are seen wearing pants and wheeling their bikes toward a suffragette rally. Following this inspiring story are historical accounts of women and the bicycle movement, as well as many facts about suffrage and the journey toward the right to vote. The illustrations accent the story beautifully. VERDICT This unique tale of an important time in American history is a must-buy for any elementary library; it begs to be put on display during Women's History Month.–Jasmine L. Precopio, Fox Chapel Area School District, Pittsburgh
TUCKER, Zoë. Ada Lovelace and the Number-Crunching Machine. illus. by Rachel Katstaller. 32p. NorthSouth Bks. Sept. 2019. Tr $18.95. ISBN 9780735843172.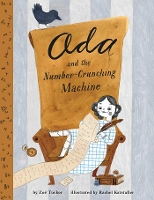 PreS-Gr 2–Ada Byron Lovelace is considered to be an early pioneer in concepts that led to computer programming. As the child of unconventional parents, Lovelace had a broader education than many 19th-century girls. Due to the audience demographic, many biographical details are simplified or glossed over. Lovelace and her father are both described as wild, romantic, bad-tempered, and moody; that he was mostly absent from Lovelace's life is not mentioned. No resources are listed, which, along with a generally lighthearted tone, make the book more historical fiction than an actual biography. The narrative is vague, even about the time period, saying "in those days" rather than giving a date. An author's note provides helpful additional information. Cartoon illustrations include humorous fantasy elements, such as zebras pulling a carriage, Lovelace perched on top of Charles Babbage's early computer, and Lovelace reaching down out of a portrait to connect with a modern girl. The characters' features are more doll-like than human in appearance, with large eyes and circles of color on their cheeks. VERDICT This book effectively introduces Lovelace to a young audience, but additional resources will be needed to explain the historical context of her life and how her ideas contributed to the modern work of programming and coding.–Lucinda Snyder Whitehurst, St. Christopher's School, Richmond
VINA, Rose. Ice Breaker: How Mabel Fairbanks Changed Figure Skating. illus. by Claire Almon. 32p. (She Made History). glossary. Albert Whitman. Oct. 2019. Tr $16.99. ISBN 9780807534960.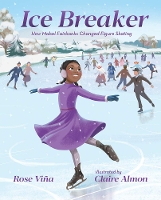 PreS-Gr 2–As a young black girl skating in the 1930s, Mabel Fairbanks was denied entry to skating clubs and competitions. After years of touring in the ice-skating entertainment industry, Fairbanks became a coach to skaters of diverse racial and financial backgrounds. She fought for her students of color to be allowed entry into the clubs and competitions that previously denied her inclusion. Fairbanks finally gained recognition and became the first African American inducted into the U.S. Figure Skating Hall of Fame. While Fairbanks's tale deserves telling, this title falls flat. The organization is at times choppy, particularly at the beginning, where the narrative shows Fairbanks transitioning from a homeless child to working as a live-in babysitter in just two page spreads. Considering the intended young audience, some passages include too much detail and too few clear transitions. The muted cartoonish style of the digital illustrations is designed to appeal to young readers, but the lack of clean lines and dynamic elements results in an unfinished look. VERDICT Although this biography is a lackluster account, Mabel Fairbanks is an inspiring subject whose story is likely to appeal to many young people. Her story of perseverance and activism is little known, so many libraries will want this picture book biography on their shelves simply to acknowledge the overlooked contributions of an inspiring black woman and athlete.–Elizabeth Lovsin, Deerfield Public Library, IL
WAHL, Jan. Hedy and her Amazing Invention. illus. by Morgana Wallace. 36p. Penny Candy. Feb. 2019. Tr $17.99. ISBN 9780998799995.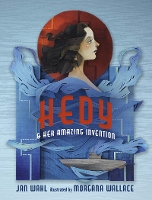 Gr 2-5–This short chapter book biography of Hedy Lamarr emphasizes her intellectual curiosity and ingenuity while acknowledging her career as a movie actress. As a young child, Lamarr was curious about how things worked and liked to investigate. At the same time, she pursued a career in acting, first in the theater, and then in movies. Later, she escaped a restrictive marriage and fled from Austria to the U.S. During her escape she met Louis B. Mayer of Metro-Goldyn-Mayer movie studios and succeeded in getting a generous contract. As she pursued her acting career, Lamarr continued to invent. While playing piano with composer George Antheil, she made a far-reaching discovery when she realized that just as music notes can move from octave to octave, radio signals can change from frequency to frequency. This discovery enabled Lamarr and Antheil to design and patent a means of outsmarting enemy signals that jammed Navy torpedoes. While not used during World War II, this technology is now used every day in common items like cell phones, microwaves, and laptop computers. Colorful cut-paper collages bring the narrative to life, celebrating the inventive, creative aspects of Hedy Lamarr's career. For additional information about Lamarr's idea of frequency-hopping or "spread spectrum," see Hedy Lamarr's Double Life: Hollywood Legend and Brilliant Inventor. VERDICT A fine addition to STEM-related biography collections. This is a celebration of Lamarr's life as both an actress and an inventor. –Myra Zarnowski, City University of New York
WALSH, Jenni L. Malala Yousafzai. 128p. (She Dared). bibliog. further reading. glossary. photos. websites. Scholastic. Jan. 2019. pap. $6.99. ISBN 9781338149043.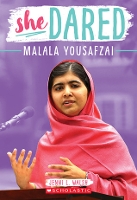 Gr 3-6–Walsh begins Malala Yousafzai's biography at age 10. Readers are introduced to a young Yousafzai and her loving family and promising future—and how it was all threatened when the Taliban invaded Pakistan. Walsh details life under Taliban rule and their attempt to murder Yousafzai, her subsequent recovery, and her later role as international education advocate. The text is accessible for independent readers, including younger students looking for more challenging material. Walsh tackles difficult subject matter, such as extremism and violence, in an age-appropriate manner. Much of the narrative is dedicated to the build up to the shooting; the Nobel Prize winner's teenage years and early adulthood are rushed at the end. A number of photos of Yousafzai are also included in the middle of the book. VERDICT A solid pick for middle grade readers.–Brittany McMahon, Westernport Elementary School, MD
YOO, Paula. The Story of Movie Star Anna May Wong. illus. by Lin Wang. (The Story Of...). 64p. bibliog. chron. further reading. glossary. notes. Lee & Low. Jan. 2019. pap. $8.95. ISBN 9781620148532.
Gr 3-6–Short, informative, readable chapters chronicle the fascinating life of actress Anna May Wong and the experiences of Chinese Americans in the early 20th century. The author also deftly explores issues of representation, inclusivity, and identity in U.S. history and culture. Yoo depicts Wong as a woman who succeeded at a time when there were limited roles for Asian Americans, yet the author also acknowledges Hollywood's whitewashing and stereotypical portrayal of Asian people. Contemporaneous photos capture the look and mood of the times, in particular Hollywood, and Wang's illustrations add nuance. Some words appear in bold and are defined in the glossary. The detailed and organized back matter, which includes sources, recommended further reading by topic, and suggested films, will please report writers and casual readers alike. VERDICT An excellent chapter book biography for elementary schoolers.–Kristyn Dorfman, The Nightingale-Bamford School, New York City
Collective biographies
BROWN, Tami Lewis & Debbie Loren Dunn. Instructions Not Included: How a Team of Women Coded the Future. illus. by Chelsea Beck. 64p. Disney-Hyperion. Oct. 2019. Tr $17.99. ISBN 9781368011051.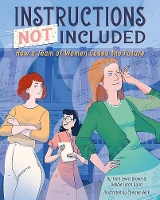 Gr 1-3–In January of 1942, a classified ad appeared in a Philadelphia newspaper seeking women mathematicians to aid the war effort by calculating weapon trajectories. Betty Snyder, Jean Jennings, and Kay McNulty proved to have exceptional problem-solving skills. They were invited to a secret lab at the University of Pennsylvania to figure out a way to tell the world's largest computer, the ENIAC, how to conduct specific calculations. Initially, the women were not allowed to see it; still, they worked tirelessly to determine a way to translate the logic of mathematics into a code the machine could understand. The day before the computer was to be unveiled to important dignitaries, the women discovered that ENIAC spits out incorrect answers. Working through the night, Betty fell asleep and found a solution in a dream. Within the story, we learn that all of the women went on to design important innovations in computer programming. The back matter adds information about each woman's contributions. Beck's illustrations are executed with simple, clean lines that artfully represent the myriad expressions on the women's faces as they tackle complex problems, experience satisfaction, and show determination. Some pages are in color; others are in shades of black and white. Each woman is featured with her own distinctive color. The narrative consists of short, carefully laid out words, sentences, and stanza-like paragraphs reminiscent of free verse poetry. VERDICT An important and motivating contribution for young readers about women pioneers in STEM.–­Maggie Chase, Boise State University, ID
DRIMMER, Stephanie Warren. The Book of Queens: Legendary Leaders, Fierce Females, and Wonder Women Who Ruled the World. 176p. National Geographic. Nov. 2019. Tr $14.99. ISBN 9781426335358.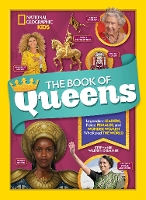 Gr 4-8–This collective biography highlights luminaries in a range of fields (sports, arts, science, and leadership) throughout the world and throughout history. While highly browsable and graphically formatted to appeal to young readers, the wide scope of this volume is also a weakness. With so much to cover, it inevitably misses a lot of people. Modern political leaders of any kind are an obvious gap in the collection, which is confusing since that category would fit so obviously within the expansive representation of women's jobs. This may have been an intentional decision to avoid political partisanship, but it creates an imbalance in the coverage of the work. This oversight implies that women stopped being politically active after the careers of those listed in "Pioneering Politicians" ended. While there is an index, it appears to be not entirely accurate. The entry for Hillary Clinton sends the reader to the page on Mildred Benson (aka Carolyn Keene). The inclusion of some images is also confusing. For example, a still from the 2018 film Tomb Raider on the spread about the "First Ruler of Japan" is never explained. VERDICT This glossy package may get lost on library shelves and should not be considered a definitive collective biography. It could serve as a resource for middle grade readers where there is a need.–Kristin Lee Anderson, Jackson County Library Services, OR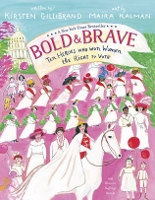 GILLIBRAND, Kirsten. Bold and Brave: Ten Heroes Who Won Women the Right to Vote. illus. by Maira Kalman. 40p. chron. Knopf. Nov. 2018. Tr $18.99. ISBN 9780525579014.
Gr 2-5–Gillibrand, a U.S. Senator, begins with a quick look back at her great-grandmother, grandmother, and mother—all strong women who bucked the norm, fought for what they believed in, and never backed down. And who inspired these female forebears to be "bold and brave so they could teach me and you?" Blending eye-catching artwork with well-written text, the two-page profiles that follow introduce 10 trailblazing women, touching upon each individual's particular challenges, accomplishments, and legacy. Well-chosen details make the snapshots vivid, as do the short quotations woven into the vignettes (though no citations are provided). Kalman's full-page portraits combine the realism of a photograph with bold color choices that pack in personality and make the images pop off the pages. Featured are figures such as Elizabeth Cady Stanton, Jovita Idár, and Mary Church Terrell. The book ends on a well-conceived and truly inspirational note with mention of the 2017 Women's March in Washington, DC and a call to readers to "Stand up, speak out, and fight for what you believe in." VERDICT A rousing introduction to 10 fascinating and fearless women. Consider for robust collections.–Joy Fleishhacker, Pikes Peak Library District, Colorado Springs
GONZALES, Debbie. Girls with Guts!: The Road to Breaking Barriers and Bashing Records. illus. by Rebecca Gibbon. 32p. bibliog. Charlesbridge. May 2019. Tr $16.99. ISBN 9781580897471.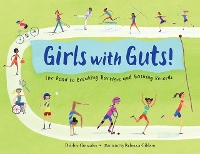 Gr 1-4–In 2019, young girls look up to athletes like Olympic-medalist Simone Biles and the record-breaking Serena Williams as role models. But not that long ago, women athletes were excluded from many sports; if one goes further back in history, they were not allowed to compete at all. Gonzales highlights the achievements of women athletes who broke down the gender barriers. Starting with the first Olympic Games and bringing readers to the present day, the author creates a narrative using a time line of women in sports. Many well-known women athletes are highlighted such as tennis player Althea Gibson and Olympic swimmer Donna de Varona, in addition to many lesser-known names. The author also discusses Title IX, the legislation that mandated equal treatment for all women athletes. Gonzales adds information about the key congresswomen and other advocates who fought for the ratification of the legislation. Back matter includes a formal time line and an extensive bibliography. VERDICT A great addition to any collection highlighting unknown women athletes and also explains the important legislation of Title IX for a young audience.–Erin Olsen, Hunter College Elementary School, NY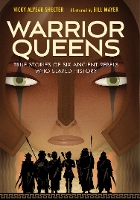 SHECTER, Vicky Alvear. Warrior Queens: True Stories of Six Ancient Rebels Who Slayed History. illus. by Bill Mayer. 160p. bibliog. index. notes. photos. Boyds Mills. Sept. 2019. Tr $17.99. ISBN 9781629796796.
Gr 4-8–While this title advertises "True Stories of Six Ancient Rebels Who Slayed History," the book actually features the stories of seven women—Hatshepsut of Egypt, Artemisia of the Persian empire, Amanirenas of Kush, the Trung sisters of the region that would become Vietnam, Boudicca of the Celts, and Zenobia of Palmyra. Each chapter highlights one woman (or sisters), describing her life, what it was like to be a woman in that time and culture, and the political landscape. Chapters feature a stylized illustration and occasional pictures of artifacts. What is known fact, versus what is a hypothesis or pure conjecture, is well communicated. Each chapter ends with subsections on culture and history. Chapter notes/footnotes are also included. Each noted passage is tied to an end-chapter note as well as a citation at the end of the book, which makes for a frustrating amount of flipping. Many notes seemed better suited to the main text. The book uses modern vocabulary and is replete with groan-inducing puns which sometimes detract from the information presented. A complete bibliography, as well as an index, make this a useful resource for students working on biographical projects. VERDICT Purchase where there is an interest in readable and informative collective biographies that pack a girl-powered punch.–Darla Salva Cruz, Suffolk Cooperative Library System, Bellport, NY
WILLIAMS, Marcia. Hooray for Women! illus. by Marcia Williams. 48p. index. Candlewick. Aug. 2019. Tr $17.99. ISBN 9781536201116.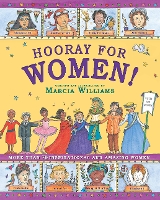 Gr 3-6–Williams's latest nonfiction work celebrates real women throughout history, bridging actual events with a kid-friendly, graphic novel format. Done in watercolors and ink, the comic biographies of each woman are arranged in chronological order, from Cleopatra VII to Malala Yousafzai. Each comic strip recounts the life of their subject, what they accomplished, and how they have inspired others. The graphic novel artwork for each biography matches the style for each person: the first block names the woman, the years they were alive, and an inspiring quote from them. Each story is framed by cute animals and modern children commenting what was happening in the story or stating facts about each figure. There are 16 biographies of women, each with a length of two pages, making this an easy and quick read for young minds. The back matter has a multitude of mini-bios followed by a "Dear Reader" note and ending with a thorough index. While the choice to frame the comic with children and animals and to include their commentary in the margin is cute and adds depth to each biography, it sometimes makes the page overwhelming to view. And because everything is displayed in such a small space, the font appears equally small. VERDICT Children who enjoy reading the "Who Was?" ­series or are interested in comic-style novels will enjoy this book and could use it as a ­resource in school.–Hilary Tufo, Columbus Metropolitan Library-Reynoldsburg
For additional biographies see, "Honoring African American Women and Girls, Past and Present."