Administrators need to make swift decisions based on immediate community needs, not what will look good to funders, mayors, and boards.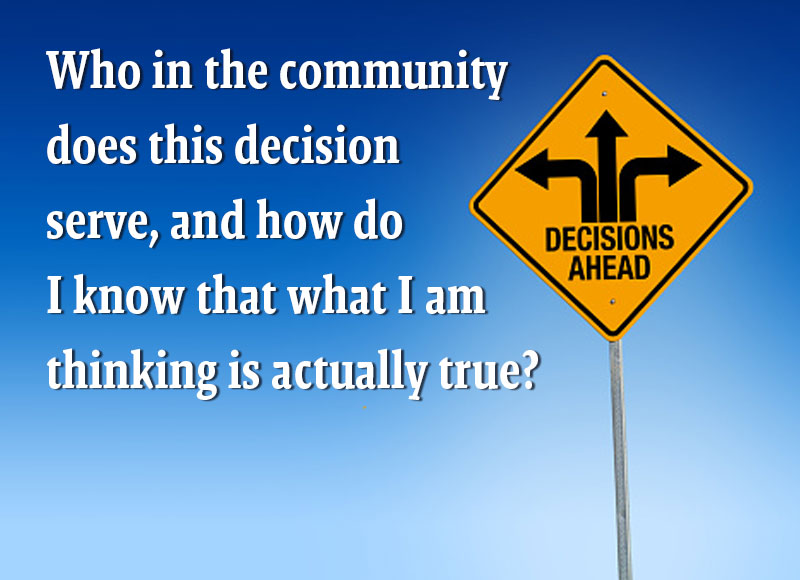 When we started the Reimagining Youth Librarianship project, we didn't know what we would learn, how we would learn it, and who would take part in the process. Three months into the project, we have discovered something key: how decisions are made in libraries during an emergency .
In some communities, the library director makes the final decisions; in others, the mayor or city manager calls the shots. Library staff can pitch and execute ideas about programs and services in some libraries, while in others, they may propose ideas, but have little role in decision making. Still other institutions take a top-down approach: Administrators make decisions and staff execute them.
During crisis, we understand that administrators must make critical and sometimes difficult decisions that factor in budget and safety. However, it is troubling that some administrators come to decisions based on what can be quickly accomplished or looks good without thoroughly investigating community needs. This led us to find out more about how politics and governance impact the who, why, and how of decision making in public libraries during the COVID-19 era.
Here is what we have learned from the more than 160 library staff participating in co-design sessions and from a smaller subset that we interviewed.


READ: COVID-19 Is an Opportunity to Rethink Youth Librarianship | Reimagining Libraries

Who calls the shots?
During interviews and co-design sessions, we heard comments such as "Often we are placed in a position to focus on books and things due to pressure and expectations from outside stakeholders or government officials, and they have very traditional views about what libraries are and do."
Sometimes local officials make decisions that impact library services with no input from library administrators or staff. However, when these officials have free rein to determine services during times of crisis, that directly undermines library staff expertise and knowledge about their community's needs. Library administrators and staff need to take the opportunity to "lead from wherever they are," as Beth Yoke, chief strategy officer at the Cincinnati Hamilton Public Library, says.
This can be accomplished by gathering data to support needed solutions and presenting that data to government officials. By co-designing solutions with youth and their families, staff can collect data to feed to administrators. Being proactive and showing ability to change quickly based on community needs are vital skills for library staff and administrators. Ultimately, youth services personnel must manage up to advocate for non-dominant youth and families in their community.
We are working hard
In some libraries, administration and staff made decisions about programs and services based on what would please funders, taxpayers, mayors, and boards. One library staffer summarized it this way: "Taxpayers need to see that the people whose salaries they're paying are doing work to earn those salaries."
Here's a challenge to that: Often, the work library staff must do to design and deliver equitable services isn't visible to the public. But this work must be done to determine what programs and services should be offered during crises.
It can manifest as various activities, including:
● Connecting to sites where non-dominant youth and families spend their time to discover more about their lived experiences;
● Attending community meetings to share and learn about community needs and gather data that exemplifies the current needs;
● Co-designing with community organizations to build relationships, learn about each other's work, brainstorm how to work together, and design creative solutions that build on each other's strengths; and
● Communicating regularly with who "calls the shots" on the reason for your services and their community impact.
All are vital in providing equitable services during crisis. Library staff must educate the public on this invisible work. If staff keep making decisions highlighting the transactional aspects of library work over that focused on community building and equitable services, the community will keep assuming the library is all about books and the physical building.
We are public servants
In a recent co-design session, Yoke talked with our group about what it means to be a public servant and highlighted that many library staff take on the role of library servants instead. Public servants make decisions with community members. Library servants make decisions for them. Yoke postulates that to move from library servant to public servant, staff and administrators must:
● Change mindsets
● Make it not all about the "stuff"
● Listen to the community, learn from the community, repeat the listening and learning
● Leverage community assets
● Lead from wherever they are
There is much more to being a public servant than working for a public entity. Those in libraries must dig into what public service means and focus their work accordingly. As the UN Policy Brief 79 on public service during COVID-19 states, "above all, [public servants] have a high dose of humanness in their personality which makes them work for others...." To work successfully for others, library staff must reflect on their practices and be open to making rapid changes; be willing to lead and make potentially difficult and/or unpopular decisions; take time to build relationships with community organizations that serve non-dominant youth and families; and think innovatively and boldly to serve needs not traditionally in the library's purview.

READ: Wake up, Libraries: Curbside Pickup is NOT the Answer | Reimagining Libraries

It is time for difficult conversations
Being a public servant requires proactive leadership and standing up for those with limited power. As we noted in our previous article, services that libraries instituted quickly in their COVID-19 response, such as grab-and-go and curbside pickup, have the potential to serve the powerful more than the powerless. Without prioritizing community-based decision making, these time-intensive services and enable staff to ignore deep-seeded community inequities. As one project participant noted, "For many communities, [these services] prioritizes patrons who can easily navigate digital systems, who speak English, who are accustomed to using the library in the ways that white people educated in white institutions design."
When making decisions in crisis, ask yourself: Who does this serve, and how do I know that my opinion is true? As you answer, be honest and careful not to assume that the decision you're considering has an impact beyond traditional library users that you connect with daily. Have the potentially difficult conversations to determine whether your ideas for solutions truly help to fill real community needs.
Community-informed decision making
Throughout the Reimagining Youth Librarianship project, we have explored methods used to discover community needs. Administrators must empower staff (through time, funding, and training) to actively engage in the community data-gathering process. If administrators and staff grab the opportunity to realign their decision-making processes toward community needs, without concern for politics and "looking good" opportunities, crisis decisions will be more than a Band-Aid and will lead to public acknowledgment of the library's wide-reaching value. Community members will then know the library is a community anchor that works to ensure all have what they need to succeed.
Help us develop pathways for libraries during crises
We are nearing the end of this part of our project and will move into a phase of focus groups and developing a guide for staff to use in work with the community as they plan and implement services in times of crisis. Our final pathway will include information on what we've learned along with case studies and tools to use in community-informed decision making.
If you believe you are solving your community needs during crises by innovating solutions with and for them, we invite you to take part in an upcoming focus group. Please get in touch with us (lbraun@leonline.com and mmsubram@umd.edu).
---
Linda W. Braun is a learning consultant for LEO. Mega Subramaniam is an associate professor at the College of Information Studies, University of Maryland.