There is no typical school day for the Olsons, a Massachusetts family of six. On any given day, the 15-year-old twins may be researching theater costumes as part of an acting program the girls created, while the 12-year-old daughter, who is passionate about fitness, might be training on the ninja course she developed in their yard.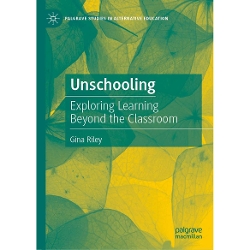 Gina Riley wrote a book on Unschooling,
which is gaining in popularity
since the pandemic began.
The Olson family engages in unschooling, a form of homeschooling that is driven by a child's interests and curiosity, not by a set curriculum. While homeschooled students typically follow a defined, parent-led program, students who are unschooled decide what to study and take the lead in their own learning.
"Unschooling honors the way children learn really well," says mom Nicole Olson, who decided to start unschooling her oldest child, now 18, when he was in first grade. "They are not doing anything because they are motivated to get a good grade; they learn about things because they are deeply interested in them."
With all the upheaval at schools this past year, many families have been exploring methods of learning outside of traditional school environments.
While unschooling is still a relatively small movement, it is gaining steam. It is estimated that unschoolers make up 10 to 20 percent of the country's more than 2.5 million homeschooled kids, according to Gina Riley, an educational psychologist and education professor at Hunter College in New York City. Riley, who unschooled her son, has done academic research on the topic and wrote a book called Unschooling: Exploring Learning Beyond the Classroom.
The pandemic and the abrupt shift to remote learning caused many families to question their ideas about education and the kind of learning environment that works best for their child and their family, according to Riley.
"This time period has exposed many families to the joys of unschooling," she says. "Families have done projects together such as baking, or they went on hikes together. Families are realizing they can learn anywhere. It is really a shift in worldview."
A movement with deep roots
The unschooling movement can be traced back to John Holt, a Vermont educator and author. In the late 1970s, Holt began advocating for self-directed learning for children after working as a teacher in private schools. He developed a philosophy of education that focused on allowing children to learn based on their interests and motivations and the idea that learning is a natural process that is always taking place.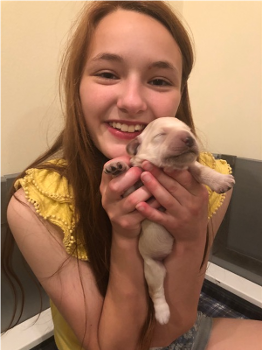 Katie Olson is raising a dog and studying
canine psychology as part of her unschooling.
Photo courtesy of Nicole Olson
Now, unschooling is practiced by families all around the world, and it encompasses a range of approaches. Advocates for unschooling cite the flexibility and opportunities that come with not following set expectations and objectives.
"My kids have become very competent at being self-motivated," says Olson. Her children engage in what she calls "passion projects." For example, one of her twin daughters is currently studying canine psychology and genetics as she raises a dog.
"A great thing about passion projects is that they tend to be multidisciplinary," Olson says. "My 12-year-old became interested in ninja fitness training during the pandemic. This led to all kinds of learning. She researched the subject, read about ways to make a DIY ninja course at home, wrote papers and made presentations to my husband and me lobbying for certain equipment, and helped her dad make the equipment, which involved measuring and other mathematics."
Another benefit of unschooling is that it allows families to have a flexible schedule, advocates say. "In our research, we have found that family closeness is a major benefit," notes Riley.
Some families are choosing unschooling to deal with issues such as bullying. One of the top reasons parents choose homeschooling (including unschooling) is to escape from a negative school environment, according to the National Center for Education Statistics.
Unschooling is also appealing to many families of students with special needs who don't always thrive in a traditional school environment, according to Riley.
"During the pandemic, we have found that a lot of families of kids with special needs who are [unschooling] are finding that their kids are enjoying this time and thriving," she says. "A kid with ADHD, for example, can go out and play when they need to."
Families who choose this type of learning generally do not tell the state they are in that they are unschooling, which is part of the reason it's hard to collect data on this population according to Riley. "They generally just file and complete the homeschool regulations of the state/district they live in," she says. "New York state, for example, is a highly regulated state. It's tough to unschool there."
Different approaches
Maleka Diggs is the founder of Eclectic Learning Network, which focuses on supporting and coaching families of color as they navigate homeschooling. Diggs, who has two daughters who are unschooled, said home education was not part of her life until she became a mom. She decided to begin pursuing alternative methods of schooling after an incident that occurred when she went to enroll her daughter in her local school. The principal there asked her to provide additional paperwork to show that she lived in the district and exhibited other behavior that she says showed bias.
Diggs has spent years working on an approach to parenting and schooling that values young people's ideas and contributions while also focusing on critical thinking and honest conversations about difficult topics.
"Unschooling for me is how we learned before the introduction of schools as we know them," Diggs says. "This is ancestral learning. In communities, young people were treated as a direct contributor to the community and were given tasks that were within their awareness and capabilities. We lost sight of that, and we lost sight of including our young people in the process of learning."
Diggs adds, "The access points to learning are so many, and in school, they don't really value all the multiple pathways to learning." For example, she says, you can do "an entire lesson in a supermarket and cover all core subjects, just with a supermarket run. Home education, no matter what you define it as, can look any way you want it to."
Diggs says that adults should show young people that they are also engaging in learning all the time. "Our young people are looking to us not to be told what to do but to see ways that are positive and respectful, to see us model how we can engage what respectful parenting looks like. You do not have to wait until you are 17 years old to be a voice and a leader for your community. You can do that now."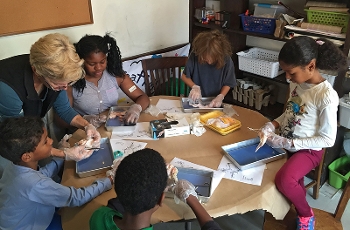 Children learn to cut chicken during a
cooking class at an unschooling center.
While most unschooling is done at home, centers around the country have cropped up for parents who are unable to be home or are looking for more social interaction. One of these is Natural Creativity, a self-directed learning center in Philadelphia. Christopher Steinmeier, the center's cofounder and codirector, says his center helps kids develop problem-solving skills. "We have devoted a lot of our efforts to social and emotional learning, and we use an approach that is based on nonviolent communication work," Steinmeier says. "We help young people develop soft skills in how to work with others and understand the needs of others."
Unschooling concerns
The unschooling movement is not without critics. In a recent essay in Forbes magazine, education journalist Natalie Wexler wrote, "The standard version of school clearly isn't working for many kids. But that doesn't mean the answer is unschooling.…While giving kids choice can help motivate them, they can't choose to learn about topics they're unaware of. The involuntary unschooling that's going on across the country now could work for a minority of kids, but it will only further disadvantage those who are most vulnerable."
Critics also note that this type of learning can be very difficult for working parents who aren't able to stay home with their children during the day. Some worry about how unschooling will impact children getting into high school or college, since unschooled kids don't have grades and often don't take standardized tests.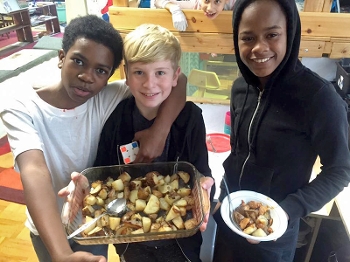 Kids show off the potatoes they made in an unschooling
learning center.
According to Riley's research, unschooling is not a barrier to college admissions. Adults who were unschooled reported little difficulty getting into colleges and universities of their choice and adapting to the academic requirements there, despite not having the usual admissions credentials. A small number of unschooled kids took standardized admissions test (SAT or ACT), some took community college classes and used that transcript as a basis for admission to a four-year college, and several mentioned interviews or portfolios playing a major role in their college admissions.
Natural Creativity requires a certain family commitment to this kind of learning and lifestyle. "It's not for everyone," Steinmeier says. "Our center is a partnership model, and we expect families to use the language and the approach we use at school at home. I suggest two or three steps before enrolling in a center like ours. Our center is very small—it can be very disruptive for a family to come and go."
Looking ahead
There is still much uncertainty about schooling this coming fall. Some families, especially those with younger children who aren't yet vaccinated, may not feel it's safe to send their children into school buildings. Other families may want to continue remote learning. Families who have tried out homeschooling and unschooling may want to continue on that path.
It is likely that alternative and less traditional school options will continue to gain interest and momentum.
Riley believes that there will be more learning centers opening for families who want to pursue self-directed learning.
Adds Olson, "People are seeing that there are more options. School doesn't have to be done the way we have always done it."
Melanie Kletter is a teacher and freelance writer in New York City.