Holiday anticipation can wreak havoc on bedtime routines. Deck your seasonal book displays with titles that will lull young children to sleep when all else fails.
Holiday anticipation can wreak havoc on bedtime routines. Deck your seasonal book displays with titles that will lull young children to sleep when all else fails.
ARENA, Jen. Salsa Lullaby. illus. by Erika Meza. 32p. Knopf. Oct. 2019. Tr $17.99. ISBN 9780525579731.
Toddler-PreS –A sweet book and engaging bedtime story. Mami and Papi turn up the salsa lullaby music and get baby dancing, singing, and jumping. Even the family dog joins in on the fun. After a bit, baby gets sleepy and the lights are turned down low. Soft music plays in the background and baby falls asleep, dreaming of happy times. Spanish words are interspersed throughout the story. The artist's rendering of the characters falls in line with the rhythmic beat of the text. Mami's wild hair and colorful music notes float across the pages, bringing readers into the action. A brief glossary is included. VERDICT Sure to be a hit during storytime and at bedtime as well. Pair with Karen Beaumont's Baby Danced the Polka for more dancing adventures with toddlers.–Martha Rico, Yselta ISD, TX
BACHELET, Gilles. A Story That Grows. tr. from French. illus. by Gilles Bachelet. 32p. Eerdmans. Feb. 2019. Tr $16. ISBN 9780802855121.
PreS-K–This whimsical story features a variety of parents, including a snail, a dragon, an alien, an ostrich, and even a backhoe. The left side of each spread includes a three-line description and depicts a parent reading to their offspring. The little one holds a comfort toy, which foreshadows the subject of the subsequent spread. The facing page features a related book. For example, on one page, an ostrich mom reads to her child. The text reads, "A mom who hides her head, a child tucked under the covers,/a cuddly friend with a spiral shell." The facing page contains an image of a book hatched from a shell and the words "a story that hatches." Next is a snail dad who reads to a child clutching a toy bat. Of course, a bat is the next reader. The pattern continues until, finally, a human dad reads to a child holding a stuffed butterfly, which brings readers back to the cover image of a butterfly parent. Each bedroom scene in Bachelet's humorous watercolor illustrations cleverly fits its inhabitants. A fish dad sits on a chair made of coral. His child is in a fish bowl–shaped bed atop a rug depicting sea creatures. A starfish mobile hangs overhead, and an octopus pull toy is nearby. The book on the opposite page has scales and fins. Endpapers contain labeled pictures of all the creatures within. VERDICT An unusual take on bedtime reading that is sure to become a favorite.–Marianne Saccardi, Children's Literature Consultant, Cambridge, MA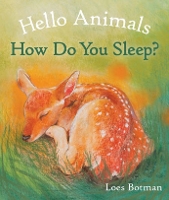 BOTMAN, Loes. How Do You Sleep? illus. by author. (Hello Animals). 12p. Floris. Apr. 2019. Board $8.95. ISBN 9781782505518.
Toddler–PreS–Botman's latest nature-themed work does double duty, offering a few facts to the youngest of readers while gently lulling them to sleep. Children learn about the nocturnal habits of various creatures—cows and sheep bed down in the hay, while rabbits and bears sleep in dens (the contrast between the hulking bear and the tiny bunny is delightful). Set against vivid, detailed backgrounds, these sumptuous illustrations will have eyelids drooping in no time.-SLJ staff.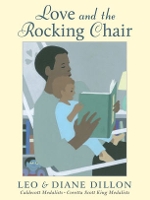 DILLON, Leo & Diane Dillon. Love and the Rocking Chair. illus. by Leo Dillon & Diane Dillon. 40p. Scholastic/Blue Sky Pr. Oct. 2019. Tr $18.99. ISBN 9781338332650.
K-Gr 2–Time changes many things, but love will always be there, no matter what. A beautiful white rocking chair connects a family across three generations of sleepless nights and lullabies in this story by the award-winning team. Many years earlier, a couple purchased a rocking chair in anticipation of the arrival of their baby boy. Over time, the chair is used in myriad ways, eventually being placed in the attic to gather dust. When the boy grows up and finds himself with his own child on the way, the chair reprises its role with a brand new baby girl. Sentimental and heartfelt, this story emphasizes the deep roots familial love can have. Tender moments of affection and loss are echoed within the text and illustrations. Soft, muted colors create a backdrop of calm and serenity while concise text explains the events of the story. The endpapers begin with a daytime scene and finish with the same scene at night, depicting the predictable rotation of the earth that moves everyone ceaselessly forward in time. VERDICT A beautiful bedtime story for families of all kinds to share across generations.–Mary Lanni, formerly at Denver Public Library
FOGLIANO, Julie. Just In Case You Want To Fly. illus. by Christian Robinson. 40p. Roaring Brook/Neal Porter Bks. Oct. 2019. Tr $18.99. ISBN 9780823443444.
PreS-Gr 2–Uplifting text and enchanting artwork provide encouragement for youngsters looking to dream big and journey far, as well as soothing reassurance that home will always be waiting. "Just in case you want to fly/here's some wind/and here's the sky." As a smiling girl gazes out of her apartment window at laundry swaying on a clothesline, one shirt is carried away by the breeze, seemingly headed for adventures unknown and giving the impression that anything is possible. Reading with the cadence and familiarity of a favorite nursery rhyme, the verses gently outfit listeners with all of the required necessities for imaginary excursions, from "a cherry if you need a snack/and if you get itchy…a scratch on the back" to "a joke/if you want to laugh" and a tissue and a sigh "just in case you want to cry." Loosely echoing a getting-ready-for-bed routine, the book comes to a cozy climax with the offering of "honey for your tea" and "a map/with an x on the spot/to find your way/home to me." Done in paint and collage, the artwork utilizes simple shapes and textured brush strokes to depict an appealing cast of diverse children and an array of whimsically rendered animals and everyday objects. VERDICT Striking a dream-nurturing balance between the commonplace and the magical, this lovely picture book is perfect for sharing one-on-one at bedtime or anytime.–Joy Fleishhacker, Pikes Peak ­Library District, Colorado Springs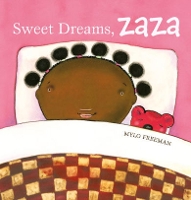 FREEMAN, Mylo. Sweet Dreams, Zaza. illus. by Mylo Freeman. 24p. Clavis. Aug. 2019. Tr $14.95. ISBN 9781605374611.
Toddler-PreS–Bedtime routines are vital for young children, and this book shares one young girl's nightly tasks. A young toddler, Zaza, sweetly gets her five animal friends ready for bed in unique ways. George Giraffe needs head pats, Mo needs a lullaby, and others, like Pinkie, just need a soft snuggle. Her favorite bear gets special treatment though. "Zaza loves all of her animal friends, but Rosie is her favorite. Zaza gives Rosie the sweetest kiss of all." Once all of her animal friends have fallen asleep, Zaza's mommy comes to help the child get ready for bed. Readers will notice that Mommy uses the same routine on Zaza that the girl used with her animals. The illustrations depict the bedtime routine beautifully and show Zaza and Mommy as having brown skin and natural hair. VERDICT A first purchase that will reinforce the ritual steps to observe before falling asleep. Sweet dreams are guaranteed.–Brooke Newberry, Winding Rivers Library System, West Salem, WI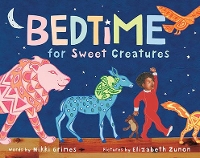 D GRIMES, Nikki. Bedtime for Sweet Creatures. illus. by Elizabeth Zunon. 32p. Sourcebooks/Jabberwocky. Jan. 2020. Tr $17.99. ISBN 9781492638322.
PreS-K–In this exceptionally well-done title, readers follow a young child on a before-bed adventure. The book opens with a toddler shouting "No! No! No!" It continues, "You beat the word like a drum the minute I say, 'Come, sweet creature. It's bedtime.'" The gorgeous illustrations are from the child's perspective. For example, when the child answers their mother, the lyrical text says their eyes get big as an owl's. On the opposite page and part of the adjacent page are three large yellow-and-orange owls. Other items encountered on this bedtime routine are a large green, blue, and yellow bear; a forest scene; a snake; a giant pink-and-orange lion in bed; a blue-and-green fawn; a green-and-pink squirrel; and more. The words and the art are perfectly matched: when getting tucked in, the child, who is beside the large imaginary colorful lion, tells her mom to check underneath the bed for something vicious. Mom says, "I kneel on the forest floor, find something wild and ferocious." Underneath the bed is a small gray-and-white kitty. The text reads, "Meow." The illustrations and execution of this title give it a fresh approach to a subject that resonates with families raising small children. VERDICT Highly recommended for public and school libraries. The creative illustrations will appeal to parents who struggle with keeping children in bed at night. This is also an excellent choice for a bedtime storytime or other programs.–Robin Sofge, Prince William Public Library System, VA
KNAPMAN, Timothy. What's Next? Candlewick. Nov. 2019. 32p. Tr $16.99. ISBN 9781536209891.
Toddler-PreS–Once Baby Badger knows all the nooks and crannies of his underground burrow, he's eager to experience more. His father takes the young cub out after dark so he can learn where to find soft moss for rolling in and flower bulbs to eat. He's even shown the ideal spot to view the wonder of stars and the full moon. Then his father tells him it's time to return home because night is coming to an end. The young badger can't sleep and is curious about the daytime, so he decides to go exploring on his own. After gazing in wonder at all he discovers in daylight, he's hot and tired and realizes he doesn't know how to get back home. Luckily, his daddy is nearby. Mixed-media illustrations show the burrow and the nighttime excursion in mainly black and gray. The forest in the morning is light and pastel colored. The illustrations of the burrow are rife with details, such as a buried treasure chest, worms, and the roots of plants. Bats, owls, and moths fill the night sky, and birds, butterflies, and blossoms call the daytime forest their home. VERDICT This soothing tale is just right as a bedtime story for young and curious children.–
Maryann H. Owen, Oak Creek Public Library, WI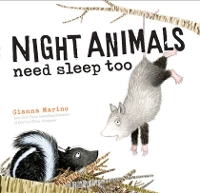 MARINO, Gianna. Night Animals Need Sleep Too. illus. by Gianna Marino. 32p. Viking. Feb. 2020. Tr $17.99. ISBN 9780425290651.
PreS-Gr 1–When the sun goes down and the moon comes out, many animals snuggle up for a good night's rest...but not all of them. Nocturnal animals like skunk and possum sleep during the day. One day, these two friends search for a dark space to curl up and sleep, but each place they try is wrong for some reason. The first place they try is a cave with a bear; but before they can rest, a hive of bees begins to chase them. Next, they try unsuccessfully to fit together into a hole in a tree. Will these friends ever get a decent day's sleep? Every page of this book is dominated by the illustrations. The animals are realistically rendered in color, and the texture of each one is as close to lifelike as they can be in two dimensions. To tell the story, the words are presented in word bubbles above each character's head, serving to accent the images and provide light context. Onomatopoeia is interspersed throughout the book as well. Though the text does add a level of dimension to the story, much of the plot can be determined from the images alone. Some light humor coupled with a learning opportunity at the end make this book enjoyable both to young children and to their caregivers. VERDICT Emerging readers will love the accessibility of this picture book as they increase their independence, while still in the arms of their parents.–Mary Lanni, formerly at Denver Public Library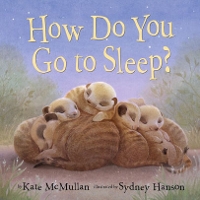 MCMULLAN, Kate. How Do You Go to Sleep? illus. by Sydney Hanson. 32p. Knopf. Oct. 2019. Tr $17.99. ISBN 9780525579441.
Toddler-PreS –Animals can sleep standing on one foot, stacked in a heap, or floating in the bay. But how do children go to sleep? In this companion to How Do You Take a Bath?, McMullan compares the sleeping habits of baby animals to a child's familiar bedtime routine. "How do YOU go to sleep?/Do you stand and lock your knees?/Is your bed beneath the leaves?" One-to-a-page, baby animals sleep in their natural habitats. Seals sleep while floating. Dolphins swim in their sleep with one eye open. The meerkat "sleeps in a heap"with the rest of its family. Most interestingly, the octopus changes color during sleep. Periodically interjected, the titular question accompanies children attempting to mimic animal sleeping behaviors. A brown-skinned human family wraps up with familiar rituals like turning off the light and bedtime kisses. The digital, earth-tone illustrations depict serene animals snoozing with doting animal parents looking on. Cartoon children and parents are softened by minimal outlines and a sponge-effect overlay. Young readers will want to cuddle up with the cozy animal babies and may chuckle as the kids try out the different sleeping methods. VERDICT A bedtime book that will soothe and please children and caregivers.–Richelle Rose, Kenton County Public Library, KY
MEARNS, Ceporah & Jeremy Dibicki. It's Time for Bed. illus. by Tim Mack. 36p. Inhabit Media. Apr. 2019. Tr $16.95. ISBN 9781772272277.
PreS-K–Siasi is a bright and active young girl who would rather not get ready for bed. Instead, she'd like to dance with the polar bears and run with the caribou. This Nunavut bedtime book gives each page a comforting familiarity as the adult asks Siasi if she's completed the necessary steps before bedtime and she replies with, "NoooOOOooo! I don't want to go to sleep!" But once she is done with her adventures, she's finally ready to go down. Mack's energetic illustrations capture Siasi's enthusiasm and the hilarious expressions of the creatures. Kids will laugh at Siasi's antics, and parents will recognize the attitude of a stubborn child who won't go to bed until everything is just right. While the concept is not new, seeing it through an Arctic lens makes this tale a valuable addition to the bedtime book genre. VERDICT Highly recommended for most collections.–Gretchen Hardin, Sterling Municipal Library, Baytown, TX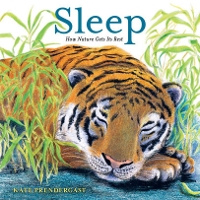 PRENDERGAST, Kate. Sleep: How Nature Gets Its Rest. illus. by Kate Prendergast. 32p. Candlewick. Sept. 2019. Tr $16.99. ISBN 9781536207989.
Toddler-PreS–All animals sleep. Some sleep standing up, some sleep hanging down. Some sleep in groups and others sleep alone; some close their eyes and others keep them open. Prendergast presents a sweet bedtime tale that doubles as a beginning informational picture book. Children will enjoy the mixed media illustrations depicting familiar animals as chickens, horses, a cat and a dog, and other animals that might be new, such as sloths and meerkats. The illustrations, expressing the text faithfully, have a dreamlike quality achieved with soft curved brushes that invoke the different surroundings where animals slumber. This book can be used during a pajama storytime or at home during the nighttime routine. In addition, the back matter contains fun facts about the animals covered and five websites with information about animal habits. ­VERDICT A classic-themed picture book that will connect children with animals while sharing some basic facts about them.–Kathia Ibacache, Simi Valley Public Library, CA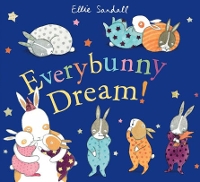 SANDALL, Ellie. Everybunny Dream! illus. by Ellie Sandall. 32p. S. & S./Margaret K. McElderry Bks. Feb. 2019. Tr $17.99. ISBN 9781534440043.
Toddler-PreS –In this bedtime adventure, a family of bunnies finds one of their friends, a fox cub, has snuck into bed with them one night wearing bunny pajamas. It turns into a big pajama party when mama and papa fox come looking for their cub. All the bunnies and the renegade fox cub, along with his siblings and parents, end up having a fun sleepover. Simple rhyming text is complemented with colorful illustrations. For example, in one scene the bunnies put their pajamas on. The bunnies bedtime routine consists of "Everybunny Wash! And brush your teeth, and clean your paws, and comb your tail, and trim your claws." The bunnies and fox cubs even get a bedtime story. VERDICT Tender and sweet, this is a title that will resonate with small children and their parents. It can also be a winner for a library bedtime storytime.–Robin Sofge, Prince William Public Library System, VA