On the Monday before Thanksgiving, Amy Weir, the children's librarian at the Frank Sarris Public Library in Canonsburg, PA, posted a video of herself reading Traci Sorell's picture book We Are Grateful: Otsaliheliga. The book was relevant, Weir explained—after busting myths about the history of American Thanksgiving—because it shows how gratitude is practiced in contemporary Cherokee life.
By contrast, stories about Indigenous people are often told through folktales or take place in an idealized past. "When I grew up, I got the idea these are people who lived in the past and they're not around anymore," says Weir. "[The author] is sharing her culture, and it's something that's very much here today."
Weir started "Mundo Monday" in the spring after COVID-19 shut down indoor library programming. The director of Weir's library, in a majority-white area in rural western Pennsylvania, had asked her to develop public programming focused on diversity. With a planet-shaped puppet (mundo means "world" in Spanish), she reads picture books by BIPOC authors that reflect a wide variety of races, cultures, identities, and life experiences.
Weir believes promoting diverse books is central to her work. In majority-white communities, educators say, it's crucial that diverse books are put in front of white children. Books can dispel stereotypes and offer a more balanced view of the world to kids who grow up in homogeneous environments. In the increasingly polarized culture of the United States, that belief resonates as loudly now as it did when Rudine Sims Bishop published her essay " Mirrors, Windows, and Sliding Glass Doors" 30 years ago and made a forceful case for publishers to release more diverse children's books.
"If [white children] see only reflections of themselves, they will grow up with an exaggerated sense of their own importance and value in the world—a dangerous ethnocentrism," she wrote. They "need books that will help
them understand the multicultural nature of the world they live in, and their place as a member of just one group, as well as their connections to all other humans."
But in some majority-white communities, librarians run into resistance from community members who question the relevance of diverse reading initiatives or are hostile to programming they perceive as contrary to their political or social views. Librarians navigate these tricky waters by leaning on supportive parents, teachers, principals, and superintendents; following the guidance of professional organizations; and focusing on making reading recommendations that they can stand behind as appropriate and compelling for their students.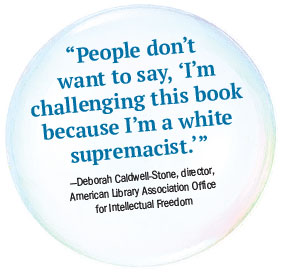 Objection to "wokeness"
Librarian Allison Stone encountered this opposition firsthand in the fall after she encouraged the high schools in her district in Frisco, TX, an upscale suburb of Dallas, to join the Read Woke challenge, a nationwide diverse reading initiative started by Cicely Lewis, SLJ's 2020 School Librarian of the Year. The Frisco librarians put together a list of 10 books that challenged a social norm, told the story of the oppressed, taught about a disenfranchised group, or shed light on an overlooked issue. Students got prizes for reading the books and earned a Read Woke T-shirt when they read all 10. The libraries promoted the program on social media using the hashtags #ReadWoke and #fisdReadWoke.
Parents and community members posted on social media accounts managed by the school libraries, complaining about the program.
"We run five to six major programs a year and nobody ever takes notice," Stone says. "We were all surprised anybody noticed what we were doing."
They objected to "wokeness" being incorporated into the school curriculum, not understanding that the program was optional. One critic took the complaints all the way to the superintendent.
"They thought we were pushing a political agenda on our students," Stone says. "And that wasn't true."
In the end, the superintendent brushed off the criticism, reiterating that this was an optional library initiative, and supportive community members and teachers defended the program online. Most of the people who had posted public complaints removed them.
But the protest of the Read Woke program is by no means an outlier. Books with diverse characters are more frequently challenged in school and libraries, especially books that focus on racial injustice, according to Deborah Caldwell-Stone, director of the American Library Association Office for Intellectual Freedom.
"We can look at the fact that currently we live in a society that is deeply divided politically and socially," Caldwell-Stone says. "Challenges are often made to books that challenge the status quo and that actually matter to young people." Objectors often use pretexts for challenging diverse books, saying they're inappropriate because of their language or sexual content. "People don't want to say, 'I'm challenging this book because I'm a white supremacist,'" Caldwell-Stone says.
In 2014, Highland Park High School in Dallas made national news when its superintendent briefly pulled books by Toni Morrison, Sherman Alexie, and others from the classroom in response to complaints from parents about inappropriate content. The books were later reinstated, but the matter elicited strong feelings on all sides. Jill Bellomy, lead librarian for the school district and librarian for Highland Park Middle School, says that the incident did not affect the school libraries and that she makes a point to promote diverse books in her affluent, majority-white district.
"Our kids live in an insulated little area; they need to see life outside. It's so good for all of us to read beyond our own experience," Bellomy says.
Bellomy's library is a chapter of the Project LIT community, a grassroots network of more than 1,700 student book clubs that aims to foster a love of reading by promoting relevant, diverse books that tell compelling contemporary stories. Each year, Project LIT puts out a new book list and Bellomy highlights the titles in a big library display and marks them with stickers. When students read a certain number of books and come to book club meetings, they earn a prize like an ice cream party, or, in the COVID era, a T-shirt. Project LIT books for this year include Stamped: Racism, Antiracism, and You by Jason Reynolds and Ibram X. Kendi and Black Brother, Black Brother by Jewell Parker Rhodes.
"We try to make a concerted effort to promote diverse books because they're not the natural ones [students]would go to," Bellomy says.
At Griffin Middle School in Frisco, librarian Ashley Leffel finds power in sharing contemporary stories about diverse characters.
"When I was a kid, there were books about Harriet Tubman and slaves and people who were no longer slaves," Leffel says. "Now there are books just about being Black."
Leffel is one of three Black teachers at her majority-white middle school. For her students who come in wearing Black Lives Matter buttons and shirts, she recommends Stamped, because she knows they're ready to dive into sophisticated dialogue about race. For her students who want to see their own Asian American experience reflected in the books they read, she'll hand them When Dimple Met Rishi by Sandhya Menon, a book that's not so much about racial identity but about characters who happen to be Indian American. For members of the school's Black minority, she recommends books by Renée Watson about Black kids growing up in white neighborhoods. She's tripled the collection of LGBTQ books in the last couple years because students keep asking for them. If students pick up The Hate U Give by Angie Thomas because they know it from the movie, she'll be ready to discuss it with them and recommend other books about Black experiences by Jewell Parker Rhodes and Sharon Draper when they're finished.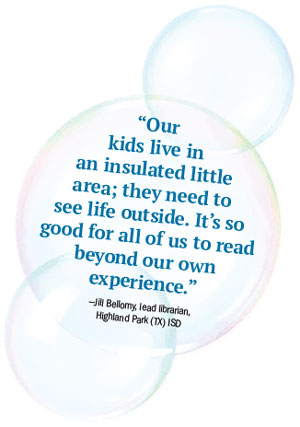 Leffel tries to create an open dialogue with all students: Black girls reading the books she has recommended have shared their own experiences. She is also open to being a sounding board to white students who have questions about being Black: She wants them to know they can come to her and has offered to come into the classroom after students read books about diverse characters so they can ask her questions in a comfortable space.
"Life outside their bubble"
Leffel knows her students well, and this informs the books she recommends and the ones she doesn't. Another Angie Thomas book, On the Come Up, is geared more toward high school readers and uses the N-word. Leffel doesn't recommend the book to her middle school students. Some of them, she says, would see that as her giving them a pass to use the word.
"My goal is for [students] to realize there's life outside their bubble," says Leffel, who shares her personal experience with students in order to broaden their perspectives. "I grew up in this area. I'm used to being the minority; I'm used to being one of the few Black kids. I can tell them I love The Hate U Give, there are cultural things I relate to, but it's not my Black experience." It's stories about characters who are different and long for acceptance that most speak to her. She wants to break through the stereotype many white students hold that "all Black people live in South Dallas and they're impoverished," she says.
Other teachers and librarians agree that kids need to read a wide variety of diverse books so they see that there's no single story representing the Black, Latinx, or Asian American experience. And students should be provided with context for their reading. Leffel explains to her students why certain characters use slang so that students don't make fun of it. At the private Worcester Academy in Massachusetts, director of library services Jennifer Hanson said that a Chinese American student at her school became uncomfortable after other students independently read Gene Luen Yang's American Born Chinese and made jokes about the cultural portrayal of one of the characters without understanding the stereotypes the book was trying to break down.
"They needed some context and background," Hanson says. "They were maybe just not mature enough."
But when her students are given the access and tools to engage with diverse books, they are hungry for them because they speak to their contemporary lives and experiences. Hanson does book "speed dating" with her students: She brings a selection of books that represent diverse genres, characters, and authors and has the kids rotate among the books, with four minutes to browse each one and then 30 seconds to write a short reaction. "That's part of the goal to develop lifelong readers, making sure they're reading more than just dead white men," says Hanson, whose school is moving away from teaching books in the Western literary canon.
Julia Torres, a teacher librarian in Denver Public Schools, agrees. She's one of the four educators behind Disrupt Texts (along with Dr. Kimberly Parker, Lorena Germán, and Tricia Ebarvia), a movement to make literature curricula more inclusive and give teachers the tools to challenge canonical books through an antiracist lens.
"I ask of many students in ninth grade, 'When was the last time you read for fun?' For most of them it was fourth, third, maybe fifth grade, maybe middle school, and then it drops off," Torres says. She believes the ultimate goal of diversifying literature for white students is not just to expand their horizons but also to make them question racist actions and systems. She was impressed when her daughter recently told her about a white friend who confronted another white student about something racist they had said.
"I do believe that books are a powerful way to…have that experience of going into someone's lived reality that isn't your own," Torres says. "However, once they have read it, they need to be empowered to say, 'OK, what are the structures in society that prevented this person from having the privileges I have or having a life like mine?'"
---
Drew Himmelstein is an independent journalist who writes about education, families, and religion.