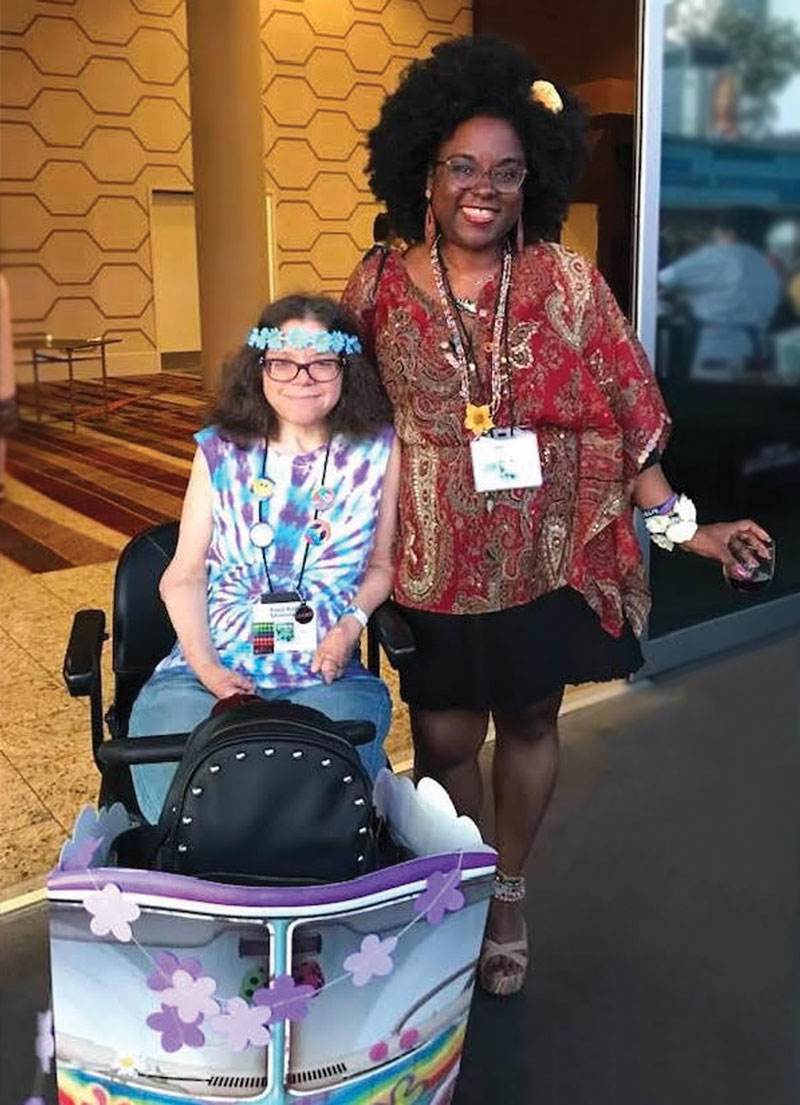 Karol Ruth Silverstein (left) was excited to participate in a costume contest but couldn't access the stage.
Photo courtesy of Karol Ruth Silverstein


While COVID-19 precautions and technological advances have enabled more disabled writers to attend children's literature conferences, conventions, festivals, and other events—often thanks to virtual options—many organizers still treat accessibility as a secondary concern rather than actively seeking opportunities to make programming accessible. Several disabled authors spoke to SLJ about their worries over accessibility and negative experiences that often prevent them from attending events.
"I have had way too many experiences where I ask for access, and then it becomes this big fight," wrote deaf activist and writer Jenna Fischtrom Beacom in response to an inquiry from SLJ in a Disabled Kidlit Writers Facebook group. "I either have to antagonize people I don't want to antagonize (the whole point of these things is to make helpful connections!) or go without access (which also means I won't make any helpful connections because I won't be able to understand anyone)."
As a result, Beacom has stopped paying attention to events. Instead, she uses social media to make connections.
Beacom is not alone. YA author Rebecca Sky ("Arrowheart" series) had a severe pain flare when tall, ­rickety folding chairs couldn't adequately support her body while she was a panelist at BookExpo in New York City.
Sophie Cleverly ("Scarlet and Ivy" series) decided never to attend the UK's Young Adult Literature Convention again after a first experience where there was no easy access to food and water and accessible bathrooms were scarce, she says. Cleverly lay on the floor while in line for the single, accessible bathroom.
Environmental allergies can also be an issue. Ariel Henley (A Face for Picasso) has also had bad experiences.
"I went to an ALA conference last year, and the venue had ­something scented blowing through the vents, and my allergies were unreal," says Henley. "Bloodshot and watering eyes, runny nose, etc. I had multiple people stop me to ask me if I was OK or needed help because the reaction was so noticeable."
Allergic reactions to scented products have forced me to leave events, too. Sometimes, it takes weeks to recover.
Many disabled writers are unlikely to attend events unless they are explicitly disability-friendly, and even then, the cost might be high—for some, too high.
Author Karol Silverstein (Cursed) spoke about the importance of choice, the often extensive personal cost—both financial and physical—of attending events, and the proliferation of well-intentioned, thoughtless choices made by event organizers.
When Silverstein began attending conferences on crutches, carrying a pillow due to low-height seating, she found it incredibly difficult to navigate the often lengthy and circuitous walks between panels and rarely arrived in time. Switching to a scooter was a ­revelation for her. "It was so much easier! I could be fast; I could zip back to my room if I forgot something. I'll never do a big conference without it," she says.

But scooters are expensive, and airplanes are notoriously bad about damaging mobility devices. When ­Silverstein travels to events, she rents one, which can cost upwards of $500.
These expenses, plus the risk of pain flares, worsening health, and the stress of not knowing if an event will be accommodating are what often lead disabled authors to stay home.
"I always have to weigh and measure the amount of spoons (a metaphor in the disabled community for energy ­rationing) and stress and anxiety against the experience of [an in-person conference]," Silverstein says. "More often than not, I'll choose not to stress myself out, and then I'll feel like I missed out a little."
Those who can't attend in-person events often seek alternative ways to connect by joining social media groups like the Disabled KidLit Writers ­Facebook group.
It's not enough for event organizers to address accessibility concerns when broached by disabled attendees, which several event managers said was their protocol. Organizers must be proactive in making events accessible and seeking out disabled voices for their programs if they genuinely want to embrace diversity and accessibility.
Some events do. Author Laura Bontje (Was It a Cat I Saw?) sent me a link to FOLD (thefoldcanada.org), a Canadian Festival of Literary ­Diversity. thinking that as a disabled writer and educator I would like to attend. As I looked into it, I was struck by its dedication to accessibility, which is mentioned on the festival's website. It's the only event I've seen make it so clear that they welcome disabled attendees.
FOLD executive director Jael ­Richardson explained that the event uses an accessibility advisory ­committee. Disabled writer Amanda Leduc (Disfigured: On Fairy Tales, Disability, and Making Space) is the communications and development coordinator and was FOLD's first full-time staff member.
"Having someone on staff who lives in this world all the time is key," Richardson says. "And then having voices that are constantly contributing and being recognized for their ­contribution is a big part of what we have done in the festival's early years."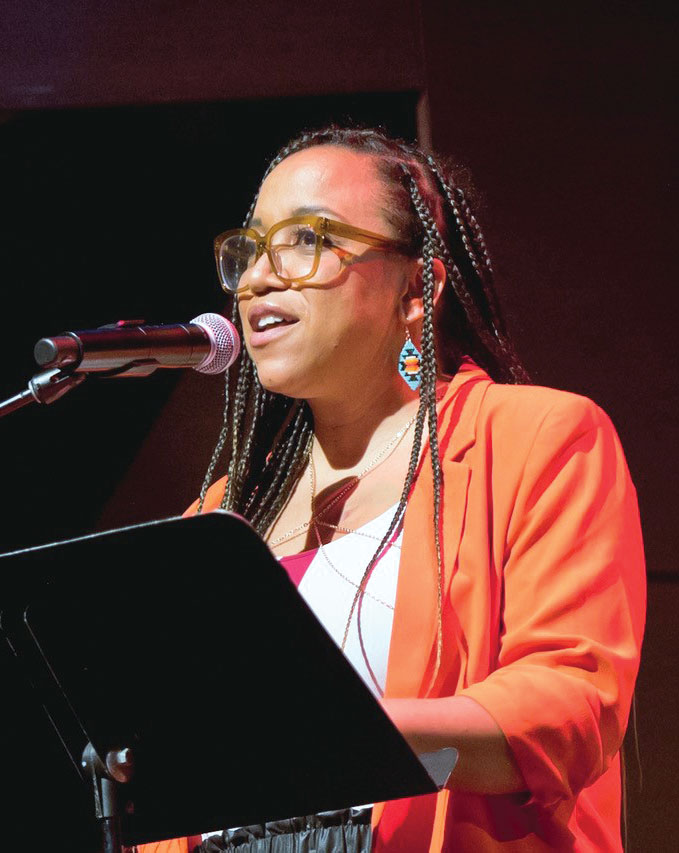 FOLD executive director Jael Richardson
However, inviting ­disabled speakers to events takes commitment, and the costs can be prohibitive.
"There is a concern from the disability community—one, about whether physically the support will be there when you get there and, also, about whether the finances are going to work out," Richardson says. "Are you actually going to get paid enough to make this whole endeavor worthwhile? Are you going to come back more [financially] broke than when you left and exhausted for a week? I think it's really important for festivals to think about accommodations on a much larger level."
To ensure FOLD includes disabled writers, Richardson seeks out disabled writers for panels, asks publishers for disabled writers to invite, and ensures they are represented on panels across the program. She also researches accessible hotels, bathrooms, venues, and other services, and gathers specific details about accessibility to provide to the disabled writers she reaches out to.
The conference also provides financial backing if participants need anything extra, like a special mattress for their hotel room.
"A lot of people in the decision-making positions are able-bodied," she says. "It's [incumbent] on us to push and challenge and listen to the disability community."
Creativity is key to making events accessible.
"I would love to see more workarounds allowing us to participate as speakers or on panels in creative ways," says author Charlotte Sullivan Wild. "That's been completely shut in most cases."
When her picture book Love, Violet won a Stonewall Award, Wild was unable to attend ALA due to health limits. She recorded her acceptance speech ahead of time. But not attending events means many disabled authors miss out on important connections.
"[W]e are already so isolated. Any connection feels like gold," Wild says.
An accessible conference includes disabled writers on panels—not just those centering disabled experiences, but all panels. It means having quiet lounge areas; comfortable, accessible seating; sign language interpreters and captions, plenty of disabled ­bathrooms, allergy-friendly foods, ­water readily available, ramps on and off stage, and a scent-free environment.
Ideally, it means providing mobility devices and allowing attendees to bring support persons or offering support personnel. It means double-checking that hotel rooms are indeed ADA-compliant and that disabled parking is close to the event. For virtual events, it means providing ample playback time, a community forum, captions, and sign-language interpreters.
Even virtual conferences benefit from accommodations. For a picture book virtual event last year, organizers provided a Facebook group where attendees could connect, as well as lengthy playback times, which enabled attendees to watch when they could.
Some disabled authors still won't be able to participate. But it's essential that organizers make a valid effort. These writers exist and deserve to have access to the same resources, financial benefits, and networking opportunities as nondisabled ones.
Virtual options with playbacks make it easier, accurate captioning means people can watch when unable to use sound, and more comfortable seating and quiet lounge areas benefit all. Accessibility helps everyone, not just disabled attendees.
---
Margaret Kingsbury is a disabled ­writer, editor, and teacher and a contributing editor and newsletter writer for Book Riot.