Debut novelists and former We Need Diverse Books mentees Diana Ma and Angeline Boulley discuss their writing challenges, their families' reactions to their novels, and using the YA genre to discuss identity and culture.
In 2019, Diana Ma and Angeline Boulley were part of the We Need Diverse Books Mentorship Program, partnering with YA heavy hitters to craft their debut novels. Boulley's Firekeeper's Daughter is the story of a young Ojibwe woman who witnesses a murder and becomes an FBI informant on a new drug. Ma's Heiress Apparently follows a Chinese American actress who travels to Beijing for a role and discovers long-concealed family secrets. Here, the authors discuss their writing challenges, their families' reactions to their novels, and using the YA genre to underscore insights about identity and culture.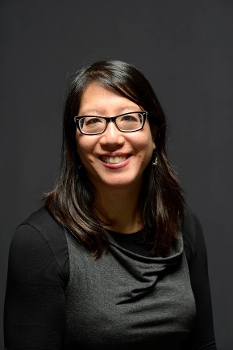 Diana Ma. Photo by Joshua Chow
Diana Ma: I loved your beautiful, gripping, and powerful book! Firekeeper's Daughter took me on such an incredible journey of loss, love, and healing. Thank you so much for sharing this story with me! I want to start by asking about your experience with the We Need Diverse Books Mentorship Program. Like me, you were a 2019 WNDB mentee. In fact, your picture is right next to mine in the WNDB press release about the 2019 mentees! I have that image hanging in my office at my college, and it always gives me a thrill to see myself in the company of such a talented group of diverse children's book creators. My own experience working with Swati Avasthi as a mentor was so incredibly invaluable, and I wonder if you could talk about your experience in the WNDB mentorship program.
Angeline Boulley: I had applied the year prior and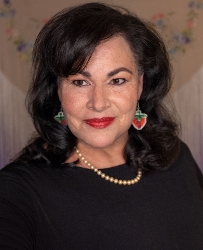 Angeline Boulley. Photo by Amber Boulley.
was not selected. When it was time to apply for the 2019 program, I read the bio summaries about each of the three YA mentors, as well as their body of work. There was something about Francisco X. Stork's voice; he wrote about harsh realities facing teens. I felt a connection with the themes of his books. So, it was not only a fantastic thrill to learn I was selected, but that I would be mentored by Francisco. He reached out right away, even before the program officially started. We began emailing back and forth, sometimes daily. He asked about why I had written the story and what it meant to me. He wrote about his career as an attorney and coming to the United States as a child. If you've ever met Francisco or heard him speak, you immediately know that he is a kind and gentle soul. He feels deeply, processes deliberately, and writes with honesty and compassion. Francisco read my manuscript and provided feedback in sections. His emails would include overall impressions, and the attached manuscript section would have detailed feedback via track changes. His comments were thoughtful, and spot on!
I was living in the Washington, D.C. area at the time, so when Francisco had a speaking engagement in the city, we met for breakfast. He was just as wonderful in person as in our previous communications. Once Francisco finished providing feedback on my full manuscript, he invited me to send it to his agent, Faye Bender. She is now my agent. So, the WNDB mentorship and Francisco X. Stork changed my life.
How was your connection with Swati Avasthi? Were you a fan previously? Was there anything about the mentorship experience that surprised you?
D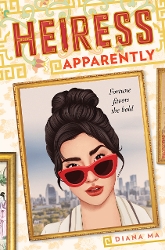 M: My connection with Swati was also amazing! She has an incredible editorial eye, and her detailed, brilliant feedback made my manuscript so much stronger. It was only after I worked with Swati that I started getting offers of representation from agents.
Interestingly, the manuscript that I submitted for the WNDB mentorship (and that got me my agent, the wonderful Christa Heschke) is not the same one that is now published. That book is a near-future, speculative novel, and it's still on submission. In the meantime, I wrote Heiress Apparently, and everything I learned from Swati was invaluable in that process. Thanks to her mentorship, I'm a much better writer, and I'm so grateful for my life-changing experience with Swati and the WNDB mentorship.
The strong thread of family in your book is so compelling, and I love the dedication you wrote to your parents and their love of stories. I actually wrote a similar dedication to my parents and their stories for my debut book Heiress Apparently. For me, writing a book about family and family secrets was a little…nerve-wracking. More of my own family history made it into the book than I had first intended. And I kept wondering— What is my family going to think of this book? I want to ask you if your family has read Firekeeper's Daughter, and if so, what has their reaction been?
AB: My parents and daughter read earlier drafts. I felt comfortable sharing family stories. But, knowing that my parents read a sex scene that I wrote was really awkward. They were supportive and loved the story. My dad's reaction was especially touching. After he finished the manuscript, he told me, "You told our story. You showed who we are, Ojibwe, Anishinaabe, Sugar Island. I'm proud of you, N'Daanis."
DM: I love your dad's reaction! My family didn't read Heiress Apparently until it came out, but they ended up loving it and being supportive as well.
You delve into powerful concepts about culture and identity in your book, and Daunis is such a wonderfully rich and relatable character. Her struggle for belonging is so beautifully represented in this story. Many times, I was struck by how Daunis is able to express complex issues of cultural identity so clearly and concisely. For example, I love how she says, early in the book, "It's hard when being Native means different things, depending on who's asking and why." This is so brilliant and beautifully put! Do you find that writing a YA character allows you to get at these insights about culture and identity in ways that you might not otherwise be able to do?
AB: Yes! I've talked about cultural identity throughout my career in Indian education. But writing this story and having the reader be inside Daunis's head was a new way for me to share the struggle some of our students go through. I hope the story has a wider impact than anything I could have done in my prior career.
DM: This is such a necessary story—I'm sure it will have a wide impact!
Firekeeper's Daughter is such a wonderful coming-of-age book about love, family, and friendship—all wrapped up in a page-turning thriller. And you also tackle big issues like institutional racism, the effects of colonialism, and violence against Native women and girls. All these elements come together so seamlessly that it feels like this is the only way this story could have been told. However, I imagine that putting together all these moving parts was a challenge! What were your biggest challenges in writing a story with so many complex and unique threads?
AB: I worked on the story for ten years, even longer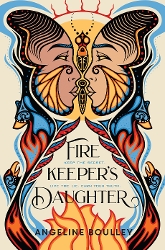 considering my time working with editor Tiff Liao. Many drafts were complete "page 1 rewrites" where I'd scrap everything and start all over. Not only did my writing improve with each draft, but my storytelling improved. I'd think of deeper layers to the story, of character insights, of backstories, and even of the characters' paths moving forward in life years down the road. I have lived, breathed, consumed, and dreamed of this world and every single character in it. The biggest challenge was keeping everything straight—for which I thank Excel spreadsheets. Another challenge (and I'm not sure how successful I was in this endeavor) was to show only the relevant tip of the iceberg and not share everything I know about Daunis's world.
DM: Thank you for sharing about your process! I think you did a beautiful job of implying great depths to Daunis's world while showing exactly what was needed for the story.
I've been asking you some heavy questions, so let's end with a fun one! You're having a dinner party and can invite one author, one historical figure, and one fictional character. Whom do you invite?
AB: I LOVE questions like this! I'd invite author Roxane Gay, because she could read the phone book and I'd hang on every word. I heard her speak before and I'm in awe of her intellect and humor. The historical figure I'd invite is Madeline La Framboise. She was an Odawa woman who spoke four languages. After her husband was killed, she ran their fur trading business, competing with John Jacob Astor's company in the early 1800's. She lived on Mackinac Island and started a school for Native children on the island. For a fictional character, it would be Mark Watney—the botanist and engineer who was stranded on Mars in Andy Weir's book, The Martian. Matt Damon played Mark in the movie, but it's the voice in the audiobook that does it for me. I do enjoy a funny, creative, resilient, self-depreciating science geek.
DM: That's a dinner party I'd love to attend!
---
Diana Ma is a Chinese-American author who holds a BA in creative writing from the University of Washington and an MA in English with a creative writing focus from the University of Illinois, Chicago. She lives in a suburb of Seattle. Heiress Apparently is the first book in the "Daughters of the Dynasty" series and her debut novel.
Angeline Boulley, an enrolled member of the Sault Ste. Marie Tribe of Chippewa Indians, is a storyteller who writes about her Ojibwe community in Michigan's Upper Peninsula. She is a former Director of the Office of Indian Education at the U.S. Department of Education. Angeline lives in southwest Michigan, but her home will always be on Sugar Island. Firekeeper's Daughter is her debut novel.