The FTC has made it clear: Social media influencers, including educators, are not above the law. They must disclose relationships with companies of products and brands they promote.
The Federal Trade Commission (FTC) issued disclosure guidelines for social media influencers this month—that includes educators, which EdWeek confirmed with the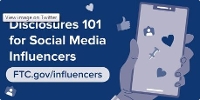 government agency.
See the FTC guidelines below and read Jennifer Lagarde's column on why it is important for EduCelebs to have complete transparency and inform readers of relationships with the companies whose products they promote.