School librarians can extend their efforts further with policies and practices that let LGBTIA+ students and their families know their school library supports them.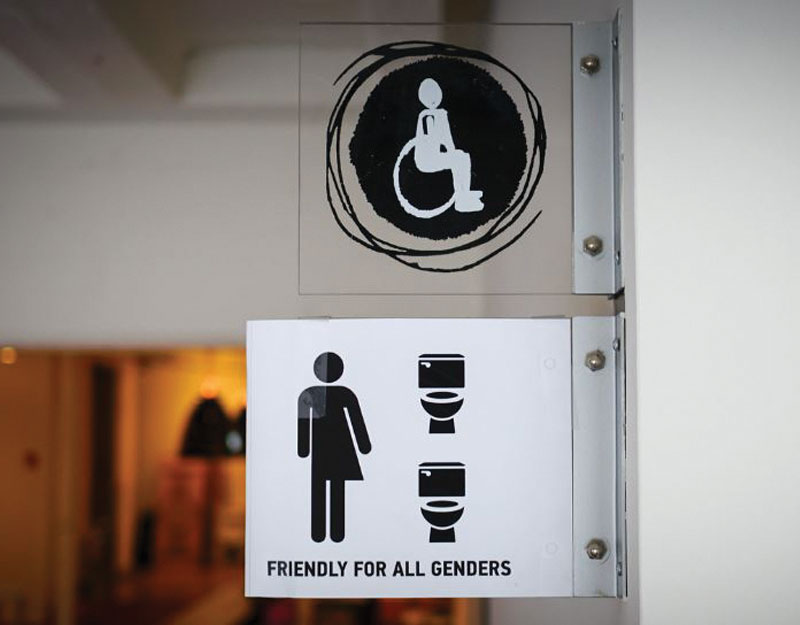 LGBTQIA+ people are under attack in the United States. As of May 8, 474 anti-LGBTQ bills had been advanced in state legislatures across the country, according to the ACLU.
We must continue fighting to make school library collections more ­LGBTQIA+ inclusive. School librarians can extend their efforts further with policies and practices that let these students and their families know their school library supports them.
Nondiscrimination policies
LGBTQIA+ students must be included in the language of the library's nondiscrimination policy. Explicitly name sexual orientation, gender identity, and expression as protected categories. Avoid referencing state or federal laws, which may not protect LGBTQIA+ people.
Your library, school, or district may already have a nondiscrimination policy that you can make visible in virtual and physical spaces. If not, get the conversation started and create one.
Inclusive language
Identify places where gendered language may exist in your practice, such as automated emails, overdue notices, communication materials, and caregiver forms.
When communicating with caregivers or about them, do you default to "mom and dad"? Do you address groups as "boys and girls"? Try alternatives: friends, students, y'all, scholars, etc.
Eliminate gendered pronouns when they're unnecessary and use gender-neutral pronouns and names instead. When someone tells you their pronouns, do your best to use them. If you find it difficult, practice!
But be mindful using these pronouns in public. A student may not always feel safe using them around all students or adults. Ask students and educators who share their pronouns: "Can I refer to you using these pronouns in class? With other teachers? Your parents or caregivers?"
Advocate for people's pronouns when others misgender them. If you make a mistake with ­pronouns, apologize and move on. Avoid putting pressure on the person you ­misgendered to make you feel ­better. The Pronoun Dressing Room (bit.ly/44VyZnb) offers examples of using different pronouns and neo-pronouns.
Visible inclusion
Use signage and displays to signal your LGBTQIA+ support. Displaying pride flags or Safe Zone stickers lets students know you're an ally. GLSEN's 2022 School Climate Survey found that ­students reported an increased sense of belonging and were less likely to miss school or feel unsafe in schools with more supportive adults.
Only display a Safe Zone sticker if you completed the Safe Zone Project training; don't display in shared spaces if all adults using it haven't been trained.
When it comes to displays, it's important to have LGBTQIA+-specific displays (e.g., Pride Month, Transgender Awareness Week)—and as important to include LGBTQIA+ titles in all displays (Women's History Month, Black History Month, etc.).
Digital resources
You can have all the ­LGBTQIA+ inclusive titles in the world, but if you don't make them visible or findable, they won't circulate. Create pathfinders for these materials, but carefully consider how they might be used outside of their intended contexts. If you are in a school/district where your LGBTQIA+ collection is under attack, think about how to make items visible to students without exposing them to scrutiny from unsupportive community members. Can you create lists only available to students with a login? Can you share resources to find titles outside of your collection? (For example., Goodreads has lists and tags for ­LGBTQIA+ content).
Privacy
Protecting patron privacy is especially important for LGBTQIA+ students who may not feel comfortable or safe sharing their identities with peers and/or adults. Depending on your state, school librarians have varying abilities to protect student circulation records. When possible, provide as little information as you can without the students' consent. When thinking about students' privacy and records, consider:
Can students modify their names and pronouns in the records? Do they know they can ask you to?
If it's not possible to modify their legal name, can you add a field for their chosen name and pronouns?
Do students, teachers, and guidance counselors know you can add that field so they can share information with students who wish to include it?
Do you have student or parent library volunteers? Do they have ­access to student records and circulation? (They shouldn't have access to records or engage in circulation if avoidable. If not, they need explicit training about student privacy.)
Do you have a self-checkout ­station for students who may want ­discretion?

Final thoughts
Each of these actions is small and, in isolation, won't have a significant impact on the feelings of exclusion and stigmatization many LGBTQIA+ students have. But together, they will make for a more holistic practice of inclusion.
---
Jenna Spiering is an assistant professor in the School of Information Science at the University of South Carolina, where Vanessa Kitzie is an associate professor.