The Margaret A. Edwards Award winner took over SLJ's Instagram for a live Q&A that spanned his books, inspiration, censorship, and AI. Here's what he shared.
Photography by Kirth Bobb

Jason Reynolds can do anything. From verse to prose or a superhero novel to a fusion of art and text, his moving examinations of modern society are captivating, innovative, and beloved. Reynolds is the recipient of the 2023 Margaret A. Edwards Award, given annually by the Young Adult Library Services Association, a division of the American Library Association, and sponsored by SLJ, for his novels When I Was the Greatest, The Boy in the Black Suit, All American Boys, Ghost, and Long Way Down. In honoring Reynolds's work, the committee noted that he "presents teens with authentic mirrors and windows to the world."
His 2014 debut, When I Was the Greatest, is a poignant coming-of-age tale of friendship in Brooklyn that won the Coretta Scott King/John Steptoe Award for New Talent. The following year, Reynolds released The Boy in the Black Suit, a Coretta Scott King Honor title that offers a moving portrayal of grief through the story of a boy who works in a funeral home after his mom dies. Also in 2015, he coauthored All American Boys with Brendan Kiely; the title—which received both a Coretta Scott King Honor and the Walter Dean Myers Award for Outstanding Children's Literature—explores racism and police brutality in a community through the perspectives of a Black boy assaulted by a white police officer and his white classmate who witnesses it. In 2016's Ghost, a National Book Award for Young People's Literature finalist, Reynolds writes of a talented middle school track sprinter coping with the aftermath of his father's attempt to kill him and his mother. The gripping 2017 novel in verse Long Way Down, a Newbery and Printz Honor title, is told in the time it takes an elevator to get to ground level as a teenage boy contemplates whether he'll seek revenge and kill the person who murdered his brother.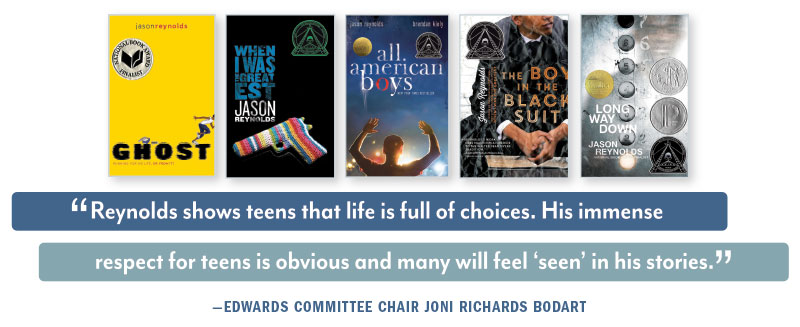 Recently, Reynolds took over SLJ's Instagram for a live Q&A that spanned his books, inspiration, censorship, and AI. This transcript has been edited for space and clarity.
How did you feel when you heard you'd won the Margaret A. Edwards Award?
This is a good question. I don't know how to answer it. I mean, I'm grateful for winning any award, right? Like, I recognize every day in my life that nobody actually has to care. I never take it for granted whenever anybody acknowledges something that I've done. And so how did I feel? I feel amazing about it. I feel inspired, because I feel like I have so much more work to do. And I'm excited to show the world what I can actually do. I feel like I'm just getting started. So to win the Edwards at this age feels both really, really humbling, but also, I'm kind of catalyzed because I'm like, yo, y'all don't even know what I got cooking. So I'm grateful; shout-out to the committee. And yeah, it's dope. What a time, what a life. Thank you, for all of you who supported these books over the years, for sure.

What would you tell students in schools where your books and others are being pulled from the shelves?
You know, the first thing I tell students is to always be interested in and question why people are afraid of things. Like, usually the things that everybody's afraid of are things that we probably need the most, you know, when it comes to information, when it comes to books being banned, censored, and challenged. Don't let the fear and the insecurity of adults get in the way of your edification. Don't let the fear and the insecurity of adults get in the way of your fortification, right, of who you will become.
On the flip side, though, I just want to say, we focus so much on the few people who hate the things that we make or are banning or are afraid of the things that we make. And I think we should be focusing on the librarians and these teachers who are pressing forward regardless, all of the people on the front lines who have shown love and who sacrifice and put their jobs on the line every single day to make sure that our young people get a fair swing at open and honest, not just information, but art.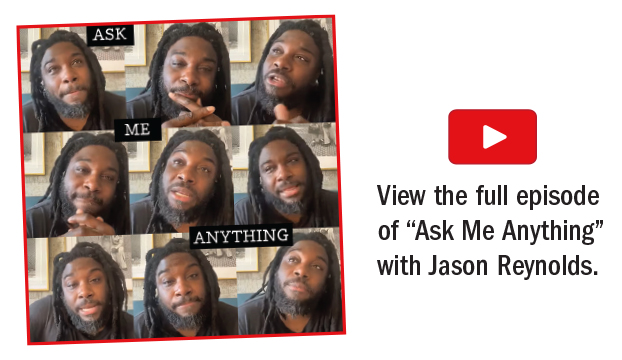 What inspired you to share your very personal story about a heavy topic in Long Way Down?
I mean, at the end of the day, it's not even just Long Way Down. A lot of these are my personal stories, you know. Long Way Down is obviously a particular one as it pertains to murder and revenge and things of that nature. But I pride myself on being honest with the young folks. And if I'm going to be honest with them, that means that some of those conversations are gonna be a little dicey. But it's to honor them. It's to let them know that I recognize that that kind of pain is something that exists in some of their lives, right? That there are young people who do know what it is to lose people in that way. And there are young people who do feel like their backs are against the wall or that they have to follow a particular set of rules set forth to them by their communities before they were ever even born.
I'm always interested in making sure that I'm being forthright and honest with the shorties. And sometimes it's telling real parts of my own life, figuring out ways to create narrative out of them. You know, you spin straw into gold, right? And I'm always interested in taking the straw of my life and spinning it into gold, so that some young person understands the straw of their lives can be gold as well. You feel me?

How did you write verse in Long Way Down?
That book was originally written as a straight-ahead prose novel. But it just didn't work. My agent was the one who was like, it just doesn't work, right? We can't expect for a teenager to believe that this happens in a minute of a child's life if it takes that teenager two and a half weeks to read the book, right? We had to figure out how to make it feel more present and more snappy, more tense. And so I broke it down into verse, I rewrote it into verse, which was natural for me, because that's my original discipline.

What do you tell students who don't want to read your books because they think they're too much or too close to home?
I say to those students, I can dig it. I totally understand that. If you feel like it's a little too close to home, there are tons of other books for you to engage in. I honestly don't care what you read, as long as you're reading something. I'm totally cool with you not reading my books. I just love knowing that young people have so many more options these days, when it comes to what they might find themselves in or find their escapes in. I don't have judgment for nobody who don't really rock with my books. You might just not like them, right? Which is totally OK. Art is subjective. You have a right to say this ain't your jam. But something hopefully will be your jam.

Do you think AI will change writing?
No, not creative writing. I think that AI has the potential to become a subset. Maybe it'll be a genre, I don't know. I really believe that human beings value the human spirit. Now, what do I mean by that? I think that as much stock as we put in our machines, and our algorithms, and this that and the third, they cannot replace human connection. I think that we think they can, but they can't. And I think the time when we realized that they really cannot was in 2020 during the pandemic. We were all locked in the house and all we had were our machines, and the only thing we wanted to do was be around people. So I believe that no matter what, the human spirit will always be the thing that draws us toward art. It doesn't mean that AI won't make things that work, right? It just means that AI will not do away with the human writer, like, I just don't believe it.

A Florida teacher asks: What suggestions do you have regarding the assault on the classroom?
You know, I wish I had an answer. But I'm always very careful about giving any kind of advice because I don't live in Florida. I'm not in the minefield that you're in. All I can do is tell you I'm grateful for you, and I hope that you continue to fight the good fight, and I'm around if you need some help. If you need me to do anything or say anything, let me know how I can be of service to you. I don't want to offer anything, I don't want to throw a grenade in a space that I'm not actually at fighting every day, out of respect and humility for you all. But just know I'm on your side, and I'm rooting for you, and I'm watching everything that's happening.

Where do you get your inspiration?
From my hometown newsstand, my neighbors, my homies. I believe that every bit of our lives, every person that we see, every moment, every animal and insect, to me everything has a narrative, everything has a narrative attached to it, whether we think about it or not, whether we consider it or not. I just think about stories being everywhere, stories sort of being these things that are swirling all around us all the time in the ether. And we just have to figure out how to reach up and snatch one down, or take this one and this one and put them together to make a new one. That's the thing about stories, I think they already exist everywhere around us. We just can't see them because we're not looking for them. And I am looking for them. I'm wide open. My receptors, my antennae, are up.
I'm working on something soon that I'm excited about, it's something that we haven't seen. And I think that's so strange, because it's so obvious, but we're not looking for it because of the way that we view young boys in America. And I'm excited to, you know, to explore it and see if it works. By the way, I write a bunch of stuff that nobody ever sees, right? And just because I try to do it doesn't mean it always works. But I'm always going to try, I'm always going to try.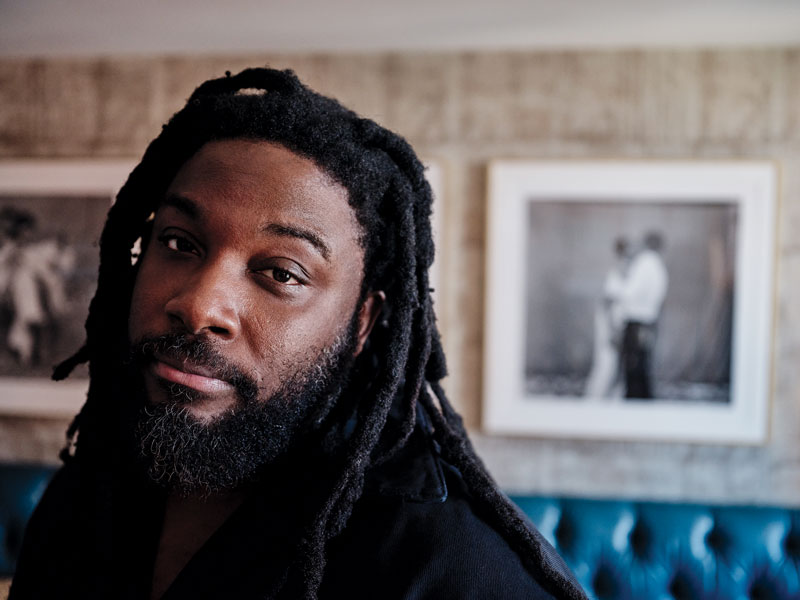 If you could be remembered for one book, what would it be?
I sure hope it'sThe Boy in the Black Suit. I don't know if that'll be the one, but that's the one I would want to be remembered for, either that or As Brave As You or Look Both Ways. I think those three are the ones that I love, in terms of just being remembered for particular novels, or maybe I haven't written it yet.

What music are you interested in?
I'm listening to a little bit of everything. I mean, look, the only thing that feeds all the work is all the other work around me. I think that as an artist, it's super important for you to engage in all the arts. I think it's like, to be a writer and only read books is to limit what you might write about. But to be a writer that is open to music and dance and art and theater and film and lectures and science, be open to all the things, and I think you'll have more than enough to pull from to continue to make work. I still feel like I haven't even put a dent in the things I want to say. But that's just because my life, that well is being filled every single day by living a curious and creative and imaginative life. The world is a beautiful place, humanity in the midst of all this complexity, we are still having an extraordinary experience. What a time to be alive.
Shout-out to all of you who joined me. Books coming out soon and a whole bunch of other stuff happening, y'all will know about it. Until then, like I always just say to the kids, young people, be kind to your parents and the adults in your lives, they're doing their best. Old people, be kind to the young people in your lives, they're doing their best. If we can remember that, we'll all do a little better.