Two New York City library systems are opening up their collections to readers across the country; YALSA needs a Pura Belpré award committee volunteer, LitUp writing fellowship is accepting applications, and more in this edition of News Bites.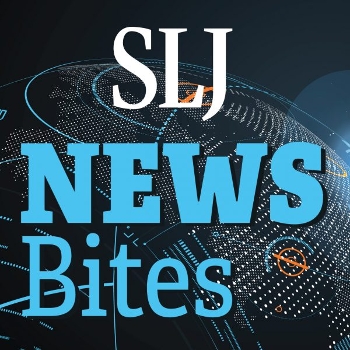 Two New York City library systems are opening up their collections to readers across the country; YALSA needs a Pura Belpré award committee volunteer, LitUp writing fellowship is accepting applications, and more in this edition of News Bites.
---
New York systems open collections
In a move to counter rising book banning attempts and make titles available to those who may have lost access, two New York City public library systems are opening their collections to readers across the country.
The New York Public Library (NYPL) partnered with Hachette Book Group, Macmillan Publishers, and Scholastic for its new Books for All campaign. Through the end of May, NYPL is giving readers throughout the United States access to a selection of titles that have been banned or challenged through SimplyE, its free e-reader app. Patrons can access the titles with or without a library card, and there are no waits or fines.
Available titles include Speak by Laurie Halse Anderson, King and the Dragonflies by Kacen Callender, Stamped: Racism, Antiracism, and You by Jason Reynolds and Ibram X. Kendi, and The Catcher in the Rye by J.D. Salinger. Because of library policy with SimplyE, users under the age of 13 only have access to King and the Dragonflies.
Meanwhile, the Brooklyn Public Library (BPL), which is a separate system, is issuing free eCards to teens nationwide to give them unlimited access to its collection as part of its Books UnBanned campaign.
"Access to information is the great promise upon which public libraries were founded," BPL President and CEO Linda E. Johnson said in a statement announcing the campaign. "We cannot sit idly by while books rejected by a few are removed from the library shelves for all. Books UnBanned will act as an antidote to censorship, offering teens and young adults across the country unlimited access to our extensive collection of ebooks and audiobooks, including those which may be banned in their home libraries."
The card, which will be good for one year, provides access to 350,00 e-books; 200,000 audiobooks and over 100 databases, according to BPL. Teens can also connect with peers in Brooklyn, including members of BPL's Intellectual Freedom Teen Council, to help one another with information and resources to fight censorship, book recommendations, and the defense of freedom to read.
To apply for the card, teens should email BooksUnbanned@bklynlibrary.org or contact the library through its teen-run Instagram account, @bklynfuture.
In addition, as part of the initiative, the library will make a selection of frequently challenged books available with no holds or wait times for all BPL cardholders. The books include Black Flamingo by Dean Atta, Tomboy by Liz Prince, The Bluest Eye by Toni Morrison, The 1619 Project by Nikole Hannah-Jones, Juliet Takes a Breath by Gabby Rivera, On Earth We're Briefly Gorgeous by Ocean Vuong, and Lawn Boy by Jonathan Evison.
---
YALSA seeking member for the 2023 Pura Belpré Award Committee
YALSA is looking for a member to serve on this year's Pura Belpré Award Committee. This committee is in partnership with the REFORMA and ALSC, so it requires conference attendance at this year's annual ALA Annual Conference in Washington, DC, the winter conference in New Orleans in January 2023, and Annual Conference 2023 in Chicago. The term began in February 2022 and will conclude in June 2023. If you are a YALSA member who is interested in serving on this committee, please contact YALSA president-elect Franklin Escobedo.
---
CBC announces award winners
The Children's Book Committee (CBC) at Bank Street College of Education has announced the winners of the Josette Frank Award for Younger and Older Readers, the Flora Stieglitz Straus Award, and the Claudia Lewis Award. The three annual prizes recognize outstanding works of children's literature in the genres of fiction, nonfiction, and poetry, respectively. Here are the 2022 award descriptions and winners, for books published in 2021.
The Josette Frank Award honors a fiction book of outstanding literary merit in which children or young people deal in a positive and realistic way with difficulties in their world and grow emotionally and morally. The award for Younger Readers went to Milo Imagines the World by Matt de la Peña, illus. by Christian Robinson. For Older Readers, the winner was Firekeeper's Daughter by Angeline Boulley.
The Flora Stieglitz Straus Award is presented to a distinguished work of nonfiction that serves as an inspiration to young people.
The winner is Hear My Voice: The Testimonies of Children Detained at the Southern Border of the United States/Escucha mi voz: Los testimonios de los jóvenes detenidos en la frontera sureña de los Estados Unidos compiled by Warren Binford for Project Amplify; various illustrators
The Claudia Lewis Award, which is given to the best poetry book of the year for young readers, was awarded to You Don't Have To Be Everything: Poems for Girls Becoming Themselves edited by Diana Whitney, illus. by Cristina González, Kate Mockford, and Stephanie Singleton
The CBC has also released its 2022 edition of The Best Children Books of the Year (for books published in 2021), which contains more than 600 annotated titles for readers 2-18, divided into age ranges and categories. For the print edition of the list, email bookcom@bankstreet.edu.
---
LitUp accepting fellowship applications
LitUp is a writer's fellowship for underrepresented and unpublished women storytellers. Reese's Book Club, in partnership with We Need Diverse Books, is offering five writers access to the money, marketing, and mentorship. Applications are open to diverse women writers, including those who are cisgender, transgender, nonbinary, genderqueer, and bigender.
Selected writers receive an all-expenses-paid writers retreat and will have the opportunity to workshop a manuscript with bestselling authors. Applications are due by May 31.
---
Association of Jewish Libraries names 2022 Fanny Goldstein Merit Award winner
Lisa Silverman has been named the 2022 Fanny Goldstein Merit Award winner. The award, named for the librarian, social activist, and founder of National Jewish Book Month, is given by the Association of Jewish Libraries in recognition of "loyal and ongoing contributions to the Association of Jewish Libraries and to the profession of Judaica librarianship."
Silverman began her career as a day school librarian at the Sinai Akiba Academy in Los Angeles and Adat Ari El Day School in Valley Village, CA. She spent 15 years as the library director at Sinai Temple in Los Angeles before becoming the library director of the Burton Sperber Jewish Community Library at the American Jewish University in Los Angeles, where she designed the new space, built the collection, and provided extensive programming. She also developed and launched a new online digital Jewish Community Library Consortium of California in partnership with the Jewish Community Library of San Francisco, according to the announcement.