Four STEM-themed adventures for elementary students drawn to the appealing series.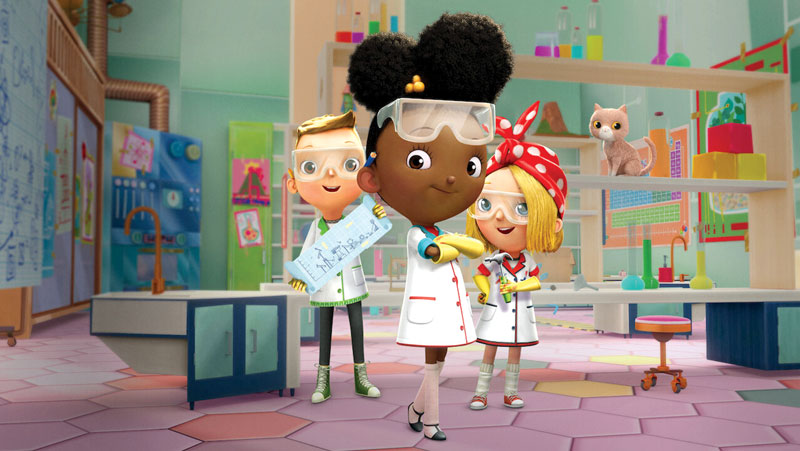 Netflix
Ada Twist, Scientist
Netflix TV-PG; streaming now
The Netflix series
Ada Twist, Scientist
features a trio of best friends exploring science concepts and teamwork. Ada Twist is Black, and her best friends, Rosie Revere and Iggy Peck, are white. The series is based on the 2016 picture book by Andrea Beaty and ­illustrator David Roberts, from the "Questioneers" series (Abrams). From the ­­creators of the show
Doc McStuffins
and executive producers Barack and Michelle Obama.

READ-ALIKES
PrS-Gr 2–Jabari, who is Black, is inspired to create an awesome flying machine, but inventing it takes more work than he thought it would. This upbeat picture book encourages young inventors to keep trying, even if their projects don't work the first time.
K-Gr 2–A young white inventor has an idea for a magnificent creation—an amazing "thing!" But when it doesn't function the first time, she must figure out how to find a solution. Hand this title to young tinkerers with big imaginations, particularly those who are seeking a story about perseverance.
Libby Loves Science
by Kimberly Derting & Shelli R. Johannes, illus. by Joelle Murray. Greenwillow. 2020.
Gr 1-3–In this colorful picture book, Libby, a Black elementary student with an interest in chemistry, is excited to learn that her class will be running the science booth at the school fair. Readers looking for spirited girls interested in STEM will enjoy this title and companion picture books by the same author.
Gr 1-3–In this first title of "Frankie Sparks, Third-Grade Inventor," an early chapter book series about a young Black student, Frankie must use data and creative problem solving to convince her class that a rat is the best choice for a class pet. New chapter book readers excited about the scientific method will like this warm, realistic series.