With the help of adjustments from Follett and Scholastic, school librarians have managed to continue the tradition of hosting book fairs that are often a favorite event for students during a typical school year.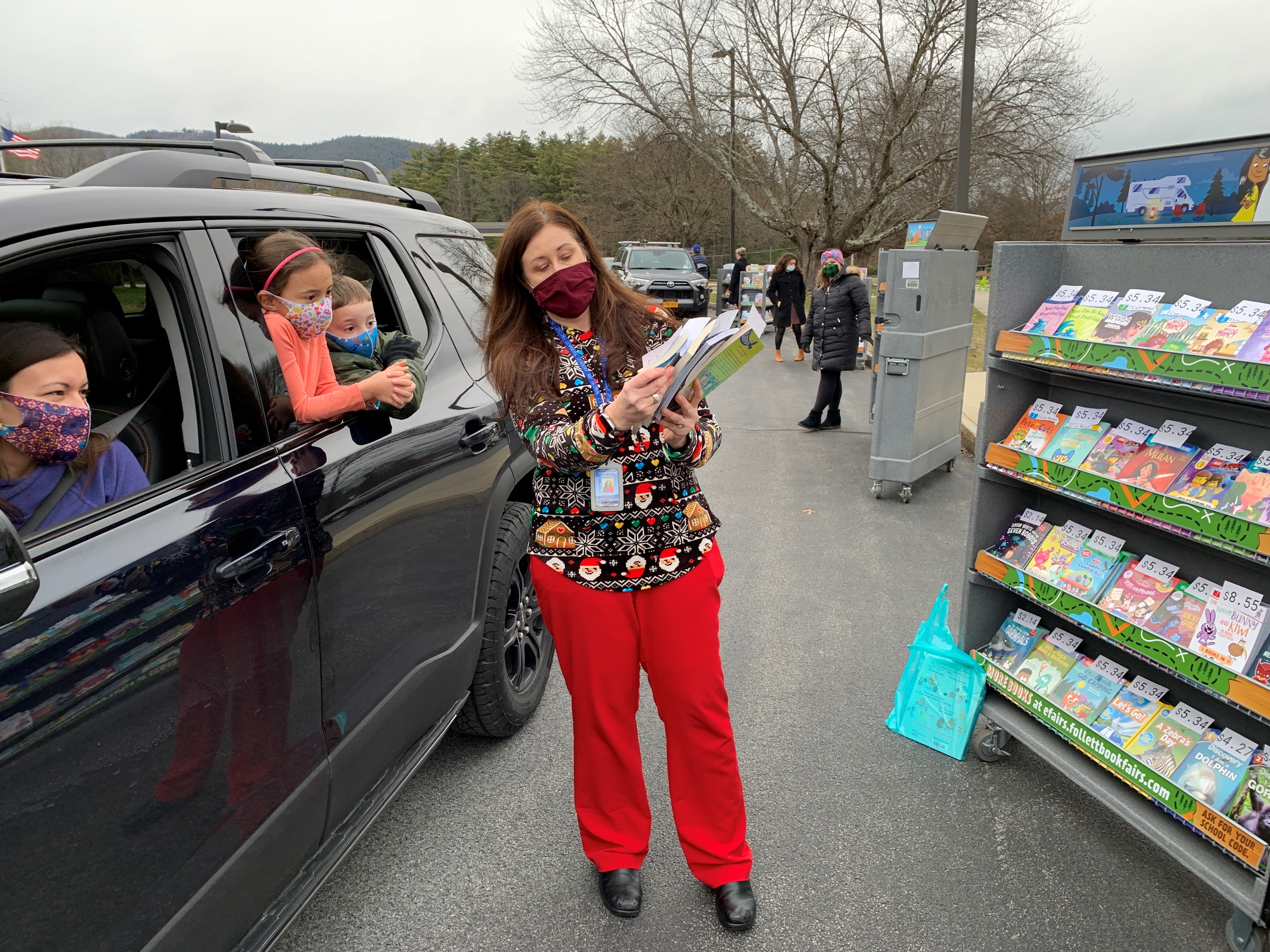 Students at Lake George (NY) Elementary School learn about books at the drive-through event at their school. Photo courtesy Bridget Crossman.
Book fairs at Lake George (NY) Elementary School are the social event of the year. One winter, the fair included a reader's theater and book wrapping for the holidays. For spring, there was a sip-and-read, where students and families curled up with their favorite titles and some hot chocolate.
But after the COVID-19 pandemic moved schools online last March, the Lake George Elementary book fair—like many across the country—was canceled. When the district reopened for in-person learning in the fall, school library media specialist Bridget Crossman wanted to re-create that community engagement.
"[The fairs] build a love of reading and sharing in that joy of literature together in multiple ways," says Crossman, who runs fairs twice a year at the K–6 school. "COVID—that kind of stopped us in our tracks. That social element that we love so much is really hard when we're socially distant."
The school library was off-limits to visitors, so Crossman held the book fair outside. "I really wanted kids to be able to experience that with their parents, and also for their parents to experience it with them," she says.
The mild December weather was the perfect backdrop for the drive-through book fair. Crossman set up book stations around a loop where buses normally queue up. Families reserved a spot via SignUpGenius. Masked volunteers manned each shelf, grabbing and bagging books selected by children leaning out of cars. The book handlers even read descriptions to acquaint students with unfamiliar story lines. At the end of the route, families paid and drove off with their books.
Crossman estimates about six to ten carloads moved through the line every 15 minutes.
"Families were so appreciative. We did pretty well for ourselves and it proved to be financially worth it," she says. "People asked if I was going to host another one."
Follett, Scholastic adjust
Crossman is now planning a two-day fair for the spring, and she credits Follett Book Fairs with making the process easy. Follett provided foldable shelves on wheels that worked well in the outdoor environment, says Crossman, who passed out cards to remind parents about the Follett Book eFair that same week.
Both Follett and Scholastic Book Fairs were forced to reimagine their models after losing a significant portion of their business last spring. Britten Follett, executive vice president of Follett School Solutions, says the company was on track to facilitate 6,500 fairs for the 2020–21 school year and experienced a 95 percent cancellation rate. Scholastic, which runs the nation's largest book fair program, suffered a similar blow, as book fair revenue fell 79 percent in the second quarter of 2020, according to the publisher's financial results.
"It was a disappointing spring last season," Follett says.
However, once it became apparent the pandemic would last much longer than initially anticipated, both publishing companies prioritized their online book fair offerings. "For every fair that canceled, 68 percent of them went into the pipeline to book an eFair," Follett says.
Several thousand schools booked virtual fairs, and revenue is more than double what was expected pre-COVID, she says. "I think folks were all of a sudden more open to doing the virtual events because it was really the only alternative to the physical fair."
With Follett's eFair program, librarians receive curated lists and an array of tools, such as social media posts, email templates, and mailers. Books are sorted and bagged for each student to minimize work for the librarian. Follett and Scholastic also now ship books directly to families.
"The eFair is great, and it allows us to engage with parents and students in a different manner," says Follett. "It accomplishes the same goal of getting books in the hands of kids and allowing librarians to offset their budgets with the fundraising component."
Sasha Quinton, president of Scholastic Book Fairs, says the publisher also rolled out its online fair program last summer. By fall, Scholastic had six in-person models with enhanced safety protocols, such as indoor and outdoor setups with social distancing floor stickers and safety signage; drive-through fairs featuring eWallet and credit card advanced purchases; and quick setup fairs to accommodate small spaces or librarians who can't enlist volunteers. Quinton says she's encouraged by the "strong response" to the new fair options.
"Educators and students alike have expressed how crucial and wonderful it is to have book fairs during this unprecedented pandemic era," she says. "Book fairs bring joy and a sense of normalcy to an otherwise unsettling time."
Scholastic's virtual fairs include interactive author and video content. For example, every week a new book trailer premieres on Scholastic's social channels on Book Trailer Tuesday
(bit.ly/2OruCxq).
"We heard from a lot of our book fair chairs and librarians that they're using the videos on our virtual fair as a tool to generate buzz and excitement for reading—showing it in classrooms and on ed tech platforms," says Quinton.
Staying excited about reading
Melissa Lightle's students at Fire Ridge Elementary School in Elkhorn, NE, loved the Scholastic trailers. She played them during the school's morning news segments to boost interest in the virtual fair. (Most students at the school are learning in person.) The media specialist used any opportunity to promote the fair—from social media posts to book talks and classroom contests like book fair bingo.
Lightle also joined media specialists from around the district to create Bitmoji bookstores, which included virtual characters, a link to the fair website, and more trailers.
"The kids could look at that Bitmoji page and they had access to everything they needed to learn more about the book fair," she says. "And I kind of turn it into a tech lesson where I show them how to navigate the website and even put books in their cart, so they can show their parents what books they are interested in."
Her September virtual fair, which ran during the week of parent-teacher conferences, was a drastic improvement over last spring's fair. Lightle says that Fire Ridge, which serves K–5 students, held its first-ever online book fair in April immediately after schools shut down. She was desperate to get books to students, but didn't have a structure in place to reach parents. By fall, her tech-savvy students—veterans after months of virtual learning—were more engaged.
"They were talking books with one another," she says. "Truly, that's what you want to happen."
Now, Lightle is planning a small in-person fair in May, to complement the virtual fair.
"I live and teach in a community that supports reading, and the parents value the difference that reading can make in their child's success," she says. "With kids having a lot of extra time at home, it's a great activity to have."
Getting creative with costumes and cookies
Librarian Mark Smith encouraged students to wear costumes to the drive-through fair at Cedar Wood Elementary School in Bothell, WA. Halloween was in a few days and he knew many of his K–5 students wouldn't be trick-or-treating. He even joined them, masquerading as Clark Kent.
"It was really fun for the kids," says Smith. "It was a little parade of cars coming by and buying books. This was the first chance for some kids to get a new book in their hands and not read from the screen."
He also had a virtual fair in the fall and set up one-on-ones via Zoom to inform students about both. Smith had run an online fair last spring, but it didn't do as well. That experience, however, plus new tools from Scholastic, led to this year's success.
"This fall, Scholastic has the virtual gym where students can walk around and walk up to bookshelves and watch videos," he says. "That made it feel different."
Crossman agrees. She says the fall virtual offerings were extremely robust and engaging. Crossman also added a family component to her virtual fair, which coincided with the drive-through event. Families were invited to "Baking with the Crossmans" around the holidays. Participants received a box of gingerbread men and frosting to decorate at home. The box also contained verses to Jan Brett's Gingerbread Friends story. Crossman read aloud with families and tutored them on how to shop the online book fair.
"It was a huge success," she says. "I have to get creative with ways to connect with families."
Christina Joseph is an editor, writer, and content strategist.