Amanda Jones took her harassers to court but has lost the case.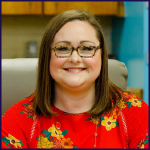 In July, Lousiana school librarian, and 2021 School Librarian of the Year, Amanda Jones spoke up at a public library meeting in support of free speech and access to books. She was immediately attacked online for her speech. Jones then took her harassers to court, suing them for damages and injunctive relief.
Last week, a judge ruled against her. She has a month to decide if she will appeal.
Jones posted this update on her website on Friday September 23: