Reassigned to a new high school with no library, Toni Winsett is embracing the challenge at Bard High School Early College in Washington, DC, and finding joy in being a school librarian this year.
After more than 30 years as an educator, and in the middle of a pandemic, Toni Winsett is taking on a new challenge.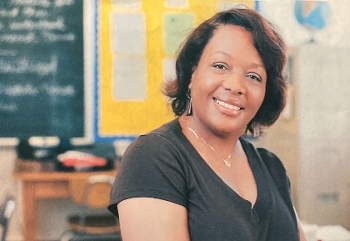 When her school library position at Wheatley Education Campus, a pre-K to grade 8 public school in Washington, DC, was eliminated due to budget cuts at the end of last year, Winsett was reassigned to Bard High School Early College DC, where students earn a high school diploma and associate's degree in four years. Her mission: To create a library from scratch. The high school, which opened last year as a partnership between Bard College and District of Columbia Public Schools (DCPS), did not yet have a library—no books or shelves, or furniture. It's an enormous undertaking, but she's starting with a simple plan.
"I remember saying to myself, 'Get books in students' and faculty's hands. Make it warm, friendly, and useful to everyone,'" says Winsett.
Despite the many obstacles, she says it feels good to be a librarian this year. "I can really concentrate on the nuance of it."
According to principal Vanessa Anderson, a librarian wasn't even in the school's budget until year three.
"She's definitely flying blind," says Anderson, adding the school has been virtual all year so Winsett has never met any of the students in person. "The absolute passion she has for literature and literacy made me rethink what high school literature means. You bring them in with the graphic novel, which are on prominent display, and then, they can't help but turn around and see Audre Lorde or Toni Morrison or Shakespeare."
Anderson says she's excited about Winsett's ideas on what pulls students into reading and into the library and how to transition Bard's learners into a space where reading and writing are at the foundation of every class. And from there, how to take what's interesting to young people and "get them to widen the scope of what they find interesting."
"It's such a shame we are not in the building. She has created a warm and welcoming space," Anderson says. "She has a tea corner that says hang here for a while. Come, have a cup of tea, have a cut of hot cocoa and sit and read, take a load off."
Winsett's taking a page from her old lesson book. During her five years at Wheatley, she earned the moniker "library lady."
"They'd walk by the library and I'd stand at the door and wave at them as they changed class, and the kids would say, 'Hi library lady.' And I'd just wave back."
Someone even gifted her a jacket with the nickname emblazoned on the back. Winsett embraced her title. She stocked the library with everything from graphic novels to classics to newspapers and magazines. She posted cryptograms—short puzzles with encoded text—to correspond with themes students were learning in the classroom or a program she was running. She put out how-to books so the students could learn something new.
"There was one [book] about macramé. I would buy the beads and yarn and tell them to bring a ruler," she says. "I wanted to bring creativity back. I taught every child how to write their name in cursive using calligraphy. You get your best stuff from a library. You go on trips in your mind."

Bard High School Early College DC library: Before
While she can't stand in the hall and wave to every class at Bard, she can do the next best thing.
"She's doing a lot of leg work to get to those students. She's like the co-advisor on every club," laughs Anderson.
In addition to receiving and organizing the book collection and furniture from the district, she's already arranged an author visit through the PEN/Faulkner Foundation Writers in Schools program, which brings authors and books to schools in the DC area. Tope Folarin will discuss his novel, A Particular Kind of Black Man, with students in January.
"We will be back in the building sooner or later. I think the kids will be surprised. I'm going to have an opening, a ribbon cutting. The nerve I have," she says with a chuckle.
She's excited to welcome her first class into the library.
[Read: School Librarians Innovate and Take on New Responsibilities | SLJ COVID-19 Survey]
"I start off with an appetizer. The second thing is the main meal and then is the dessert. That's all based around checking out books," Winsett explains. "I start off with a cryptogram, or prize. This is what I want you to learn today. I'm going to tell you to read this and why. Then, you have to check out at least two books for dessert. That's my pattern."
As a young girl growing up in Pittsburgh, PA, Winsett loved spending time in her school library. Reading gave her joy. She can't remember a time when she wasn't surrounded by books. They were a staple with everyone in her household.
But it was a visit by Lynda Johnson Robb—daughter of President Lyndon B. Johnson—to Winsett's school in the third grade that cemented her connection to literacy. Johnson was at the school through the nonprofit program Reading is Fundamental, which she helped establish. Robb shook Winsett's hand, asked about her work on the school newspaper and gave books to the every student in the class.
"When you are young, you are not aware of the impact an adult can have on you that carries over into adult life," she says. "I guess her little gesture really did impress me, because my entire career has been related to English, journalism, and library."
When Winsett graduated high school, she had no idea a degree in library science was an option, so she chose the next best thing to stay close to her beloved books. She majored in English at Point Park College (now University) in Pittsburgh. Eventually, she relocated to Washington, D.C. with her secondary teaching certificate, got married and started a family. Along the way, she received a master's in public administration from Southeastern University and an education specialist degree from Liberty University.

Bard High School Early College DC library: After
Winsett spent 27 years teaching AP English and literature in various DCPS junior high and high schools, exposing students to authors from around the world and helping to cultivate a love of reading. It's important to her that students have access to diverse collections so they can learn about a range of experiences and see themselves in the text.
"When I was in the classroom, I was introducing students to different kinds of literature, things I would knew they would feel uncomfortable with. And once they got comfortable with it, they were on their own and would seek even more," she says.
It wasn't always easy. The toughest assignment of her career was teaching for two years at the DCPS Incarcerated Youth Program, Correctional Detention Facility. Still, she believes the students appreciated her presence and were motivated to learn.
"They loved plays. They loved Toni Morrison's book, The Bluest Eye . I even tried doing [Chinua Achebe's] Things Fall Apart to show them that things in life can fall apart, but you've got to keep moving on," she says. "I try to connect literature to what's real in life."
And despite the sometimes-unstable environment in the facility, Winsett says they would try to maintain an educational atmosphere as best as possible. "Even the guards would put books on the windowsills, so that during their free time, they [students] could grab a book and read it."
When Winsett left the facility, she decided it was time to transition out of the classroom. She wanted to reach more students. The library gave her that access.
"I think I found my niche," she says of her work in the school library. "I had to live to be half of 100, and I said, 'OK, I think I know what I want to do now.'"
Christina Joseph is an editor, writer, and content strategist.