Here are SLJ's reviews of the books that made the longlist for the 2022 National Book Award for Young People's Literature.
The National Book Foundation announced its longlist for the 2022 National Book Award for Young People's Literature. The 10 titles chosen this year include two previous honorees: Traci Chee was a finalist in 2020, and Anna-Marie McLemore was longlisted twice before in 2016 and 2021. SLJ's reviews are below.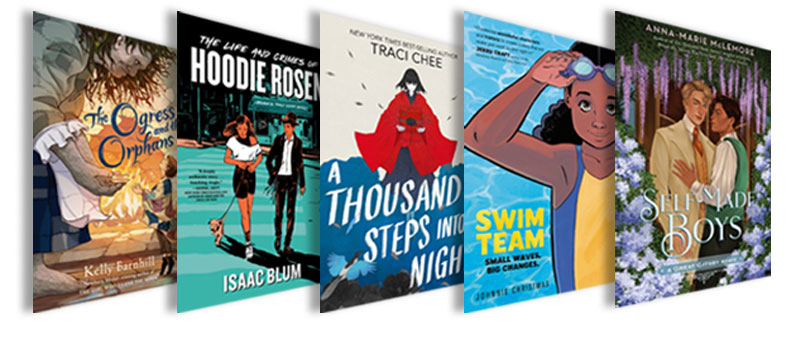 The Ogress and the Orphans by Kelly Barnhill. Algonquin. ISBN 9781643750743.
A new instant-classic fantasy about the power of generosity and love, and how a community suffers when they disappear, by Kelly Barnhill, winner of the Newbery Medal for The Girl Who Drank the Moon, a New York Times bestseller. Review to come.
The Life and Crimes of Hoodie Rosen by Isaac Blum. Philomel. ISBN 9780593525821.
The Chosen meets Adam Silvera in this irreverent and timely story of worlds colliding in friendship, betrayal, and hatred. Isaac Blum delivers a wry, witty debut novel about a deeply important and timely subject, in a story of hatred and betrayal—and the friendships we find in the most unexpected places. Review to come.
A Thousand Steps into Night by Traci Chee. HarperCollins/Clarion. ISBN 9780358469988.
Gr 8 Up–Otori Miuko is an unassuming, clumsy girl of the serving class whose life revolves around helping her father run their deteriorating inn until the day she is cursed by a demon when she stays out too long after dark. Suddenly banished from her village, Miuko has to find a way to reverse the curse and reveal the identity of the demon she now knows is hiding in the prince's skin. Awara is an oppressive place for the lower class, especially women, and although Miuko had always chafed against those boundaries, she misses them still when she has to strike out on her own. Through Miuko's travels, readers are introduced to the rich fantasy world of Awara, influenced by Japanese mythology; the many spirits, demons, and gods Miuko encounters help her fulfill her quest. Miuko's unlikely friends create a charming cast of characters to flesh out the worldbuilding. The true question then becomes whether she wants to relinquish the freedoms she's suddenly embraced, or if one demon girl can change the world? Chee once again creates a lush fantasy world that revolves around a girl discovering her own power. Miuko never takes the easy way out, even when it would solve all of her problems, because she knows she has to do things the right way in order to create real change. Just like Miuko, the story never takes the path that's expected. Footnotes throughout offer more detail on the various spirits Miuko encounters, including helpful pronunciation guides. VERDICT A definite purchase for all libraries.–Stacey Shapiro
Swim Team by Johnnie Christmas. HarperAlley. ISBN 9780063056763.
Gr 3-6–When Bree's father takes a coding job in Florida, the two move cross-country and Bree's world is turned upside-down. Away from her friends, in a town obsessed with the local swim teams, Bree struggles to find her safe space among the mathematics classes and clubs. The lack of space in her desired elective classes lands her in the worst possible situation: swimming class. Unable to swim and grasping for excuses to avoid class, Bree begins drowning in anxiety and self-doubt. However, when her older neighbor Etta takes an interest in teaching her how to swim, things begin to turn around for Bree. Filled with vibrant illustrations and charming characters, this title tackles themes ranging from overcoming fear and forging friendships to grappling with classism and racism as the public school swim team competes with the private school team equipped with more resources to prepare for the season. The work presents an opportunity for readers to reflect on both typical childhood issues as well as the systemic issues the United States has faced for centuries such as the lack of access to pools and resources for Black athletes. Rich with images and references to Black culture, this text will serve as a mirror and window for readers. Bree, her father, and Etta are Black. VERDICT A fresh companion to Jerry Craft's New Kid, this graphic novel belongs on shelves in school and libraries everywhere.–Angie Jameson
Self-Made Boys: A Great Gatsby Remix by Anna-Marie McLemore. Feiwel & Friends. ISBN 9781250774934.
Stonewall Honor recipient and two-time National Book Award Longlist selectee Anna-Marie McLemore weaves an intoxicating tale of glamor and heartache in Self-Made Boys: A Great Gatsby Remix, part of the Remixed Classics series. Review to come.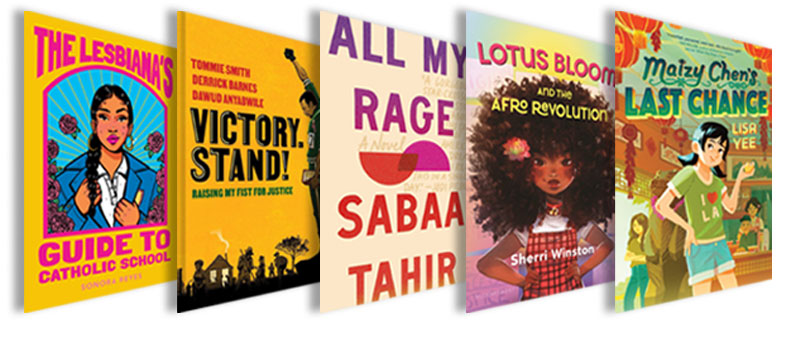 The Lesbiana's Guide to Catholic School by Sonora Reyes. HarperCollins/Balzer + Bray. ISBN 9780063060234.
Gr 8 Up–Yamilet Flores and her brother, Cesar, are set to start the school year at Slayton Catholic, both leaving behind unhappy pasts at Rover High. Cesar has a habit of getting into fights at school for reasons Yamilet can't figure out, and Yamilet is struggling with a betrayal by ex-best friend Bianca, who revealed to others Yamilet is gay. Hoping to avoid a similar situation at Slayton, Yamilet pretends to be straight as she navigates the school. Soon she falls in with a good group of friends that includes Bo, a Chinese American girl who is kind, intelligent, confident, and out. Working hard to make money in case she is kicked out of home when her truth is revealed, Yami doesn't always pay attention to what's happening with Cesar. Yamilet is refreshing and genuine, starting off as someone who does not always stand up for herself and evolving into someone fiercely protective of her family, her friends, and herself. Yami and Cesar, who both struggle with a sense of shame, deal with their feelings differently while also providing each other with love and support. Yami glows with pride for her Mexican and Indigenous ancestry, and although she stands out in Slayton, where most of the student body is white, she finds support from many kind and considerate classmates. Difficult topics, such as suicide, are explored. VERDICT Filled with humor and love, this fast-paced novel will have readers immersed in Yamilet's world, rooting for her and her loved ones all the way.–Selenia Paz
Victory. Stand!: Raising My Fist for Justice by Tommie Smith, Derrick Barnes, and Dawud Anyabwile. Norton. ISBN 9781324003908.
Gr 8 Up–Smith's life story, centered around the historic raising of his fist at the 1968 Olympic games, is also a portrait of resistance against inequality in America. The narrative alternates between a chronological recounting of Smith's life, beginning with his humble roots working on a farm in Texas, and one of the most significant races of his athletic career. As a Black athlete, Smith experiences racism on multiple levels from childhood up through college and adulthood, and these life experiences inform his worldviews and reflections on his community's treatment based on race. Throughout, the determination and joy he derives from his family and Christian faith keep him focused on the high road in any conflict, and the narrative highlights various coaches, politicians, educators, activists, and fellow athletes who made an impression on Smith as well as on America. The balance between the personal and the broader historical perspectives makes this book as accessible as it is educational. For example, Smith's titular stand is given full context regarding the preparation, execution, and aftermath, including fallout. Anyabwile's black-and-white illustrations achieve the same balance and then some as they portray Smith's tumultuous periods as well as his hard-fought triumphs. There is nothing saccharine about this view into the past, but there is plenty worth remembering and considering. VERDICT An illuminating example of the power of a moral stance, no matter when it occurs in one's life.–Thomas Maluck
All My Rage by Sabaa Tahir. Razorbill. ISBN 9780593202340.
Gr 9 Up–In a genre flip from fantasy, Tahir has created a contemporary novel that spans both time and place. In past Pakistan, Misbah weds Toufiq in an arranged marriage that results in a move to California after upheaval at home. Now they run a small hotel in the Mojave Desert. Their son Salahudin and dear family friend Noor hold a connection bound by their history and the challenges they face due to Islamophobia, racism, and more. When his mother's health fails and his father battles alcoholism as he grieves, the financial and maintenance aspects of the hotel fall to Sal, who takes drastic measures to save the hotel his mother loved so very much. Simultaneously, Noor is striving to leave her uncle's grasp by planning to go away to college, but finds herself caught up by Sal's choices. Tahir's lyrical prose unpacks both the beautiful and the brutal. She deftly captures the layers of grief, rage, family, examination of faith, and forgiveness, while managing to inject levity into dire situations and provide a semblance of hope. Music aficionados will revel in the songs referenced throughout various scenes in the book. VERDICT This deep dive into the complex ferocity of emotions within families is a love letter to Pakistani culture and revelations from the past that test the boundaries of survival. Put this book at the top of your list.–Lisa Krok
Lotus Bloom and the Afro Revolution by Sherri Winston. Bloomsbury. ISBN 9781547608461.
From the beloved author of President of the Whole Fifth Grade, a story about a young Black girl who summons the courage to fight against a discriminatory dress code--and stand up for herself. Inspired by real stories of Black girls fighting dress codes that discriminate against their hair and culture, beloved author Sherri Winston introduces a memorable character who finds her way to speak up for what's right, no matter what it takes. Review to come.
Maizy Chen's Last Chance by Lisa Yee. Random. ISBN 9781984830258.
Packed with surprises, heart, and stories within stories, this irresistible novel from an award-winning author celebrates food, fortune, and family. Review to come.