Do you and your library program need attention? Use these tips to refresh and recharge.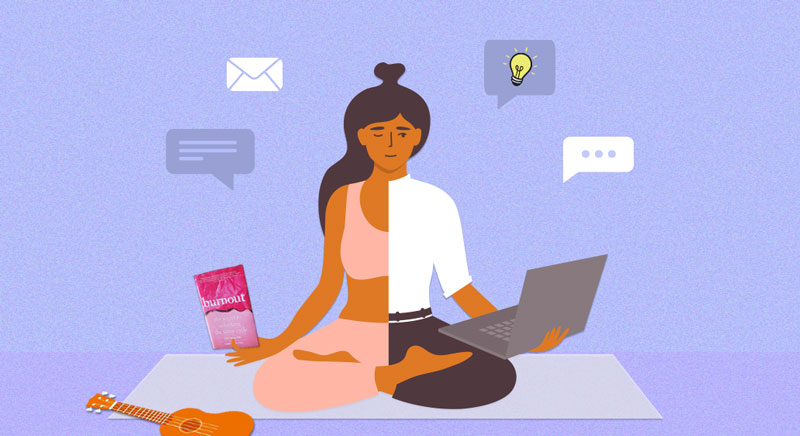 Montage/Getty Images (modified)
Burnout is not unique among librarians. After 15 years leading programs at a public library, Brandy experienced it firsthand, finding her story times had become rote. Now that most of us are back to several story times each week, we posed this question on social media: "Have you experienced story time burnout, and how did you bounce back?"
The majority of respondents said they had indeed burned out. Several mentioned that the COVID-19 pandemic contributed to the feeling, particularly as they juggled virtual programming with existing duties. For others, a story time pause provided a necessary respite.
Brandy found herself reengaged when her team welcomed Tess, a ukulele-wielding force of nature who connected easily with kids. She helped the veteran librarian learn to play and incorporate the ukulele into programs. With Tess's encouragement, Brandy shifted her mindset and developed new skills.
Of course, hiring an energetic new employee is not always feasible. Trying new activities, materials, and ­approaches helped many fight the story time doldrums.
"When I get tired of my story time formula, I switch the components," says Cat Dino, librarian at ­Chesterfield County (VA) Public Library's Meadowdale Branch. ­"Instead of the weekly fingerplay, I'll do a mindfulness exercise."
Elizabeth Argo, youth services coordinator at Maryville (MO) Public Library, has been collaborating with local education undergraduates to set up activity stations during her story time. "One of their assignments is to plan and staff one of the stations. That brings in some new ideas, fresh perspective, and energy. Working with students can be a lot of work...but it's different work."
Another popular approach is to institute story time breaks for program leaders, beyond scheduled vacations. "Rest makes us more persistent and productive," write Emily and Amelia Nagoski in Burnout: The Secret to ­Unlocking the Stress Cycle (Ballantine, 2019). Breaks enable story time leaders to recharge. As one survey respondent wrote, "Breaks...are the perfect time to change things up, which can prevent things from feeling stale."
Schedule breaks during your program cycle when ­attendance is light, and review attendance data to plan or justify any changes. Try the end of summer reading before the start of the new school year, and during the winter holiday season when library visits dip.
Angelique Velasco, a librarian at Lafayette (CO) ­Public Library, says they pause story time in May and August for planning purposes.
If you are lucky enough to have multiple story time leaders, schedule rotations so everyone gets a breather.
Knowing your limits and setting clear boundaries can help manage expectations and protect against burnout. One anonymous poster uses this phrase with families requesting more programs: "Unfortunately, we aren't able to add that to our schedule this year, but please ask us again next time."
Find ways to simplify story time. Cut activities with time-consuming prep like crafts and bring out toys ­instead. Or recruit an early-bird parent to help with setup.
To minimize planning, offer an "All Request Story Time" where participants request their favorite books, songs, and rhymes. Linda Ernst, retired librarian and a­uthor of popular story time how-to guides, writes on the ­Association for Library Service to Children blog: "­Exchange one of your story time programs with a nearby librarian who has programs at the ready."
Finally, set aside regular periods to reflect on all of your story time wins during these tumultuous pandemic years. What have you accomplished? What makes you most proud?
Celebrating your achievements is a regenerative practice that builds resilience and self-compassion—two ­qualities that will serve you well beyond story time.
---
Brandy Sanchez is founder of the SoulFire Collective, a learning community dedicated to librarians' well-being and leadership development. Rachel G. Payne is coordinator of early childhood services at Brooklyn Public Library.