With large publishers falling short, independent publishers have emerged to produce children's books with Latinx characters and by Latinx creators in both English and Spanish.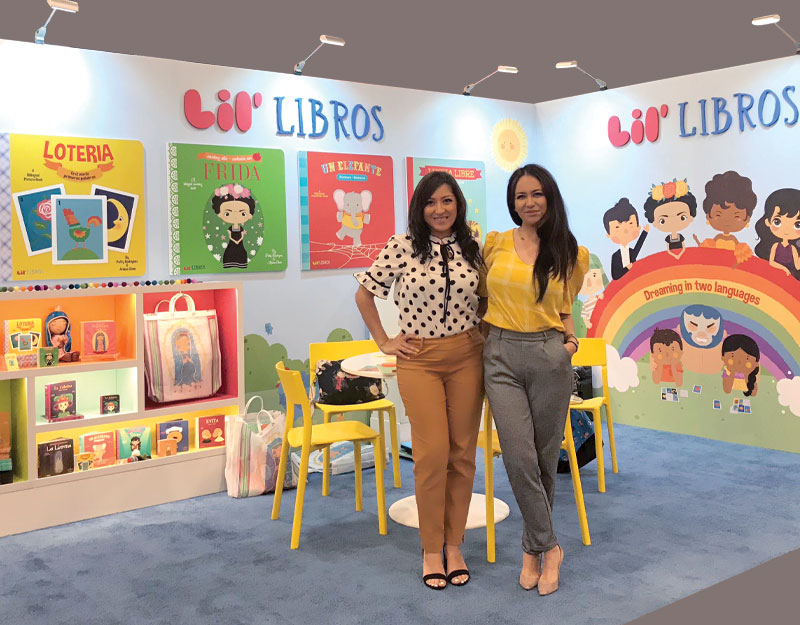 Lil' Libros founders Patty Rodriguez and Ariana Stein
Naibe Reynoso wanted her children to be proud of being Latino. "But when I walked into a major bookstore chain looking for children's books that authentically represented and celebrated my community, I left empty-handed and disappointed," she says.
"If I can't find books that reflect Latinos, maybe other parents and teachers can't either," Reynoso thought.
With that, she was inspired to start Con Todo Press, an independent publisher that launched in 2016.
Although Latinxs make up about 20 percent of the entire U.S. population, only six percent of children's books feature Latinx characters, according to the Cooperative Children's Book Center.
Reynoso is not alone in attempting to change those numbers and create titles that reflect her family and culture by starting her own small publishing house.
In 2011, when Patty Rodriguez was pregnant with her first child, she started pitching a line of bilingual children's books to traditional publishers. After being turned down repeatedly, Rodriguez and childhood friend, Ariana Stein, came together in 2014 to build Lil' Libros and create books they didn't have growing up—books that celebrate the American Latinx experience and identity and the Spanish language.
"At Lil' Libros, we believe that every child has the power to dream in two languages," Rodriguez says. "We want our community to see themselves reflected in the books they read—and not just that, but to also inspire our community to tell their own stories, where they can see publishing as a career. We don't exist in this industry; we want to change that."
Arte Publico Press, affiliated with the University of Houston, established its children's imprint, Piñata Books, in 1994 for the same reasons. Piñata Books has made giant strides toward meeting the demand in the literary market created by an increased awareness of diverse cultures and languages. Its titles, from picture books to young adult novels, are published as bilingual books. Longer works are often packaged as flip books, with the English version on one side and the Spanish on the other.
Hurdles to overcome
Capital is a huge obstacle for many of these smaller publishers. While Piñata Books continues to be funded by a grant from the Mellon Foundation, brand-new companies like Editorial Destellos find that their biggest hurdle is financial. The Puerto Rico–based micro press launched in 2017 and hopes to grow its operations. But that has been a significant challenge, especially with Puerto Rico's ongoing economic crisis. Amid current levels of inflation, it often feels like an uphill battle. What keeps the company going is its mission to "create books in Spanish that spark readers' imagination and inquisitiveness, books that make people fall in love with reading," says founder Laura Rexach.
Rodriguez and Stein had to financially bootstrap the entire Lil' Libros endeavor, which required resourcefulness and careful financial planning. Now, the company is community-owned.
"We soon realized we needed to grow with our community—the same community that has believed in us since day one, the reason why we are here," says editor Melanie Romero. "Being community-owned allows for two things to happen. First, the injection of capital helps Lil' Libros' organic growth, and second, we build generational wealth as a community."
Without a way to get in the door at the larger distribution companies, Luna Press founder Holly Ayala found it difficult to reach a wider audience. Established in 2015, the Salvadoran-themed publisher of children's books turned to smaller distributors Brodart and Lectorum.
There was also a disconnect between the up-and-coming publishers and the vendor and markets they wanted to break into.
"We had to educate our buyers on why these books belonged in these spaces and why they were important to our community," says Romero.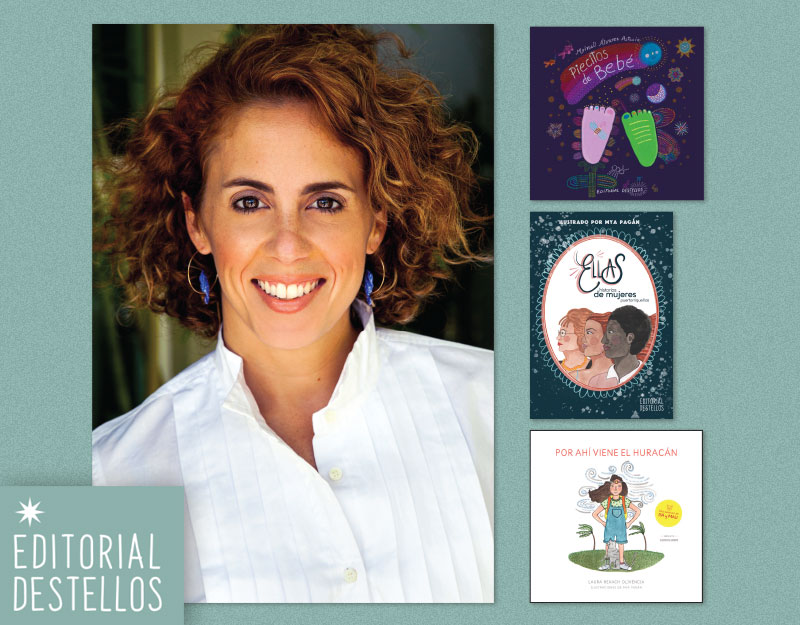 Editorial Destellos founder Laura Rexach and some titles
Authentic offerings
As of 2022, the Big Five publishing houses control over 80 percent of the trade book market in the United States and are responsible for creating most of the children's books that get wide distribution, according to data from WordsRated.
It's difficult to compete with publishers that are part of multimillion dollar conglomerates and have huge marketing budgets and ties to the media. But these smaller enterprises offer a direct connection to the communities they are trying to represent.
It's that need and desire to create that community connection that laid the foundation for Piñata Books.
"The notion of an imprint dedicated to the publication of literature for children and young adults was planted by an urgent public demand for books that accurately and authentically portray U.S. Hispanic culture," says publicist Verónica Romero.
Lectura Books published its first book in 2001 as a response to its sister organization, The Latino Family Literacy Project, needing more authentic stories to inspire Spanish-speaking parents to read with their children and to build oral language skills by connecting the stories with their own lives. The organization's aim has always been to help families fall in love with reading together.
"Our mission is to support families who speak Spanish by providing culturally relevant and engaging books," says publisher Katherine Del Monte.
Ayala agrees. "We want our stories and illustrations to spark children's imaginations and allow them to learn and preserve their culture and history—and feel proud about it."
Libraries as partners
It might be a difficult task ahead, but these indie publishers are inspired by their communities to push forward.
"We champion books in Spanish with original stories and unique perspectives by Puerto Rican and Latinx authors," says Editorial Destellos publisher Rexach. "We are a small but mighty press."
And they count on libraries to help them get there.
"Lil' Libros aims to foster the next generations of little ones, and we can't succeed without librarians and educators and their dedication in having our books on the shelves and in classrooms," says Romero.