We Need Diverse Books is fundraising for LGBTQIA+ book donations, President Biden speaks out against book banners, May 6 is Floyd Cooper Day, and more in this edition of News Bites.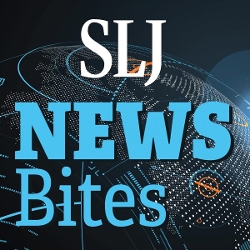 We Need Diverse Books is fundraising for book donations, President Biden speaks out against book banners, May 6 is Floyd Cooper Day, and more in this edition of News Bites.
---
LGBTQIA+ book care packages from WNDB
We Need Diverse Books and the kid lit community are teaming up to launch a campaign for book care packages to "share love and affirmation" with LGBTQIA+ kids and their families. Each package will include a copy of a book centering LGBTQIA+ characters and special extra items like temporary tattoos and bookmarks. The WNDB team is curating the titles being sent to Texas, Florida, and other places were legislators are trying to pass anti-LGBTQIA+ laws and remove books by and about the LGBTQIA+ community from school and public libraries. WNDB is working with existing organizations that serve the community to deliver the packages.
"It is our hope that these affirming and positive books will help kids feel some of the love and respect they deserve," the WNDB website announcing the project says.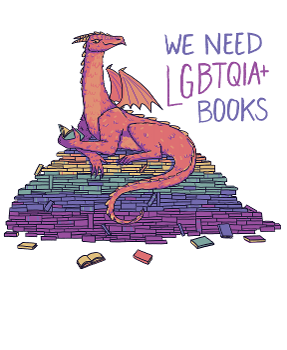 Anyone wanting to help can make a monetary donation or purchase merchandise featuring Jessie Sima's dragon design seen here.
If funding allows, the program will also host a giveaway of LGBTQIA+ books to teachers and librarians and coordinate virtual author visits with LGBTQIA+ kid lit authors.
Prior to this campaign, WNDB established the Educators Making a Difference Grants to support educators who have diverse books by diverse authors in their schools and libraries. After receiving nearly 600 applications, the organization chose 35 winners who will receive $2,000 each for their institutions.
WNDB also expanded its Emergency Grants to include diverse teachers, librarians, and educators in need. These grants provide up to $1,000 for recipients experiencing financial hardship, because of medical bills, natural disasters, COVID-19, loss of employment, and more.
---
K-12 antisemitic incidents increase in 2021
Antisemitic incidents at K-12 schools in the U.S. increased 106 percent in 2021, according to the Anti-Defamation League's (ADL) Audit of Antisemitic Incidents. Overall, the number of incidents reached an all-time high, with a total of 2,717 incidents of assault, harassment, and vandalism, That averages out to more than seven incidents a day and is the highest number of incidents on record since ADL began tracking in 1979.
In 2021, ADL tracked 331 incidents at non-Jewish K-12 schools (up 106 percent from 161 in 2020), and 155 incidents at colleges and universities (up 21 percent from 128 in 2020). Despite the increases, the numbers K-12 and at colleges and universities were flat compared to the five-year average.
ADL CEO and national director Jonathan Greenblatt noted the connection between words and actions when he tweeted, " #antisemitic incidents, which are at a high watermark in the U.S., all start with words. #Antisemitic rhetoric, wherever it comes from, manifests in violence."
---
President Biden speaks about book banning
In his address at the national and state teachers of the year event, President Joe Biden told educators in attendance, "We should stand up for you. We should have your back. Teaching is one of the hardest jobs in this country to be able to do it well, and one of the most important.
"Today, there are too many politicians trying to score political points, trying to ban books — even math books. I mean, did you ever think — even you younger teachers — did you ever think, when you'd be teaching, that you'd be worried about book burnings and banning books, all because it doesn't fit somebody's political agenda?
"American teachers have dedicated their lives to teaching our children and lifting them up. We got to stop making them the target of the culture wars."
---
National Ambassador for Young People's Literature Jason Reynolds hits the road
In his third year as National Ambassador for Young People's Literature, Jason Reynolds will go on his first in-person leg of his continues his "GRAB THE MIC: Tell Your Story" tour. In an effort to empower students in rural and underserved communities, he will go to Montana and visit schools that have never hosted an author visit.
"I can't wait for Montana—to finally look into the faces of some of the young people I've been serving, to exchange stories and build connection," Reynolds said in an announcement. "Like I said at the start of my term, this appointment is not an obligation, but an opportunity to put a spotlight on the collective stories of young America, all while encouraging them to hold those stories and mold them into whatever they want them to be."
This year, Reynolds will also partner with the digital publisher and education platform Short Edition to bring their innovative short story devices to participating schools. Schools on the spring tour will receive a Short Story Cube, a stand-alone device that allows students to create, edit and print their own stories.
Schools that want to be considered for Reynolds' Fall 2022 "GRAB THE MIC: Tell Your Story" tour, can submit a proposal through May 20.
---
May 6 is Floyd Cooper Day!
Every Child a Reader and KidLit TV have partnered to celebrate Floyd Cooper Day on May 6. The award-winning illustrator and author died in July..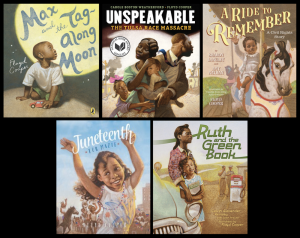 As part of the celebration, KidLit TV has produced videos of Crystal Allen, Tameka Fryer Brown, Judy Allen Dodson, Patti Gauch, Nikki Grimes, Leah Henderson, Cheryl Willis Hudson and Wade Hudson, Sharon Langley, Torrey Maldonado, Olugbemisola Rhuday-Perkovich, Charles Smith, and Don Tate reading from their favorite Floyd Cooper books.
The videos are available to be shown in classrooms, libraries, and bookstores.
In addition, schools, libraries, and bookstores can enter a display contest to be one of 25 winners of $100 in books. Every Child a Reader has also made a bibliography and list of teachers' guides available for free.