Hannah Testa believes encouraging teens to talk solutions is key to the environmental justice movement
Photo courtesy of the Testa family
Generation Z are among those most worried about the impact of climate change on their future. And they're not just worried; they're taking action—action that goes beyond the sustainable behaviors that they adopt in greater numbers than their parents' or grandparents' generations. Today's teens are prioritizing environmental justice, which addresses the intersectionality of inequalities that marginalized groups experience when it comes to health, safety, and well-being in their environment. The evidence is both in what they're doing and what they're reading. The list of powerful fiction and nonfiction titles for teens from authors engaged in activism, passionate about the environment, and speaking up on its behalf continues to grow. Schools and libraries have the opportunity to tap into this movement through books and further invigorate the next generation of socially conscious land stewards.
Youth activists turned YA authors
Hannah Testa, 19, founded the environmental justice nonprofit Hannah 4 Change when she was 15. "[T]he Black Lives Matter movement was growing globally, and I was inspired to expand my knowledge on the intersectionality between social justice and environmental justice," she says.
"Our generation is a fresh set of eyes on the societal standards and normalities that previous generations are accustomed to. Our generation can ask 'Why do we do this that way?' We can find intersectionalities and use our creativity to lead an interdisciplinary movement."
Environmental justice envelops the movements of climate justice (how climate change impacts different groups of people at varying rates), environmental racism (how marginalized communities disproportionately experience environmental hazards), and sustainability. It explicitly ties human rights to environmental rights, emphasizing the rights of all to a safe place to live, work, and play. Online, teens have connected around this movement. And beyond demanding better for the environment, they are highlighting environmental justice's roots in global Indigenous populations and how corporations use activism as a means of profit.
When Testa learned how often America's used plastic is sent overseas, she reached out to the Indonesian youth activists dubbed the "River Warriors" to learn about the damage happening in their communities. "Hearing firsthand how these students were talking about the environmental justice issue they were facing, I was fired up to speak up about it," she says. "By highlighting the stories of communities polluted and forgotten, we can build public support to enforce better regulations and mitigate the environmental justice issues we are seeing across the United States and globally."
To ensure that her experiences and insight could move beyond social media and share what she'd learned with other young people, Testa wrote Taking on the Plastics Crisis (Penguin, 2020).
Jamie Margolin, 20, is the cofounder of youth climate action organization Zero Hour. Like Testa, she also emphasizes the importance of getting to know the people and communities on the front lines—not only in our own backyard, but also around the world—to understand how big the movement is and how much work has been done in marginalized and Indigenous communities. "There is not nearly enough media attention on the battles happening all over the world, between land defenders protecting their territory and extractive industries trying to destroy and take their homelands to churn into profit," says Margolin. "Most climate funding goes to corporate greenwashed solutions, when the funding, resources, and attention needs to be on the frontlines where the very fate of our planet is being decided."
Between organizing climate justice marches and events, giving speeches around the world, and learning from other activists, Margolin wrote Youth to Power: Your Voice and How to Use It (Hachette, 2020), a book for young people that not only explores the history and contemporary realities of environmental justice but also encourages young people to add their unique voices to the movement.

Environmental justice in young adult literature
With today's teens choosing to engage in more political issues, the last several years have given rise to more depictions of youth activism—including environmental justice—in YA literature.
For Natalia Sylvester, Running (Clarion, 2020) was an opportunity to tackle the realities of climate change in south Florida, and give young people space to consider what the label "activist" means to them. The book follows 15-year-old Cuban American Mari as her father runs for president. She witnesses the contamination of her best friend's drinking water as a result of a local real estate developer's new project and realizes she needs to act. Mari, who never sees herself as an activist, finds herself beginning a revolution by doing what she believes is right.
"I wrote Running for young people who, like Mari, perhaps hesitate to call themselves activists," says Sylvester. "But they know what they believe in, and they want to do something."
Ultimately, Mari's actions lead to changes that help ensure equitable access to the environment for people in her community.
Similarly, Ellen Hagan's Don't Call Me a Hurricane (Bloomsbury, 2022), told in verse, explores environmental justice through the eyes of high school senior Eliza, whose life on the Jersey shore was rocked five years prior by a hurricane. She lives in the community year-round and has now turned her focus toward protecting the shore's marshland, threatened by a developer. A chance meeting with a rich tourist leads Eliza to fight harder–even as it ultimately costs her a lot of relationships.
"My hope is that teen readers see themselves in Eliza, Zach, Isa, and Mia, and understand that it takes deep work around community building, gathering, talking, listening and then taking action," says Hagan, who is continually inspired by young people engaged in environmental justice in her work as a teacher, artist, and parent. Questions around what it means to be a global citizen shape her thinking and encourage her to consider what she brings to her students, who are living in an ever-evolving climate. She hopes books like hers can serve as a jumping-off point for other educators. "I hope teachers will be inspired to start these conversations with their students, to introduce poetry and make space for their students to bring up their own concerns and issues."
Given the growing interest in environmental justice, it comes as little surprise that some of the best-known adult titles on the topic are being sought by young readers, too. Both Testa and Margolin list Robin Wall Kimmerer's modern classic Braiding Sweetgrass: Indigenous Wisdom, Scientific Knowledge, and the Teachings of Plants (Milkweed, 2013) among the books that have influenced them most. And this fall a young readers edition, Braiding Sweetgrass for Young Adults (Zest, 2022), adapted by Monique Gray Smith, hit shelves, making its wisdom accessible to an even broader audience.
The adaptation pairs Kimmerer's experiences as an Indigenous woman and a scientist with insights into how and where teens can take action to protect the world around them. The book remains both timely and timeless.
"This generation is experiencing climate change and climate catastrophes at a magnitude that we've never experienced before, and they are inspired and motivated to be part of the change," says Gray Smith. She emphasizes that Kimmerer's wisdom can help guide young people not only in their activism, but in understanding the reciprocity between themselves and the land. "With high rates of anxiety and depression, the messages in Braiding Sweetgrass for Young Adults help us understand being in good relation with ourselves so we can be in good relation with all living beings."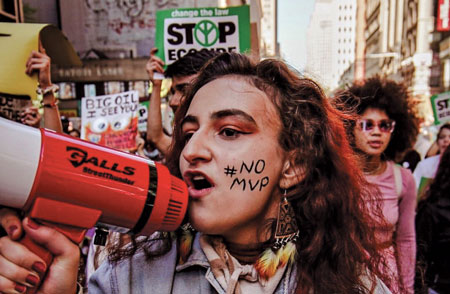 Jamie Margolin at the September 2022 climate strike in New York City.
The #NoMVP on her cheek stands for "No Minnesota Valley Pipeline"
Teaching environmental justice, fostering activism
In Ayesha T. Qazi-Lampert's AP Environmental Science course, students not only learn about environmental justice but get hands-on experience with the movement.
"If we want to communicate the climate crisis effectively and how the climate crisis impacts communities of color and low-income communities predominantly, literacy of all types of modes and mediums is important," says Qazi-Lampert, who teaches at Northside College Prep in Chicago.
Students read the Principles of Environmental Justice, created by delegates to the First National People of Color Environmental Leadership Summit in 1991, and select one of the 17 principles that resonates with them to reflect upon. This teaches that much of the knowledge of the movement has been passed down for generations, that there has not always been a single person to credit.
The students put these lessons into practice through the Tree Inventory project. Walking the school campus, students identify trees and tag them. They then discuss how to share their knowledge of the trees with the community to promote collective care of the campus environment.
Encouraging young people to talk about solutions is key to the environmental justice movement, says Testa. While highlighting environmental injustice does the work of educating, it's also important that adults provide opportunities to engage in change. "Young people often don't have the support system to feel empowered to take action and feel they are too young to do anything about climate change or plastic pollution," Testa says. "We can empower students by sharing stories of other young people, providing mentorship, and including youth in adult-dominated conversations."
Often, empowering teens is as straightforward as modeling the behavior: writing letters to your representatives, showing up to environmental cleanup initiatives, amplifying voices most impacted by injustice, and remembering that even small changes make a difference.
Sylvester emphasizes that everyone's role in the movement is different, but each one is valid as it sets off a chain reaction. "It's important to help teens see their inherent power, and to remind them they each have a unique role to play when it comes to protecting the environment," she says. "Some are the organizers. Others are the marchers and amplifiers, both online and off. Others are the ones who grab a mic. Still others are the artists whose work reminds people what they're fighting for. They all make a difference."
Moreover, like Qazi-Lampert demonstrates with her students, encouraging a love and curiosity for the land in your own backyard makes a difference. In her class, students build a habit of researching local environmental news. Later, Qazi-Lampert says they continue sending her stories to make sure she doesn't miss them.
"When you foster a love for the land, water, and all living beings with children and young people, they will naturally have a passion to nurture, care for, and protect the environment," she says. "If we are talking about caring for the Earth, and then toss our water bottle into the garbage can, it calls our integrity into question. The first thing a young person will ask is, 'Why are you drinking bottled water?' Then they will ask, 'Where are the recycling and compost bins?'"
While it is vital to engage and energize young people in the movement, it is important to remember that teens alone will not save the Earth from injustice. Margolin warns that believing the movement is only with young people overlooks the centuries of Indigenous knowledge being passed down and shared with those engaged in the movement. Moreover, the fixation of the youth-led elements of environmental justice too easily allows corporations to market towards and attempt to exploit real work being done on the ground.
"I think there's been a bit of a perversion of the 'youth empowerment' thing where it started off being about creating spaces for young people to also be a part of the climate fight, and then it became that we should only focus on and truly listen to young people."
Young people are important because they're listening to and implementing the wisdom of generations before—but it will not be and cannot be young people upon which environmental justice for all succeeds.
"The point was never that young people are the ones who are going to save the world; the point is that young people have a valuable place in this intergenerational struggle for justice in the face of systems of oppression," she says.
---
Kelly Jensen is a writer for Book Riot and the editor of nonfiction anthologies, including (Don't) Call Me Crazy.