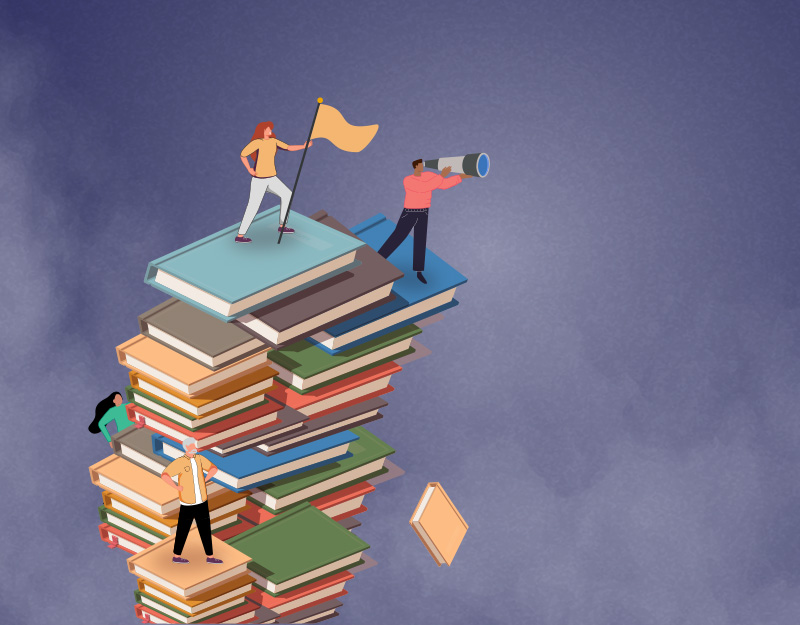 As all eyes are on school board meetings and attempts to pull titles off the shelves in classrooms and libraries, legislators across the country are pushing bills that would change the criminal code for obscenity laws and make it possible to charge public and school librarians with a crime based on the books in their collection or content of their lessons.
The majority of U.S. states have an affirmative defense for educators, meaning they cannot be charged under obscenity law. Thirty-two states likewise provide an affirmative defense for public libraries. In addition, nonprofit organizations, museums, and government offices have a defense from prosecution under the laws developed through the 1962 Model Penal Code framework.
These laws were written with the understanding that there may be educational lessons, books, or artwork that people might not agree with or it might make them uncomfortable but it is a necessary part of society, has valuable context, and should not be subject to criminal prosecution.
As of March 1, bills in 17 states sought to change that, motivated by the national attack on books, specifically books by and about the LGBTQIA+ and BIPOC communities. There is a larger goal, according to EveryLibrary executive director John Chrastka.
"There's a novel political theory out there that says, if we can remove the defense from prosecution for K-12 educators, then we can get rid of sex ed. If we can remove the defense from prosecution for higher ed, we can get rid of gender studies," he says.
To that end, the current legislative focus is on public and school librarians and educators. In multiple states prosecutors have tried to charge librarians, only to fail because of the exemption in place. Now legislators want to remove it. There have been some victories. In Wyoming, the bill died in committee. In Montana, advocates were able to remove public libraries and museums from the bill but educators remain in danger of prosecution in the current draft of the bill.
EveryLibrary is tracking all concerning library-related legislation, including these bills seeking to change the penal code and exemption in the obscenity laws. EveryLibrary is actively supporting eight states in their efforts to defeat these bills.
While there are similarities to the librarians' efforts—coalition-building, email campaigns, and providing testimony at legislative committee meetings—each state requires very specific strategy and messaging. What works in Montana will not in South Carolina. And coalition-building can be tricky. In some places, for example, a partnership with the state's ACLU is not helpful or an alliance with equity organizations or local unions could hurt the cause.
While the dynamics with each state and community differ and strategies vary, there are broader lessons that can be helpful to librarians everywhere.
"One of the things that's been great to us is the ability to reach out to other states where it's been happening," says Kerrianne Boetcher, president of the North Dakota Library Association. "We very much appreciate other states' willingness to help us out and collaborate and work together. Reach out to other states, because they might have a new idea; they might have a different angle that would work for you. We're libraries, and we all want to work together."
Fighting back
Fighting potentially harmful legislation is new for librarians in many states, even those like South Carolina library organizations that have had legislative committees for years.
"In the past, most of what we've been doing is more goodwill campaigns, asking for continued support [or] more funding," says Virginia Cononie, co-chair of the South Carolina Library Association advocacy committee. "So this is new for us to have to oppose things that are actively working through the legislative process."
Having a legislative consultant is invaluable, but not every state library association or school library association can manage that. In New Hampshire, librarians were only alerted to the new bill because a freshman representative, David Paige, is the editorial director of Libraries Unlimited.
"He is the one that brought the bill to our attention," says Kristin Whitworth, president of the New Hampshire School Library Media Association (NHSLMA). "We don't have a lobbyist or anything like that."
Rep. Paige wants to be clear that, in New Hampshire, educators, including school librarians, are afforded due process not a blanket exemption from the obscenity law. No educator can be arrested, charged, or indicted before a court determines the material to be obscene.
Once he made Whitworth aware of the pending legislation, she could respond appropriately. But it hasn't been easy.
"This has been a steep learning curve for us," she says.
NHSLMA asked members to reach out to their local representatives and submitted online testimony. Next steps are still in the works, as Whitworth and others decide the best strategic plan going forward.
No matter the larger strategy, though, it's important for library organizations to create committees, communicate regularly and effectively with membership, and rally support. Advocates currently fighting bills say to make sure there is always someone paying attention to what's happening in the legislature and to have someone involved in the discussions or at the hearings when possible.
"Just making sure that you have somebody in the room, that's the most important thing," says Adam Webb, president of Advocates for All Arkansas Libraries.
In states like Arkansas, where Republicans have a super majority, people need to be loud and insist they are included in the conversation, even if it makes people angry, Webb says.
Librarians in the organizations leading the opposition must build a coalition that can gain the attention of the legislators and properly speak to the interests and concerns of the state's residents. It involves reaching out to different organizations and related professions. In many cases in the past, librarians have siloed themselves off even from each other, Webb says. That is changing. Library associations are teaming up not just with educators, but with museum organizations, school nurses, social workers, local writers, archivists, university professors, and others.
"EveryLibrary has been a huge partner in this, they have helped more than they know," says Webb. "They've got us all in the same room."
Personal relationships are also vital. In North Dakota, librarians are inviting their local legislators to the library to show them around and explain their programs. They're inviting them to events and reaching out about legislation that positively impacts libraries, and to create a line of communication at times when the situation isn't acrimonious.
In Arkansas, library advocates know the occupations of committee members who will vote on the bill. When approaching those committee members for discussion, advocates engage with their expertise—for example, the lawyers should see the legal issues with the bill, while the educators know the impact on students. In South Carolina, the process of speaking to legislators has become more discerning.
"We have tried to be deliberate about who we talked to first and make sure that it's someone we feel like is a supporter of libraries," says Tamara Cox, president of the South Carolina Association of School Libraries. "Whereas before, we would meet with anybody right away, and try to see as many people as we can."
Creating the proper messaging for each individual and a broader public campaign is vital and can be a moving target. In some places, like Arkansas, the bill has shifted focus; advocates' message in response must change with it.
In many conservative states, the message that resonates the most is that these bills are government overreach and would take the decision-making away from local school boards and community members.
Then there's the money.
"If you suddenly have a workforce that is being criminalized, your cost for insurance goes through the roof," says Chrastka. "Also, the boards are potentially subject to criminal prosecution. It goes all the way up and all the way down. If you have to defend your board, if you have to defend your officers, you have to defend your administrators, you have to defend your rank-and-file. And then if there's prosecutorial overreach, and you're in a spurious lawsuit, you've got worker's comp. It becomes as expensive to insure your public library or your school district as it is to insure the police force."
That was part of the successful argument used in fighting the Wyoming bill that died in committee.
Going forward
For those who think such measures will never happen where they live, these legislative efforts are an extension of book banning efforts that have hit all states, red and blue. Preparation is key.
It is important to be proactive, says Boetcher. Advocates willing to provide testimony need to be prepped, others must have the most-effective language for reaching out to their local legislators. And responsibilities must be divided up as much as possible.

Advocacy work is difficult, can be discouraging, and takes its toll no matter the level of dedication to the cause. This situation is no exception. It means working nights and weekends and taking personal days to monitor committee meetings where the library profession is maligned by those who don't seem to understand it.
"[MLA is] an all-volunteer organization with day jobs, so I think we're doing really well," says Sam Forstag, Montana Library Association legislative advocate. "It's just very frustrating to see legislators not understand the great things that libraries do for their constituents."
There are valid personal and professional reasons for librarians to want to sit this one out and focus only on doing their job. But in most places, librarians are not shying away from the public fight.
"I think everybody realizes that this bill is a ditch to die in, so we're all willing to put ourselves out there a little more than maybe we're comfortable with," says Webb of those in Arkansas. "I think honestly, that's a good thing because this is not a partisan political issue. Our public libraries are for everybody."
School librarians are taking on this legislative work alongside the day-to-day battles of collection building.
"I'm hearing from my members that they're exhausted and that they're second-guessing their every book order, and in some cases, their administrators are second-guessing their book orders," says Heather Perkinson, president of the Maine Association of School Libraries. "I don't know if people are thinking about giving up, but people are wiped out. We keep thinking, 'When is this gonna end? Surely it can't go on like this.' But then we look at Florida and Texas, and we feel like we don't have anything to complain about."
Perkinson knows complacency is risky and dangerous.
"I've had some people say to me, 'Oh, this will never make it out of committee. We've got a Democratic legislature right now. Don't worry about it. It's no big deal.' But I feel like no, we need to let everybody know, Democrats and Republicans, that we won't stand for this kind of thing. Because if we let this be discussed even, and considered, we're just opening the door to more and more insidious legislation."
In Wyoming, where the bill to revoke the exemption failed, there is relief combined with anxious anticipation. They know it will not end here.
Moms for Liberty has proposed that next time the bill comes up, it only includes school librarians, according to Conrrado Saldivar, president of the Wyoming Library Association (WLA). Saldivar and colleagues are already preparing for the next fight, refining their strategy and anticipating the actions of those who support the bill.
"We know it's coming back, we know that they're not going to stop trying to do this," says Caitlin White, legislative committee chair for WLA. "I think with time and even more preparation, we can be more specific about what we ask people to send in emails, we can be more specific about, what we've seen work with testimony before. So, while there's relief, there's also the idea that we can't rest. We need to keep working."