Twenty-five libraries in Title I schools have been awarded $700 grants, presented by the Mathematical Sciences Research Institute, in partnership with SLJ.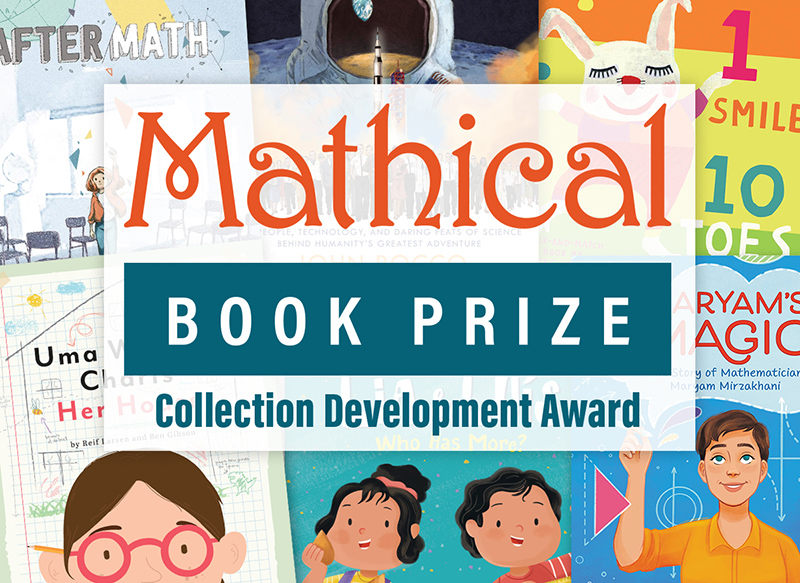 Twenty-five school libraries have been named recipients of the 2022 Mathical Book Prize Collection Development Awards. Presented by the Mathematical Sciences Research Institute (MSRI) in partnership with SLJ, the collection development awards give libraries in K–12 Title I schools $700 to purchase titles from the Mathical Book Prize list. This is the third year of the funding program aimed at getting literary fiction and nonfiction inspiring a love of math into the hands of K–12 students.
The winners come from 14 states and the District of Columbia. Award winners showed the greatest promise to use the funds to advance the goals of their library as well as enthusiasm for encouraging students in exploration of mathematics in everyday life.
The Mathical Book Prize recognizes outstanding youth trade fiction and nonfiction selected to inspire a love of math in the world around us. Prize-winning books span grades PreK through 12 and feature novels, biographies, chapter books, and picture books and are selected every year by a committee of math teachers, reading teachers, mathematicians, librarians, early childhood experts, and others.
The Prize is presented by MSRI in cooperation with the Institute for Advanced Study (IAS) and is awarded in partnership with the National Council of Teachers of English (NCTE) and the National Council of Teachers of Mathematics (NCTM), and in coordination with the Children's Book Council (CBC). The prize is made possible with support from the Firedoll Foundation and Joan and Irwin Jacobs.
The 2022 recipients are:
Woodmeade Elementary School, Decatur, AL
Timber Lane Elementary School, Falls Church, VA
Elsanor Elementary School, Robertsdale, AL
Marlborough School, Marlborough, NH
Elmont Memorial Jr-Sr High School, Elmont, NY
Jersey Avenue Elementary, Santa Fe Springs, CA
Euclid Ave Elementary School, Los Angeles, CA
Providence Elementary School, Huntsville, AL
D'Ippolito Elementary School, Vineland, NJ
Louisiana Elementary School Library, Louisiana, MO
McKinley Middle School, Washington, DC
Rockport Elementary School Library, Rockport, MA
Farrell Area High School, Farrell, PA
Nags Head Elementary School, Nags Head, NC
Clayton Middle School/Cleve W. Bryan Media Center, Clayton, NJ
Berne-Knox-Westerlo Middle/Senior High School, Berne, NY
Brooklyn Center Middle/High School, Brooklyn Center, MN
Savoy ES Library, Washington, DC
Lincoln Park High School, Tacoma, WA
McGlynn Elementary School, Medford, MA
Central East High School Library, Fresno, CA
Woods Road Elementary School, North, NY
Northside Elementary School Media Center, Albany, GA
Idlewild Elementary, Memphis, TN
Hollin Meadows Elementary School, Alexandria, VA