Longtime collaborators Renée Watson and Shadra Strickland discuss the creative process behind the cover of Watson's stunning upcoming middle grade novel, Some Places More Than Others.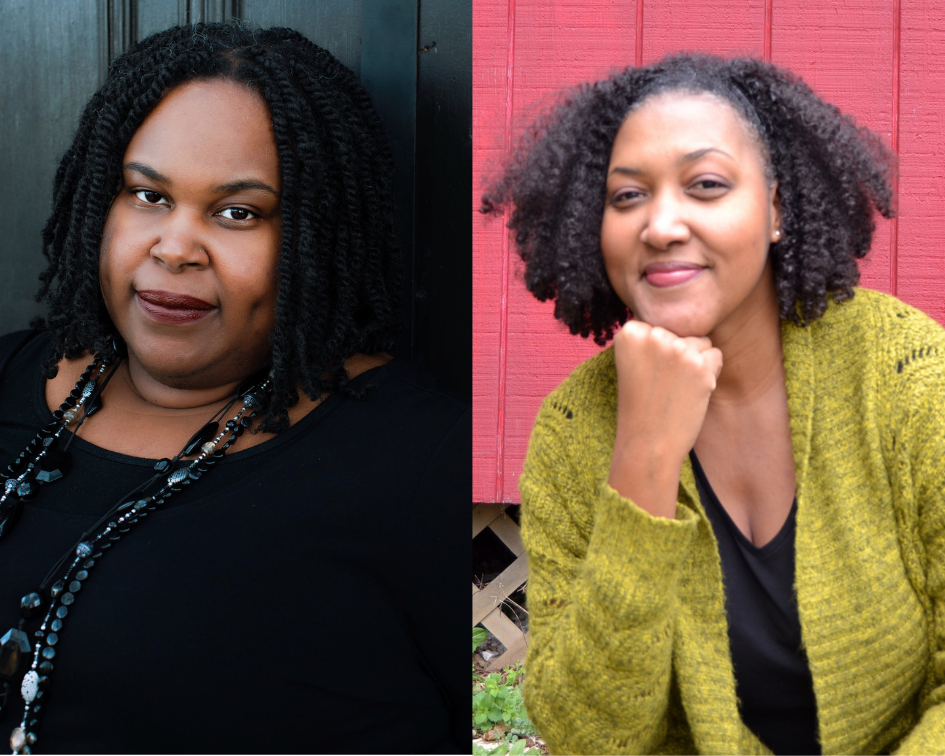 Watson photo by Shawnte Sims Strickland photo by Shadra Strickland
In Renée Watson's "tender and empowering" Some Places More Than Others (Bloomsbury, Sept 2019), 11-year old Amara wants nothing more for her upcoming birthday than to visit her father's family in New York City. But her transition from the lush greenery of Portland, OR, to the bustling streets of Harlem is not easy, especially with so many new relationships to navigate and tense family secrets to uncover. Watson spoke with cover illustrator Shadra Strickland about the collaborative process to bring Amara's layered story to life at first glance.
Renée Watson: Shadra, having you illustrate the cover of Some Places More Than Others is very special for me. Soon, I will be celebrating 10 years of being a published author and you illustrated my very first book, A Place Where Hurricanes Happen (Random, June 2010). It feels full circle that here we are again, collaborating, but this time on the cover of my middle grade novel.
I'd love to know what it's like for you to do both picture book illustrations and book covers. Is there a different approach you take?
Shadra Strickland: It's been such a fun journey seeing how far your career has come in 10 years! And, yes, what a treat it is to have worked on this cover. It's always a pleasure to work on friends' stories, but there's also tremendous pressure not to mess it up!

The challenge with covers is having one shot to tell the story and hopefully make a reader want to pick it up off the shelf! The goal for me is always to create an illustration that captures the feeling of the story without giving away too many details, but the biggest challenge with this one was creating a unique image. Many of your books have had portrait-based covers. My goal was to move slightly past that idea and design something a bit more narrative that also focused on the two cities. I'm grateful to the art team for allowing me to explore.
As an illustrator, I think it's so interesting to see how different the covers can be when they are [published] in different countries. I know that authors don't have as much say on cover designs, (though, because we're friends, we do get to cheat a little with sneak peeks). What is it like for you to write a story and then have it interpreted visually?
RW: It's interesting you mentioned feeling pressure not to mess it up. Meanwhile, I was anxious hoping you would like the story! Whenever I share my work with a friend and someone I respect, I'm always nervous about their response to it.
Once the book is at the phase of getting cover art, I get really excited. I love seeing how someone else has brought my words to life through an image. It's always interesting to see what resonates most out of all the plot points and scenes.
More and more I am able to be a part of the process when it comes to my book covers, which I am truly grateful for because I know this is rare for authors. With Some Places More Than Others, it was very important for me to have Portland, and Harlem represented on the cover and I love how you did that. The back of the cover is just as important as the front and really tells the story. It may seem like such a small thing, but I'm telling you, people in Oregon will recognize Portland and that really does mean something. We talk a lot in the kid lit community about the importance of young people being seen. I think this applies to underrepresented places as well. I want teens in Oregon to see this cover and see their home truly represented.
The other thing that was really important for me was to have Amara's full body on the cover. Although Amara's body is never described in the book, I wanted readers to know she is fat. I wanted a fat girl to be able to exist in a story that was not centered on her size. To have Amara's full body on the cover—looking stylish in her puffy coat and sneakers—makes me so proud. I didn't get to have that as a young reader, and I think having an image like that would have been validating and powerful for me. I am intentional about making work that literally makes space for a variety of sizes to be seen. So, thank you for creating that for the cover.
There are so many details on the cover that I know were deliberate choices. Can you talk about your choice to have Amara in motion and in side profile?
SS: Initially, I envisioned Amara much larger in the middle of the page (because she's so fly) with the text broken up and flanking her on both sides. The colors were much more subdued and moody to reflect the weather. I had also considered doing a linoleum print so that it would be more graphic and poster-like. Jeanette Levy took the initial sketch and played around with scale and positioning. She also asked for the colors to be brighter and more cheerful. After a bit more back and forth, we came up with the final design. In the end, I do think that my initial idea (though it was the hotness) felt a bit more suited for a YA and not middle grade. It's always nice to work with others in pursuit of the best product.
With picture books, one general rule is to always have the character moving into the story. This was true for Amara also. My thinking was that I needed to show her moving from one world into another. The text is behind her and essentially pushing her into the story.
I love how thoughtful you are of your characters and readers. Many of your stories feature some part of you in them. Do you write for your audience, or for yourself?
RW: I think I am writing for both myself and my audience. When I say I am writing for myself, I am thinking about the girl I was who could have benefited from reading books with a wider range of girl characters. In so many of the books I read, thin bodies and white skin were the default. So, yes, I am intentional about body diversity and skin tones in my work but outside of that, the plot and story arcs are not necessarily my experiences. I often say; I can relate to the emotions my characters feel, but the actuals of their lives are not mine.
How about you? In your forthcoming picture book, Jump In (Bloomsbury, 2021), which I am so excited about—did you have young Shadra in mind when you wrote it? Are there any parts of your childhood that you're exploring?
SS: Honestly, that story was an exercise. I wrote it in an afternoon in response to something I saw on television. I had no intention of trying to publish it, but when Lori, my agent, saw it, she was like, "Where have you been hiding this?" I made edits on the bus to New York and she sold it in a day.
Initially, I thought that it was a cruel cosmic joke that this would be my first authored book when I had written so many that were closer to my heart. But looking at it now, this story really embodies the core of who I am, and it will serve an audience better than some of the others that came directly from ego.
I have now started calling it, "writing from the trap door." When I teach, I lead people through a few exercises to help them become clear on their intrinsic life motivation. From there we "play" and pull stories out of hidden places. It's such a treat to see what comes up for people in those exercise/therapy sessions.
We should play the game some time to see what bubbles up for you!
RW: We should definitely play it! I love how prompts and writing exercises open us up in unpredictable ways. Maybe we can do it at our next DIY writing/art-making retreat. I have cherished our time together these past years when we've carved out days to create, talk craft, and share works-in-progress. Here's to many more collaborations! Thanks for taking time to reflect with me and share some of your process.
---
Some Places More Than Others will be published September 3rd, 2019, from Bloomsbury.