Getting more families into libraries is one goal of the FamLAB Project, which has tapped a cross-sector cohort to expand out-of-school learning opportunities for young children and their families.
In an age of easily accessible information, families should be tapping a rich array of resources to extend learning opportunities for children beyond the classroom. Parents, however, aren't likely to turn to the library in this scenario.
In survey results released last month, the Joan Ganz Cooney Center at Sesame Workshop found that parents primarily rely on personal recommendations for their kids' enrichment activities. They also comb the web and social media. Why not consult libraries? For many of the 1,550 U.S. parents surveyed in the report, 41 percent, going to a library simply didn't occur to them.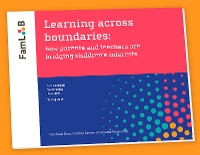 Enter the Families Learning Across Boundaries (FamLAB) Project. A joint effort by the Cooney Center, Stanford University, New York University, and the FrameWorks Institute and funded by the Heising-Simons Foundation, the Bezos Family Foundation, and the Oath Foundation, FamLAB has a goal of building an ecosystem that facilitates learning by young children across settings: home, school, and community. The ambitious project seeks to engage diverse stakeholders in the effort, from local organizations and technology developers to researchers and investors. There's a particular focus on expanding learning opportunities for less-advantaged children, who suffer from an "enrichment gap," and lack access to the people and resources that can help kids pursue their interests.

The challenge? Getting more families into libraries
Awareness is critical to connected learning, the concept in which young people use all the resources available to them to pursue personal interests to enhance learning across settings beyond school, at home, and out in the world. Libraries are prime resources for providing and promoting affordable enrichment activities, according to the report, entitled "Learning Across Boundaries: How Parents and Teachers are Bridging Learning Across Settings."
And yet, libraries are not top of mind. And it's not for lack of access; just six percent of parents surveyed reported not having access to a library. Moreover, libraries were specifically cited as "highly accessible resources" for information about enrichment activities, according to the report, second only to teachers and search engines.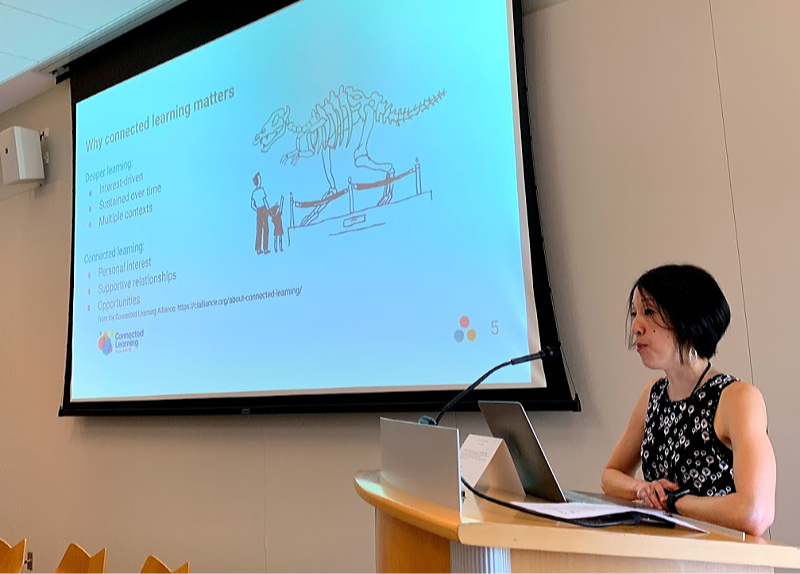 Lori Takeuchi, Head of Research, Joan Ganz Cooney Center, presents at the "Reframing Learning Across Boundaries" Summit.
"The challenge is figuring out how to get families into these physical spaces and interacting with library staff in an era when it's simply more convenient to search the Internet, which may not always yield the most reliable results," summarized researchers Lori Takeuchi (pictured), Sarah Vaala, and June Ahn.

A familiar issue, new partners
"Getting more families into their local libraries in the first place is a challenge that everyone from local librarians to university researchers to government funding agencies are tackling at full force. But perhaps there is a role that children's media producers, technology developers, and even Internet search tool designers can play in encouraging family visits to the library."
Toward that end, Cooney Center, along with the Frameworks Institute and PBS, hosted a "Reframing Learning Across Boundaries" Summit. Held in Arlington, VA, last month, the event convened a group of cross-sector leaders—including representatives of the American Library Association—to broach new strategies to support programs and policies that advance connected learning for young children and their families.
The goal is to produce a toolkit for guiding a related national conversation and "provide a chance to advance organizational alliances moving forward," according to the Cooney Center site.