The independent book festival focusing on queer writers and queer stories has more than 60 authors participating in panels. The event will be streamed June 11-13.
Author Steven Salvatore has wanted to create a book festival focused on queer writers and stories for a while. But when he mentioned it to people, no one jumped on board—no one until Jacob Demlow. After participating in an event together in March, Salvatore brought up the idea in conversation with Demlow, a theater director and producer who runs @a.veryqueerbookclub on Instagram and TikTok. Demlow, who had contemplated the same idea in the past, was ready to start planning the next day. Next month, the queer-focused festival will be a reality.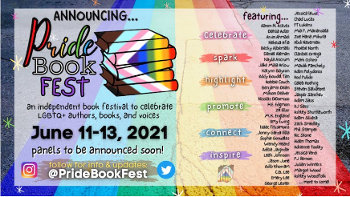 Pride Book Fest 2021 is June 11-13. With prerecorded panels, the event will run on the Pride Book Fest youtube channel.
"It came together very, very quickly," says Salvatore. "Jacob [was] the one who was like, 'Let's meet. Let's talk about this right now.'"
As most events remain virtual for the time being, Salvatore and Demlow could move fast, not needing to find and secure a venue or ask authors to travel. Only two months later, the founding duo has a packed lineup of more than 60 queer authors of middle grade, YA, and adult fiction, including Nic Stone (Odd One Out), Ashley Woodfolk (When You Were Everything), Leah Johnson (You Should See Me in a Crown), Claribel A. Ortega (Ghost Squad), Adam Silvera (They Both Die at the End), and Becky Albertalli (Simon vs the Homo Sapiens Agenda)—who they credit with connecting them to other prominent authors.
With this quick work and enthusiastic buy-in from queer writers, the inaugural independent book festival created to celebrate LGBTQ+ authors, books, and voices will be held in June, Pride Month.
"It's really fantastic. It felt very…I don't know…like cosmic in terms of timing," says Salvatore. "It felt like everything happened when it was supposed to. I have had this idea for a while. And Jacob had this idea of separately for a while too. And it just felt like the universe brought us together."
While other festivals have presented panels of LGBTQIA+ authors, this one is purely focused on queer books and queer authors.
"I have never seen something that's really just for these queer authors and queer readers and spotlighting queer stories and some stories that are not queer, but are written by queer writers," says Salvatore. "For me, it always felt like there was something lacking there, because I think one of the great things about the LGBTQ community is that it touches on everybody, every demographic, every race, all across the world."
Organizing an entire book festival focused on queer creators also has the ability to create panels that are not only about the authors' identity and the challenges that come with it.
"So many of those LGBTQ specific panels at other festivals and conventions tend to steer toward the teachable moments, the teachability of queer representation in books," says Salvatore. "And it's like, 'Oh, well, you know, LGBTQ people are not there to teach straight readers to be tolerant.'"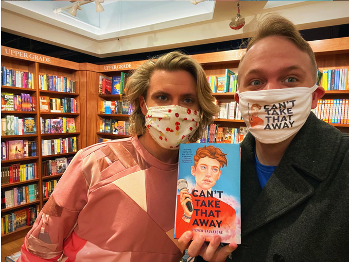 Stephen Salvatore (L) and Jacob Demlow, cofounders of
the Pride Book Fest 2021.
Pride Book Fest will go beyond that.
"It's so nice to be able to kind of put something together [where] that's not what it's all about," says Demlow. "It's still obviously all through the lens of queerness, but we get to talk more in-depth because we've already established that this is gay. We've moved past that."
While the two would not disclose panel topics (those will be announced beginning in mid-May), they did share how they developed panel topics. Authors who agreed to take part were asked the authors what they wanted to talk about and the panel makeup and subjects were based on that input. It will not be the typical focus on the "collective trauma" with stories about coming out, fighting through objections, and being on the banned books list, says Demlow. There will be discussions about queer joy and the craft of writing. And, he hopes, these authors will connect with readers who often still don't know these titles are out there, because the books fail to get the full publishing house marketing push. As often happens on his Instagram, he wants readers to find their new favorite book and author.
Salvatore hopes the event shows queer writers who might not have an agent or haven't sold their stories yet that "their stories are valuable and their stories are important" and to help them see the role models in the queer writing community.
"And I also hope that queer readers find themselves in something on this on these panels," Salvatore says.
Ten years ago, they say, there weren't a lot of queer authors to look to as role models. Now, Salvatore and Demlow easily came up with 100 or more when putting together their first list of possible panelists.
"It's overwhelming and beautiful," says Salvatore.