Authors Nicola and David Yoon will start the new imprint at Random House Children's Books to let young people of color know "they are deserving of happily-ever-afters," according to Nicola Yoon.
Authors Nicola Yoon (The Sun is Also a Star) and David Yoon (Frankly in Love) are launching Joy Revolution, a romance imprint that will be written by people of color and feature the stories of people of color. The first titles will be released in 2022.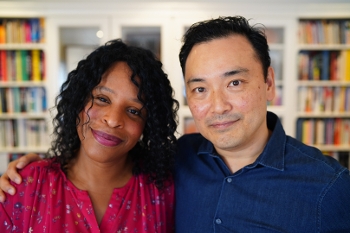 "Dave & I have been dreaming about doing this for a long time and today that dream comes true!" Nicola Yoon tweeted. "We're thrilled to help bring more stories of love & joy with people of color into the world!"
Authors and educators responded to the announcement with excitement.
"Congrats!!!," tweeted Melissa de la Cruz, author of Gotham High, The Isle of the Lost, and other titles. "Can't wait to read the books you publish!!!"
"This is wonderful. Can't wait!!!" wrote educator and author Ebony Elizabeth Thomas (
The Dark Fantastic
).

[Read: 17 Middle Grade and YA Books That Spotlight #BlackJoy]
"Nicki and I created Joy Revolution as an antidote for a media landscape where people of color have relentlessly been erased, except for those rare occasions when their pain can teach white people about racism," David Yoon said in the announcement from Random House Children's Books.
Read the full press release below.