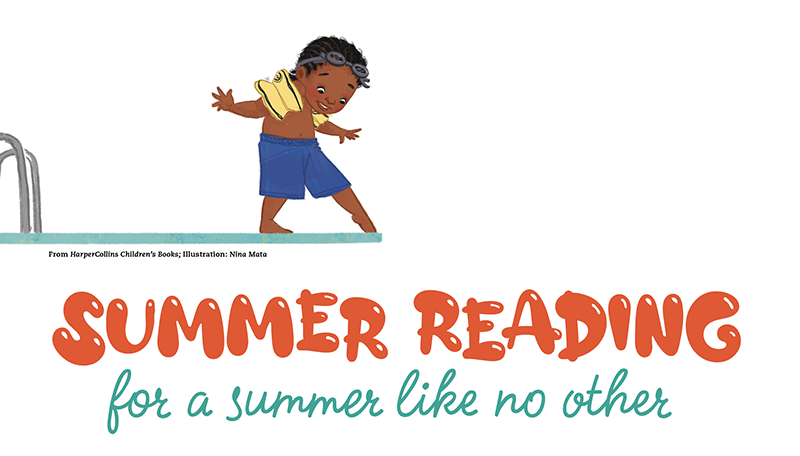 After a full year of distance, hybrid, and just plain different learning, the "COVID slide," pandemic-related learning loss, is trumping the usual concerns about the "summer slide." A recent study by Stanford researchers found that reading fluency among U.S. second and third graders is about 30 percent behind the level expected in a typical year.
While nobody knows what long-term effects the pandemic will have on this generation, youth publishers seem united in their desire to help close the gap through summer reading programs. "More than ever we want to help parents, teachers, librarians, and caregivers keep kids in their lives from falling behind," says Jocelyn Edwards, marketing manager of Norwood House Press.
But that's not to say summer reading has to be all hard work. The following recommendations from a wide variety of publishers offer both enriching and entertaining titles for young audiences. And they cover a plethora of subjects, from profound questions like "Where do we come from?" to the simple joys of counting money in a piggy bank.

National Geographic Books
National Geographic Books publishes 40 titles a year for adults, primarily nonfiction covering a wide range of topics, including travel, photography, history, space, science, pop science, psychology, biography, lifestyle, plus atlases, birding titles, and coffee table books.
"With all of our books, I think it's about looking at the world, understanding where we come from, and explaining it in a way that's relatable and fun," says executive editor Hilary Black.
One recent title, Cosmic Queries by Neil deGrasse Tyson, March 2021, ISBN 9781426221774, broke out of the adult market and landed
at number five on the New York Times Young Adult best seller list in March, making it Black's recommendation for summer reading lists. "The reason I think it's a crossover hit is because everyone loves Neil," Black says. "A lot of people think that astrophysics is a really intimidating topic, but in Neil's hands it's not."
Tyson—an astrophysicist who studied at Harvard, Columbia, and with astronomer Carl Sagan—is the author of another National Geographic best seller, Astrophysics for People in a Hurry, which has sold more than a million copies. In addition to being director of the Hayden Planetarium at the American Museum of Natural History in New York City, Tyson is host of the Disney+ show Cosmos and the StarTalk podcast. With 14.5 million Twitter followers, he has become a bona fide pop culture icon.
"As Neil likes to say, he's a science popularizer," Black says. "He talks about this stuff in a way that's fun, that people engage with."
Tyson's new book, Cosmic Queries, tackles humanity's age-old questions: How did life begin? Are we alone? How old is the universe? What is the universe made of? Tyson uses modern astrophysical concepts, including string theory, the big bang theory, and the multiverse theory, to answer these questions about the history of the universe.
"At National Geographic, we stand for science, and for some people that's homework, that's 'I don't get it' or 'I'm good in English, not good in science.' Neil makes it fun for everyone," Black says. The book both informs and entertains with its conversational tone and by interspersing the science with Tyson's tweets, humor, and the kind of spectacular photographs readers expect from National Geographic.

HarperCollins Children's Books
The publisher behind such classics as Charlotte's Web and Where the Sidewalk Ends, HarperCollins Children's Books has developed a timely group of titles for the summer of 2021. This year, it wants to "Shake Up Your Summer Reading!" with an extension of its Shake Up Your Shelves diversity and inclusion campaign. Its recommended book list encourages teachers and librarians to swap offensive or outdated books for those that reflect the recent experiences of underrepresented groups.
"We want to mix it up and diversify suggested title lists, use summer reading as an opportunity to make kids more socially aware, to build up their SEL skills, and to encourage them to learn about cultures and lives that may differ from their own," says Patty Rosati, school and library marketing director. Toward that goal, HarperCollins Children's Books has hand-selected a list of intriguing titles from the past year for its summer reading program.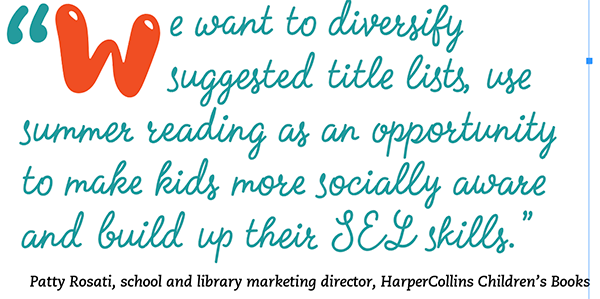 Filling a void in children's literature, From the Desk of Zoe Washington by Janae Marks, January 2020, ISBN 9780062875860, is about a young girl who receives a letter on her 12th birthday from the incarcerated father she's never met. Readers 8–12 follow Zoe on her journey to uncover the truth about her father's crime and help him get justice. "It's an introduction to social justice for kids, and it reflects an overlooked experience as well," Rosati says. "There are very few books out there for kids about incarcerated parents or family members." The book is now available in paperback.
In 2020, New Kid by Jerry Craft became the first graphic novel to win the Newbery Medal. Craft's Class Act, October 2020, ISBN 9780062885500, is its 256-page companion for middle grade readers, ages 8–12. Expanding on the New Kid story—based partly on the experiences of the author and his sons—Class Act chronicles what it's like to be a Black kid at a mostly white private school in New York City. "The book highlights prejudice and microaggressions and imparts critical messages, but always with humor," Rosati says.
I Promise by basketball great LeBron James, illustrations by Nina Mata, August 2020, ISBN 9780062971067, is an inspirational picture book about achieving success despite starting out with disadvantages. In 2018, James opened a charter school in Akron, OH, for at-risk kids, where every student has the opportunity to earn full-tuition college scholarships. The book's message comes from the school's pledge consisting of promises students make to themselves, including to do their best at school, be courageous, be kind to others, and be proud of who they are.
New York Times best seller Eyes That Kiss in the Corners by Joanna Ho, illustrations by Dung Ho, January 2021, ISBN 9780062915627,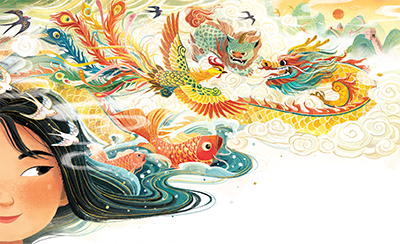 is a picture book for ages 4–8. Inspired by the author's own upbringing, it's about a little girl grappling with feeling different. She sees girls at school with round blue eyes and notices that her eyes "kiss in the corners" like her mother's and grandmother's. Infused with SEL themes, the book "is a celebration of learning to love your Asian-shaped eyes and your heritage," Rosati says. "We need this book now more than ever."

Mackin Educational Resources
"When schools first transitioned to distance learning last year, one of our big districts immediately reached out to us and said they needed to get books into students' homes right now," says Deidra Purvis, director of classroom services for Mackin Educational Resources, a provider of print and digital content for grades pre-K–12.
Mackin's custom-oriented solutions for schools and educators aim to increase students' and families' access to both print and digital books. Its Classroom division, staffed by former teachers with degrees in education and classroom experience, offers classroom libraries, book club sets, class sets, inquiry kits (collections of books aligned to teaching units), leveled libraries for guided reading instruction, decodable readers, and reading packs of books for kids to take home and keep.
"There's research that shows that the more books in a student's home, the more academic success they have," Purvis says. "So that's a big goal of ours. We want students to have ownership over books."
With the growth of the 'choice reading' trend in education—allowing students to choose what they want to read from a collection of books instead of assigning the same title to a whole class—Mackin decided to expand its offerings. "It is really important that students have access to personally relevant texts," Purvis says. "And that is really hard to do when you're providing every student with the same books."
Mackin's relationships with over 18,000 publishers and access to three million print and digital titles give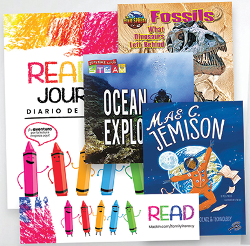 it plenty of flexibility. This year, Mackin Classroom Take-Home/Summer Reading Book Packs come in 18 different themes, ranging from animals to fantasy to humor to identity. There is also one kit in Spanish per grade level. Schools have the option of choosing the kits for their students or letting the students choose for themselves.
Each kit comes in a plastic zip bag for easy distribution by the school and contains three high-interest, highly reviewed books; a reading journal with activities to get kids thinking and writing about their books; and a bookmark with a URL and QR code that take students and families to more engaging activities to do at home. Mackin delivers the packs to schools by the last day of term for summer distribution.

Bearport Publishing
Bearport Publishing's catalog focuses primarily on high-interest nonfiction series for young readers in grades K–8. "If you bring up Bearport with our customers, the first thing they'll think of is all the strange and unusual animals that we have in our backlist," says company president Jennifer Jensen. This animal focus makes Bearport's titles a natural fit with the Collaborative Summer Library Program's TAILS & TALES™ theme.
Their "Library of Awesome Animals" series includes Wombat by Colleen Sexton, October 2020, ISBN 9781647471491. This third grade–level, 24-page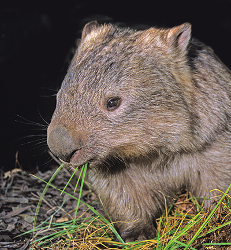 book with full-color photos covers the fuzzy creature's life cycle, habitats, size, and—most fascinating to the book's young audience—the surprising shape of their droppings (spoiler alert: they're square!).
Wildfire Escape: Pet Animals Rescue! by James Buckley Jr., illustrated by Kerstin LaCross, October 2020, ISBN 9781647476229, is a third grade–level book in the graphic narrative nonfiction series "Rescued! Animal Escapes." Featuring high-interest illustrations, it's well suited to both struggling and at-level readers. The book recounts one woman's effort to evacuate her menagerie of pets from a San Diego wildfire by any means possible. A highlight of the book is her pig riding away from the fire in a police squad car!

Jump! Inc.
Since 2012, Jump! has focused its publishing on a very specific niche—curriculum-aligned nonfiction for grades pre-K–3. "For these youngest readers, it's their first experience with nonfiction," says Sally Hartfiel, associate manager of library sales and marketing. "We felt we could focus on that one thing and do it really well." Jump!'s 200 titles a year are published by four imprints, distinguished by reading level, and include plenty of animals for TAILS & TALES™.
The "Rain Forest Babies" series features eight 16-page titles at a pre-K reading level, including Capybara Pups by Genevieve Nilsen, August 2020, ISBN 9781645274834. With full-color photos and minimal text, it teaches kids about the animals' fur, their webbed feet, and how they swim. "We think really hard about photo-to-text match," Hartfiel says, "so they can actually see what they're reading."
Jump!'s second grade–level Pogo STEM imprint publishes the six-title "Science Behind the Colors" series, which focuses on why animals are the colors they are. These 24-page titles, including Flamingos by Alicia Z. Klepeis, August 2020, ISBN 9781645275800, conclude with STEM activities that encourage kids to explore natural pigments and record their results in a notebook.

Zoobean
In an unlikely origin story for an EdTech company, Zoobean got its start on Shark Tank. In 2014, Mark Cuban awarded the founders a $250K investment for its children's book subscription service, curated for diversity. In 2015, Zoobean saw an unmet need in school and public libraries, pivoted, and launched Beanstack, its flagship product that helps schools and libraries run reading challenges.
Beanstack's app integrates seamlessly with school rostering systems and with public library catalogs. Students simply scan a book's ISBN barcode with a digital device to log a book they're reading in the app. They can also complete learning activities associated with select books, including those on state reading lists.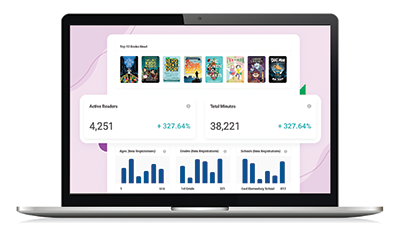 Schools and libraries set reading goals (minutes, books, or pages read) for the month or year. Or, they can participate in Beanstack's plug-and-play challenges, like for summer reading.
This year, Zoobean, sponsored by Thorndike Press and Mark Cuban, is putting on the 2021 Level Up National K-12 Summer 2021 Reading Challenge. Students can read books in any format, including print books, large print books, ebooks, and audiobooks. The app will nudge students to read and reward them when they keep it up. This year's goal is to get kids reading 20 minutes a day from June 1 to July 16.
"Summer learning loss has always been a problem, and it has been compounded by COVID learning loss over the last year," says marketing director Melanie Keys. "The Level Up challenge gives schools a way of encouraging independent reading, so that students start the school year without playing catch-up."
The app incentivizes reading with badges at various milestones like number of minutes read, streaks that can be tied to rewards or prizes, and leaderboards, where users can see how their reading stacks up against their friends'. Reviews and additional learning prompts are also part of the app experience. The Beanstack back end allows school or library administrators to keep tabs on reading time and which books students are reading.
The six schools whose students rack up the most reading time in the Level Up Challenge could win up to $5,000, $1,000 of large print books, and a virtual author chat with the school.

Shadow Mountain Publishing
Shadow Mountain Publishing, a small press putting out 30 titles a year mostly for middle grade readers, has made a mission of purposeful publishing. The company has become best known in the library market for its empathy-building titles. "Books can give kids the experience of walking in someone else's shoes," says Ilise Levine, director of sales and marketing.
Levine's summer reading recommendations all fall into the middle grade niche, starting with A Monster Like Me by Wendy S. Swore, March 2019, ISBN 9781629727943. This 304-page #OwnVoices story follows Sophie, who is mercilessly bullied at school for the blood tumor on her face—just as the author was as a kid. Through her suffering, Sophie begins to wonder: What makes us human? In her journey to find a cure, she discovers that the answer is compassion.
Missing Okalee by Laura Ojeda Melchor, September 2021, ISBN 9781629729329, covers sisterhood, sibling rivalry, grief, trauma, secrets, lies, and misinformation in 256 pages. When Phoebe loses her younger sister, Okalee, in a tragic accident, she not only has to cope with her own grief and loneliness, but also an eyewitness's inaccurate account of what happened. "That's important for this age of misinformation," Levine says.
The empathy running through Stella by McCall Hoyle, March 2021, ISBN 9781629729015, stems from emotional truths the author learned in her youth, about the value of unconditional love and unlimited chances. Stella, a beagle who works in law enforcement, is distracted on a routine call one day and misses the scent of an explosive that kills her handler. Stella is left with guilt and PTSD, making it difficult to place her in another home. When a foster family finally gives her another chance, she ends up finding a new purpose for her life.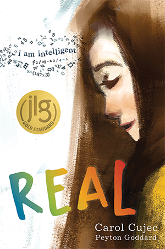 Real by Carol Cujec and Peyton Goddard, February 2020, ISBN 9781629727899, is based on Goddard's childhood growing up, like the book's protagonist, with nonspeaking autism. Charity has had bad experiences in special education and wants to go to regular public school. But the other students and parents don't understand her disability and don't want to take the time to. The book offers inclusion tips, such as to assume competence and to think of inclusion as social activism.

Zonderkidz
Zonderkidz is an imprint of Zondervan, a division of HarperCollins Christian Publishing. The imprint publishes faith-based titles, including illustrated bibles, picture books, and many popular series, such as "The Beginner's Bible," "I Can Read!," and "The Berenstain Bears." The imprint also has "a strong suite of nonreligious but really inspirational titles," says senior marketing manager Ruthie Spaans. The publisher's summer reading picks come from this last category.
Zonderkidz's Fiona brand features a hippo character, based on a real-life hippo named Fiona at the Cincinnati Zoo & Botanical Garden. Fiona has already appeared in a series of picture books. This year, Zonderkidz has expanded the Fiona brand into its "I Can Read!" series, with two 32-page, reading level one (K–2) books. The titles feature simple sentences that allow young children to read on their own.
Meet Fiona the Hippo, illustrated by Richard Cowdrey, February 2021, ISBN 9780310770947, tells kids Fiona's story of being born premature at the zoo and surviving against the odds. "She has this plucky personality and an 'I've got this' attitude that inspires kids to have confidence," Spaans says. "And through her adventures, she embodies lessons about having confidence, being curious, and continuing to explore the world and grow."
In Fiona Saves the Day, illustrated by Richard Cowdrey, February 2021, ISBN 9780310770978, Fiona's penguin friend Mango gets stuck on a ledge, and readers follow the spunky little hippo's adventure in trying to rescue her friend. Online, parents and teachers can find accompanying teaching guides for each book, including discussion questions, extension activities, and sight-reading flashcards.

Norwood House Press
Woman-owned independent press Norwood House publishes 80-plus titles a year. The publisher specializes in K–8 children's educational books and curriculum support materials that correlate with its titles. All of its selections included here are narrative educational titles, but its full summer list—available on norwoodhousepress.com—also includes just-for-fun reading.
"Our summer reading strategy is twofold," says marketing manager Jocelyn Edwards. "We recognize the urgency of pandemic-related learning loss, and we also support traditional recreational reading to keep reading skills on track."


The 30-title "iMath" series teaches math concepts through real-life scenarios at three reading levels, grades K–2, 3–4, and 5–6. Carnival Coins: How Will We Count Our Money? by Donna Loughran, January 2013, ISBN 9781603574914, is for readers K–2 and tells the story of kids going to a carnival, who learn how to count the money in their piggy bank and then how to spend it. "There aren't a lot of narrative math books out there," Edwards says. "So if we can put out a math book that a child wants to read, that's really helpful."
Another 30-title, three-level series from Norwood is the revised and updated "iScience" series, which offers a fun approach to scientific inquiry. In 24 pages, Balance and Motion by Emily Sohn and Joseph Brennan, July 2020, ISBN 9781684043583, asks kids to think about how acrobats perform cool tricks on a tightrope through story. Supplemental activities help reinforce the concepts.
New graphic novel imprint Norwood Discovery Graphics' "The Bod Squad" series includes five titles for grades 2–3, about a group of kids who shrink to microscopic size and travel through each other's bodies to learn how they work. In Adventures in the Respiratory System by Alexander Lowe, illustrated by Sebastian Kadlecik, January 2021, ISBN 9781684045822, Sam inhales dust and the kids travel into his lungs to figure out how his body separates it from oxygen—before he sneezes them back out!

READsquared
READsquared grew out of a custom software development company that had been creating solutions for complex state and county systems, like courts and social services departments. In 2013, Readsquared was invited by the state of Arizona, a client, to submit a proposal to one of its largest regionals libraries.
"They [the libraries] didn't like the summer reading programs that were on the market," says READsquared president Barry Young. "So, they put out an RFP with their requirements, and we built it to these librarians' specifications. That was the first version of READsquared."
Since then, Young and his team have learned a lot about reading programs and what motivates kids to learn and work on their literacy skills. "We've spent the last seven years listening to our librarians and adding features and functions that will help them meet their goals of improving literacy and participation in reading programs, as well as learning activities and fun activities."

The addition of new features that are configurable allows "libraries to turn features on and off to meet their needs," Young says. That flexibility means a state doesn't have to push a one-size-fits-all solution on their libraries—a key facet that has helped the company enter the school market, where it now has a couple of dozen contracts with districts serving schools at all levels.
The configurable features include reading goals, such as number of books, pages, days, or minutes read; book reviews and ratings, which can be set up to be moderated by a librarian (or not); be public or private to the student; or to trigger award points. READsquared also offers reading wish lists and leaderboards.
Other customizable features include book lists, both suggested and a school's own, that can be directly linked to the school library catalog and reading log; integration with GoodReads or with NoveList for "more books like this" recommendations; games; and curriculum-aligned "missions" that teachers can offer for points or extra credit.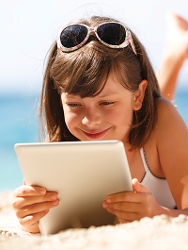 For Emma McDonald, library systems manager for the Mesquite (Texas) Independent School District, ensuring that books are available to kids and pairing them with a configurable and motivating reading program is the key to stemming both COVID and summer slide. "Our district is one-to-one in devices, and our students are able to access our entire digital library directly through customized links in the READsquared app," she says. McDonald also utilizes the many motivational elements available in the app, like badging, leaderboards, and mini games, which help meet the challenge of creating what she terms "gamified summer reading."
Teachers and librarians can also easily track their students' reading progress from the statistical module or schedule automated reports to be emailed to them or administrators. The mobile app syncs with the desktop version, making it easy for kids to log their summer reading wherever they are.

Tommy Nelson
Tommy Nelson, HarperCollins Christian Publishing's children's imprint, releases about 35 mostly nonfiction titles a year. They range from board books (ages 0–4) all the way up to YA. The imprint has also begun developing more middle grade titles in the last year. While the majority of the publisher's books have a Christian angle, they cover a broad spectrum and some don't contain any Christian content at all.
The publisher's summer reading picks include A Chance in the World (Young Readers Edition): An Orphan Boy, a Mysterious Past, and How He Found a Place Called Home by Steve Pemberton, April 2021, ISBN 9781400225149. This 243-page memoir for readers ages 8–12 chronicles Pemberton's upbringing in a physically and mentally abusive foster care home, and how he maintained the conviction that he deserved better even in that situation.
Pemberton first wrote his inspirational story as a trade book for adults. But Tommy Nelson re-released it this spring with new content geared toward young readers, including discussion questions at the end of each chapter and back matter on types of abuse and how to stop it.
Dude Perfect: 101 Tricks, Tips, and Cool Stuff by Dude Perfect, June 2021, ISBN 9781400217076, can help get kids off screens this summer. The five guys behind the viral Dude Perfect YouTube videos, which have racked up over a billion streams, give readers ages 8–12 step-by-step, do-try-this-at-home instructions for stunts kids can do with household items. Besides the trick how-tos, this 256-page non-Christian title includes photos, graphs, factoids, and scientific explanations of how it all works.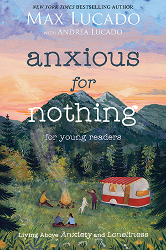 Anxious for Nothing by Max Lucado, July 2021, ISBN 9781400229543, is a young readers edition, geared to middle schoolers suffering from heightened anxiety due to the pandemic, bullying, and/or the stresses of growing up. In it, Lucado, also known as "America's Pastor," gives kids the sense that everything is going to be OK through daily coping strategies, Bible verses, facts, biblically-based journaling prompts, infographics, and uplifting takeaways.
SPONSORED CONTENT