More than 1,000 librarians responded to School Library Journal's survey, offering insight into the profession during remote learning forced by the novel coronavirus pandemic. Here is the full report on our findings.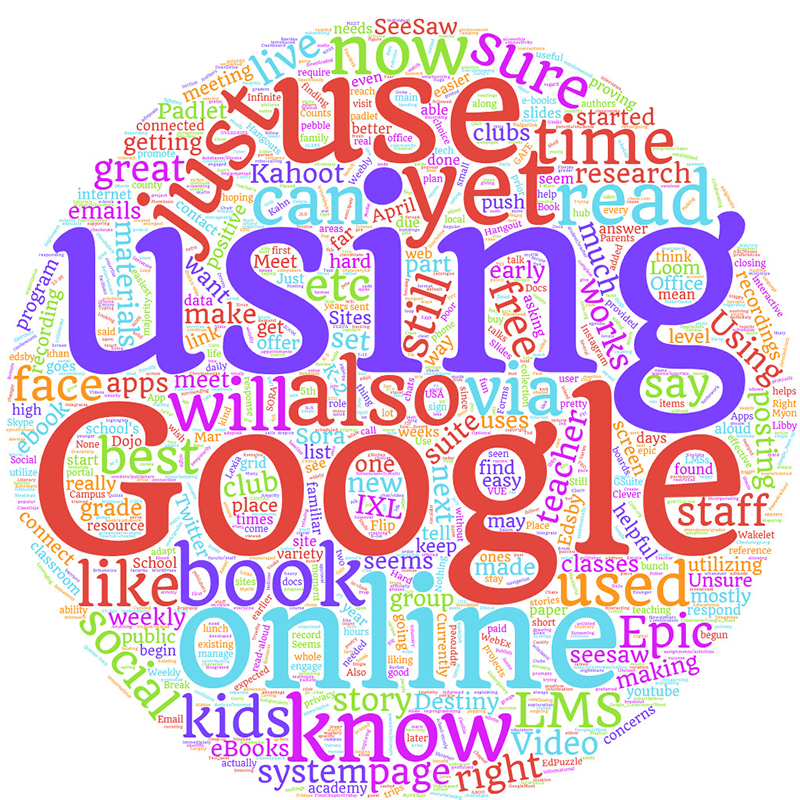 A word cloud based on responses to the question: What online programming is working best for you and students?
School Library Journal's School COVID-19 Response Survey queried K-12 librarians from April 2 to April 12 about their experience. More than 1,000 librarians responded, providing information about preparedness for remote learning; how librarians are supporting students and teachers, and more. Topics included services they have provided staff and students, school schedules and curriculum, plans for returned library books when schools reopen, and the pandemic's possible impact on future purchasing.
In an unprecedented time, there was one familiar refrain: School librarians turned to each other. As SLJ Editor-in-Chief Kathy Ishizuka wrote in her editorial for the May 2020 issue, "If there's an upside to our current collective circumstance, it is our reliance on one another."
Here are some of the results of the survey:
Nationwide, 32 percent of schools are closed for the remainder of the school year. They are most likely to be closed in the Midwest (42 percent), while only nine percent of schools in the Northeast were planning to stay closed for the rest of the year.
A third of librarians (31 percent) report that they received no notice that their school was closing. Those who did receive notice spent that time promoting their digital collection to teachers and lifting limits on checkouts. Middle and high school librarians were especially busy in the time they received before the closure.
When asked how prepared libraries and teachers were for the shift to online learning, respondents reported that 30 percent of libraries and 36 percent of teachers were "not prepared at all." Middle and high schools responded that they were better prepared than elementary schools.
Over three-quarters of respondents received some sort of training to provide online learning—40 percent of schools provided formal PD and a similar percent also were taught by other educators/librarians.
Email is the most popular method for communicating with students, families, and other teachers. Only 40 percent of librarians are using video conferencing software to communicate with students.
63 percent of librarians have provided students/families with technical assistance during the shutdown, 57 percent have provided access to online learning software, and 57 percent have helped prepare teachers in their school for online learning. 42 percent have licensed additional ebooks and other digital tools.
The most common library services currently being offered to students at home are readers' advisory (55 percent), research/project assistance (46 percent), and storytime/readalouds (42 percent).
Only 14 percent of libraries have offered live virtual classes.
Most schools (about 75 percent) are approaching the school day as a combo of regularly scheduled classes and independent student work time.
55% of respondents indicate that some instructional services are mandated by the school district. In open-ended explanations, most indicated that they are required to use a certain service for contacting students (Google Classroom, Zoom, Canvas, etc.) Some also have a minimum amount of instruction time they should be providing.
The top thing that respondents say they need right now is information about resources and methods that are trending.
When books are returned, 39 percent plan to clean them in some way; 48 percent are unsure.
When it comes to the COVID-19 crisis influencing the future purchasing of digital books, there is no consensus: 28 percent of respondents feel that their future purchasing will definitely/probably shift toward digital; 29 percent say definitely not/probably not.