These middle grade tales of space travel will enchant kids who like the Disney+ film about a family trying to save a fantastical planet.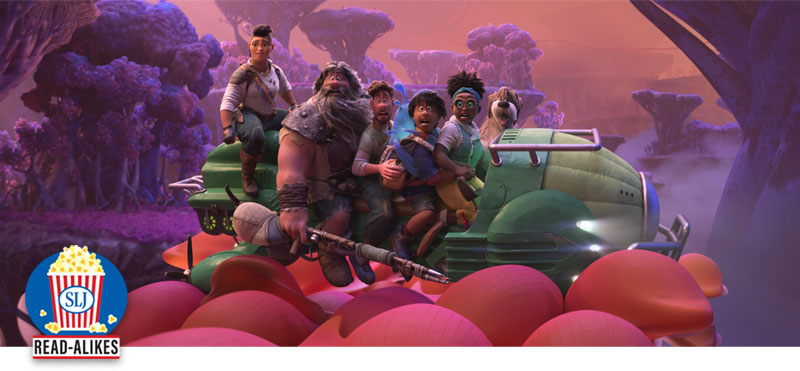 PG. Disney. Streaming on Disney+ from Dec. 23.
In this original Disney animated feature, a mixed-race (white and Black) family of adventurers sets out on an unpredictable expedition to help save a fantastical planet. With their charming crew of unlikely sidekicks, including an impish blob and a three-legged dog, they have to work together to navigate uncharted territory. Jake Gyllenhall, Dennis Quaid, Jaboukie Young-White, Gabrielle Union, and Lucy Liu star.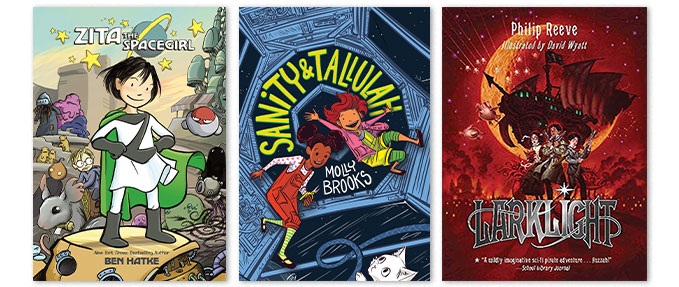 READ-ALIKES
Zita the Spacegirl by Ben Hatke. First Second. 2011.
Gr 2-5–When white girl Zita presses an enticing red button and her white friend Joseph is transported to an alien world, Zita goes on a quest across the universe to bring her friend home. Readers fascinated by unusual settings beyond our planet will love exploring worlds with Zita. This is the first book in a trilogy.
Sanity & Tallulah by Molly Brooks. Disney. 2018.
Gr 3-6–Best friends Sanity and Tallulah live on a space station at the edge of the galaxy. When dark-skinned Sanity develops a three-headed kitten and it escapes, biracial (white and Latina) Tallulah helps her try to track it down before it destroys the ship. Share this graphic novel with readers looking for a fast-paced tale of weird science with lovable characters.
Larklight: A Rousing Tale of Dauntless Pluck in the Farthest Reaches of Space by Phillip Reeve. Bloomsbury. 2006.
Gr 5-8–Set in a Steampunk Victorian England-inspired world, siblings Art and Myrtle Mumby, both white, live with their father aboard the floating house Larklight as it travels the universe. When a mysterious visitor arrives, Art and Myrtle are thrust into an adventure to battle evil at the far reaches of space. Written with tongue-in-cheek humor, this imaginative science-fiction adventure evokes Jules Verne.
---
Abby Johnson is the collection development leader at the Floyd County Library in New Albany, IN.