For Lee, author and illustrator of In Limbo, the path to a starred graphic memoir debut began with a minicomic.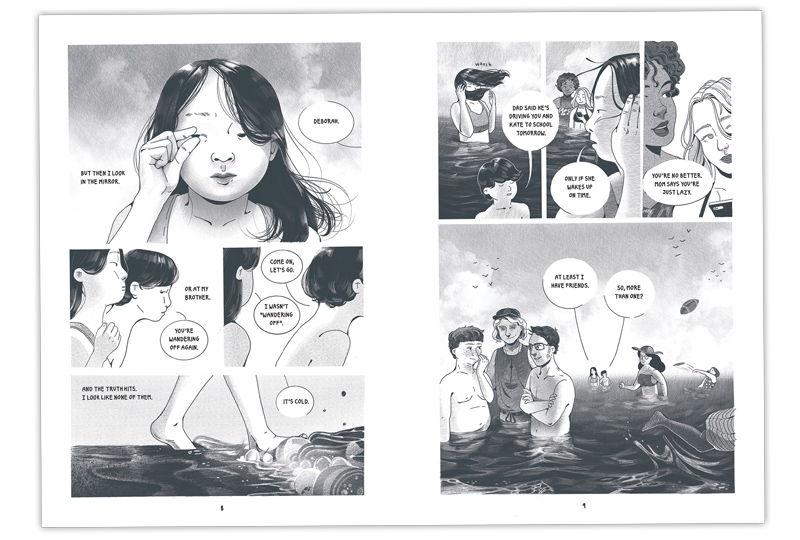 In Limbo
For Deb JJ Lee, author and illustrator of In Limbo (First Second), the path to a starred graphic memoir debut began with a minicomic.
Entitled "네 (Yes)," the four-page comic depicts a phone call between Lee and their grandmother, and the complex emotions that come with forgetting how to carry on a full conversation in Korean. Lee posted the comic to Twitter in August 2018, and it garnered thousands of likes and retweets, including one from Michelle Zauner, author of Crying in H Mart and lead singer of the band Japanese Breakfast. (Lee has gone on to illustrate posters for the band.)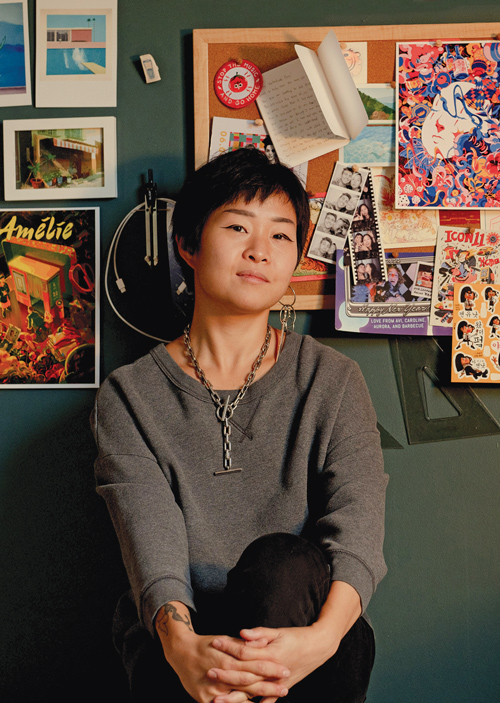 Photo by Amir Hamja
Lee's agent, Ed Maxwell, liked the comic, too. Maxwell asked what Lee would think about creating a full-length graphic novel; they put together a short pitch with sample pages that landed with editor Connie Hsu at First Second.
Prior to this, Lee hadn't considered a career as a graphic novelist. "I wasn't really a comics reader, because my parents wouldn't let me borrow or buy comic books when I was younger."
One book Lee's parents did let them buy? The Invention of Hugo Cabret by Brian Selznick. "I was 10 or 11. The only reason my parents let me get it was that it was so big…and that [half of it] looked like a normal chapter book."
To prepare for their own book-length debut, a coming-of-age memoir that spans their high school years, Lee turned to works by Selznick and other creators who inspired them, including Tillie Walden, Jillian and Mariko Tamaki, Shaun Tan, and Inio Asano.

Also read: A "Serious Responsibility:" Four SLJ Reviewers Talk Process, Selecting Stars
While their original pitch had a "noir-ish" feel, Lee knew they were after a specific tonal quality for the final book. "When you come home [and] it's like a sunny, cold winter day…Your hair's really dry so it's kind of staticky. But there's dust in the air from the sunlight. That's what I'm trying to evoke in the book."
To achieve this ethereal quality, Lee worked on an iPad using Procreate. While all of the book's intricate backgrounds are hand-drawn, Lee referenced photos they'd taken on a 2014 trip to Korea and more recent photos from where they grew up in Summit, NJ. Having moved to Brooklyn during the book's creation, Lee was able to take the short train ride to New Jersey to put themself in the perspective of their protagonist and get the angles just right.
"I was trying to get a sense of a 2-D animated movie where all the backgrounds are quite painterly, but the people are like line drawings," Lee says. Indeed, Lee credits movies and TV, and anime specifically, for their intuitive sense of pacing and the beats required to tell a story visually.
Asked if there have been any surprises in readers' and reviewers' reactions to their book, Lee has noticed a tendency among reviewers to emphasize the Korean American diaspora experience, when to Lee's mind, this is just one aspect of the book. Having grown up in the United States, they do not recall the immigration experience personally; to them, the book is, among many themes, "about maintaining those tricky relationships and healing, and it just happens to be that I'm Korean American.
As for what's next, Lee is working on illustrating several book projects, with a middle-grade graphic novel about escaping North Korea written by Tina Cho and a picture book about gender identity by Rainie Oet. It's a full plate, with a variety that is exciting to Lee.
In the meantime, Lee is relishing the experience of being in conversation with creators who inspired them; In Limbo has received praise from Shaun Tan, Rosemary Valero-O'Connell, and Tillie Walden, among others. "It's just really nice when the people you respect become [peers] and the mutual respect is there. I hope everyone has that feeling one day. It's a wonderful feeling."
Former SLJ reviews editor Andrew Eliopulos is a children's book author.