Making the connection between nonfiction books and the five-paragraph essay.

In children's publishing, the term "list book" refers to an expository literature title with a list text structure. The book's main idea is presented at the beginning of the book, and then each subsequent spread offers one or more examples that support that idea. In many cases, a list book has a concluding spread that links back to the opening or offers a fun twist on the topic, leaving readers with a sense of satisfaction. A list text structure works well for books that focus on plant or animal characteristics, adaptations, or behaviors, but it can also be the perfect choice for some social studies topics.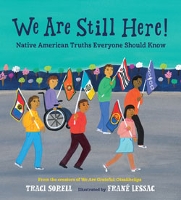 A great example is the Sibert Medal Honor title We Are Still Here! Native American Truths Everyone Should Know, which provides an overview of the laws and policies experienced by Native Nations within U.S. borders from 1871 to the present. Author Traci Sorell says, "Expository literature provides me with flexibility and expands the variety of tools available to engage readers—while remaining true to the facts."
For We Are Still Here!, she used a list text structure—an introduction followed by a series of stanzas that share each policy, topic, or theme. Then to unify the ideas, she repeated the refrain "We are still here!" at the end of each stanza.
"Expository literature is meaningful combination of ideas and information, often presented in multiple layers, that engages a wide range of young readers," says Katy S. Duffield, author of Crossings: Extraordinary Structures for Extraordinary Animals, which features various wildlife crossings around the world. "Expository literature with a list text structure was the perfect fit. To draw in readers, I used a lyrical voice. The repetition of 'Over. Under. Across. Through.' ties the facts (and the crossings) together in a memorable way. To include heart, I highlighted the people who built the crossings. This showed readers that by focusing on what we love, we can make a difference."
Modeling the Five-Paragraph Essay with List Books
When Melissa talks to young writers, she often compares a list text structure to a sandwich. The beginning and end are like slices of bread. They give the book its shape and hold everything together. And all the examples in the middle give the book its flavor, like the bacon, lettuce, and tomato in a BLT.
In many schools, teachers also use a sandwich analogy to describe the structure of a five-paragraph essay, and that's no coincidence. When you think about it, a list book is basically a 12-ish paragraph essay (depending on how the book is designed and how many double-page spreads are devoted to back matter).
When students create a spread-by-spread book map of a list book, its similarity to a five-paragraph essay quickly becomes clear, demonstrating that this kind of writing is authentic. It's more than just a classroom assignment or a test-prep activity. It's a kind of writing that professional writers use to create award-winning nonfiction picture books.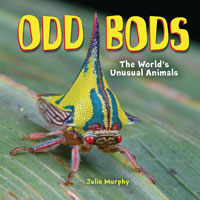 We recommend introducing students to this connection by reading Odd Bods: The World's Unusual Animals by Julie Murphy. The first double-page spread features a clear introduction with an obvious topic sentence, and the final page summarizes the book's content nicely. Sandwiched in between are eleven high-interest examples that will fascinate young readers.
Each central double-page spread has two layers of text. The short, simple main text—set in larger type to let children know they should read it first—presents the main idea, while the smaller secondary text provides supporting details. The lively, playful language throughout the book delights as it informs.
When you're confident that students see the connection between Odd Bods and a five-paragraph essay, let your student know that children's book authors sometimes modify the five-paragraph essay approach in innovative ways. In Pink Is for Blobfish: Discovering the World's Perfectly Pink Animals, author Jess Keating crafts an introduction that's short and thought-provoking. Each of the book's animal-example spreads presents a main idea on the left-hand page while supporting details are at the top of the right-hand page. The text in a colorful blob shape and on the far right provides "bonus" information that's fun and interesting, but not critical for understanding the book's core concept.

Activity: List Books as Mentor Texts for the Five-Paragraph Essay
To give students in grades 3 and up a deeper understanding of the connection between expository literature list books and five-paragraph essays, divide your class into eight groups and hand each team one of the following books:

The Beak Book by Robin Page
Crossings: Extraordinary Structures for Extraordinary Animals by Katy S. Duffield and Mike Orodan
Play Like an Animal! Why Critters Splash, Race, Twirl, and Chase by Maria Gianferrari and Mia Powell
A Seed Is the Start by Melissa Stewart
Invite each group to examine their book, and answer the following questions:
How many pages of introductory text does your book have?
How many animal or plant examples are there?
How many pages is the conclusion?
How is the structure of this book similar to a five-paragraph essay? How is it different?
When all the teams have completed this task, encourage them to rotate to a different station and repeat the process with a different book. Students should also answer one additional question: How is this new book different from the other books we reviewed?
After teams have reviewed all four books, encourage students to share and compare their responses and discuss any differences. You may wish to record some of their thinking in a chart to reinforce important points.
As students delve deeply into text structures using finely-crafted children's literature as a guide, they'll come to understand that nonfiction writers are like ranchers attempting to corral their herd. By using organizational patterns to manage and manipulate the way ideas and information are presented, writers make content as clear and engaging as possible for their readers.
---
Melissa Stewart has written more than 200 science books for children, including the Sibert Medal Honoree Summertime Sleepers: Animals that Estivate, illustrated by Sarah S. Brannen. She co-wrote 5 Kinds of Nonfiction: Enriching Reading and Writing Instruction with Children's Books and edited the anthology Nonfiction Writers Dig Deep: 50 Award-winning Authors Share the Secret of Engaging Writing.
Terrell A. Young is professor of children's literature at Brigham Young University in Provo, Utah. He has served as president of the United States Board on Books for Young People (USBBY), ILA Children's Literature and Reading Special Interest Group (CL/R), and the NCTE Children's Literature Assembly (CLA).