The long history of superhero comics means there is a bewildering array of characters and storylines. Where should a new reader start? Here's what you need to know.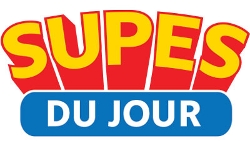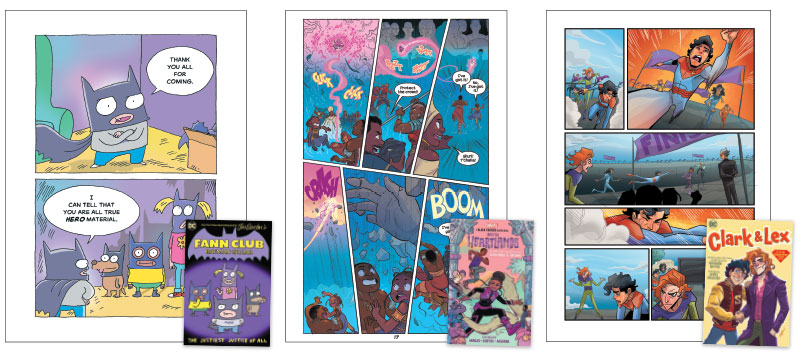 From the left: Fann Club: Batman Squad (DC Comics); Shuri and T'Challa: Into the Heartlands (Scholastic/Graphix); Clark & Lex (DC Comics).
Superheroes originated in comics. Yet while superheroes are everywhere—in movies, novels, Little Golden Books, board books, lunchboxes, T-shirts, and video games—actual comics that feature those characters have been harder to find.
That's changing, thanks to efforts by Marvel and DC to reach younger readers. Both publishers are creating original graphic novels with standalone stories kids can enjoy without knowing the characters' complicated backstories. For those drawn to the complex superhero universe, both publishers also put out trades, which are book-size collections of single issues.
When looking to add superhero comics and graphic novels to your collection, here's what you need to know.
An original graphic novel is conceived as a single story, a good starting point for new readers. DC used to publish them under DC Zoom (for middle grade readers) and DC Ink (YA) but now releases them under the main DC label. Stories with Marvel characters are published by Scholastic's Graphix imprint. Most feature a single character and adventure that begins and ends in the same volume.
Trade paperbacks are a convenient way to read superhero stories in their origial form. The primary publishing model for Marvel and DC is serialized comics, which start at $3.99 for about 24 pages of story and are sold in specialty comics shops. Trades, which are readily available in bookstores and online, typically collect one or more full story arcs.
The long history of superhero comics means there is a bewildering array of characters and storylines that can make it hard for a new reader to know where to start. There may be several versions of a superhero, with different costumes and secret identities, appearing in one or more of their own series. (Think of Spider-Man, who may be Peter Parker or Miles Morales, depending on the series.)
Sometimes characters from one series show up in another, or a single story runs across multiple series (a crossover). Publishers may tweak a character's backstory (a retcon). Less often, they will reboot series, changing the characters as well as the basic premise of the story. Further confounding the picture, publishers frequently reset the numbering of these series back to #1. To indicate which series is which, they usually adjust the title to indicate the year the rebooted #1 appeared, e.g. "Spider-Gwen (2015)." So when researching trades, it's key to pay attention to which issues are collected in each volume. This information is usually in each book's catalog description and on the copyright page.
Marvel has several formats for trade paperbacks. It occasionally publishes original middle grade comics—such as the four-issue miniseries "Thor & Loki: Double Trouble"—collected into trades with the same title. Marvel also had an agreement with IDW to publish middle grade comics, the Marvel Action series, featuring IDW's characters. These comics, also collected into trades, were self-contained and explained new concepts and characters as they came up, making them ideal for new readers. Though the contract with IDW ended in 2021, Marvel still includes these comics in its larger collected editions. The titles no longer specify that they are Marvel Action comics, but that information is included in the metadata.
Marvel also collects its regular comics in a variety of formats, including several targeted at young readers. These comics are usually tied closely to the publisher's shared universe, with its decades of backstory, so characters and story elements may seem to appear out of nowhere. While frustrating for some new readers, for others, it can boost interest. Readers may enjoy figuring out story elements as they go along or doing a bit of research. There's a certain satisfaction in gathering arcane bits of knowledge and putting them together.
Marvel's trades for younger readers usually have a 6" x 9" format, about 240 pages, and a $13.99 price, making them smaller, thicker, and cheaper than the trades for adults. The publisher's age rating for these is 10 to 14, and each collects one or more complete story arcs. Marvel also has a line of "Marvel-Verse" graphic novels that focus on single characters and include several issues from different series, with more of a sampler approach. These are also for ages 10 to 14 and have a smaller trim size but also a lower page count, about 120 pages, for $9.99. While free of "adult" content, the comics in both collections appear mostly as they did when they were first published, so they have a more mature feel. To find them, consult the Marvel catalogs on the Penguin Random House website, where you can search books by age rating and category.
For those curious about old-school superheroes, Marvel collects early issues of popular series in chunky paperbacks under the name "Mighty Marvel Masterworks" (not to be confused with the deluxe hardcovers in its "Marvel Masterworks" series).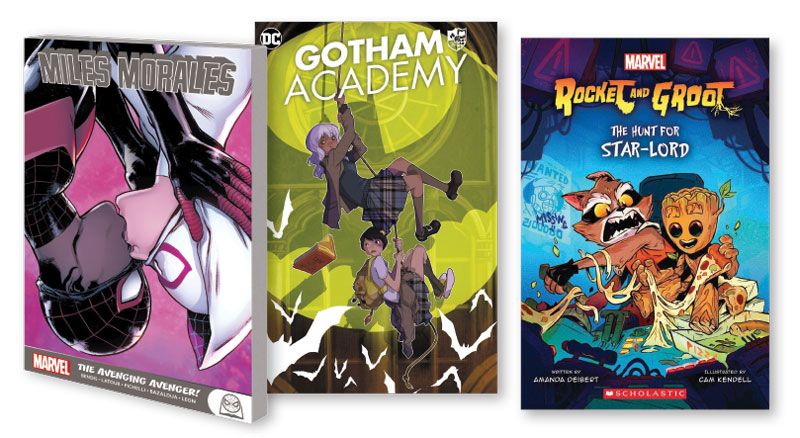 Here's a look at recent and upcoming books featuring Marvel and DC superheroes.
Bendis, Brian Michael and Jason Latour. Miles Morales: The Avenging Avenger!. illus. by Sara Pichelli et al. Marvel. Jan. 2023. ISBN 9781302949679
Gr 5-9–This trade collects stories from two series, which Marvel lists as "Spider-Man (2016)" #12-19 and "Spider-Gwen (2015B)" #16-18. The first story has Miles and Gwen, who live in different universes, searching for Miles's father, who disappeared while on a mission for S.H.I.E.L.D. While the story hangs together, the two series have different creative teams, so the look changes from chapter to chapter. The second half of the book is a straight run of "Spider-Man" comics, and is more unified. Great for readers who relish complex storytelling and multiple universes. It will make more sense if readers start with Miles Morales: Marvel Universe, whose stories lay some of the groundwork.
Benton, Jim. Fann Club: Batman Squad. illus. by author. DC. June 2023. ISBN 9781779508898
Gr 3-7–Batman fan Ernest Fann starts a superhero club in his neighborhood with hilarious results in this appealing Batman satire. Ernest emulates Batman in every way, including wearing a hood and cape and looking out moodily from high places; his fellow club members are his babysitter, his best friend, and his dog. The silly situations they encounter come together in the end for a triumphant, if improbable, denouement. Benton's good-hearted characters and simple, cartoony art make this original graphic novel a fine pick for "Dog Man" and "InvestiGators" fans.
Brown, Jeffrey. Thor and Loki: Midgard Family Mayhem. illus. by author. Chronicle. Apr. 2023. ISBN 9781797217499.
Gr 4 Up–As he did in for Princess Leia and Darth Vader in books like Vader's Little Princess, Brown brings the youthful God of Thunder and his family down to earth in a series of gentle gag comics about everyday life. Middle-grader Thor uses lightning to recharge his mother's phone; little brother Loki hacks a video game. Brown makes the characters younger while keeping their essential characteristics. One caveat: There are a lot of in-jokes, so readers familiar with the Thor comics (or with Norse mythology) will get more out of this book.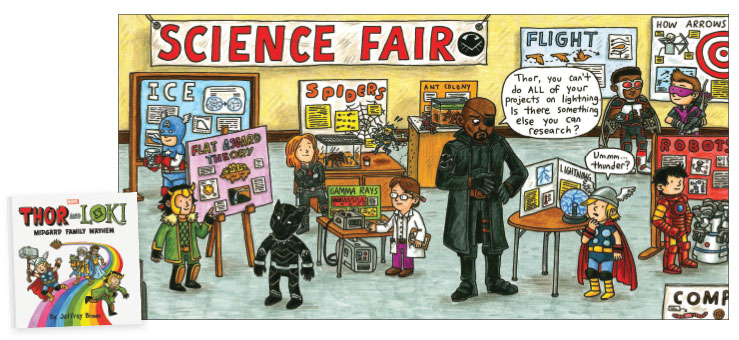 Thor and Loki: Midgard Family Mayhem (Chronicle Books)

Brown, Rosanne A. Shuri and T'Challa: Into the Heartlands. illus. by Dika Araújo, Natacha Bustos, and Claudia Aguirre. Scholastic/Graphix. May 2022. ISBN 9781338648058
Gr 3-7–Princess Shuri, the Black Panther's little sister, is an intern at the Wakanda Design Group and already an accomplished inventor. But when she lets her robot insect loose at the annual Soul Washing Ceremony, it disrupts the event and destroys statues—a bad omen. A mysterious virus strikes Wakandans, including Shuri's mother. Shuri sets off on an odyssey to find the cure, with her annoying big brother T'Challa tagging along; the two also deal with their issues as half-siblings in a blended family. The art leans toward cute; backgrounds are lushly detailed but drop away in moments of intense action or emotion, putting the focus squarely on the characters.
Cloonan, Becky and Brenden Fletcher. Gotham Academy. illus. by Karl Kerschl. DC. May 2023. ISBN 9781779521712
Gr 7 Up–This new collection includes the first 18 issues of the comic series, published in 2014 and released in shorter paperbacks at that time. The story is set in a boarding school filled with Gothic buildings and secret passages. Olive Silverlock returns to school after a difficult summer. She's avoiding her ex, whose younger sister is a new student who drags Olive into precarious situations. This is a classic boarding-school adventure story with the usual elements of cool kids, nerds, sinister faculty members, and a mystery to be solved, but with a superhero overlay. Fans of more traditional Batman comics will see familiar faces, but the story also stands on its own. Kerschl's kinetic, moody art owes a lot to manga.
Deibert, Amanda. Rocket and Groot: The Hunt for Star-Lord. illus. by Cameron Jacobsen Kendell. Scholastic/Graphix. Sept. 2023. ISBN 9781338890334
Gr 1-3–Rocket Raccoon was an obscure character until he and Groot, a tree-shaped humanoid, leapt to prominence in the Guardians of the Galaxy films. In the movies, Rocket Raccoon is a bounty hunter and not a particularly kid-friendly character. He has been retooled for this early reader graphic novel, which starts with him and Groot traveling the universe in search of the best deep-dish pizza. Things shift gears after the interplanetary policeman Star-Lord is kidnapped, and they head off to rescue him. Other members of the Guardians of the Galaxy pop up in this brief, funny, self-contained story.
Maggs, Sam. Captain Marvel: Game On. illus. by Sweeney Boo and Mario del Pennino. Marvel. June 2023. ISBN 9781302951153.
Gr 5-9–This paperback collects Marvel Action comics originally published by IDW as single issues and then in collections. All feature Carol Danvers, the current Captain Marvel. The stories include an invasion of flerkins, which look like adorable cats but have hidden tentacles to ensnare and eat their prey; a driving lesson that's interrupted when Carol and Nadia Van Dyne (The Unstoppable Wasp) are shrunk to insect size; and a couple crossovers. Most backstory elements are explained in footnotes, making this a good pick for superhero neophytes.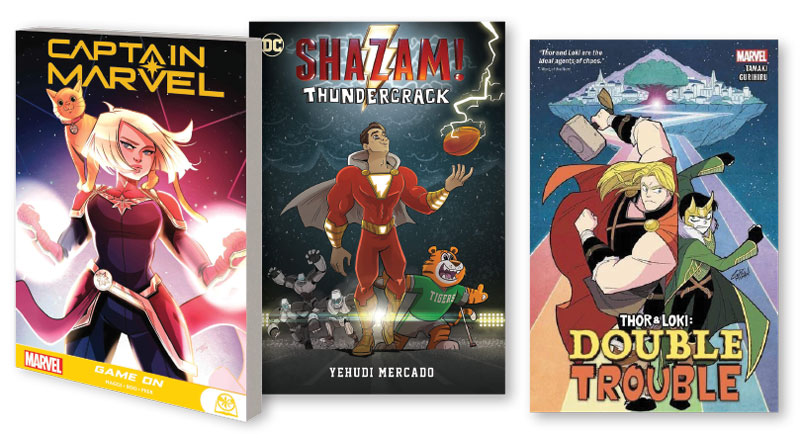 Mercado, Yehudi. Shazam! Thundercrack. illus. by author. DC. Feb. 2023. ISBN 9781779505026
Gr 3-7–A boy named Billy Batson says "Shazam!" and becomes an adult superhero. In this standalone graphic novel, Billy arrives at a new foster home shortly after getting his powers, and his new foster brother helps him practice superhero skills. After a coach recruits Billy for the football team, Billy excels but dominates the games and excludes his teammates. Meanwhile, the rival team has been cybernetically enhanced by a mad scientist. It's an action-packed good-guys-versus-bad-guys story with some things to say about team spirit and bullying. Billy's foster brother walks with a crutch and narrates the story. Mercado's polished art is easy to follow, and the football theme will appeal to many readers. The plot is completely different from the movie Shazam! Fury of the Gods, which premiered in March.
Reichs, Brendan. Clark & Lex. illus. by Jerry Gaylord. DC. Aug 2023. ISBN 9781779502100
Gr 3-7–Middle schooler Clark Kent uses his super-strength to power through farm chores and football games in this original graphic novel. He sneers at Pa Kent's insistence that he keep his powers hidden and learn to rely on other abilities. When a mysterious corporation holds a contest for two journalism internships in nearby Metropolis, Clark uses his super-vision to cheat on the entrance exam. After he befriends Lex Luthor, whose dad's company runs the contest, the real goal of the competition becomes clear: to identify beings with superpowers and exploit them. This story has plenty of action and a satisfying ending, and the characters have a dynamic, manga-influenced style.
Tamaki, Mariko. Thor & Loki: Double Trouble. illus. by Gurihiru. Marvel. Sept. 2021. ISBN 9781302926250
Gr 4 Up–Thor's shapeshifting brother Loki gets them into all sorts of trouble in this funny, fast-moving story. First he goads Thor into stealing a forbidden horn that summons dragons who destroy the town; then Loki produces a magic orb that whisks them to another land, where they encounter frost giants as well as female versions of themselves. Originally published as four single issues, this collection mixes wisecracking humor with action. Gurihiru's candy-colored art makes the characters cute but not too childish. A great pick for younger readers who want a classic Marvel comic.