No Boundaries creators Clare Fieseler and Gabby Salazar discuss process, persistence, and inspiring the next generation to chase their biggest dreams.
In their anthology No Boundaries, Gabby Salazar and Clare Fieseler celebrate the incredible strides women scientists are making in their fields every day. SLJ caught up with the duo to discuss process, persistence, and inspiring the next generation to chase their biggest dreams.
You both talk about traveling to Zimbabwe and learning from Dr. Moreangels Mbizah about her research tracking lions. How did you handle getting to so many different locations, and navigating the interview process with two people?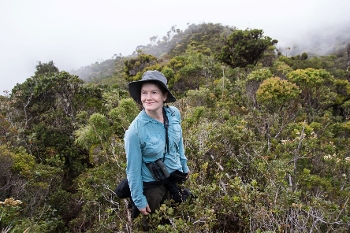 Salazar
Gabby Salazar and Clare Fieseler: We received a grant from the National Geographic Society to travel to Zimbabwe and create a short film about Dr. Mbizah. The film, "Outnumbered in Africa," is about her research on lions, but it's also about the challenges she faced as a female scientist who was balancing career and family. To pursue her doctoral degree, Moreangels had to split her time between her studies in the United Kingdom, her fieldwork in Zimbabwe, and her life with her family and son in South Africa. After finishing the film, we didn't have plans to write a book— we originally envisioned more short films that could become a web series profiling women in science. But we happened to talk with a few people in the children's book publishing world and started to fall in love with the idea of sharing these women's life stories so that they could become role models for kids. We started gathering a list of women diverse in age, cultural background, and field of study.
What were some of the difficulties you had while traveling or conducting interviews? Did culture or language differences pose a challenge in your work?
GS and CF: We conducted the interviews for this book over the phone or over Zoom because the women we interviewed are from many different countries, including Mozambique, Sri Lanka, and Zimbabwe. We had a few targeted questions that we asked everyone such as, "Was there a book that influenced you at an early age?" But we mostly used open-ended questions to ensure that the women we interviewed had space to tell the stories they wanted to tell. We also went into the project with a desire to explore and discuss cultural differences that exist around the way women in science are perceived in various places around the world. For example, in her profile, Dr. Sandhya Narayanan, a linguistic anthropologist, talks about the challenge of fitting in while growing up in a community where people came from lots of different cultural backgrounds and spoke many languages. Ultimately, though, she realized that her multilingualism and knowledge of different cultures is a strength in her research and career!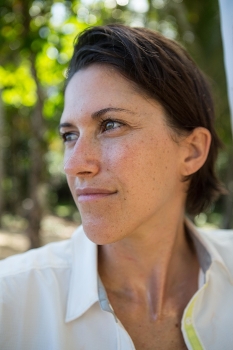 Fieseler photo by Becca Skinner
Embracing your roots—that's the lesson there and one we wanted in our book. We see the recognition and celebration of cultural differences as key to our own work as scientists, and for science in general, but that's not a lesson we were seeing being communicated to kids in other STEM books.
Were you adventurous when you were younger? What do you consider your first adventure?
GS: When I was a kid, I spent a lot of time daydreaming about adventures. My family did not have a lot of money when I was growing up, so books were a wonderful way for me to learn about other places. I was an avid reader and particularly enjoyed reading books about travel and exploration. As I got a bit older, I found creative ways to go on my own adventures. With my parent's encouragement, I started my own photography business, taking portraits and selling prints of my nature photographs. I used the money I earned to pay for my first international trip when I was 14 years old. I went to Russia with a group of teachers to help teach environmental education to school teachers. That was a big adventure!
CF: Yes, I was always adventurous. But, frankly, I didn't get a lot of opportunities to adventure off much further than the wooded areas in my town and the beaches nearby. But here's a memory that just came to my mind. When I was in middle school, all 80 or so kids in my grade were bussed to a summer camp for the weekend. It was no more than an hour's drive away from my small town in New Jersey; but it felt, at the time, like we'd been dropped into the wilds of Alaska! There was an activity that we had to do in small groups where we were given a map, a compass, and left in the foothills behind the camp and told to "orient" our way back. I still remember the feeling of being left alone with eight classmates in this unfamiliar mountainous landscape with no adult supervision. Honestly, I haven't thought about that memory in decades. But, yes, that was probably my first true adventure and the first time I felt curiosity, wonder, and self-determination—all at the same time.

[Read More: 19 Top Books for Tween and Teen Climate Activists]
Courage and perseverance are major themes in No Boundaries. How do these show up in your lives?
GS: I grew up in a small town in North Carolina where most people lead happy lives close to home. If you had told me when I was a kid that I would go on to travel to over 25 countries by the time I was 30 years old, I would not have believed you. I think I've gotten here by having the courage to take opportunities when they were presented to me, even when those opportunities took me out of my comfort zone.
CF: Courage is not something I think about often because it tends to be framed as a personality trait: either you are courageous or not. I'm much more interested in persistence; which, for me, is the main theme of our book. When I was in graduate school, I had a professor who told me that he didn't consider himself exceptionally smart. Instead, he said he learned to be persistent because he noticed many smart people around him got discouraged by early failures and quit the path of marine science. Here's the thing: everyone fails, many times over. I've failed many times over. And I don't want another girl to quit her chosen path into science because of early failures. So, for me, that's why I wrote this book: to highlight persistence.
What advice do you have for young girls who might see too many obstacles in achieving their goals or dreams?
GS: My advice is to set small goals that lead to the bigger goal or dream. If you have big dreams (and I hope you do!) they can sometimes seem overwhelming, and it can be hard to picture how you can get from where you are to where you want to be. Small steps and goals can really help make the big dreams seem more achievable.
CF: I like Gabby's advice. Starting small makes the first step manageable. But how do you stumble on success? My advice is to find a corner of knowledge or a bit of land that's been overlooked. Lots of people study chimpanzees—but what do we know about that little native bee in your home state? Or what's up with that tiny stretch of marshland that no one's cleaned up in years? I think this kind of advice was best summarized by Samantha Power, former U.S. Ambassador to the U.N. and a Pulitzer Prize–winning author. As she puts it: "Go where they're not."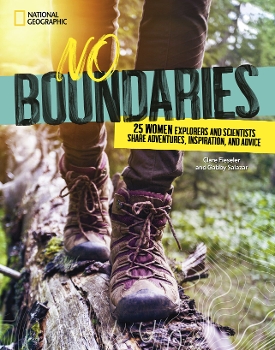 Some of the explorers featured in No Boundaries work in what are, or were, considered male-dominated fields. Where do you still see areas that can be improved for young women?
GS: Clare and I are both scientists, so we did a lot of research beforehand to understand how our book could help address this issue. We found that girls cite relatable female role models as a key reason they do not go into STEM careers and that we all have a pretty narrow conception of what counts as a STEM career. We hope that every young reader can find at least one scientist they relate to, and that the book exposes them to a broad range of ways to contribute to science and exploration.
CF: A handful of the profiles we wrote for this book really focus on female mentorship and friendship within male-dominated fields. That was on purpose because finding a female champion to lean on is something every girl can accomplish. Much harder to accomplish is the work of changing the STEM culture entirely, so that men in these male-dominated fields know how to be active champions for their female colleagues. That's the next thing that must change.
Which explorers' stories have stuck with each of you? What about their stories resonated?
GS: One of the stories that really stuck with me is the story of Dominique Gonçalves, an ecologist from Mozambique. Dominique studies elephants in Gorongosa National Park, a landscape that was once highly impacted by a civil war in her country. Dominique knew that she wanted to help conserve wildlife in Mozambique, but she did not know of any job openings in the park. She took a leap and reached out to the park anyway, asking if they had any jobs. Even though they said no at first, they eventually hired her. Sending that single email changed the course of her life. I love the advice she gives to other aspiring scientists: "If you see an opportunity, take it. But even if there is no opportunity—make one."
CF: What's important to know is that the vast majority of women that we chose to write about are under the age of 45. I think that makes our book—and the explorers' stories in it—stick out from all the other great children's books out there about women scientists. I'm 38 years old and I think every life story in this book resonates with me in a profound way because we are all, essentially, of the same generation.
Both of you are scientists, photographers, and National Geographic Explorers. If you were asked to describe yourself as just one of these, which one would it be and why?
GS and CF: We would call ourselves Explorers because we both use science and photography as tools to explore the world.