In this overview of SLJ's 2023 starred titles to date, grief, intergenerational bonds, and other key topics are trending topics.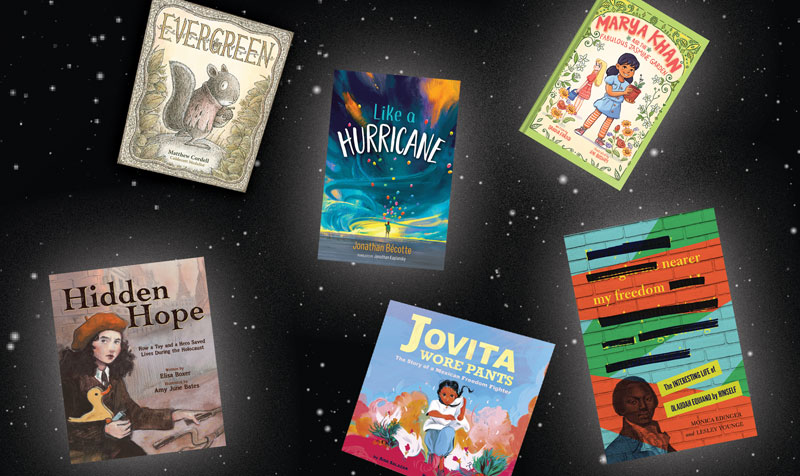 The themes that have long marked books for children and teens continue to loom large in 2023, focusing heavily on identity, relationships, emotions, connections, and community. Current trends in SLJ's starred titles look at courageous choices, large and small; connections to the natural world; intergenerational bonds with grandparents; how and why we grieve; and trailblazers in a wide range of disciplines.
Additionally, starred reviews value inventive, unique approaches to both format and story and show a continued appreciation for novels in verse, a format that has exploded in popularity over the past two years. From picture books to young adult novels, stories in all genres, for all ages, these stellar titles show fresh approaches and share powerful messages.
Bravery and courage
Overcoming fear to find the courage to take action is a choice that can change the moment, a life, or even the world. In the picture book Evergreen (Feiwel & Friends) by Matthew Cordell, a small squirrel who is afraid of just about everything traverses an ominous forest to bring soup to her sick granny. Despite encountering potentially scary obstacles, Evergreen gains confidence as she faces her fears. Hidden Hope: How a Toy and a Hero Saved Lives During the Holocaust (Abrams), written by Elisa Boxer and illustrated by Amy June Bates, is the true account of Jacqueline Gauthier, a Jewish teenage member of the French Resistance who risked her life during World War II. Using a secret compartment in a wooden duck, she smuggled forged identity documents to Jews looking to escape occupied France. Aida Salazar and illustrator Molly Mendoza's picture book biography Jovita Wore Pants: The Story of a Mexican Freedom Fighter (Scholastic) focuses on the life of Jovita Valdovinos, a daring young woman who defied barriers and disguised herself as a man to lead a peasant army in the fight against the socialist Mexican government. Putting a Malaysian twist on Little Red Riding Hood, Hanna Alkaf's middle grade fantasy Hamra and the Jungle of Memories (HarperCollins) reminds readers that "courage is the strongest magic there is" as Hamra navigates strong emotions and the magical Langkawi jungle in her quest to right a wrong as well as possibly help her ailing grandmother. And the life of Carlotta Walls LaNier, the youngest member of the Little Rock Nine, is recounted in A Mighty Long Way (Adapted for Young Readers): My Journey to Justice at Little Rock Central High School (Delacorte). This memoir, coauthored by Lisa Frazier Page, details the obstacles, threats, and harassment Walls LaNier faced while attending a newly integrated school, a courageous move that cemented her place in the civil rights movement.
The natural world
One of last year's major themes was climate literacy and ecological action. In 2023, that has morphed slightly to focus on engendering a love of nature and supporting connections to the natural world while appreciating its beauty and power. Laekan Zea Kemp and Elisa Chavarri's A Crown for Corina (Little, Brown) shows a young birthday girl excited to make a Mexican flower crown with her abuela, carefully choosing flowers that celebrate family, tradition, memories of the past, and hope for the future. Aimed at early elementary students, Marya Khan and the Fabulous Jasmine Garden (Amulet), written by Saadia Faruqi and illustrated by Ani Bushry, features Pakistani American third grader Marya, who steps up as a leader in creating her school's garden and learns about the challenges of both gardening and working with others. Mixing poetry and prose, Karuna Riazi's middle grade A Bit of Earth (HarperCollins/Greenwillow) is an affecting reimagining of The Secret Garden. Orphaned Maria Latif, who is of Bangladeshi and Pakistani descent, is sent to live with distant acquaintances in New York and finds solace and connection—to both nature and new friends—while working in a neglected garden. In The Girl from Earth's End (Candlewick) by Tara Dairman, 12-year-old Henna leaves home to attend a plant sciences academy in her quest to heal one of her fathers, who is seriously ill. Brian Selznick's latest illustrated middle grade tome, Big Tree (Scholastic), chronicles the epic life of two sycamore seeds and their longing to find their place in the world, a pursuit that spans billions of years and explores the past, present, and future of our natural world.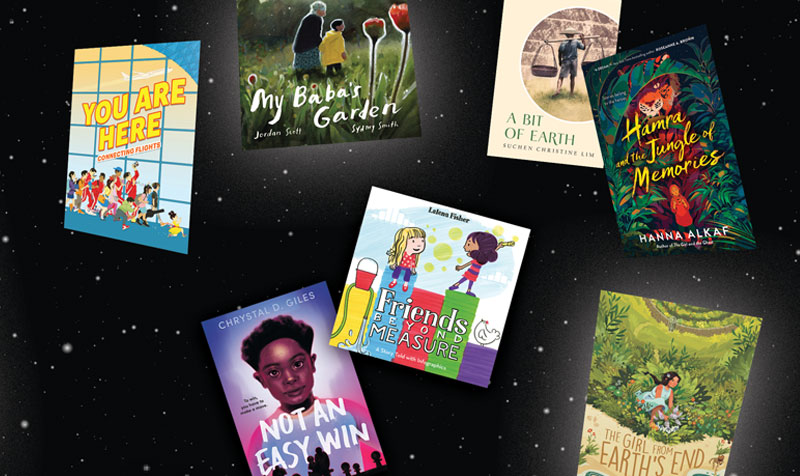 Inventive formats
Stories can stand out as fresh and noteworthy when authors and illustrators experiment with how a tale is told. Friends Beyond Measure (HarperCollins), a picture book by Lalena Fisher, uses charts, maps, graphs, diagrams, and other infographics to explore the story of two best friends hoping to maintain a friendship despite one girl moving away. Using creative layouts, type styles, and word placement, the middle grade Like a Hurricane (Orca), written by Jonathan Bécotte and translated from French by Jonathan Kaplansky, explores a young boy's worries about coming out as gay and takes readers on an intimate trip, visually represented, through his stormy emotions. Lois Lowry's The Windeby Puzzle: History and Story (HarperCollins/Clarion) employs an unusual narrative structure, blending fictional dual narratives with history to tell the story of the 2,000-year-old Windeby bog body discovered in Northern Germany. This middle grade book includes full-page art, photographs, historical and scientific context, and Lowry's explanation of what led her to write about the bog body.
Twelve Asian American authors come together to create the interwoven stories in You Are Here: Connecting Flights (Harper/Allida), edited by Ellen Oh. This well-executed concept examines friendship, courage, identity, racism, and belonging among a group of young travelers who are stuck inside an airport during a storm. Nearer My Freedom: The Interesting Life of Olaudah Equiano by Himself (Zest) by Monica Edinger and Lesley Younge reorganizes and supplements original text to create "found verse" and craft an adaptation and expanded narrative about an African man's experiences from enslavement to freedom.
Intergenerational bonds
Books that celebrate strong connections and emphasize the important roles grandparents play in the lives of children and teenagers show them as role models, caregivers, and vital parts of multigenerational households. In the bilingual picture book Abuela's Super Capa (HarperCollins) by Ana Siqueira and Elisa Chavarri, life feels like an adventure when Luis is with his vibrant abuela. When Abuela falls ill and starts living with Luis's family, he finds new ways to play with his beloved sidekick. A young boy and his Polish grandmother spend cherished time together in My Baba's Garden (Holiday House/Neal Porter), written by Jordan Scott and illustrated by Sydney Smith. Years later, Baba moves in with his family, and he cares for her in the same loving ways she used to care for him. Can We Please Give the Police Department to the Grandmothers? (Dutton) by Junauda Petrus and Kristen Uroda imagines a future free of police or incarceration, where instead, lively, loving grandmothers are in charge of community safety and care. Aimed at middle grade readers, Chrystal D. Giles's Not an Easy Win (Random) finds recently expelled 12-year-old Lawrence now living in a multigenerational household headed by his religious grandmother. While there, he discovers a caring mentor, a community of other Black kids, and a surprising passion for chess. Mexican American Danna Mendoza Villarreal hopes beloved foods will help her grandfather, who has dementia, recover his memories in Kemp's young adult novel in verse An Appetite for Miracles (Little, Brown), a story about love, grief, and family.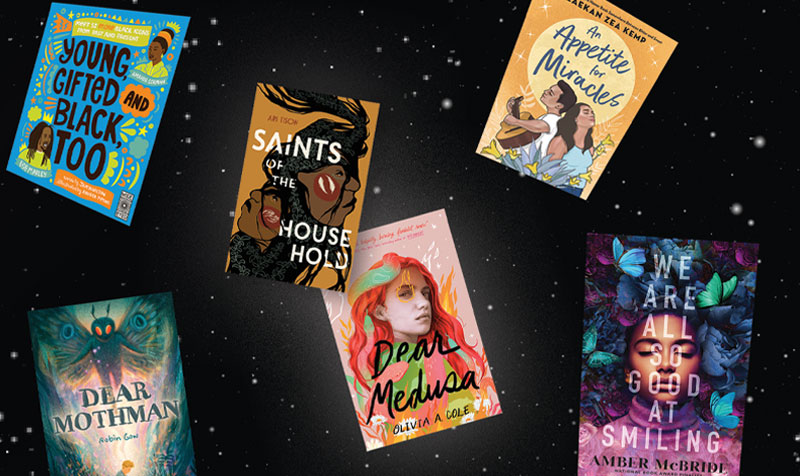 Novels in verse
Featuring intimate narrative voices, rhythmic patterns, and various poetic techniques, the verse format, where poetry and narrative meet, continues to grow in popularity. Jasminne Mendez uses tanka, concrete poems, and haiku in Aniana del Mar Jumps In (Dial), where a 12-year-old Dominican American swimmer struggles to adjust to her new diagnosis of juvenile arthritis. Inspired by the Greek tragedy Medusa, Olivia A. Cole's young adult Dear Medusa (Random/Labyrinth Road) is a fiery, feminist look at fortitude and fury as 16-year-old Alicia seeks healing, connection, and reclamation of herself in the aftermath of her sexual assault by a popular teacher. Set in Minnesota, Indigenous (Bribri) Costa Rican brothers Jay and Max wrestle with their history of abuse by their father as well as their own recent violent actions in Saints of the Household (Farrar) by Ari Tison. And some of Shakespeare's most famous dead girls finally get to take back their own narratives in Joy McCullough's Enter the Body (Dutton). Using different poetic styles for each, Juliet, Ophelia, Cordelia, and others bond over trauma, exploitation, anger, injustice, and sisterhood. Strength, power, and agency are addressed in Spin (Atheneum) by Rebecca Caprara. This feminist retelling of the myth of Arachne, from Ovid's Metamorphoses, weaves a poignant tale of healing and redemption.
Grief
Grief and loss are inevitable realities for all ages, and the feelings that come with them manifest in myriad ways. After losing both parents in a car accident, seventh grader Hercules Beal undertakes the epic journey of working through his grief when his teacher assigns him the task of reenacting the feats of the mythical Hercules in Gary D. Schmidt's The Labors of Hercules Beal (HarperCollins/Clarion). Noah, a transgender fifth grader with autism in Robin Gow's Dear Mothman (Abrams/Amulet), is grieving the death of a close friend. In free verse, letters, and sketches, Noah pours out his feelings to Mothman, a mythical cryptid, hoping to find connection, healing, and understanding. Reeling from her mother's sudden death, Matiponesa's father moves the family from the UK to Zimbabwe in Blessing Musariri's YA All That It Ever Meant (Norton). There, Mati is guided through her grief by a wise nonbinary spirit only she can see. Feeling like a perpetual outsider, Korean Argentine American Alejandra Kim, who has unexpectedly lost her father, gains unwanted attention senior year in the wake of a microaggression from a teacher in Imposter Syndrome and Other Confessions of Alejandra Kim (Crown) by Patricia Park. And Amber McBride's We Are All So Good at Smiling (Feiwel & Friends), a novel in verse, mixes fairy tales and magic into the very real story of two traumatized teenagers who meet while undergoing treatment in a mental hospital. Together, they face demons and battle Sorrow as they get closer to uncovering the grief and trauma they worked so hard to bury deep.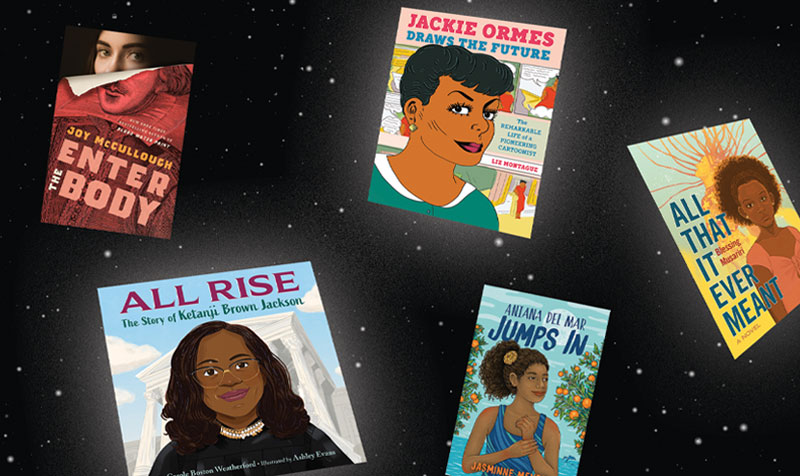 Innovators and trailblazers
Many starred biographies and narrative nonfiction titles this year explore the lives of frequently overlooked pioneers in a variety of fields. One of three starred picture books about this trailblazer, All Rise: The Story of Ketanji Brown Jackson (Crown) by Carole Boston Weatherford and Ashley Evans, tells of the determination and achievements of the first Black woman Supreme Court justice.
Inspiring picture book biography Jackie Ormes Draws the Future: The Remarkable Life of a Pioneering Cartoonist (Random House Studio) by Liz Montague is one of two biographies SLJ starred about the first Black woman cartoonist to be nationally syndicated in America. Her work addressed racism, social justice, and the civil rights movement. Young, Gifted and Black Too: Meet 52 More Black Icons from Past and Present (Quarto/Wide Eyed Editions) by Jamia Wilson, with vibrant illustrations by Andrea Pippins, is a celebration of a wide range of Black icons and their achievements, talents, and impact.
---
Amanda MacGregor blogs at "Teen Librarian Toolbox."