This month's starred reviews include inclusive back-to-school picture books, the latest Zelda video game, and two audiobooks by Alex Segura and Monica Gallagher.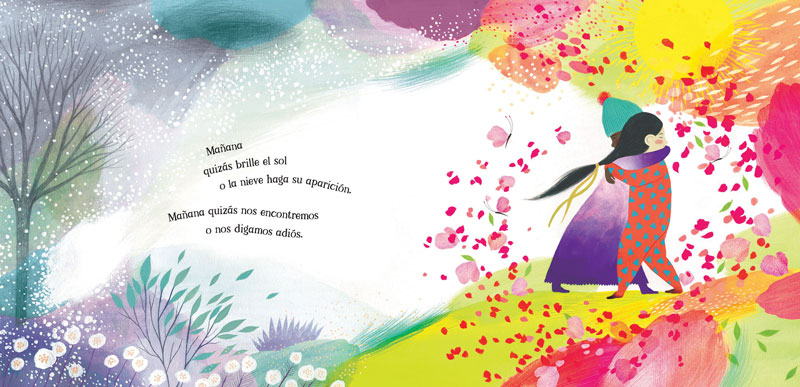 Pase lo que pase mañana (Levington) ©2023 by Mariona Cabassa
Back-to-School
Niebuhr-Siebert, Sandra. Mina Belongs Here. illus. by Lars Baus. Floris.
Scharnhorst, Becky. How to Get Your Octopus to School. illus. by Jaclyn Sinquett. Penguin/Flamingo.
Windness, Kaz. Bitsy Bat, School Star. S. & S./Paula Wiseman.
Picture Books
Bently, Peter. I Am Cat! illus. by Chris Chatterton. Penguin Workshop.
Berger, Carin. In the Night Garden. Holiday House/Neal Porter.
Gray, Gary R., Jr. I'm From. illus. by Oge Mora. HarperCollins/Balzer + Bray.
Lee, Sophia N. Lolo's Sari-sari Store. illus. by Christine Almeda. Atheneum.
Levington, Rebecca Gardyn. Pase lo que pase mañana. illus. by Mariona Cabassa. Barefoot.
Luby, Brittany. When the Stars Came Home. illus. by Natasha Donovan. Little, Brown.
Singh, Rina. Once, a Bird. illus. by Nathalie Dion. Orca.
Townes, Jess. Sometimes I Cry. illus. by Daniel Miyares. Farrar.
Yuly, Toni. Slowly Slowly. Atheneum.
Transitional Books
Fang, Vicky. A Pie for Us!: An Acorn Book. illus. by Luisa Leal. Scholastic.
Middle Grade
Applegate, Katherine & Gennifer Choldenko. Dogtown. illus. by Wallace West. Feiwel & Friends.
Thomson, Pari. Greenwild: The World Behind the Door. Farrar.
Woodson, Jacqueline. Remember Us. Penguin/Nancy Paulsen.
YA
Ameyaw, Maya. When It All Syncs Up. Annick.
Burton, Gabi. Sing Me to Sleep. Bloomsbury.
Eddings, Mazey. Tilly in Technicolor. Wednesday Bks.
Forrest, Claire. Where You See Yourself. Scholastic.
Jae-Jones, S. Guardians of Dawn: Zhara. Wednesday Bks.
Kaufman, Amie. The Isles of the Gods. Knopf.
Mills, Emma. Something Close to Magic. Atheneum.
Graphic Novels
Nguyen, Trang & Jeet Zdung. Saving H'non: Chang and the Elephant. illus. by Jeet Zdung. Dial.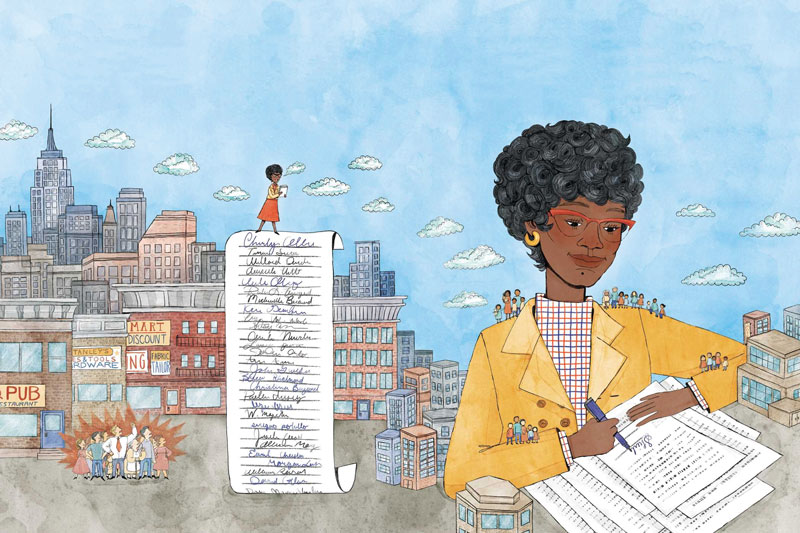 Loud and Proud: The Life of Congresswoman Shirley ­Chisholm (Cline-Ransome) ©2023 by Kaylani Juanita

Nonfiction
Cline-Ransome, Lesa. Loud and Proud: The Life of Congresswoman Shirley ­Chisholm. ­illus. by Kaylani Juanita. S. & S./Paula Wiseman.
Ignotofsky, Rachel. What's Inside a Caterpillar Cocoon?: And Other Questions About Moths & Butterflies. Crown.
Lin, Grace. Chinese Menu: The History, Myths, and Legends Behind Your Favorite Foods. Little, Brown.
Lindstrom, Carole. Autumn Peltier, Water Warrior. illus. by Bridget George. Roaring Brook.
Narayanan, Priya. Friend of Numbers: The Life of Mathematician Srinivasa Ramanujan. illus. by Satwik Gade. Eerdmans.
Sheinkin, Steve. Impossible Escape: A True Story of Survival and Heroism in Nazi Europe. Roaring Brook.
Audio
Barnes, Derrick. Like Lava In My Veins. Listening Library.
Bell, Cece. El Deafo. Listening Library.
Hale, Shannon & LeUyen Pham. Best Friends. ­Macmillan Audio.
Moreci, Michael & Hayden Sherman. Wasted Space: Volume 2. GraphicAudio.
Sax, Sarah. Picture Day. Listening Library.
Segura, Alex & Monica Gallagher. The Black Ghost: Hard Revolution. GraphicAudio.
Segura, Alex & Monica Gallagher. The Black Ghost 2: Shame the Devil. GraphicAudio.
Soontornvat, Christina & Joanna Cacao. The Tryout. Scholastic Audio.
Tang, Betty C. Parachute Kids. Scholastic Audio.
Wilson, G. Willow. Ms. Marvel: A Marvel Omnibus. Dreamscape Audio.
Gaming
The Legend of Zelda: Tears of the Kingdom. Nintendo Switch.