June's starred reviews include nonfiction by Lesa Cline-Ransome and Ruta Sepetys, along with Spanish language books, holiday titles, and music.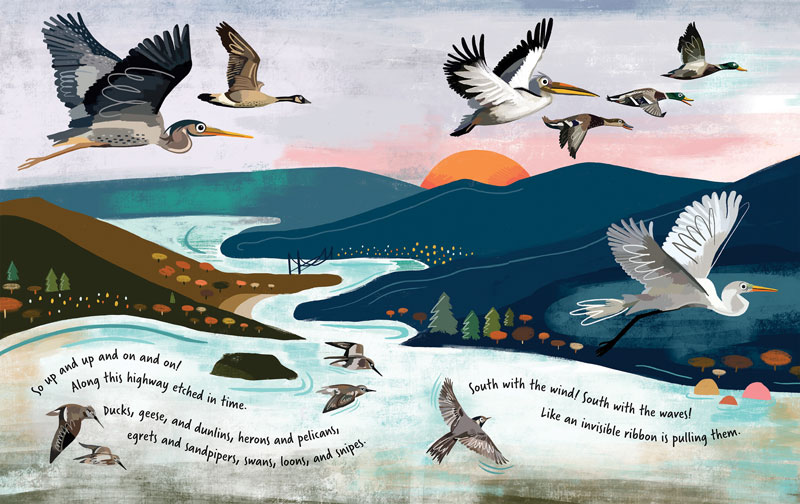 Follow the Flyway: The Marvel of Bird Migration (Nelson) ©2023 by Maya Hanisch
Holidays
Cha, Frances. The Goblin Twins. illus. by Jaime Kim. Crown.
Mehra, Namita Moolani. The Light Within You. illus. by Kamala Nair. Two Lions.
Thamizhmani, Lakshmi. Ganesha Goes Green. illus. by Debasmita Dasgupta. Barefoot Bks.
Spanish Books
Acosta, Alicia. Una habitación muy ruidosa. illus. by Lucía Serrano. Editorial Flamboyant.
Arango, Andrea Beatriz. Iveliz lo explica todo. Vintage Español.
Colato Laínez, René. Do I Belong Here/¿Es este mi lugar? illus. by Fabricio Vanden Broeck. Arte Publico.
de la Vega, J. Wepa. Lil' Libros.
Genhart, Michael. El español es la lengua de mi familia. illus. by John Parra. Holiday House/Neal Porter.
Liu-Trujillo, Robert. Jugo Fresco. Lee & Low.
Mazo, Margarita del. El rebaño. illus. by Guridi. NubeOcho.
Velasquez, Eric. Buscando a Bongo. Holiday House.
Vieira Mendes, José Maria. ¿Para qué sirve? illus. by Madalena Matoso. Editorial Destellos.
Picture Books
Beckmeyer, Drew. I Am a Tornado. Atheneum.
Feder, Sandra V. Peaceful Me. illus. by Rahele Jomepour Bell. Groundwood.
Janicki, Peggy. The Secret Pocket. illus. by Carrielynn Victor. Orca.
Saltzberg, Barney. A Delicious Story. Astra/Hippo Park.
Trejo, Jesús. Papá's Magical Water-Jug Clock/ El barrilito mágico de Papá. illus. by Eliza Kinkz. Astra/Minerva.
Transitional Books
Galbraith, Bree. Wednesday Wilson Connects the Dots. illus. by Morgan Goble. Kids Can.
Middle Grade
Eliopulos, Andrew. Will on the Inside. HarperCollins/Quill Tree.
Sekaran, Shanthi. Boomi's Boombox. HarperCollins/Katherine Tegen.
Sinclair, Phoebe. Confessions of a Candy Snatcher. illus. by Theodore Taylor III. Candlewick.
YA
Armstrong, Kelley. Someone Is Always Watching. Tundra.
Black, Holly. The Stolen Heir: A Novel of Elfhame. Little, Brown.
Neilson, Riss M. I'm Not Supposed to Be in the Dark. Holt.
Graphic Novels
Grimes, Nikki. Garvey's Choice: The Graphic Novel. illus. by Theodore Taylor III. Wordsong.
Myer, Sarah. Monstrous: A Transracial Adoption Story. First Second.
Pamment, Jason. Ember and the Island of Lost Creatures. HarperAlley.
Pham, Thien. Family Style: Memories of an American from Vietnam. First Second.
Nonfiction
Cline-Ransome, Lesa. The Story of the Saxophone. illus. by James E. Ransome. Holiday House.
Havrelock, Deidre & Edward Kay. Indigenous Ingenuity: A Celebration of Traditional North American Knowledge. Little, Brown/Christy Ottaviano.
Jazynka, Kitson. Explore! America's Wildlife. illus. by Hannah Bailey. Kane Miller.
Nelson, Sarah. Follow the Flyway: The Marvel of Bird Migration. illus. by Maya Hanisch. Barefoot Bks.
Sepetys, Ruta. You: The Story: A Writer's Guide to Craft Through Memory. Viking.
Weatherford, Carole Boston. How Do You Spell Unfair?: MacNolia Cox and the National Spelling Bee. illus. by Frank Morrison. Candlewick.
Music
Brambletown. Performed by The Okee Dokee Brothers. Okee Dokee Music.
Everybody Needs a Little Sunshine. Performed by Kymberly Stewart.
Forest Flow. Performed by Jessa Campbell & the Saplings. Saplings Music.
Listen Lead Love. Performed by Esther Crow.
Made to Bloom. Performed by Stephanie Leavell. Music for Kiddos.
Play in My Band! Performed by Stacey Peasley.
Songs for You and Me. Performed by Allegra Levy. New Moon Records.